China launches 'the world's first smart high-speed railway' that cost £6billion to build with DRIVERLESS trains, 5G signals and wireless charging in preparation for the 2022 Beijing Winter Olympics
中国开通"全球首条智能高铁",耗资60亿英镑,无人驾驶列车、5G信号和无线充电技术,为2022年北京冬奥会做准备
China has introduced its first 'smart' high-speed trains to connect Beijing and Zhangjiakou, the two host cities of the 2022 Winter Olympics.
中国开通首条"智能"高铁,连接北京和张家口这两个主办2022年冬奥会的城市。
The carriages are equipped with an automated driving system, 5G signals, intelligent lighting as well as wireless charging docks, and can travel at a top speed of 350 kilometres (217 miles) per hour.
车厢配备自动驾驶系统、5G信号、智能照明以及无线充电,最高时速可达350公里(217英里)。
The £6billion project is the first 'smart' high-speed railway in the world, a Chinese expert has claimed.
一位中国专家称,该耗资60亿英镑的项目是全球首条"智能"高铁。
Covering 174 kilometres (108 miles) with 10 stops, the Jing-Zhang High-speed Railway officially entered service yesterday after four years of construction.
京张高铁全长174公里(108英里),设有10站,经过4年的建设,现已正式投入运营。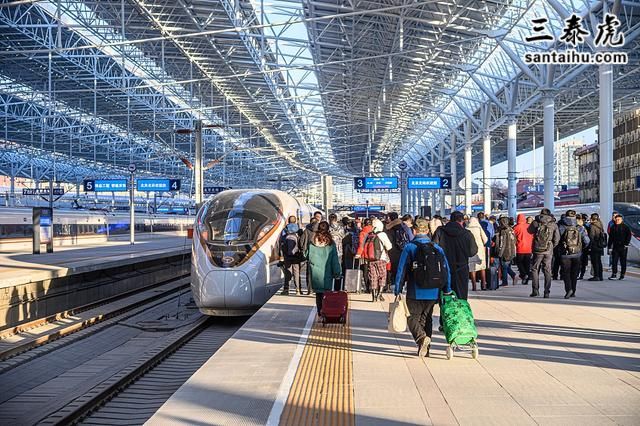 Self-driving Fuxing bullet trains, whose name means 'rejuvenation', currently operate on the rail line, which is a vital part of China's expanding high-speed transport network, according to China State Railway Group.
据中国国家铁路集团称,这条线路上跑的是"复兴号"自动驾驶子弹头列车,是中国不断阔张的高速运输网络的重要组成部分。
The trains are guided by the nation's domestically developed global satellite navigation system Beidou. The £7billion ($9billion) project will be complete next year and has been designed to rival and eventually replace the US-developed Global Positioning System (GPS).
列车由中国自主研发的全球卫星导航系统"北斗"进行引导,耗资70亿英镑(90亿美元)的北斗系统将于明年建成,旨在与美国开发的全球定位系统(GPS)竞争并最终取代后者。
'The Jing-Zhang High-speed Railway has realised the missions of "smart" construction, "smart" equipment and "smart" operation, and made the history of the global "smart" railway,' Li Hongxia, a senior engineer at China Railway Engineering Design and Consulting Group, told Technology Daily.
中国铁路工程设计咨询集团高级工程师李洪霞(音译)在接受《科技日报》采访时表示:"京张高铁实现了'智能'建设、'智能'装备和'智能'运营的使命,创造了全球'智能'铁路的历史。"
Li regarded the completion of the line a milestone in the country's rail history.
李认为这条线路的建成是中国铁路史上的一个里程碑。
英国每日邮报读者的评论:
译文来源:三泰虎 http://www.santaihu.com/49090.html 译者:Jessica.Wu
sb4100, mk, United Kingdom, 20 hours ago
Puts British railways to shame.
相比之下,英国铁路真是丢人
TrueVoiceofReason2, JustB, United Kingdom, 20 hours ago
4 years to build. 6B Pound to build. 108 mile long construction. HS2 not yet built, 52B pound estimated cost.
4年建成,108英里长,耗资60亿磅。英国的HS2高铁尚未建成,估计已经耗资520亿英镑了。
Brigadier, Manchester., United Kingdom, 19 hours ago
108 Miles long and cost 6 billion. HS2 London to Birmingham, roughly 120 miles long is expected to cost 56 billion, (rising to anybody`s guess how much the final bill will be) and has already cost MORE than 6 billion before it`s even begun being built. Incompetence ?, Waste ?, or something more suspect ?.
108英里长,耗资60亿。从伦敦到伯明翰的HS2,全长约120英里,预计耗资560亿英镑(谁也猜不到最终的花费会是多少),甚至在开建之前就已经耗资60多亿英镑了。是无能?还是浪费?
B Buchanan, manchester, United Kingdom, 19 hours ago
good for China, they don't have a bunch of incompetents running the show and are firing ahead with big plans and building a great country.
对中国来说是件好事,他们正在推进伟大的计划,建设一个伟大的国家。
fidolphin, Stafford, United Kingdom, 19 hours ago
This is what we need in the UK. Forward thinking and new technologies. Not HS2, which will probably be obsolete if it is ever actually built.
这正是英国需要的:前瞻性思维和新技术。HS2如果真的建成了,可能也过时了。
audimerc, manchester, United Kingdom, 18 hours ago
Never going to happen in the UK. The Rail Unions must be bricking it as they will no longer have jobs. Bring on driverless trains.
英国永远不会修建高铁。铁路工会肯定会抗议,抗议引入无人驾驶列车,让他们失业。
Bikerfrank, Winchester , United Kingdom, 16 hours ago
If they can have self driving high speed trains why do our trains need guards and a driver?
他们都有自动驾驶高铁了,为什么我们的列车还需要司机?
Tigressor, Sevenoaks, United Kingdom, 17 hours ago
And we still send aid money?
我们还在援助他们吗?
metal monkey, Weybridge , United Kingdom, 19 hours ago
They are progressing...we are turning into a t h I r d w o r l d du.mp.
他们正在进步,我们正在沦为第三世界国家
xoldhamer, swansea, United Kingdom, 17 hours ago
How come they can do it for J6billion and HS2 will cost J88billion?
为什么他们花60亿英镑就能建成一条高铁,而英国的HS2却要花880亿英镑?
alsocurious, copenhagen, Denmark, 15 hours ago
All typical Anglo comments. Then I'll say it - congratulations C hina - well done.
全都是典型的英国人评论。我要说——祝贺中国,干得好。
jamesmith, London, United Kingdom, 13 hours ago
Genuinely impressive how fast and cheap china can build hight quality infrastructure.
中国修建先进基础设施的速度之快、成本之低令人震撼。
thechubster, Edison, United States, 19 hours ago
The americans will soon be accusing China of copying american technology. Oh, wait, Amtrak is not a high-speed rail system?
很快美国人就会指责中国抄袭美国的技术。哦,等等,美国的Amtrak火车不是高铁吧?
Laowantong, Stoke-on-Trent, United Kingdom, 18 hours ago
Meanwhile HS2 is going ahead at well over 10 times the cost using what will be out of date technology if and when it is ever finished
英国HS2的成本是其10倍以上,目前还在施工,等到建成了就过时了
Sally a, London, United Kingdom, 18 hours ago
Why are we still giving aid to this already rich country...
为什么我们还在援助这个已经很富的国家…
Dan, Bristol, 19 hours ago
No doubt subsidised by the millions we send to them. Along with their space programme and increasingly modernised military defence (and attack) inventory.
毫无疑问,我们给他们提供了数以百万计的援助,肯定是用这个钱修建的,还有他们的太空计划,还有他们日益现代化的军事装备。
pernicketypat, Dundee, United Kingdom, 12 hours ago
Our country is going backwards
我们的国家正在倒退
DV00, MarlboroughR, United Kingdom, 15 hours ago
So China builds a railway that costs 6 billion. We are building a railway that will cost over 100 billion. ???????
中国花60亿英镑修建了一条高铁。而我们正在修建的一条铁路耗资超过1000亿英镑? ? ? ? ? ? ?
Spiny Norman, The Land of Wind and Ghosts, United Kingdom, 14 hours ago
We have driverless trains in the UK - when they're on strike!
英国也有无人驾驶火车——罢工的时候,火车就是无人驾驶的

Sailingdom1, London, United Kingdom, 18 hours ago
Could we get them to build hs2 at 5% of it's current projected budget.
能不能让他们帮我们建HS2,只要目前预算的5%。
Middlinggoose, Lincoln, United Kingdom, 20 hours ago
And still we send them 'Aid'! Ludicrous
我们仍然在援助他们啊
可笑!
外文:https://www.dailymail.co.uk/news/article-7839759/China-launches-worlds-smart-high-speed-railway-2022-Beijing-Winter-Olympics.html