4 Hyderabad rape accused snatched 2 guns from 10 cops, shot dead: Police
海得拉巴4名强奸犯从10名警察手中抢走2支枪,被警方击毙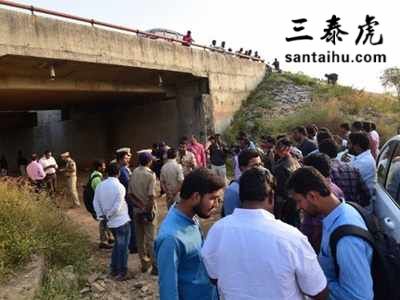 HYDERABAD: Just eight days after the rape and murder of a veterinary doctor on the outskirts of Hyderabad, the four men suspected of the crime were shot dead in an early Friday morning "encounter" by the Cyberabad police, which claimed the unarmed men had somehow managed to snatch two guns from their escort of 10 cops, all of whom were armed.
海得拉巴:在海得拉巴郊区奸杀一名女兽医八天后,周五凌晨四名嫌疑男子被赛博阿巴德警方击毙。警方称,这四名手无寸铁的男子从押送他们去案发现场的10名全副武装的警察手中夺走了两支枪,并朝警察开枪,为了自卫,警员开枪将4人击毙。
The killings occurred at Chattanpally village near Shadnagar, a stone's throw from where the suspects were alleged to have set the woman's body on fire after killing her. Police had taken the accused to the spot to recover the veterinarian's mobile phone and accessories.
事发地点位于Shadnagar附近的Chattanpally村,距离嫌疑人杀死女兽医并将其尸体付之一炬的地方只有几步之遥。警方将被告带到案发现场取回兽医的手机和配件。
The rape and murder on November 27 night had outraged people across India and led to an outcry for death penalty for the accused after a speedy trial.
11月27日晚发生的这起强杀案激怒了印度各地的民众,经过审判后,人们强烈要求判处被告死刑。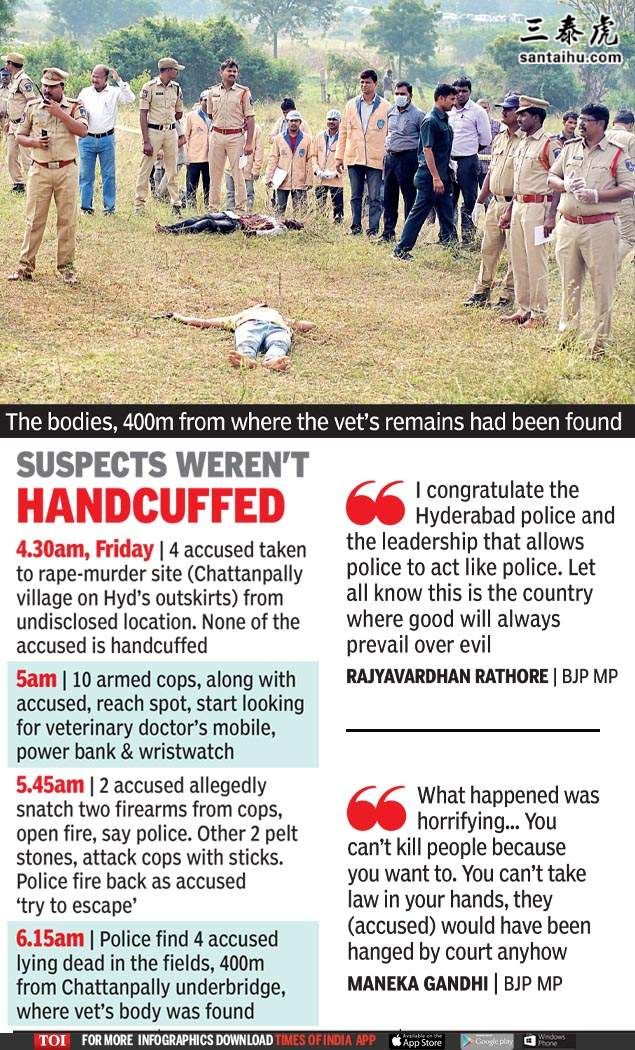 Earlier, as news of the encounter spread, a large crowd gathered at the spot and cheered the cops and the Telangana go nment for killing the four men. Many in the crowd distributed sweets among police officials and showered them with flowers.
早些时候,随着消息传开,一大群人聚集在现场,为警察和特兰加纳政府击毙这四名男子而欢呼。人群中的许多人向警察官*员分发糖果,并向他们敬献鲜花。
印度时报读者的评论:
译文来源:三泰虎 http://www.santaihu.com/48921.html 译者:Jessica.Wu
外文:https://timesofindia.indiatimes.com/india/4-rape-accused-snatched-2-guns-from-10-cops-shot-dead-police/articleshow/72408291.cms
P • 9 hours ago
instant justice , these cops deserve Bharat Ratan Award !
伸张正义,大快人心,应该给这些警察颁奖!
ABHAY SHANKAR Kumar • 9 hours ago
Encounter hua to hua but jo bhi hua acha hua .
Hope now Unnao rapist meet same fate .
希望乌纳奥强奸犯也会落得这种下场
Jose Varghese• 8 hours ago
In your dreams. When the Chief Minister is protecting the culprit, how you can expect justice?
做梦呢。首席部长保护罪犯,你还指望伸张正义?
Bllog Suri • 8 hours ago
This is plain murder by police. How can the prisoners be broight without handcuffs.
这是警察蓄意谋杀。怎么不给嫌犯戴手铐呢?
Pawan Khatri• 1 hour ago
Supreme Court has banned use of handcuffs.
最高法院已经禁止使用手铐。
Nationcomesfirst• 9 hours ago
Whatever it is. The end result is sweet..
不管怎样,结果是好的
Jose Varghese• 8 hours ago
Why they were not handcuffed? It appears it was pre-planned encounter. While I am happy those criminals are dead, we have a system in our country to punish the criminals.
为什么没有让嫌烦戴手铐?
看来这是事先计划好的。那些罪犯都死了,我是很高兴,不过我们国家惩罚罪犯的制度比较独特。
lasomani• 7 hours ago
The painful fact is that the four were yet to be proved in a Court of Law as the ones who raped and killed the woman,
令人痛心的是,还没有在法庭上证明这四人就是奸杀那个妇女的人
Upnorth• 48 mins ago
The courts system in India have failed Indians. If the cops do not do this, the population will take this in their own hands. Shame on Indian courts. No one trusts the courts now.
印度的司法系统令人失望。如果警察不这样做,人们会自行处理的。现在没人相信法庭。
ONE LINER Challenge • 9 hours ago
JUSTICE DELAYED IS JUSTICE DENIED -
拖延正义就是否认正义
ONE LINER Challenge• 9 hours ago
What goes around comes around- a hard lesson learnt by the 4 in their DEAD-DAYS
善有善报,恶有恶报——这是这4个人在末日得到的惨痛教训
Nameet • 9 hours ago
people have lost faith in judicary ,that's the reason people are happy that the killing gone the right way
人们已经对司法失去了信心,嫌烦被这样处决,也算大快人心
Pinaki Mukherjee• 8 hours ago
What a story....even if they killed them knowingly...what's the problem
即使是故意杀了他们,那又有什么问题
Nilesh Welling• 2 hours ago
The problem is this is not how de acy works. Imagine if such powers are given the cops they will kill inocent people to close there cases. After all even cops are humans and humans always use power for greed, for self.
问题是这不是皿煮的运作方式。想象一下,如果给警察这样的权力,为了结案,他们会滥杀无辜的。毕竟,警察也是人,人总是利用权力来满足自己的贪欲。
Anantha Prasanna • 6 hours ago
Good, Telengana police have done wonderful job
很好,警察做得好
Prakash Magal• 6 hours ago
There are many questions as the incidence appear to be a stage managed encounter.
Why were the suspects taken outside without being handcuffed? Why dis they go to the site at an early hours of 5 a.m. ?
The whole episode looks suapicious no matter how heinous crime they have coomited. Giving a death sentence after a trial is justified, not this.
很多疑点。为什么带嫌疑人到外面却没有戴手铐?为什凌晨5点就去现场?
不管他们犯了多大的罪,整个情节看起来都很可疑。审判后判处死刑才合理。
Bhojmanb • 6 hours ago
Police killed accused not convicted. who knows that accused were actual criminals. this is a conspiracy.
警察杀了没有被定罪的嫌疑犯。谁知道被告是否是真凶。这是一个阴谋。
Siv Sarkar• 8 hours ago
Shoot them first, do the trial later, if necessary! Actually they don't deserve any trial.
先杀了他们,如果有必要,再审判!
实际上不值得审。
Narendra Kumar• 6 hours ago
How do u know they are the Real Culprits? These guys might have been Cornered to accept the Crime n within few days Police/Govt might have wanted Get Rid of this case or Heat of the public and Killed them..Show the Proof these are the Real Culprits...I don't Support the Heinous Crime but things should not be looked at Superficially!!
你怎么知道他们是真凶?
这些人可能会在几天内被逼认罪,警察可能想要平息众怒才杀了他们。拿出证据证明他们是真凶…我不为这种十恶不赦的罪行辩护,但是事情不能光看表面!!
nanksn• 6 hours ago
These policemen should be rewarded..What our judiciary would take a couple of decades to give justice to the victim, these policemen gave in days..saving a lot of time , money and energy of the tax payers.
这些警察应该得到奖励。我们的司法系统需要几十年才能为受害人伸张正义,这些警察几天内就做到了。为纳税人节省了大量的时间、金钱和精力。
Harish Patel• 8 hours ago
Good job done other police and other states need to do the same shoot them on sight.
干得好,其它邦的警察也学学,看到强奸犯就开枪。
Thaniyath • 2 hours ago
I could not understand the maths of 4 people snatching 2 guns from 10 people.
4个犯人从10个警察手里抢了2支枪?怎么做到的?
Gino • 2 hours ago
I wish I could give at least 1 lakh rupees each to the 10 policeman from Hyderabad
Thanks
我想给这10名海得拉巴警察每人至少10万卢比。
Mudi Ji• 2 hours ago
You can't do that. Personal donations are not allowed to police.
你不能这么做,警察不能收。