Gujarat: 'He used to rape women in front of their partners'
古吉拉特邦:"他过去常常当着女子伴侣的面实施强奸。"
HMEDABAD: A member of the notorious Dafer gang, Akbar alias Lulo Sandhi (45) of village Vasava of Viramgam, was caught by the city crime branch on Wednesday from Ahmedabad. According to police, Sandhi's name had figured in two gang rape cases.
艾哈迈达巴德:臭名昭著扎法尔团伙的一名成员阿克巴别名卢洛·桑迪(45岁)来自维拉姆加姆的瓦萨瓦村,周三在艾哈迈达巴德被抓获。据警方表示,在两起轮奸案中,桑迪均有参与。
In-charge crime branch DCP Rajdeepsinh Jhala said three members of the gang are still on the run.
拉吉德普辛·贾拉表示,该团伙的三名成员仍然在逃。
"Till now, we have detected his involvement in two cases of gang rape in which a girl and a housewife were gang-raped in front of their boyfriend and husband, respectively," said Jhala.
贾拉表示:"到目前为止,我们已经发现他参与了两起轮奸案,其中一名女孩和一名家庭主妇分别在自己男友和丈夫面前被轮奸。"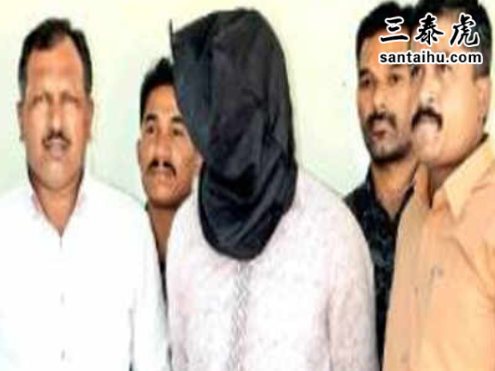 印度时报读者的评论:
译文来源:三泰虎 http://www.santaihu.com/48803.html 译者:Jessica.Wu
外文:https://timesofindia.indiatimes.com
Nasim • Ahmedabad, India • 1 day ago
Hang him. He deserves it.
绞死他,罪有应得。
Hindustani• 1 day ago
Instead of hanging him the best punishment must be castration. He will leave with shame for rest of his life
与其绞死他,不如阉了他。他将带着羞愧度过余生
Preamdeep Daas• 1 day ago
True he needs to live his life to understand the pain.
没错,让他活着尝尝痛苦的滋味
Peter Desouza • 1 day ago
Anyone who commits such crimes, must be hanged in public and immediately. only severe punishment will deter others.
犯这种罪的人,必须立即当众绞死。只有严惩才能杀鸡儆猴。
Paddy• 1 day ago
This shouldnt be linked with religion. He is a criminal and should be get punishment at highest level by law.
这与宗教无关。他是罪犯,应该依法受到严惩。
Roushan S• 1 day ago
Keep him in a room with 10 black huge gays for a night...if still he walks out keep him for another night...definitely rest of his life he will be crawling....
把他和10个黑人同性恋大块头关一晚…如果他还能站着出来,再关他一晚……他的余生肯定要爬着走……
Suresh Cumar• 22 hours ago
Yes yes yes, best punishment for rapist is to get rape sodomised. Thereafter, no more rape cases in India.
对,对,对,对强奸犯最好的惩罚就是鸡奸。此后,印度将不再发生强奸案。
Ashish Malakar • 1 day ago
Surgically remove his sexual organ under local anesthesia and let him watch the whole procedure.
在局部麻醉下,阉割他,让他观看整个过程。
Anurag Agrawal• 1 day ago
Agreed but without any Anesthesia...
同意,但不要打麻醉……
Merin Kumar• 1 day ago
He shouldn't be allowed to die, remove his organ and hand and leg and then throw in streets...
不能让他死,阉了他,剁了他的手和腿,然后把他扔到街上……
Kcvirakt • India • 1 day ago
Castrate him In public
当众阉割他
Chaitanya Agarwal • 1 day ago
Such culprits should be punished by castrating them.But unfortunately our system takes very long time to punish such culprits and as such such crimes are not being stopped.
应该阉割强奸犯。不幸的是,我们的司法系统会拖延很长时间才会做出判罚。
imtiyaz • 1 day ago
If convicted stone him to death in public
如果被判有罪,就当众用石头砸死他
Akii • 1 day ago
rapist should be hang till death whosoever he is
不管强奸犯是什么人,都应该绞死
Ajay Patodia• Kolkata • 1 day ago
Torture him to get the others and then hang them in public without any trial.
把其他几个也抓起来,无需审判,当众绞死。
Bryan Raymond • Lucknow • 1 day ago
Hang them in the city square,so all can see these evil men.
在广场上当众绞死他,让所有人都看到这些坏人的下场。
Srinivas Dhangar • Pune, Maharashtra • 1 day ago
These retards ,deserve nothing less than capital punishment,they have destroyed life of many people
这些弱智,活该受极刑,他们毁了很多人的生活
Manjit Lohiya • 23 hours ago
Whatsoever his religion may be, he must be given most severe punishment which become an example for others.
无论他信仰什么宗教,他都必须受到最严厉的惩罚,杀鸡儆猴。
Manjit Lohiya • 22 hours ago
The most severe should be nothing less than HANG HANG HANG & should be carried out without any delay. Also no bail of any matter should be allowed or granted.
最严厉的惩罚就是绞死他,立即执行。无论如何都不允许保释。
kumarakrishnan • 40 • 21 hours ago
Castration is the best punishment
阉割是最好的惩罚
Niyaz Ahmed Bangalore • 22 hours ago
Why indian court don''t give death sentence to these kind of people
为什么印度法院不判这些人死刑
Subhash • 23 hours ago
True, any way they will get bail and come out shortly.
不管怎样,他们很快就会被保释出来的。
boss • 21 hours ago
He should have been given to the mobs.
把他交给暴民
Indian • 22 hours ago
Hang this animal
绞死这个畜生
Prerak Arya • New Delhi • 1 day ago
Castration and removal of limbs including tongue would be better than Hanging.
绞死的话,便宜他们了。阉割并切除四肢吧