Indian-American Sikh police officer shot in Texas
一名锡克教印裔美籍警察在德克萨斯州被枪杀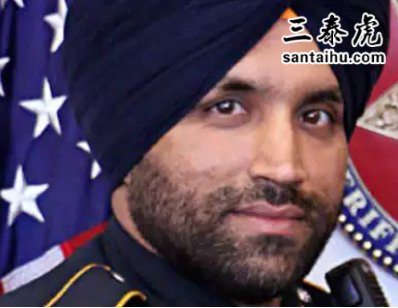 NEW DELHI: Sandeep Dhaliwal, an Indian-American Sikh police officer who grabbed news headlines when he was permitted to grow a beard and wear a turban on the job in the US, was shot on Friday during a mid-day traffic stop, authorities said. He was taken by helicopter to a hospital where he succumbed.
新德里:星期五,印裔美籍锡克教警察桑迪普·达利瓦在午间交通执勤时被枪杀,他曾因获准蓄胡须,戴头巾上班而上头条。直升机将其送往医院,不幸在医院去世。
The 41-year-old cop, originally from Dhaliwal in Punjab's Kapurth district, was a 10-year veteran of the Harris county sheriff's office and became its first-ever Sikh deputy in January 6, 2015. He was gunned down while conducting a mid-day routine traffic stop in Houston, Sheriff Ed Gonzalez said. "He wore the turban, he represented his community with integrity, respect and pride and he was respected by all," Gonzalez said at a press conference on Friday night.
这名41岁的警察来自旁遮普卡普尔塔拉地区,在哈里斯县治安办公室工作了10年,于2015年1月6日成为第一位锡克教徒副手。警长埃德冈萨雷斯称,他是在休斯敦执行午间例行交通检查时被枪杀的。冈萨雷斯在星期五晚上的新闻发布会上说:"他戴着头巾,以正直、尊重和自豪代表了他的社区,他获得了所有人的尊重。"
According to Major Mike Lee of the sheriff's office, "The dashboard camera video showed Dhaliwal and the suspect, Robert Solis, 47, still in his car, having a conversation with no sign of confrontation. A few seconds after Dhaliwal returned to his squad car, the suspect ran up and shot him in the head multiple times." Solis was charged late Friday with capital murder.
警长办公室的迈克·李少校说,"仪表盘上的摄像头显示,达利瓦和坐在车内的犯罪嫌疑人-47岁的罗伯特·索利斯交谈,没有任何争执的迹象。就在达利瓦返回警车的几秒钟后,嫌犯跑了过来,朝他的头部开了好几枪。索利斯被控犯谋杀罪。
A woman who heard the shot also saw Solis run to a getaway car. Lee said the suspect then went to a store nearby. After a brief search, authorities detained Solis, who has a criminal record that includes convictions for aggravated assault with a deadly won, aggravated kidnap and driving while intocated.
一名听到枪声的妇女看到索利斯跑向一辆车,然后逃走了。迈克·李说,嫌疑人随后去了附近的一家商店。经过搜查,当局逮捕了索利斯。
印度时报读者的评论:
译文来源:三泰虎 http://www.santaihu.com/48511.html 译者:Jessica.Wu
外文:https://timesofindia.indiatimes.com
Dhiru in USA
Too many guns in wrong people''s hands. Very sad in dent. Prayers for the family.
持枪的不法分子太多了。悲剧啊。
Anna Lakhe
Why is he called an Indian even after fled from India?
他都逃离印度了,为什么还称他为印度人?
Jagdish MadanVancouver BC5 hours ago
A good man lost to mindless hatred! Rest in peace Dhaliwal!
一个好人被杀了!
安息吧,达利瓦!
Bibhash Goswami3 hours ago
Stop this news now. Ok tell me why i should be proud for him.
别发这种新闻了。告诉我,为什么我应该为他感到骄傲?
Ader Pal SinghHYDERABAD4 hours ago
The PM should also put out a tweet in condolence of the fallen Sikh.
总理也应该发布一条推特,哀悼这位死去的锡克教徒。
sankepally rajainder reddy5 hours ago
RIP. it was racial hatred crime
安息吧。这是种族仇恨引发的犯罪
Ashish2 hours ago
Americans will remain racists forever , Trump is no friend of India
美国人永远是主义者,特朗普不是印度的朋友
Siva K3 hours ago
The Go nment of United States must revoke the to bear arms guaranteed in US constitution.
美国该禁止持枪了
Kumar2 hours ago
Displaying re gion identify in public services not good practice, why wear such headgear, beard in police military etc? humanity is above all re gious fa th, be human first which solves many issues, it's mostly the shoer mistook him as one te rort
在执行公务时让人知道其身份是不合规范的,为什么警察戴这样的帽子、留这样的胡子?
枪手把他误认为分子了
NationOthers4 hours ago
Why a death of an police officer in duty in USA is highlighted in India as there is no angle of racial attack? Identity po itics?
美国警察在执勤时被枪杀,为什么上印度新闻?
Rewarding2 hours ago
RIP indian born foreign officer
安息吧,印度出生的外国警官
Saran Roy2 hours ago
Dhaliwal was a brave police officer. The culprit who killed him must be hanged.
达利瓦是一位勇敢的警官。罪犯就该
Manish R SinhaMumbai, India3 hours ago
That is why guns should not be distributed as prasad... too many guns are creating nusaince in US.
在美国,持枪的人太多了,造成了很多麻烦
JayantMumbai4 hours ago
Rest In Peace dear Deputy Sandeep Singh Dhariwal........my HEARTFELT Condolences for the bereaved family. The TRUTH SHALL PREVAIL
安息吧,达利瓦尔,对失去亲人的家属表示慰问。真理必胜
ParveenBattlefield60 minutes ago
RIP bro..
安息吧,兄弟.
A1 hours ago
Why has the perpetrator been named ? It is always hushed up. Ohh, it was not a pi$$ful !
为什么要公布行凶者的姓名?
不是通常不透露的吗?
pramLocation1 hours ago
Officer got killed in line of duty in US. Probably because of his turban and beard, Probably, Murderer took him as a Mus m.
在美国,一名警官因公殉职,也许是他的头巾和胡须招来杀身之祸
Sajjan Singh Shaktawat2 hours ago
Very sad. US Gt should regulate wons
非常难过。美国政府应该管制枪支
EkdesiUSA3 hours ago
Suspect already has a criminal record that includes convictions for aggravated assault with a deadly won, aggravated kidnap and driving while intocated. So, it is unlikely a racial killing.
犯罪嫌疑人有犯罪记录,包括使用武器袭击他人、绑架和醉酒驾车。因此,这不太可能是种族仇杀。
NationcomesfirstMother INDIA3 hours ago
This looks like a premeditated killing. Eventhough the man pulled trigger, it seems to be it was carried out with direct instructions from someone else ( po itical ?).It should be investigated thoroughly and get to the bottom..RIP officer. My prayers are with you and Ur grieving family members..
这看起来像是谋杀。这名男子扣动了扳机,不过似乎是在其他人的直接指示下进行的。应该进行彻底调查,找出真相所在。安息吧,为你和你悲痛的家人祈祷。
ManoharNagpur3 hours ago
God bless you and your family. RIP Sandeep !!
安息吧,桑迪普,愿神保佑你的家人
Ram Bharat Charankl4 hours ago
RIP
安息吧
Dreet4 hours ago
Just a few days after the Houston extravaganza a few miles away
几天前莫迪刚在休斯顿举办集会,离案发地点就几英里
Melania MorphJahanabad5 hours ago
These type of Indian-American sixers must die like this .. excellent news !!!
好消息,这些印裔美国人就得这么死去