India will become $5 trillion economy because of strong foundation d by previous gts: Pranab Mukherjee
普拉纳布·慕克吉:由于前几届政府打下坚实基础,印度将成为5万亿美元经济体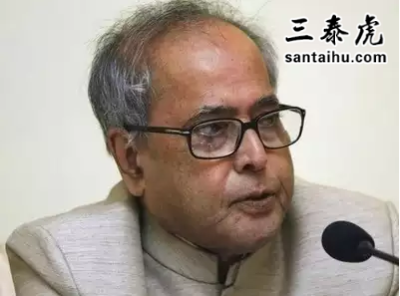 NEW DELHI: Former presi nt Pranab Mukherjee said on Thursday that India would become a $5 trillion economy by 2024 because of the strong foundation d by previous go nments.
新德里:星期四,印度前总统慕克吉表示,在前几届政府打下的坚实基础之上,到2024年,印度经济规模将达到5万亿美元。
Delivering a lecture on 'Furthering India's Promise', Mukherjee said various economic and social sectors are performing well because of the efforts of Indians since Independence.
慕克吉在一次关于"推动印度承诺"的演讲中表示,自独立以来的努力,印度各个经济和社会部门的表现都很好。
He rued the fact that the Modi dispensation has not only scrapped five-year plans but also done away with the Planning Commission.
让他感到遗憾的是,莫迪不仅废除了五年计划,还废除了规划委员会。
"The finance minister can say that India will become a $5 trillion economy by 2024 because of the strong foundation d previously. It isn't coming out of heaven. There's a solid foundation and the foundation has been built not by Britishers but by Indians after Independence," he said.
慕克吉表示:"可以说,由于先前打下的坚实基础,印度到2024年将成为一个5万亿美元的经济体。这是一个坚实的基础,不是英国人建立的,而是印度人在独立后建立的。"
印度时报读者的评论:
译文来源:三泰虎 http://www.santaihu.com/48068.html 译者:Jessica.Wu
外文:https://timesofindia.indiatimes.com
Jagdeep Singh
Previous gts d the foundation for becoming $5 Trillion? Pranab Da is . Previous Gt has d the foundation of Scams and Cor ion to beco...
前几届印度政府为5万亿美元经济规模打下了基础?
前一届印度政府为诈骗和奠定了基础。
Kl Taunk
Agree, foundation was d by Mr. PV Narsimha Rao. Present congress has nothing to do with that as this congress only believes in looting public money...
同意,基础是由纳拉辛哈•拉奥先生奠定的。和国大党无关,国大党只会*……
Shilpy
congress gave us socialism. Fail
国大党给我们带来了。失败。
Indo Khan•4 hours ago
Yes. Previous Gt built strong foundation, but current Gt is constructing a tall building on it. You cannot live in the foundation
是的,前几届印度政府打下了坚实基础,现任政府正在这个基础上建一座高楼,你总不能住在地基里吧。
Sam•6 hours ago
I have a strange feeling either he is a to some Congress scam or he has a threat for his life or reputation or he is blackmailed to speak such pro Congress statements! other wise he is speaking nonsense unless he means 5 trillion dollar co ption
我感觉,要么他是参与了国大党的丑事,要么他的生命或声誉受到威胁,逼他发表这种支持国大党的声明!

rishi mehta•6 hours ago
exposes his atrociously poor understanding of both economy and po itics ..
这暴露了他对经济和一无所知
mai bhi chowkidar rishi•7 hours ago
another congressi-cancerous-leftover feeling sheepish at Modi''s brilliant success in delivering a remarkably good governance
又是一个国大党的拥趸
rishi mehta•7 hours ago
he was made presi nt for no merit but for doing decades of doing sheer babugiri to the nehru-gndhi family....and now he is desperate to make way for his son abhijit
他当上总统不是靠功绩,而是靠几十年来他为尼赫鲁-甘地家族效力……现在,他正不顾一切地给他的儿子铺路。
Ricky Infosmart•9 hours ago
Congress only thinks how to control whole the nation in there hands.
国大党只想着怎么把整个国家控制在自己手里。
Shiv•9 hours ago
Fact is that Nehru strangulated Indian economy and po itics.By the time he died, the 5 year plan was in shambles, India was 50 years behind in technology, unable to provide food to its people
实际上,尼赫鲁扼杀了印度的经济。到他去世时,五年计划已经一团糟,印度在技术上落后了50年,人们吃不饱饭。
Anand P•Unknown•20 hours ago •Follow
Pranab da is defending the indefensible.....why it took economy to reach 3Trillion mark in seventy years ? had it not been congress''s dirty po itics and mindless economic policies...India always had the pential to achieve many economic milestones. It was congress which withheld Indian pential
慕克吉在为不可辩护的事情辩护……为什么花了70年,印度经济规模才达到3万亿?
国大党,经济政策不合理,要不然印度也有潜力实现许多经济里程碑。是国大党扼杀了印度的潜力。
Makdxb•INDIA•21 hours ago
india has strong foundation but Congress were removing every stone from the that. They incapability made this country in deep trouble in 2013..Now india is going ahead in direction
印度有着坚实的基础,而国大党一直在挖墙脚。
他们的无能,使这个国家在2013年陷入了困境。现在印度正朝着正确的方向前进
Shaktimaan•22 hours ago
Gujju team has just led India to 45 Year Record Unemployment.
莫迪团队刚刚将印度的失业率提高到45年来的最高水平。
Optimus•Mumbai•23 hours ago
all Congress people too should go six feet deep underground..I''m sure India will soon become Ten trillion dollars economy.
把所有国会议员埋到地下六英尺,打好基础,我相信印度很快就会成为10万亿美元经济体。
Baby Mohan•Banagalore•23 hours ago
Narasimha Rao''s go nment and his Finance Minister Dr Manmohan Singh''s contribution towards the unleashing the market reforms is true.
拉奥政府及其财政部长曼莫汉·辛格对市场改革的贡献是真实的。
Hariom Rana•23 hours ago
wow, how easy to say that. india will become 5 trillion economy due to hard working citizen of india. Go nments had done noting. Previous governmemts(INCLUDING CURRENT) have only halted the progress.
哇,说起来真简单。只有印度公民一起努力,印度才能成为5万亿经济体。
Prince Gw•India•1 day ago
Foundations were d only for economy ? What about the disgusting status of administration, judiciary, education, health care and culture itself ? WHO d the foundations for the deterioration of this country ? As some one said success always have many owners but failure is always is an orphan.
只奠定了经济基础?那么,行政、司法、教育、医疗和文化呢?
谁为这个国家的衰败奠定了基础?
事成都来居功,事败无人肯认。
Jagdeep Singh•Gurugram•1 day ago
Previous Gt has d the foundation of Scams and Cor ion
上届印度政府为诈骗和奠定了基础。
Srinivasan•Chennai•1 day ago
A former Presi nt should not engage in this kind of ch partisanship.
前总统不应该参与这种党派之争。
Kl Taunk•1 day ago
Since they can''t see any statesman in congress or other parties, people are forced to BJP....
由于国大党或其他政党中没有靠谱的候选人,印度人民被迫选择人民党…