World Bank retains India's growth rate for FY19-20 at 7.5%
世界银行预测印度2019-20财年经济增长率为7.5%,与此前预期保持一致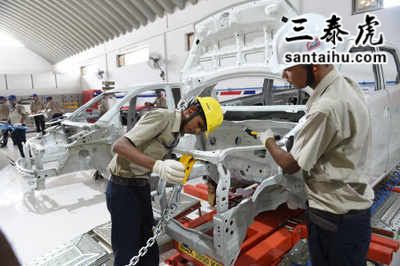 WASHINGTON: India is projected to grow at 7.5 per cent in the next three years supported by robust investment and private consumption, the World Bank has said.
华盛顿: 世界银行表示,在强劲投资和私人消费的支持下,未来3年印度经济增速预计为7.5%。
The Bank in its Global Economic Prospects released Tuesday said that India is estimated to have grown 7.2 per cent in fiscal year 2018/19, which ended March 31. A slowdown in go nment consumption was offset by solid investment, which benefitted from public infrastructure spending.
世行在周二发布的《全球经济展望》中表示,在截至3月31日的2018-2019财年,印度经济增长7.2%
As ag inst a growth rate of 6.6 per cent in 2018, 's growth rate in 2019 is projected to drop to 6.2 per cent and then subsequently to 6.1 per cent in 2020 and 6 per cent in 2021, the bank said.
世行表示,与2018年6.6%的增长率相比,2019年的增长率预计将降至6.2%,随后在2020年和2021年分别降至6.1%和6%。
With this India will continue to retain the position of being the fastest growing emerging economy. And by 2021, its growth rate is projected to be 1.5 per cent more than 's 6 per cent.
因此,印度将继续保持增长最快新兴经济体的地位。预计到2021年,印度经济增速将比的6%高出1.5%,即7.5%。
According to the World Bank, growth in India is projected at 7.5 per cent in Fiscal Year 2019/20 (April 1, 2019 to March 31, 2020), unchanged from the previous forecast, and to stay at this pace through the next two fiscal years.
根据世界银行的预测,印度在2019/20财年(2019年4月1日至2020年3月31日)的经济增速预计为7.5%,与此前的预测持平,并将在未来两财年保持这一增速
印度时报读者的评论:
译文来源:三泰虎 http://www.santaihu.com/47781.html 译者:Jessica.Wu
外文:https://timesofindia.indiatimes.com
Pranav Sharma • 2 hours ago
Even world bank is more optimistic than congress.. lol
就连世界银行也比国大党乐观。哈哈
Vertigo • Pranav Sharma • Pune • 1 hour ago
No sign of Pappu... Any news about his whereabouts ? Has he committed suicide or something ? I hope not... because we need that autistic duffer for 2024 as well. After all, he is BJP''s star campaigner. Long live Pappu Popat
怎么没有拉胡尔的踪影了,有他下落的消息吗?他自杀了吗?
我希望没有… 2024年选举我们还需要那个自闭的笨蛋
Shashi Tharoor ki maataaji • Vertigo • Ker • 1 hour ago
He''s in deep sulk after getting gaaang-baaaanged on May 23rd. His sore aaarssse just wont heal
在5月23日惨败后,他闷闷不乐,伤口无法愈合
Sssssshhhhh • 2 hours ago
I Pray to GOD that Modi go nment should be there for another 25 years
祈祷莫迪政府再执政25年
rajendran nair• Sssssshhhhh • 1 hour ago
Your wish is similar to 800 million Hindustanis. However remaining so called citizens are anti-Hindustanis, who does not want Hindustan to progress like or Pakistan. Only want to loot money to deposit in Swiss banks.
这是8亿印度人的愿望。可惜其他人不希望看到印度像或巴基斯坦那样进步,只想捞钱存入瑞士银行。
Dr Vidyadhar Yellutla • Bangalore • 2 hours ago
A step closer to become 5 trillion $ economy by 2024.
朝2024年成为5万亿美元经济体的目标又迈进了一步。
Souvik Ghosh Dastidar• 12293 • Dr Vidyadhar Yellutla • Kolkata • 2 hours ago
5 trillion is a distant dream. Target 3.5 trillion as of now. Go step by step.
5万亿美元是一个遥远的梦想。目前的目标是3.5万亿美元。一步一步来。
Souvik Ghosh Dastidar • Bangalore
From 2014(1.857 trillion $-11th position) to 2019(2.85 trillion $ - 5th position), NDA has added 1 trillion $. What it means is India becoming 4 trillion $ is assured, extra measures can make it 4.2 trillion $ at least.
印度2014年的GDP为1.857万亿美元,位居第11位,到2019年,这一数据为2.85万亿美元,排世界第5。也就是说,印度人民党执政这5年,印度GDP增加了1万亿美元。成为4万亿美元经济体还不是指日可待,加把劲的话甚至4.2万亿美元经济体也可以拼一拼。
N Renganathan• Location
good news . World Bank has revised overall growth of world from 2.9 (January) % to 2.6 (June) as per predictions .
let everybody work hard to achieve 7.5% estimated .
好消息。根据预测,世界银行将全球经济增长从1月份的2.9%调整为6月份的2.6%。
大家一起努力实现7.5%的预计增速吧。
Avanish Srivastava• N Renganathan
Let everybody work hard!
This is what required.
大家努力工作吧
Bharat
A Gujju Chaiw has performed better than literate idiots like MMS and corrupt Cheatembaram.
一个古吉拉特卖茶人都比经济学家曼莫汉·辛格做得更出色。
Abhishek Nirm Pandey • india
It''s not that congrass is not optimistic. It''s that they don''t want the go nment to succeed and the country to prosper. If the people don''t remain hungry and poor, congress ''ve bank'' will go.
国大党不想让人民党获得成功,不想让国家繁荣。如果人民不再挨饿受贫,人们就会继续支持人民党,国大党的"票仓"就会消失。
Balram
Comparing India with on economy and growth rate is understood. But why the only other country mentioned in this context is Pakistan? We aren't living in the 90's.
拿印度经济增长率和比是可以理解的。为什么提到巴基斯坦?我们又不是生活在90年代。
Krish • india
It is a completely justifiable assessment, given the business friendly environment and stable go nment.
考虑到印度有着友好的从商环境和稳定的政府,这个增速是完全合理的预测。
Abhishek Kaushik • Patna • 2 hours ago
Atleast the world bank has more fa th in India''s economy and the current go nment. Hopefully Nirm sitharn will analyse the reason behind India''s declining economic growth and act accordingly to mitigate the situation.
至少世界银行对印度经济和现任政府更有信心。希望新任财政部长西塔拉曼能够分析印度经济增长放缓的原因,并采取相应对策
Jagdeep • Gurugram • 1 hour ago
Modi hai to Mumkin hai.
What Harvard graduate can't do it, A chaiw will do it.
哈佛毕业生做不到的事,卖茶人做得到。
Mohit Goyal• 387 • Mohit Goyal • 1 hour ago
wow.....India is once again a worlds fastest growing economy
哇.....印度再次成为全球增长最快的经济体
Lasomani • Location • 1 hour ago
India is actually slowing down.
印度经济实际上正在放缓
Da • India • 2 hours ago
Indian Economy safe and going to be progressive next five year under the leadership pf Narendra Modi.This news may not be digested by Rahul Randhi.
在莫迪的领导下,印度经济稳步增长,并将在未来五年持续进步。拉胡尔可能无法接受这个事实
A True • New Delhi • 1 hour ago
rahul with all his heirs should migrate to pak to help them revival of their economy
拉胡尔和他的继承者应该移民到巴基斯坦,帮助巴基斯坦恢复经济
Gaana User • 2 hours ago
Superbb
太棒了
Kameswaran • 59 mins ago
The anti national opposition will say, Modiji is now controlling World Bank too, to sideline !!!
反对派会说,莫迪现在也操控着世界银行,把边缘化!!
Bharat Tonse • 1 hour ago
it has to, and will hover around 8 to 9 percent.
the many wonderful reforms and great work in infra will bring rewards in 15 months. ...
这个增速是必须的,以后会在8%到9%左右徘徊。
出色的改革,基础设施方面的建设,将在15个月内带来回报。
bharat tonse • Goa • 33 mins ago
Andjt is just the begng.
这仅仅是个开始
NTR • 2 hours ago
WB knows that PM Modi is back
世行知道莫迪连任了
Straightfromheart • India • 2 hours ago
All numbers are cooked up....
所有数据都是捏造出来的……
Vishal • 51 mins ago
Pakistan growth rate should be minus 10%
巴基斯坦的增长率应该是负的10%