RBI Governor says India's economy needs to grow even faster
印度央行行长表示,印度经济需要更快增长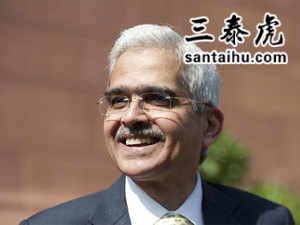 India's central bank chief said the expansion of the world's fastest-growing major economy needs to pick up to around 8 percent to deal with poverty and other challenges.
印度央行行长表示,作为世界上增长最快的主要经济体,印度经济增速需达到8%左右,以解决贫困和其他问题。
While the past few years' average growth of around 7.5 percent was impressive, "the expectation is India can be better," Reserve Bank of India Governor Shaktikanta Das said at an International Monetary Fund event in Washington on Friday. He also said more structural reforms were needed in areas such as land and labor.
星期五,在国际货币基金组织在华盛顿举行的一场活动上,印度央行行长达斯(Shaktikanta Das)表示,尽管过去几年的印度GDP平均增长率约为7.5%,令人印象深刻,但"预期增速会更高。"他还表示,需要在土地和劳动力等领域进行更多的结构性改革。
India is expected to post real economic growth of 7.2 percent in the 2019-2020 fiscal year, and is seeing below-target inflation even as rising oil prices add an upside risk, the governor said. Still, he added that the inflationary impact from spikes in crude -- India's biggest import -- can be exaggerated.
在2019-2020财年,预计印度的实际经济增长率将达到7.2%。油价上涨增加了上行风险,然而印度的通胀率仍将低于目标水平。不过,他补充称,原油价格飙升对通胀的影响可能被夸大了,印度最大宗进口为原油。
"If there is a temporary spike of oil prices and again it comes down, then obviously the impact gets moderated," Das said. Any "sustained increase in crude prices will definitely have an impact on inflation, but we have to see how sustained it is."
达斯称:"如果油价出现暂时上涨,然后又回落,那影响明显会减弱。原油价格的持续上涨肯定会对通胀产生影响,我们必须看看这种影响能持续多久。"
Higher oil prices over the longer term may hurt India's growth as well as its current account deficit, factors which would drag the rupee down. The recent oil spike is occurring ag inst a backdrop of consumption suffering from a crisis in the shadow banking sector and exports stagnating amid a global slowdown -- all of which has seen India's growth prospects dim.
长期来看,油价上涨可能会影响印度的经济增长和经常账户赤字,这些因素将拖累卢比走低。近期油价飙升的背景是,消费受到影子银行业危机的影响,出口在全球经济放缓的背景下停滞不前——所有这些都令印度的增长前景黯淡。
The RBI reduced interest rates by a quarter-percentage point last week, the second cut in as many meetings chaired by Das who took charge in December after Urjit Patel's sudden resignation. Despite the easing, the central bank still retained its neutral policy stance.
印度央行上星期降息25个基点,这是继乌尔吉特•帕特尔(Urjit Patel)突然辞职后,由达斯主导的第二次降息。尽管放松了货币政策,印度央行仍然保持中立的政策立场。
"Our priority is to remain watchful and take coordinated action to revive growth, and maintain macroeconomic, financial and price stability," he said in Washington.
达斯在华盛顿表示:"我们的首要任务是保持警惕,采取协同行动来恢复增长,保持宏观经济、金融和物价的稳定。"
The central bank last week lowered the growth forecast for the fiscal year that began April 1 to 7.2 percent from 7.4 percent seen previously. It also expects headline inflation and underlying price pressures to remain subdued in coming months, giving it some more room to lower rates.
4月1日标志新财年的开始,上星期印度央行将经济增长预期从此前的7.4%下调至7.2%。印度央行还预计,未来几个月总体通胀和潜在价格压力将保持在较低水平,这将为其降息提供更多空间。
India has one of the highest real rates of interest in Asia and that's often been cited as a reason why investors hold back.
印度是亚洲实际利率最高的国家之一,这常被认为是投资者不愿在印度进行投资的原因之一。
印度经济时报读者评论:
译文来源:三泰虎http://www.santaihu.com/47392.html 译者:Jessica.Wu
外文:https://economictimes.indiatimes.com
Anubhav m
This is What One is waiting to hear "The basic "Actionable Plans, Series of" Steps and Measures" from RBI Governor and Finance Ministry instead of Vague ambiguous announcement and statements. Gt has spoken enough in its Election Manifesto let us hope it is able to keep its Promises
我们在等印度央行行长和财政部出台"基本的"可执行计划、一系列"步骤和措施",而不是含糊不清的声明。政府在竞选宣言中已经说得够多了,我们希望能够信守承诺。
chowkidar shilpy shilpy
5 hours ago
yes, nice post. one thing the stakeholders can do is pay all taxes due honestly, in time. do you agree, ashok ji?
文章写得不错。大家可以做的一件事是按时、如实缴纳所有应缴税款,同意吗?
Ajit Grewal
8 hours ago
what a genious SIR JEE. First figure out what is the actual rate at which India is growing on account of demonetization and GST .
首先搞清楚在实行"废钞令"、商品和服务税之后,实际增速是多少?
nick
8 hours ago
Japan grew fast because all Japanese took it upon themselves to make country economically strong and did not waste time and energy criticizing and commenting everybody and everything.
日本发展得很快,因为所有日本人都承担起了使国家经济强大的责任,没有浪费时间和精力去评判每一个人、每一件事。
bsrahmd
9 hours ago
What are engines od growth ? The obvious engine I can think of is the infrastruture. Build roads , highways etc. What other engines are there ? What do we produce that can be exported in vast quantities ? ch clothes ? (vietnam, indonesia does it ) manufactured goods ? ( does it ) . It would be eye opening for entreprenuers if they could tell us the industries we should focus and con trate on. Will they do it ? Or just say we need to grow 8% arbitrarily and hope some how the people will move in that direction. Give us the some real pointers.
经济增长的引擎是什么?我能想到的最明显的引擎是基础设施,修建公路等等。还有其他引擎吗?我们能大量生产哪些产品?廉价衣服?(越南和印尼在生产)制成品?

Shaleen Tripathi
10 hours ago
Fiscal pridence/policy can give effective push to Economy ,RBI has little role to play
财政政策可以有效地推动经济增长,印度储备银行几乎没发挥什么作用
Pradeep Rao
11 hours ago
With higher inflation rate any one can achieve higher gdp...it's happening since 1947.. high inflation, currency devaluations, budget deficit, co ption and poverty.. what we need is better sy em which consider tax payer than business class.. because ultimately tax payers suffer..
通货膨胀率越高,GDP越高…1947年就是这样,高通胀、货币贬值、预算赤字、和贫困。我们需要的是一个更能考虑纳税人利益的体,最终遭殃的总是纳税人。
Jawahar Thadhani
12 hours ago
Spoken like a genius!Everybody knows that the economy must grow faster, but not by fudging figures.The RBI governor must recommend a strategy for faster growth!!The problem is no renowned economist wants to head RBI in view of gt interferance.They havve to fall back on babus who can only toe the gt line
说话的口吻像个天才!每个人都知道经济增长必须更快,但不是通过捏造数据的方式。要实现更快的增长,印度央行行长应提出策略!!问题在于,政府的干预下,没有哪位知名经济学家愿意执掌印度央行。他们不得不退而求其次,任命那些只服从政府命令的先生。
Sudip Bhowmik
12 hours ago
Our beloved Modi is God.
我们敬爱的莫迪就是神。
Padamnoor Pradeep
12 hours ago
We can grow even faster, but, who will buy the produce at even present prices.
我们可以加快增速,但是,以目前的物价水平都没人愿意消费。
Bhaskar Nuleti
14 hours ago
All economists of the country recorded through print and digital media that our economy touched bottom level in all sectors. How the RBI governor say "our economy should go more faster"? Last 5 years businesses closed, manpower lost, jobs lost, farmers dying, prices rising on faster mode. Except bjp became richer and richer with oral bonds.
全国所有的经济学家都说印度经济全面触底了。印度央行行长怎么说"我们的经济应该以更快的增速发展"?过去5年,企业倒闭,人员流失,工作岗位流失,农民死亡,物价以更快的速度上涨
Ramesh Shah
14 hours ago
IT''S STAGNANT AT THE MOMENT BETTER PUSH TO MOVING LEVELS THAN THINK OF THE GROWTH N LATER ON SPEED.
目前印度经济停滞不前,与其考虑以后的增速,还不如先让经济动起来。
Ajit Grewal
16 hours ago
The man appears to be a genious - he first needs to figure out at what rate the economy is growing - then he can talk all the other big stuff
这个人似乎是个天才,他首先要弄清楚目前的经济增速到底是多少,然后谈论其他的大事。
Jai Bharat
18 hours ago
BJP Gt for first 4 years didnt had any clue of how to handle the economy. Current GDP is being helped largely by the domestic consumption. If someone dreams of a faster growth then they must also say how faster growth can be achieved.
执政四年来,印度人民党政府对如何发展经济毫无头绪。目前的印度GDP主要得益于国内消费。如果有人梦想更快的增长,那他们必须说明如何才能实现更快的增长。
bsrahmd
8 hours ago
In others words, the Gt had diverted the attention of the public away from the real problems and indulged in popular sabre rattling to distract the public.
换句话说,政府把公众的注意力从真正的问题上转移开,分散公众的注意力。
Nagababhushana tr
18 hours ago
he mean indian economy is growing.
他的意思是印度经济正在增长。
Randhir Sharma
18 hours ago
Someone please convey him that cosmetic presentation of economy will not succeed. Economy is in Doldrums. Accept it and do necessary repair to it.
请转告他粉饰经济增长是不会成功的。我们的经济不景气,请接受现实,采取补救措施。
Kirubakaran S
19 hours ago
Year before Oxford Dictionary declared word of the year - Fake news. People suffering a lot
《牛津词典》宣布"年度词汇"——假新闻。大家都受够了。
Aishvaraya Gupta
19 hours ago
Even faster??? We''re hardly growing... even US is growing faster than us... our fudged data shows we are growing in reality we''re sinking deep into recession
更快的增长? ? ?我们的经济几乎没有增长。就连美国的经济增速也比我们快……我们捏造的数据显示,我们的经济正在增长,而实际上,我们正在陷入经济衰退的深渊。
sanjayitvs
20 hours ago
Unless education and population control is in the agenda of the go nment, the effect of GDP growth will be creation of more poverty and disparity of Income.
除非政府将教育和控制人口列入议程,否则GDP增长了,贫困人口反而更多,收入差距反而更大