Chandrayaan-2 launch put off, maybe for a few moons
"月船2号"或推迟几个月发射
SRIHARIKOTA: A leak in the helium bottle of the cryogenic engine of GSLV-MkIII forced the Indian Space Research Organisation (Isro) to abort the launch of Chandrayaan-2 early on Monday. The launch was called off just 56 minutes before the scheduled lift-off at 2.51am.
斯里赫里戈达岛:周一凌晨,GSLV-MkIII火箭的低温发动机的氦气瓶发生泄漏,迫使ISRO中止了"月船2号"的发射。原定发射时间为凌晨2点51分,发射前56分钟取消。
While Isro officially confirmed "a technical snag" in GSLV-MkIII, five sources independently confirmed to TOI that the launch was put off because of a leak in the cryogenic stage. "As a measure of abundant precaution, Chandrayaan-2 launch has been called off for today. Revised launch date will be announced later," Isro tweeted.
虽然Isro官方确认GSLV-MkIII火箭存在"技术障碍",但5位独立消息人士向印度时报证实,发射被推迟是因为在低温级发生了泄漏。Isro在推特上写道:"作为一项预防措施,"月船2号"的发射已被取消。新发射日期将在稍后公布。"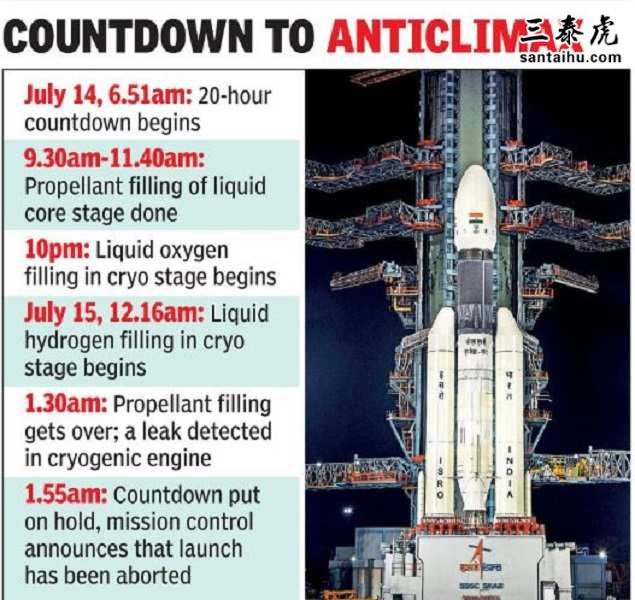 "After filling liquid oxygen (oxidiser) and liquid hydrogen (fuel), helium was being filled. The procedure is to pressure the helium bottle up to 350 bars and regulate the output to 50 bars. After filling helium, we found the pressure was dropping, indicating there was a leak," a senior scientist told TOI. "The team is yet to pinpoint the exact spot of the leak in the gas bottle; there could be multiple leaks."
一位资深科学家告诉印度时报记者:"在装满液氧(氧化剂)和液氢(燃料)之后,氦也装满了。程序是将氦气瓶的压力提高到350 bar,并将输出调节到50 bar。研究小组还没有找到泄漏的确切位置;可能发生了多次泄漏。"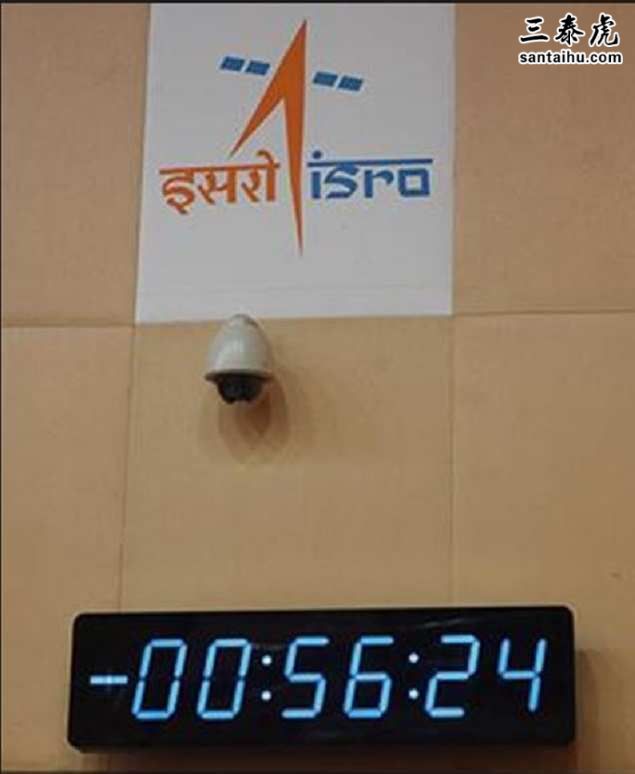 Glitch during June 22 test
6月22日测试时也曾发生故障。
Significantly, a leak of the oxygen tank was detected during a ground test of an identical cryogenic engine on June 22, but Isro decided to go ahead with the launch. A senior scientist told TOI that Isro would "come back soon", indicating the agency is trying to get the rocket off ground before the present launch window ends on July 31. The next best launch window (which ensures full 14 Earth days for the lander and the rover on Moon) comes in September.
值得注意的是,在6月22日对一个相同的低温发动机进行地面测试时发现了氧气罐泄漏,但Isro决定继续发射。一位资深科学家告诉印度时报,Isro正试图在目前的发射窗口7月31日结束之前将火箭发射升空。下一个最佳发射窗口是在9月份。
印度时报读者的评论:
译文来源:三泰虎 http://www.santaihu.com/48039.html 译者:Jessica.Wu
外文:https://timesofindia.indiatimes.com
Desh ke aage kuch nahi It's better that the scientists noticed the leak, otherwise it would have been a big accident. Better late than being sorry.
幸好科学家们发现了泄漏,否则会导致一场大事故。推迟发射,总比后悔好。
Srinivas Dhangar
Good,detecting a disaster beforehand is also a achievement,thanks ISRO, you''ll make us proud
很好,提前发现了问题,避免了一场灾难,这也是一种成就,感谢ISRO,你们给我们带来了自豪感
Ritchie
Calling off the launch is a standard procedure of NASA, SpaceX when a fault is detected. Things are needed to verifief again. ISRO, cant have typical ...
探测到故障后,取消发射也是NASA和SpaceX的标准程序。需要再次核实情况,ISRO也不例外…
Silent_Speaker_in•Very Much Here only•2 hours ago
Reading the article, It appeara to be a quality issue.,Any pressurised chamber needs to be pressure tested at well high pressure to ensure no leaks are present.., many NDT techquies are used.,This is very standard quality control procedure accross hightech industries.,Now it has happned, take it as lesson learned and make stringent procedures so that it never happens again.,Lets celebrate successful chandrayaan -2 launch soon!! Very best of luck!!
看了这篇文章,发现似乎是质量问题。任何增压室都需要在高压下进行压力测试,以确保不会发生泄漏。使用了许多无损检测技术。这是高科技行业非常标准的质量控制程序。既然问题已经发生了,那就吸取教训,制定严格的程序,这样以后就不会再发生了。预祝"月船2号"发射成功!!
祝好运!!
himwant prasad•South Asia•2 hours ago
Thanks to the scientists at ISRO whose eyes did not miss the glitch. The launch was abandoned and now the flaw is to be corrected and a whole set of new calculations is to be fed in to make it reach its destination as planned. India is praying for blessings of Almighty to give us his success, he the lord alone holds the title of successful.
感谢ISRO的科学家们,他们发现了这个小故障。此次发射取消了,这个问题将被纠正,使月船2号按计划到达目的地。印度正在祈祷全能的神保佑我们取得成功。
haresh lalla•2 hours ago
Excellent monitoring and avoiding big failure. I am sure Root cause analysis will pinpoint cause of error. Correcting the failures make mission 100% reliable. Wishing ISRO all the best for a very successful mission.
严格检查,避免了失败。他们会查明失误原因的,并纠正错误,让发射万无一失。祝ISRO圆满成功。
Nationalist•2 hours ago
Modi ji should be given full credit if the launch is successful. without Modi ji this project would have never happened
如果发射成功,功劳全归莫迪。没有莫迪,这个项目就无法进行。
Logician• Nationalist•2 hours ago
This project should be now cancelled due to the following: Instead of spending thousands crore on Chandrayaan-2 and putting it off, it is time to spend that much money for sea water desalination purposes to convert the salty sea water into drinking water as it is done in Muslim countries like UAE and Saudi Arabia. Millions of people in India do not have access to safe drinking water and India is heading towards unimaginable water crisis
现在应该取消这个项目:与其花费数百亿卢比发射"月船2号",
还不如把这些资金用于将咸海水转化为饮用水。
印度数百万人喝不上水,印度正面临难以想象的水资源危机。
Tulunad•2 hours ago
Modi magic of fooling the gullible voter with fake jhumlas didn't work here
莫迪魔法在这里不起作用,只能忽悠容易上当受骗的选民。
Nation•2 hours agoLet error less launch next time.
没事,杜绝故障,下次再发射。
Soumya Banerjee•2 hours ago
ISI sabotaged the operation.
巴基斯坦三军情报局破坏了这次发射。
Krishna•2 hours ago
This is a correct decision by the scientists to postpone the launch to a later date,due to a technical snag,Identification of fault at the eleventh hour itself is a great success it's achievement of our scientists that they stopped it at the right time before the occurrence ...
发现技术障碍后,科学家推迟了发射日期,这个决定是正确的。我们的科学家避免了事故的发生,挺厉害的。
Hem Nath•Unknown•2 hours ago
Moon and earth are going to be around for few more billion years. No hurry, let ISRO take it's time.
月球和地球还将继续存在几十亿年。别着急,让ISRO慢慢来。
infinity gaming•2 hours ago
We are proud of our india.
我们为印度感到骄傲。
Hopeless•2 hours ago
Modi hai toh mumkin hai! Put him in the rocket and he'll fly it anywhere, even to places no one has ever been to
把莫迪放进火箭,他会驾驶火箭,想去哪就去哪,甚至去没人去过的地方
Kumar•2 hours ago
close the leak with insulation tape and fly man!!,you can't just stop because of some leak..,My dad's scooter oil has been leaking since 10years still runs.. !!
用绝缘胶带封堵泄漏就行!!
你不能因为泄漏就停止发射。我爸爸的摩托车10年前就开始漏油了,现在还在跑!!
Gopalarathnam Krishna Prasad•Hyderabad•3 hours ago
missions such as this best kept secret and announced after success.. this not a tv show or crocket toget public towitnrss like a cricket match..
像这样的任务最好保密,成功后再公布。这不是电视节目,也不是公开的板球比赛。
Guest•3 hours ago
It''s better to put off rather than taking risk
与其冒险,不如推迟
Abhishek Kaushik•Patna•3 hours ago
It''s good that leak was detected beforehand otherwise we would have been looking at a launch failure...
事先发现泄漏是件好事,否则我们就会看到发射失败。
Hi Sudip•Unknown•3 hours ago •Follow
Mission will be successful next time !!
下次一定会成功!!