In Delhi, 8-year-old abducts toddler over grudge, kills him with stone
出于怨恨,德里8岁男童绑架了一名幼童,并用石头将其砸死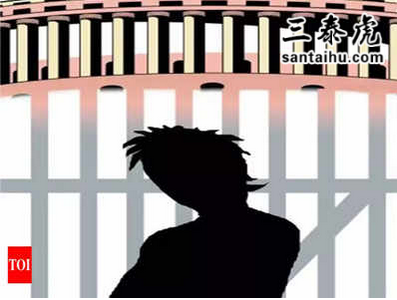 NEW DELHI: A one-and-a half-year-old boy was found murdered in a drain in south Delhi's Fatehpur Beri, with head injuries and blood oozing from the ears. The police findings, while ruling out sexual assault, revealed shocking details — this was a cold-blooded murder planned and carried out by an eight-year-old boy as revenge for a petty fight he had with the victim's sister.
新德里:在德里南部法特普尔贝里的一条排水沟里发现一具1岁半男童的尸体。警方的调查结果排除了性侵的可能性,却揭示了令人震惊的细节——这是一起由一名8岁男童策划并实施的冷血谋杀,目的是报复受害者的姐姐,他们之间曾发生一场小争执。
Police said the minor had abducted the slee toddler from the latter's house in the dead of night on Sunday, carried him to a nearby drain and threw him in. The boy then bludgeoned the victim with a stone, cops said.
警方表示,周日深夜,这名未成年将熟睡的幼童从家中绑架走,把他带到附近的排水沟,并把他扔了进去。然后不停地往排水沟里扔石头,砸孩子的头。
After the murder, the boy went back home, took some clothes and slept in a park. The victim's mother woke up and raised an rm. His parents started looking for the child and alerted the accused child's parents. Soon, they too reported their son missing.
谋杀之后,男孩回家,拿了一些衣服,睡在公园里。受害者的母亲醒来后发现孩子不见了,于是开始寻找孩子,并通知了被告的父母。不久,被告的父母也报告说他们的儿子失踪了。
How grudge pushed 8-year-old to murder
8岁的孩子怎么会因为怨恨而杀人?
When police found the body of a toddler in a drain in south Delhi's Fatehpur Beri on Monday, they initially suspected it to be a sexual assault case. But a preliminary probe revealed internal blunt injuries on the abdomen and bruises on the leg indicated that the boy may have been thrashed before being drowned.
周一,当地警方在德里南部法特普尔贝里的排水沟里发现一具幼儿尸体,最初怀疑这是一起性侵案件。初步调查显示,这名男孩腹部内部有钝伤,腿部有瘀伤,这表明这名男童在溺水前可能被殴打过。
The toddler's parents had reported him missing since Sunday night. According to them, someone had had entered their house between 1am and 4am picked up the child and took him quietly to a drain next to the house.
周日晚上,这名幼童的父母就报了失踪。根据他们的说法,有人在凌晨1点到4点之间进入了他们的房子,抱走孩子,悄悄把他带到房子旁边的排水沟。
A few hours later, cops traced an eight-year-old child, who was the toddler's neighbour, slee at a park. While being counselled, he revealed that he had abducted the child and thrown him into the drain. He then kept throwing stones into the drain to smash the child's head.
几个小时后,警方追踪到一名8岁的孩子,他是这名幼童的邻居,当时正在公园睡觉。在警方的劝导下,他透露自己绑架了这名幼童并把他扔进了排水沟。然后他不停地往排水沟里扔石头,砸孩子的头。
The boy said he held a grudge ag inst the toddler's sister as she had allegedly pushed his younger brother due to which he got hurt.
男孩说,他对幼童的姐姐怀有怨恨。据说幼童的姐姐推了这名男孩的弟弟,导致他弟弟受伤。
The boy will be kept at a designated children's home decided by the Juvenile Justice Board.
这名男孩将被安置在少年司法委员会指定的儿童教养所。
印度时报读者评论:
译文来源:三泰虎 http://www.santaihu.com/47524.html 译者:Jessica.Wu
外文:https://timesofindia.indiatimes.com
India • 5 hours ago
He must sure be belonging to a criminal family. Give him death to nip the monster in the bud.
他肯定来自犯罪世家。判死刑吧,防患于未然。。
Scl Premi • 1 hour ago
It''s possible that he''s older than 8 years. Many poor families register the birth and give false dates so as to get an advantage in school
他有可能不止8岁。许多贫困家庭登记出生日期的时候会谎报
Scl Premi • 1 hour ago
This is our future will be in India....If BJP continues to be in power....ONLY HATRED WILL REMAIN IN INDIA....IN 20 YEARS...ALL GOONS WILL BE ROAMING FREE WITH AK 47
如果人民党继续,印度尚存的只会是仇恨…20年后,徒会拿着AK 47上街游荡。
Sharvan Kumar • 4 hours ago
what is happening to our social fabric!!!
我们的社会怎么了!!
Sharvan Kumar • 1 hour ago
Watching too many voilent movies/cartoons!
看了太多暴力电影和卡通!
Sharvan Kumar • 1 hour ago
BJP HATRED POISON HAS STARTED TO FLAME....
印度人民党的仇恨毒药开始见效了…
Viney • 4 hours ago
Crime related serials on TV are the main reason for spurt in crime by children. Who cares? Money is more important.
犯罪题材的连续剧是儿童犯罪激增的主要原因。但谁在乎呢?赚钱更重要。
Nidhi Purohit • 4 hours ago
It''s shocking how can 8 years old plan such a horrible crime.
令人震惊,8岁的孩子怎么会策划如此可怕的谋杀
Subhendu Basak • 4 hours ago
How does he know what a murder is ; until his parents have a criminal background.......Please investigate and find the facts.
他怎么知道什么是谋杀。查一下他的父母是否有前科。
Gatothkach • India • 3 hours ago
The kid must have a really sick brain.
这孩子的脑子一定有问题。
Veenit • 3 hours ago
I do not believe this, seems impossible..!!
我不信,这似乎是不可能的!!
Vitusowen Susngi • shillong • 2 hours ago
THIS IS BEYOND IMAGINATION
无法想象
Raz Patnaik • 2 hours ago
OMG.. a 8 year having such a Revenge thought. He even Planned the murder??!!! And how the hell did he kidnap the toddler from the house, at midnight? I suspect this 8-yr old Rakshak has a criminal background.
天啊,8岁就有这样的复仇念头,甚至策划了一起谋杀??!!他是怎么在半夜把小孩从房子里绑架出来的?我怀疑这个8岁的孩子有前科。
tilla Hun • www • 2 hours ago
When 8 year old starts killing for revenge it means there is something seriously wrong with our way of life
8岁的孩子都开始为复仇而杀人,这意味着我们的生活方式存在严重问题
Murugavel • 3 hours ago
Thanks to our cinemas!!
多亏了我们的电影!!
True Indian • India • 3 hours ago
The Murderer is Sick. He needs counselling. Punish his parents in failing to carry out their duty as parents.
这个凶手有病。他需要心理咨询。他的父母没有履行作为父母的责任,也应该受到惩罚。
AROP • 3 hours ago
Pity, a eight year old did cold blooded murder !!!
一个八岁的孩子竟然干了一桩冷血谋杀!!
ChoukidarBindaasNeha • New Delhi • 2 hours ago
This child is a psycho and might turn out to be a serial killer
这个孩子是个精神病患者,以后可能会成为连环杀手
Kapoor A • Delhi • 2 hours ago
After 10 years in a Juvenille home he will turn out to be a more daring criminal.
在儿童教养所待了10年后,他以后犯罪会更大胆。
R Murti Paluri • 2 hours ago
I wonder whether there was any influence from Hindi films or TV serials. He should be subjected to assessment by child psychologists.
不知道印度电影或电视剧是否对他造成了影响。他应该接受儿童心理学家的评估。
Pooja • 1 hour ago
this 8 ur old shud be hung till death if found guilty... to set an example in society.... but he wud be free in 3 yrs per indian laws.... nd we wid see another news when he turns 11...
如果罪名成立,应该绞死这8岁的孩子…但按照印度法律,3年后他就自由了。等他11岁的时候,我们会看到另一条新闻……
Razia Khan • India • 2 hours ago
What type of world are we living in? Afraid such hatred in young kids?
我们生活在一个什么样的世界里?小孩子有这样的仇恨?
Rahul • 2 hours ago
Yaay Delhi , The worst city in India
德里是印度最糟糕的城市
Prameedula Sadanandam • 3 hours ago
where is our society heading!!!!!!!!!!
我们将走向何方!!
Ajaz • 3 hours ago
This is real INDIA
这很印度。
Varghese S • Kuwait City • 3 hours ago
too much of crime serial watching , it seems.
犯罪片看多了
Akash Ramesh • 9 mins ago
Must have been playing PUBG a lot recently
这孩子最近可能在玩"绝地大逃杀"
John Mathew • USA • 1 hour ago
Vulgarity and violence in Media, mobile, movies, internet......all making children insensitive.
媒体、手机、电影、互联网中的暴力,让孩子变得麻木不仁了。