What are effective ways to slow India's population growth? How will India control its population?
有什么有效方法能减缓印度人口的增长势头?印度该如何控制人口?
Quora读者的评论:
Kl Gupta, Co Founder (2004-present)
The basic reason for the flare up in India's population numbers has not been the number of children born. It has been the sharp reduction in the number of deaths as the life spans have become longer due to lower malnutrition, better health care, better literacy and rising incomes. The average life span of an Indian in 1947 was 31 years. If you skim away the creamy layer, it was less than 27 years. It was weighed down heavily by huge numbers of infant and child mortality. And due to that, couples had more children in the hope that at least one or two will survive to at least youth.
The situation has changed, one could even use the word transformed. But it takes a couple of generations for embedded practices to change, especially among the illiterate or poorply literate. We see birth rates declining, at places even below the replacement rate of 2.1 children per couple, in the more educated states, typically the southern ones. Hopefully, we will see changes there too in one more generation.
印度人口数量激增的根本原因不是新生儿数量多。由于营养不良状况和医疗保健得到了改善、识字率的提高和收入的增加,人们的寿命变得更长,死亡人数急剧减少。1947年印度人的平均寿命是31岁。如果抛开上层阶级,平均寿命还不到27年。高企的婴幼儿死亡率严重拖了后腿。正因为如此,家长会生育更多的孩子,希望起码能有一两个孩子长大成人。
现在这个情况已经发生了改变,甚至是"巨变"。但是,我们需要几代人的时间才能改变过去这种根深蒂固的做法,尤其是在文盲或文化程度较低的人群中。我们看到在受教育程度较高的邦,尤其是南部各邦,新生儿出生率在下降,甚至低于每对夫妇2.1个孩子的更替率。希望到下一代,我们就能看到变化。
Damini Aggarwal, works at Gartner
India's population is equivalent to 17.5% of the total world population. It can be attributed due to a number of reasons:
1.Early marriage: Child marriage is still prevalent in some parts of India. Girls are married before the legal age of 18. Woman who marry early tend to have more children than those who marry late.
印度的人口相当于世界总人口的17.5%。原因有很多:
1.结婚早:在印度的一些地区仍然盛行童婚。女孩在法定年龄18岁之前结婚。早婚的女人会比晚婚的女人生育更多子女。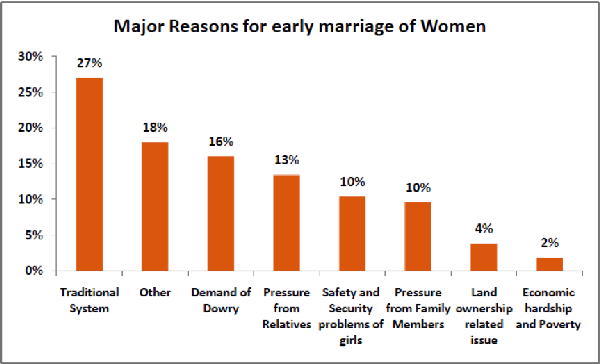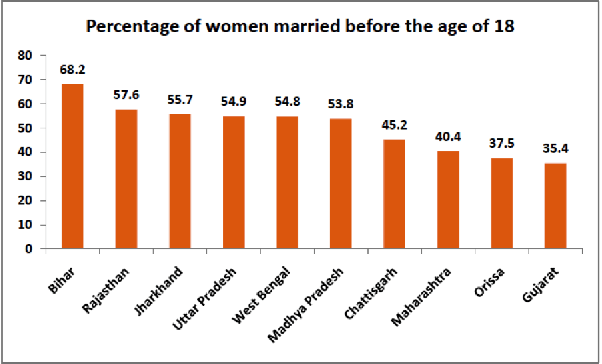 2.Gender Inequality: Girls are considered as a burden and a son as the 'bread earner'. As a result, a lot of couples keep trying for a male child.
3.Poverty: In India, where more than 20% of our huge population falls in this range, it is believed that more the members, more the income.
4.Illiteracy, especially among women: In states where the literacy rates are high, the fertility rates are lower.
5.No bold population policy: We don't need 's past 1 child policy but a bold policy that restricts the number of children should be implemented strictly.
6.Lack of awareness about family planning
7.Increased Life expectancy: healthcare in India is improving but it is still unequal
Ironically, India was the first country to establish a go nment family planning program in 1952.
2.性别不平等:印度女孩被视为赔钱货,儿子被当做"养家糊口的人"。因此很多夫妻会一直生,生到男孩为止。
3.贫困:在印度,超过20%的人口属于贫困人口,人们相信,孩子越多,赚得就越多。
4.文盲,特别是女性文盲:在识字率高的国家,生育率较低。
5.缺乏严格的人口政策:我们不需要过去那样的独生子女政策,但也应该出台严格限制子女数量的政策。
6.没有计划生育的意识
7.预期寿命提高:印度的医疗状况正在改善,但仍不平等
具有讽刺意味的是,1952年印度是第一个制定政府计划生育政策的国家。
Shubhankar, M.S. from Indian Institutes of Science Education and Research
The question was asked probably a good four years ago. And there are some terrific answers already. No point repeating them. But since it has been specifically referred to me to answer, I'll try.
Nuclear blasts, man-made flood and famine, large scale gen ide sponsored by the go nment would be among most efficient ways or just starting public debates without moderator and security could work with equal efficacy. But they are out of question on grounds of morality.
I am not the one for taking away the s of people to reproduce. But there is the of the person who is going to be born. What if he/she doesn't want to be born? Well, that's absurd because the unborn person doesn't have a fully developed brain. So what if the person after develo his/her brain completely, realizes he/she should never have been born, that given a choice he/she'd never opt to be born. You could ask them to kill themselves, but that is painful/dreadful and illegal. Their to choose to be born or not, has definitely been violated. If more people thought about it, there would be a definite slowdown in the current rate.
The only reason to concern ourselves about population is the fear of not having enough resources to feed(includes the things and commodities needed for survival) our great grand children some day. A simple knowledge of algebra tells us that the current population can be maintained in the long run, if there were two kids per couple (assuming ideal conditions). We're at 2.9 now and trending down so we are hopeful to get it under control shortly.
Even if we didn't, we'll find out techniques to ensure their survival. We have so far. And if we don't there is always the process of natural sion. The population will be automatically taken care of and the fittest of our children will survive. Now, who doesn't want a fitter India?
译文来源:三泰虎 http://www.santaihu.com/47263.html 译者:Joyceliu
这个问题在四年前就被提出来了。已经有一些人给出了很棒的答案。没有必要再累述一遍。但既然特意请我回答了,我就说说自己的看法吧。
核爆炸、人为造成的洪水和饥荒、政府发起的大规模种族会是最有效的方式之一,或者在没有调解人和安全保障的前提下发起公开辩论,应该也有相同的效力。但从道德的角度来看,这是不可能实现的。
我不赞成剥夺人们生育的权利。但这是即将出生的人也是有权利的。如果他/她不想出生怎么办?嗯,这听起来很荒谬,因为还未出生的婴儿压根没有发育完全的大脑。所以,如果一个人在他/她的大脑发育完全后,意识到他/她本不应该出生,如果能给他/她一个选择,他/她绝对不会选择来到这世上。你可以让他们自杀,但那很痛苦/可怕,也不合法。他们选择出生或不出生的权利肯定受到了侵犯。如果更多的人考虑到这一点,当前的人口增长速度肯定会放缓。
我们担心人口问题的唯一原因是担心将来没有足够的资源来养活我们的子孙后代(包括生存所需的东西和商品)。一个简单的代数知识告诉我们,从长远来看,如果每对夫妇有两个孩子(假设理想条件),目前的人口数量是可以维持的。我们现在出生率是2.9,还一直在下降,所以我们希望很快就能控制住。
即使我们不这么做,我们也会找到确保子孙后代生存的方法。到目前为止我们做到了。如果我们没做到,自然选择是一直在进行的。人口会自然做选择,最健康的儿童得以生存下去。现在,谁不想要一个更健康的印度呢?
Saravana Priyan Thambidurai, Indian by culture
Female fertility rate is high (more then 3 child per female) among poor states of India which are Bihar, Madhya Pradesh, Uttar Pradesh, Rajasthan, Jharkhand, chattisgarh.
1.Poverty is directly proportional to fertility. Reasons could be high infant mortality (civil war regions, high risk population like fishermen,miners typically have high fertility rate), Using children as additional source of income (they are desperate enough to send children as house hold workers/modern day sl ves).
2.Female literacy and female economic independence/control is inversely proportional to fertility.
3.Access to contraceptives, especially to females is inversely proportional to fertility.
India already had already failed with the forced sterilization program with sanjay Gandhi on poor people and it is unthinkable even in the current scenario.
Removing economic incentive for the poor will further exacerbate the problem.
Migration is reducing the fertility. A migrant employee from UP will have less number of children in Karnataka as he is getting married late and have less economic room. Also there is less pressure from community to get married early or to have more children. This is the case even with migrant IT employees.
印度贫穷的比哈尔邦、中央邦、北方邦、拉贾斯坦邦、恰尔肯德邦、查蒂斯加尔邦的印度女性生育率很高(每名女性生育3个以上子女)。
1.贫困与生育率成正比。原因可能是婴儿死亡率高(内战地区、渔民等高风险人群、矿工通常会有较高的生育率),他们把儿童视为额外的收入来源(他们把儿童当做家庭主妇/现代来差遣)。
2.女性识字率和女性经济独立/掌控经济大权与生育率成反比。
3.避孕药的使用,尤其是女性,与生育率成反比。
印度在甘地对穷人实施强制绝育计划时遭遇了失败,即使在当下,这也是不可想象的。
取消对穷人的经济激励将进一步加剧这个问题。
移民降低了生育率。一个从北方邦去往在卡纳塔克邦的移民雇员生育的孩子会较少,因为他结婚较晚,经济基础弱。此外,来自社区的早婚或多生孩子的压力也较小。即使是外来的IT员工也是如此。
Akshatha Hegde, worked at Accenture
What many people don't realize is that India's fertility rate has gone down over the last few decades, which implies that the measures taken by the go nment are working. Ne that India has followed a policy of propaganda vs. imposition to bring about socio-cultural reforms and it seems to be working. The only problem is, it is working really slowly. How do we speed up this process?
My 2 paise:
1.The social awareness campaigns need to be made more intense. Already prevalent ideas such as 'more working hands does not mean more money' need to be drilled into the illiterate masses.
2.It is time for a social change in the urban areas as well. Now that live-in and homosexual relationships are gaining acceptance in metros, the idea of adoption can feed campaigns instead of surrogacy/other means of reproduction these couples would normally consider.
3.The adoption campaigns can even target married couples. I'm sure there are a lot of Indian women out there who cannot / do not want to give birth and cannot afford surrogacy.
4.Lastly, I'm touching a somewhat controversial topic: the media being more vocal about marriage and children as optional and not mandatory social requisites. This idea will take a really long time to be absorbed in our society but if successful, it can make a huge impact on our population growth.
许多人并没有意识到,印度的生育率在过去几十年里一直在下降,这意味着政府所采取的措施正在发挥作用。请注意,印度一直奉行宣传与强制相结合的政策来实现社会文化的改革,似乎正在发挥作用。唯一的问题是,它见效非常慢。我们该如何加快这个过程?
我有2个建议:
1.加强社会意识运动。需要向文盲大众灌输"人口多并不意味着钱更多"这样已经很流行的观点。
2.现在应该在城市地区进行社会变革了。现在大城市对同居和同性恋关系的接受度越来越高,可以向他们宣传收养,而非代孕或其他夫妇通常会考虑的生育方式。
3.甚至还可以向已婚夫妇宣传收养。我敢保证有不少印度妇女不想生孩子,也负担不起代孕的费用。
4.最后,我要谈谈一个颇具争议的话题:媒体越来越频繁地提到婚姻和孩子是一种选择、而非强制性的社会必需品。这个想法需要很长时间才能被我们的社会所接纳,但一旦接纳就会对我们的人口增长产生巨大的影响。
Aswin Manohar, MSc Astrophysics, University of Bonn (2018)
One obvious reason for the increasing population is ,
People are not aware!
I am sorry for comparing India with another country. But I believe, this surely helps. People in India see condoms as something too dangerous to even talk about. India is ag inst casual sex and its good. But not after they were influenced by western culture.
This sexual urge and the building awkwardness of buying a condom from a medical store is also a reason for the growing population. Sex should be discussed freely among people and it should be normal.
Firstly, the awareness of condoms should be taken seriously. In Germany, the go nment has planted condom vending machines in every important places.
人口增长有一个明显原因是,
人们并没有意识!
我很抱歉要把印度拿来和另一个国家作比较。但我相信,这肯定是有帮助的。在印度,人们觉得避孕套有如山洪猛兽,谈之色变。印度反对草率的性行为,这是好事。但一旦他们受到西方文化的影响,就会不一样了。
这种性冲动和去药店购买避孕套时的尴尬感也是人口增长的一个原因。人们应该可以自由地讨论性,这本就是正常的事。
首先,人们应该有使用避孕套的意识。在德国,政府在每个重要的地方都安装了避孕套自动售卖机。
Example: In university canteens, Dorm buildings and railway stations. My point here is not to encourage people to have sex, but to create awareness such that they can have sex without creating any economical disturbances.
Sex should be seen as a part of life. The machines will keep a check on population control.
What about poorly educated women and men?
Fact: India's population is expected to grow from 1.25 billion to 1.5 billion in 2030. It can have worst consequences in the near future.
Indian go nment should be blamed. They have never followed any strict rules to control population other than making crappy policies. Nothing like what did!
Female sterilisation should be made compulsory after giving birth to one . These treatments should be popularized and expned to women living below poverty line. This is popular among many develo countries.
例如:在大学食堂、宿舍楼和火车站等地方。我的观点并不是要鼓励人们做爱,而是要让人们意识到他们可以在不受任何经济困扰的情况下做爱。
性爱应该被视为生活的一部分。这些机器将对人口控制进行检查。
那么受教育程度低的女性和男性呢?
事实:到2030年,印度人口预计将从12.5亿增长到15亿。它可能在不久的将来造成最坏的后果。
印度政府应该受到指责。除了制定糟糕的政策外,他们从未遵守过任何严格的人口控制规定。完全比不上!
女性在生完孩子后应该强制绝育。应该推广这些处理方法,并向生活在贫困线以下的妇女解释清楚。在许多发展家,这是很普遍的做法。
Fact: India has drafted these policies and its just like another helmet policy.
Each state must be given a target of number of female sterilisation, depending upon the state's population.
We also have Male sterilisation which is much expensive than the later. This should be made compulsory as well. India is not a sest country.
Above all, these treatments should be available for free and for that to happen, India needs to provide enough funds to keep up with these policies. The overgrowing population is a big threat to the whole nation and its future economic growth and more important than anything like banning 500 and 100 rs currencies !
事实:印度已经起草了这些政策。
每个邦都必须根据各自的人口数量,制定一个女性绝育人数的目标。
我们也有男性绝育手术,但费用要贵得多。这也应该成为强制性要求。印度不是一个男性至上主义的国家。
最重要的是,这些手术应该对民众免费,为了实现这一点,印度需要提供足够的资金来扶持这些政策。人口的过度增长对整个国家及未来的经济增长都会是巨大的威胁,比废止500卢比和100卢比的钞票更加重要!
Sthitaprajna Mishra, studies Information Technology at College of Engineering and Technology, Bhubaneswar (2021)
1.Make polygamy/polyandry illegal. Let us take an example to understand the effect this practice has on our population. For example, a man marries 3 wives and has 3 children from each one of them. That makes 9 children in total. That too, only if we assume that he boings only 3 women. This should be the first and foremost step towards controlling the population boom. But what about those who boings the same woman to produce lots of kids? The next step of my plan is for those kind of people. People may argue that it is allowed in their misogynist re gion to have 4 wives. Frankly, I don't give a flying duck about all that misogynistic re gious stuff. It is not only sest but is also not affordable by our nation. Our population is growing at a dangerous pace and we are running out of basic resources like water and land.
2.Put additional tax on those who have more than 3 kids. This tax should be separate from others. This should not apply for those who have twins during their second pregnancy.
3.Teach about sex and the precautions required. This step is easier said than done. Parents, especially from the lower class and from the villages, often hesitate from sending their children to school. If their child is a girl, the chances are down more significantly. If these parents get to know that bad things are being taught in school, not only girls but even boys will be stopped from attending school.
4.Distribute condoms for free among the poor. The economic conditions in some areas is so drastically poor that people don't even have access to condoms. Even if they do, they are most likely to spend the money on local liquor instead of taking safety precautions.
1.必须把一夫多妻或一妻多夫制定为非法行为。让我们举个例子来理解一下这种婚姻体对我们的人口造成的影响。例如,一个男人娶了三个妻子,每个妻子都有三个孩子,那就一共有了9个孩子。这应该是控制人口增长的第一步,也是最重要的一步。但是那些让同一个女人生育很多孩子的人呢?我认为下一步就该针对这类人。人们可能会争辩说,在他们的中,是可以拥有四个妻子的。坦率地说,我对那些仇视女性的一点也不在乎。这不仅是性别歧视,也是我们国家无法承受的。我们的人口正在以危险的速度增长,我们正在慢慢耗尽水和土地等基本资源。
2.对那些生育三个以上孩子的人征收附加税。这种税应该与其他税分开来征收。这个政策不适用于那些在第二次怀孕时怀上双胞胎的人。
3.传播性知识和必要的预防措施。这一步说起来容易做起来难。父母,尤其是来自下层阶级和农村的父母,连送孩子上学都要犹豫一下。如果他们的孩子是女孩,那么孩子上学的可能性就会大大降低。如果这些父母知道学校教了孩子那些羞于开口的东西,不单是女孩,男孩都可能被禁止继续上学。
4.向穷人免费发放避孕套。一些地区的经济状况非常糟糕,人们甚至都买不起避孕套。即使他们有钱,也最有可能把钱花在喝酒上,而不是采取安全措施。
B Senthil Kumar, As required
Originally Answered: What should be the best strategy to control and than decrease the Indian population?
Growth rates are tapering off anyway, even though India will probably be the world's most populous country by 2050.
We should do absolutely nothing to decrease India's population. Who says we can't sustain our development with our population? It is not the numbers, but the impact we have per capita that makes a huge difference. Indians' per capital carbon footprint is one of the lowest in the world, and if we stay largely vegetarian, we won't be causing any real problems on this front.
We also need hands for our manufacturing sector, which will only be under more pressure to produce after 's population starts ageing and India already has one of the youngest populations in the world. This is great opportunity to further improve as an economic powerhouse.
With India having one of the largest percentages of arable land, we should have no problem producing food, and feeding all our people very well, unless of course we subscribe to the stupid and highly unsustainable livestock farming business.
最初的问题是:控制和减少印度人口的最佳策略是什么?
印度的增长率正在逐渐减缓,但到2050年印度还是很可能成为世界上人口最多的国家。
我们不应该做任何事情来减少印度的人口。谁说我们的人口无法维持国家的发展?造成巨大差异的不是人口数量,而是人均水平。印度的人均碳足迹是世界上最低的国家之一,如果我们大部分人都吃素,我们不会在这方面造成任何真正的问题。
我们的制造业也需要劳动力。在口开始老龄化、印度成为世界上人口最年轻的国家之一后,制造业只会面临更大的生产压力。这是进一步提升印度经济实力的大好机会。
由于印度拥有世界上最大的可耕地比例,我们应该没有粮食生产的问题,能够很好地养活我们的人口,除非我们当然发展愚蠢和难以持续发展的畜牧业。
Joe Francis, Life is to whistle
The first child born,would get to be in the Scheduled Tribe category.
The second child,would be in the Scheduled caste category.
Third onwards would be in the General category.
No parents,educated or not,would be that cruel to their third child.
Warning:This ingenious method is applicable to only the Indian population.!
第一个孩子,可以列入表列部落类别。
第二个孩子,可以列入表列种姓类别。
三个及以上的孩子,只能列入一般类别。
无论有没有受过教育,父母都不忍对他们的第三个孩子那么残忍。
警告:这种精妙的方法只适用于印度人。
Ravindra Patil, IT Professional, Jugaadi, Well aware individual
Originally Answered: How will India control its population?
India would overcome as world's no. 1 in population by 2022. has been working hard for birth control by every means possible. On the other hand though India too been trying to control its population but it does not seems to be successfull in the attempt so far.
There are many things which are responsible for uncontrolled population. But most important of them are the same reasons responsible for most of the chaos in India.
最初的问题是:印度该如何控制人口?
2022年,印度将超过成为世界第一人口大国。一直在尽一切可能,努力控制生育。另一方面,尽管印度也试图控制人口,但到目前为止似乎都不成功。
造成人口失控的原因有很多。但最重要的是,它们也是造成印度大部分社会混乱问题的原因。
1.Illiteracy — Though urban population seems to have adopted to 'we 2 our 2′ scheme, but in rural areas people dont yet follow this due to illiteracy or due to lack of medical facilities. Lack of awareness.
2.Importance of baby boy - Even today, most of the Indian families would wait forever for a baby boy to carry on the family name to next generation. In the process we see mothers bearing, 3,4,5 even more girl child, before finally giving birth to most awaited baby boy.
3.Improper implementaion of legislations - though many legislation are in place but people are hardly afraid of these laws, as they are not being implemented till grass root level.
4.Demographics - As most of the world knows that India has the highest population of youngster in world. And most these are getting married and will be giving birth to even more Indians, this would surely add to even higher population. On the other hand old people are quite less in % when compared to younger ones, so death rate is quite less as compared to birth rate.
5.Medical Advances and cher medical facilities - When medical expenses in India are compared to those abroad, we see that these expenses are quite ch in India. Even being birthplace of Ayurveda adds in for being cher to treat most of the diseases and hel the population to live for longer years in results hel India's longetivity to increase to higher value by 5 years in last decade as per study by WHO.
These are the few key reasons for expanding Indian Population.
1.文盲——尽管城市人口似乎已经接受了"一对夫妻两个孩子"的计划生育口号,但在农村地区,因为文盲或医疗设施不完善,人们还未接受这一倡议。没有这个意识。
2.男婴的重要性——即使时至今日,大多数印度家庭也一直盼着一个男婴延续家族的姓氏。因此我们会看到有的母亲生下3个、4个、5个甚至更多女孩,最后才生下大家翘首期盼的男孩。
3.执法不当——虽然很多立法已经到位,但人们并不忌惮这些法律,因为这些法律在基层层面并未得到执行。
4.人口统计——正如世界上大多数人所知,印度拥有世界上数量最多的年轻人口。大多数都已结婚,生下更多的印度人,进一步增加了印度的人口数量。另一方面,与年轻人相比,老年人的比例要低得多,因此死亡率与出生率相比也要低得多。
5.医疗水平的进步和医疗费用的下降——如果把印度的医疗费用与国外相比,我们发现印度的医疗费用相当便宜。印度作为阿育吠陀的诞生地,降低了大多数疾病的治疗成本,提高了人们的寿命。根据世卫组织的研究,印度平均寿命在过去10年增加了5岁。
这些就是印度人口增长的几个关键原因。
Raziman T.V., Indian
Get women educated.
It is seen all over the world that, the more educated a woman is, the less the number of children she is expected to bear. Here is the result of one such study in India. The fertility rates for:
1.Illiterate women : 3.4
2.Literate women : 2.2
3.Women who have studied till X : 1.9
4.Women who have studied till XII : 1.6
The aim thus should be to get girls to school and keep them there. Prevent child marriages and the resultant early dropouts. The day the average Indian girl becomes XII pass, the population growth of India would reduce on its own
让印度女性接受教育。
在全球范围内我们可以观察到,一个女人受教育程度越高,她所生育的孩子就越少。下面是印度的一项类似研究的结果。生育率数值:
1.文盲妇女:3.4
2.识字妇女:2.2
3.上过10年学的妇女:1.9
4.上过12年学的妇女:1.6
因此,我们的目标应该是让女孩入学并一直学。杜绝童婚和由此导致的中途辍学。等到印度女孩普遍学历达到12年级,印度的人口增长势头就会自动降低。
Manish Pandit
Educate People on the following (ONE CHILD ONLY)
This way Indias population can cut to Half within next 100 Years.
(2015)
For e.g MR.X marries Mrs.Y and Produce one child Baby Z on the other hand Mr.A Marries Mrs.B and Produce one girl child Baby C.
(another couple)
For e.g MR.XX marries Mrs.YY and Produce one child Baby ZZ on the other hand Mr.AA Marries Page on mrs.bb and Produce one girl child Baby CC.
(2043)
Now After 28 years when Z and C get married they will Produce one child ZC
Now After 28 years when ZZ and CC get married they will Produce one child ZZCC
(2071)
Now After 28 years more when ZC and ZZCC get married they will Produce one child ZCZZCCC
This way from the population of 8 in 2015
It got reduced to 4 in 2043
and further it got more reduced to 2 (2071)
People should get married their children who have one single child only.
The benefit of this : The new couple who get married and who produce a child will get the property of 6 peoples.( his Father& Mother + Maternal and Paternal Grandfather and GrandMother)
Just Imagine the new born child has not to worry about paying the ricity bills, Gas bills or any other bill he can spend more time in R&D.
This are just views.
向人们灌输以下内容(独生子女正常)
这样,印度人口在未来100年内可以减少一半。
(2015)
例如,X先生娶了Y太太,生了一个孩子Z,而A先生娶了B太太,生了一个女孩C。
(另一对)
例如,XX先生娶了YY女士,生了一个孩子ZZ,而AA先生娶了BB女士,生了一个女孩CC。
(2043)
28年后,Z和C结婚,他们将生下一个孩子ZC。
28年后,ZZ和CC结婚后,他们将生下一个孩子ZZCC。
(2071)
又过28年,ZC和ZZCC结婚,他们将生下一个孩子ZCZZCCC。
从2015年的8个人,减少到2043年的4个人。
等到2071年,继续减少到2个人。
人们应该让自己的孩子跟独生子女结婚。
这样做的好处是:生育一个孩子的新婚夫妇将获得6个家庭的财产。(他的父母+祖父母+外祖父母)
想象一下,这个新生的孩子不用操心电费、煤气费或其他任何费用,他可以把更多时间用于学。
以上就是我的拙见。