Rs 72,000 per annum: Rahul Gandhi promises minimum income to 20% poorest families
拉胡尔·甘地承诺为20%最贫困家庭提供最低收入保障:每年7.2万卢比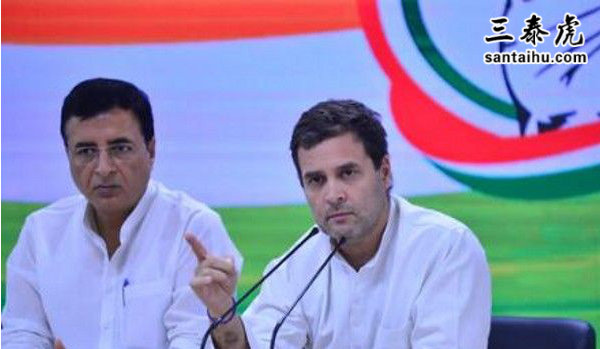 NEW DELHI: Congress presi nt Rahul Gandhi on Monday announced that if his comes to power at the Centre, it will provide Rs 72,000 per annum to the 20% poorest families under the minimum basic income guarantee scheme.
新德里:星期一,国大党主席拉胡尔·甘地宣布,如果上台,国大党将根据最低基本收入保障计划,每年向20%最贫困家庭提供7.2万卢比。
Addressing the media, the Congress presi nt said that his will deliver justice to the economically backward people by ensuring them a basic minimum income of Rs 12,000 per month.
国大党主席拉胡尔在接受媒体采访时表示,其政党将为经济落后的人民伸张正义,确保他们的最低基本收入为每月1.2万卢比。
"It is an extremely powerful, ground-breaking and well-thought through idea. We have consulted many economists on the scheme," he said.
"It will be world's largest minimum income scheme," the Congress presi nt said.
拉胡尔称:"这是一个非常大胆的,具有开创性的且经过深思熟虑的构想。关于这个计划,我们已经咨询了很多经济学家。这将是世界上最大规模的最低收入计划。"
Rahul said that the final assault on poverty has begun. "We will wipe out poverty from the country," he added.
拉胡尔表示,脱贫战的最后一仗已经开始。他补充说:"我们将在这个国家消除贫困。"
The scheme will cover five crore families and as many as 25 crore people are expected to benefit from the scheme, Rahul said.
拉胡尔称,该计划将覆盖5000万印度家庭,预计将有多达2.5亿人受益。
"People have suffered in the last five years and we are going to give justice to them," he added.
拉胡尔补充道:"过去5年,人们遭受了苦难,我们将为他们伸张正义。"
Rahul said that his is committed towards the scheme and also added that it is fiscally possible to implement it. "We had successfully implemented MGNREGA. We can implement this scheme as well," he said.
拉胡尔表示,其政党致力于这项计划。实施这项计划在财政上可行的。"我们已经成功地实施了《圣雄甘地国家农村就业保障法》。这项计划我们也能实施。"
As per the scheme, the minimum income line has been set at Rs 12,000 per month, the Congress presi nt clarified.
拉胡尔称,根据该计划,最低收入线已设定为每月12,000卢比。
印度时报读者评论:
译文来源:三泰虎 http://www.santaihu.com/47259.html 译者:Jessica.Wu
外文:https://timesofindia.indiatimes.com
Prabhakar Naidu - 1 day ago -Follow
If your family hadn't ruined our nation, this wouldnt have been needed
要不是你的家族毁掉了这个国家,根本就不需要这么做。
Da Da - 1 day ago -Follow
It is once again fooling poor and illiterate people like earlier done by Late Indira Gandhi announced Garibi Hatao (1971 Slogan) but practically Poverty has been increasing all time till 2014 when Congress Party was in Power. Rahul Gandhi is now desperate and restless to come to power.That is why he promises such impossible thing for vers. But now no one believes RG including his Party leaders.
又想忽悠穷人和文盲。和已故英迪拉·甘地早年宣布的"消除贫困"计划(1971年的口号)如出一辙。实际上,印度贫困人口一直在增加,直到2014年国大党执政情况才有所好转。所以他要向选民做出天方夜谭般地承诺。但是现在没有人相信拉胡尔。
Abhishek - 1 day ago -Follow
Planning to turn India the next Venezuela ? This guy definitely doesn't care about economy anymore, he'll just empty the cash reserves of our country and leave us 10 years behind. Somebody mute him lol.
你打算把印度变成下一个委内瑞拉吗?这个人肯定从来都不关心经济,他只会清空国库,让我们落后10年。有没有人能让他闭嘴,哈哈。
Rswamy Venkatarn - Bangalore - 1 day ago -Follow
Will he give his personal money ya iske baap dega. Way to make people more lazy. People will only drink & will not do any work. Rs. 2 rice & other freebies has already affected & people are not ready to work.
他会掏自掏腰包吗?这种计划只会让人们变得更懒。他们只会去喝酒,无所事事。一斤2卢比价格的大米和其他免费赠品已经让人们产生惰性了,人们都不打算去工作了。
Prasad - 1 day ago -Follow
He & his family knows only one thing. Divide Hindus on caste, language & region basis. Destroy the Indian culture & tradition & Loot. This is the philosophy of the Nehru dynasty. Full of Lies & Deceit & Anti Nationals.
拉胡尔及其家族只会做一件事:根据种姓、语言和地区划分印度教徒,摧毁印度文化,破坏印度传统,以及捞钱。这是尼赫鲁王朝的哲学
Ranbir - 1 day ago -Follow
how will you do this simple just by raising tax on things and increasing the burden on people who work and pay taxes.
你将如何做到这一点呢?只能是提高商品税,增加工作人员和纳税人员的负担。
Mukesh - 1 day ago -Follow
congress policy:::first make people poor, then make them greedy.
国大党的政策:首先让人民贫穷,然后让他们变得贪婪。

Anish Kumar - 1 day ago -Follow
Considering the track record of your family, why should people believe you?
鉴于你家族过去的所作所为,人们为什么要相信你?
Abhinav - Gurugram - 1 day ago -Follow
ha ha ha ha. He is again fooling the nation, like they did in name of Kisan Karj Mafi in MP, Rajasthan and Chattisgarh.
哈哈哈,他又在忽悠老百姓。
Krishna Rakshit - 1 day ago -Follow
Modi never committed 15 lac fake promise.
莫迪从未做过虚假承诺。
Rene Fernandez - juffair - 1 day ago -Follow
from whose money ??? Will he pay from the money the Sonia Gandhi family has loed or from us the tax payers ????
用谁的钱??他会用索尼娅•甘地捞的钱来买单,还是用我们纳税人的钱?
Mukesh - 1 day ago -Follow
his forefathers also lured people by giving freebies.
that's why India could not match the world
他的祖辈也通过发放赠品来拉。
这就是印度无法与世界匹敌的原因
Sachin - 1 day ago -Follow
why did they not do it In last 60 years.
为什么在过去60年里,他们没有这么做。
Rajesh Hazari - 1 day ago -Follow
Baap ka maal hai?
It's our hard earned money.
这是我们辛苦挣来的钱啊。
Karthik Subrnian - Singapore, Singapore - 1 day ago -Follow
Are you Joking Mr.Pappu???....first waive off the farmers loan you have promised in the MP, Rajastan and Karnataka....dont lure the people by telling the lies
你在开玩笑吧,拉胡尔?先免除你在拉贾斯坦邦和卡纳塔克邦承诺的农民贷款吧。不要靠说谎来拉。
Da Da - 1 day ago -Follow
Rahul Gandhi''s Big April Fool to poor and illiterate Vers of India.
拉胡尔给印度穷人和文盲选民的愚人节大礼。
Prasanna K - Location - 1 day ago -Follow
if i come to power , i will declare April 1st as, Rahul Gandhi day !!
如果我上台,我会宣布将4月1日定为拉胡尔·甘地日!!
NEERAJ YADAV - 1 day ago -Follow
From where they will get this much money.?!?!
他们将从哪里筹到这么多钱?
Rightwing Liberal - 1 day ago -Follow
Tax payers....beware of this......
This is a foolproof plan to loot us...!
纳税人要注意了,这是他们捞钱的计划,而且是万无一失的!
rajesh - 1 day ago -Follow
Get ready for tax and inflation shocks. Gandhi family loves walking backwards is it? All progressive steps taken by Modi will be finished if RG comes to power.
如果拉胡尔,莫迪的政策都将被终止。
Ritu - 1 day ago -Follow
feku..... fake. he doesn't know himself what he is saying
假的。他都不知道自己在说什么
Jayant Gokhale - Dubai - 1 day ago -Follow
If Gt is giving Rs 72 000 per year, Rice at Rs 1 a Kg, free cycle, free laptop and many more freebies, why people should work. people should take everything free from Gt and relax at Home. This is wrong promises, which po itical parties are making.
如果政府每年发放7.2万卢比,每公斤1卢比的大米,免费发自行车,免费发笔记本电脑以及其他免费赠品,那为什么要工作?
Rajagopn S.V. - 1 day ago -Follow
Please God save this country from such idiots. Rahul please first learn simple mathematics. You say basic minimum income of Rs 12,000 per month and you also say Rs 72,000 per annum. There are 12 months in a year, so you should be paying Rs 1,44,000 per annum. You also say 20% poorest families will get this. You mean to say 20% of all families in India are poorest. If that be the case then India has a population 1.3 billion or 1300 million people. Assuming 4 persons per family, there will be 325 million families. 20% of 325 million families will be 65 million families which are poorest. At Rs 12,000 per month you will need to give Rs 780000 millions or Rs 78,000 crores per month or Rs 9,36,000 crores per year. From where you are planning to get this money? Please elaborate.
神啊,请把这个国家从这些白痴手中拯救出来。拉胡尔,请先学一下简单的算术:基本最低收入是每月12,000卢比,一年有12个月,所以你每年应该支付144,000卢比,而不是72,000卢比。还有你说20%最贫困的家庭将受益,你的意思是说印度20%的家庭是最贫困的。如果是这样的话,印度有13亿人口。假设每个家庭4个人,那么将有3.25亿户家庭。20%最贫困家庭则为6500户,每月12,000卢比,每个月要发7800亿卢比,每年要发93600亿卢比。你打算从哪里弄到这笔钱?请详细说明。
Anika - Earth - 1 day ago -Follow
Since 70 yrs we have been fooled by your Party. Ab aur nahi
70年来,我们一直被你们国大党忽悠。
manojk - Mumbai - 1 day ago -Follow
Some one ask this moron that from where this money will come?
有人问问这个笨蛋的钱从哪里来吗?
Anand - 1 day ago -Follow
Who will pay or it? The 3-5% tax payers??
谁来为此买单?3-5%的纳税人??
Ponnappa - Ponnampet - 1 day ago -Follow
What an insult to all Indians. In one stroke Pappu makes all of us beggars .
这是对所有印度人的侮辱。拉胡尔一下子就让我们所有人都成了乞丐。
Revathi Roy - 1 day ago -Follow
Dear Mr Gandhi
How will you create jobs if you are hoing to dole out Rs 12000/- per month What you are promising is even higher than minimum wages A
亲爱的拉胡尔·甘地,
如果你打算每月发放12000卢比,那还怎么创造就业机会。
Atul - 1 day ago -Follow
guys! let's rename 'April fools day' to "Rahul gandhi day"
伙计们,把"愚人节"改名为"拉胡尔·甘地日"