War shadow still hangs over India, Pakistan: Imran Khan
伊姆兰·汗:战争的阴影仍然笼罩着印度和巴基斯坦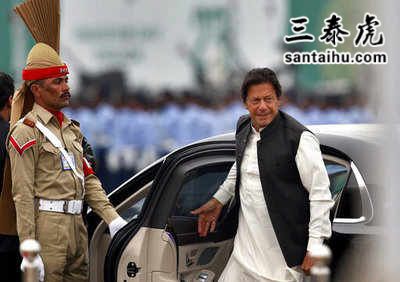 ISLAMABAD: Tensions between Islamabad and New Delhi following Indian air strikes against a Jaish-e-Muhammed terror camp at Balakot inside Pakistan may appear to have de-escalated, but Pakistan Prime Minister Imran Khan remains fearful of fresh military hostilities between the two neighbours.
ysl堡:印度空袭巴基斯坦境内巴拉科特的穆罕默德军营地后,ysl堡和新德里之间的紧张局势似乎有所缓和,但巴基斯坦总理伊姆兰·汗仍然担心这两个邻国之间会爆发新的军事敌对行动。
Khan was quoted by media as saying that India is in the grip of "war hysteria" following last month's tensions that had brought the two nuclear-armed neighbours to the brink of a major confrontation. "I'm still apprehensive, before the elections I feel that something could happen," Khan told Financial Times in an interview in his office in Islamabad. The comments rule out the possibility of resumption of engagement between the two hostile neighbours in the immediate run.
媒体援引伊姆兰·汗的话称,上月的紧张局势已将这两个拥有核武器的邻国推到了一场大冲突的边缘,此后印度陷入了"战争歇斯底里"。伊姆兰·汗在ysl堡办公室接受《金融时报》采访时表示:"我仍然感到担忧,在选举之前,我觉得可能会发生一些事情。"此番评论排除了这两个敌对邻国在短期内恢复接触的可能性。
Khan said shadows of war were still hovering over the two countries, alleging that his Indian counterpart — Prime Minister Narendra Modi — could go for "another misadventure" against Pakistan before the parliamentary elections begin in India.
伊姆兰·汗称,战争的阴影仍然笼罩着两国。他说,印度总理莫迪可能在印度议会选举开始前对巴基斯坦发动"另一场灾难"。
Imran denied that Pakistan had any links with Jaish, the terror group that killed 40 CRPF jawans in Pulwama last month. According to FT, the Pak PM cast Modi as the aggressor for launching a missile strike subsequent to the suicide bombing that brought the two countries close to war.
伊姆兰·汗否认巴基斯坦与默罕默德军有任何联系。上个月,默罕默德军在普尔瓦马杀害了40名印度士兵。据《金融时报》报道,巴基斯坦总理称莫迪是入侵者,对巴基斯坦发动了导弹袭击,此前的自杀式诈弹袭击几乎导致两国爆发战争。
"When the Pulwama incident happened, I felt that Mr Modi's go nment used that to build this war hysteria," Khan said. "The Indian public should realise that this is all for winning the elections, it's nothing to do with the real issues of the subcontinent," said Khan, blaming the Pulwama attack on what he called Modi's "anti-Muslim" go nment and its "heavy-handed policies" in Kashmir.
伊姆兰·汗表示:"当普尔瓦马事件发生时,我认为莫迪政府利用这一事件制造来煽动战争。印度公众应该意识到,这一切都是为了赢得选举,与次大陆的真正问题无关。"
"There's Jaish-e-Muhammed in India, the boy who blew himself up, the 19-year-old boy, was a Kashmiri Indian boy," Imran said. "His parents said he was radicalised by some abuse by the security forces. So it was an Indian boy, Indian operation, Indian car, Indian explosive. Why was Pakistan blamed?"
伊姆兰·汗称:"印度有穆罕默德军成员,引爆自己的19岁男孩,来自克什米尔的印度男孩。他的父母称,安全部队的虐待行为使他变得激进。这是一个印度男孩的行动,用的是印度汽车,印度炸药。为什么要指责巴基斯坦?"
But Khan acknowledged that Pakistan could no longer allow terror groups to operate with impunity on its soil. "We cannot take the stance anymore where you have these armed groups in our country," he said. "We can't afford being blamed for any terrorist activity like Pulwama."
但伊姆兰·汗承认,巴基斯坦不再允许恐怖组织在其领土上肆无忌惮地活动。他说:"我们不能再因像普尔瓦马这样的恐怖活动而受到指责。"
Speaking to local journalists a day earlier, Khan had ruled out hope for improvement in relations with India at least until the upcoming general elections.
一天前伊姆兰·汗对当地记者表示,他排除了与印度改善关系的希望,至少要等到即将到来的大选。
"Pakistan needs to be fully alert as threat by India is possible until their elections. The nation must not let its guard down," he said.
伊姆兰·汗称:"巴基斯坦需要保持高度警惕,因为在选举之前,印度有可能对巴基斯坦构成威胁。巴基斯坦不能放松警惕。"
印度时报读者评论:
译文来源:三泰虎http://www.santaihu.com/47265.html 译者:Jessica.Wu
外文:https://timesofindia.indiatimes.com
TheLie Lama - India - 4 hours ago -Follow
As if these paki beggars and its tomatoless public and malnourished coward army can survive even an hour of blitz by IAF, INS and Indian Army...gwaaand me dum hai to aaja...rape kar denge like in previous wars and cricket matches...haha
说得好像这些巴基斯坦乞丐和他们那些营养不良的懦夫军队能在印度空军、印度海军和印度陆军的闪电战中扛过一小时似的。
unmesh desai - 5 hours ago -Follow
One more terrorist attack and Pakis are done.
再敢发动一次恐怖袭击,巴基斯坦人就完蛋了。
R - 5 hours ago -Follow
If India is keeping Pakistan armed forces on heightened alert as Beggar PM Imran Khan is saying, then it''s good.
像伊姆兰·汗所说的那样,如果印度能让巴基斯坦军队保持高度警惕,那是好事。
SP - 4 hours ago -Follow
Failed state & terriost sponsors don''t have a right to lecture India. We will strike again when it come to our motherland. Jai Hind!!!
失败的国家,恐怖分子的赞助者,没有资格教训印度。要是来犯,我们将再次出击。印度必胜! ! !
Aditya Pathak - 5 hours ago -Follow
He keeps talking about India Pakistan because he has nothing else to do. Pakistan business community doesn''t want to invest in Pakistan. Poor guy has no plan to revive his country. Desperate man only. Relax. Avoid the limelight given to him
他一直在谈论印度和巴基斯坦,除此之外无其他事情可做。巴基斯坦商人不想在巴基斯坦投资。这个可怜的家伙没有复兴国家的计划,他是一个绝望的人。不要给他过多的关注。
Dude - Bangalore - 3 hours ago -Follow
Waaaa.... statements being made to drive people to vote for Congress friends...
他们发表这样的声明,为了促使人们把选票投给国大党……
Mohan K - Hyderabad - 4 hours ago -Follow
Just for the sake of the election, India has stopped its aggressive right towards Pakistan. Soon Modi get elected, see how our armed forces shall act with vigor
为了选举,印度才停止了对巴基斯坦的行动。莫迪很快就会当选,届时我们的军队将展开强烈攻势。
Rk - 4 hours ago -Follow
WAR ... ??? Cowardly mafia unit and their terror acts is WAR ?? Hahahahahah. Porkiiiis cant dare an OPEN WAR with Bangladesh let alone India !!
战争?巴基斯坦都不敢和孟加拉国公开开战,更别说印度了!
Pandey - 2 hours ago -Follow
Be alert don't sleep . But we in India are sleeping peacefully. The main factor being a single man called. Narendra Damodardas Modi.
你们要保持警惕,不要睡觉。我们印度人睡得很安稳,主要因为我们有莫迪。
Joel - goa - 2 hours ago -Follow
every Indian wants PM like Modhi character.
每个印度人都想要莫迪当总理。
Jayant - 5 hours ago -Follow
Khangress ka agent.
国大党的代理人。
himanshu mainali - 59 mins ago -Follow
Both Congressi and Pakistani army are having sleepless nights...Kahi Modi dubara PM naa banjayee...
国大党和巴基斯坦军队都在经历不眠之夜。
HSF - Australia - 1 hour ago -Follow
A vote for Congress is a vote for Imran Khan. As to Imran Khan, Pakistani ISI officials and Pakistani national are being killed in encounters, those arrested confessed that they are Pakistanis and from JeM. Khan don''t tell lies, one more Paki attack, there will not be any Islamabad and Rawalpindi on the world map. Don''t push your luck. It is Modi PM, not MMS with a plate of biriyani or international moron, Italian looter.
投票给国大党就是投票给伊姆兰·汗。巴基斯坦再发动一次袭击,世界地图上就不会有ysl堡和拉瓦尔品第了。不要得寸进尺。印度是莫迪总理当家,不是那个意大利笨蛋当家。
Aaaa - 2 hours ago -Follow
Pakistan suffering from Modi phobia.
巴基斯坦患有莫迪恐惧症。
Narayan Pai - Mumbai, Maharashtra, Ind - 3 hours ago -Follow
Elections or not, Indo- Pak relations will be determined from Rawalpindi/ Beijing rather than the ''shadow'' Govt in Islamabad. Let''s face the facts & ground reality. Imran is yet another puppet in the Pak army re gien, PERIOD
无论选举与否,印巴关系将由拉瓦尔品第和北京决定,而不是由ysl堡的"影子"政府决定。面对现实吧,伊姆兰·汗是巴基斯坦军政体中的又一个傀儡。
Jey Kumar - 1 hour ago -Follow
I guess Imran Khan also joined United opposition
我猜伊姆兰·汗也加入了反对派大联盟。
m adhikary - 2 hours ago -Follow
Pakistan want Congress should come in power...they knew, if BJP in power, Modi will solve the Kashmir issue...
巴基斯坦希望国大党长权…他们知道,如果印度人民党长权,莫迪将解决克什米尔问题。
Main Bhi Chowkidaar - 2 hours ago -Follow
Relax......chowkidar will tell you before thrashing you !
放松点……在揍你之前,莫迪会提前打招呼的!