What are the reasons behind the poor performance of India in Olympics?
印度在奥运会上的表现不佳,原因是什么?
Quora读者的评论:
Payal Sharma, works at Tech Mahindra
I will give a few reasons here:
1.This is Manish Rawat (the one in blue, behind the athlete). He finished 13th in the 20 km walk event at Rio.
我在这里列举几点原因:
1.这位是曼尼什·拉瓦特(运动员后面那位穿蓝色衣服的人)。他在里约热内卢奥运会20公里步行比赛中获得第13名。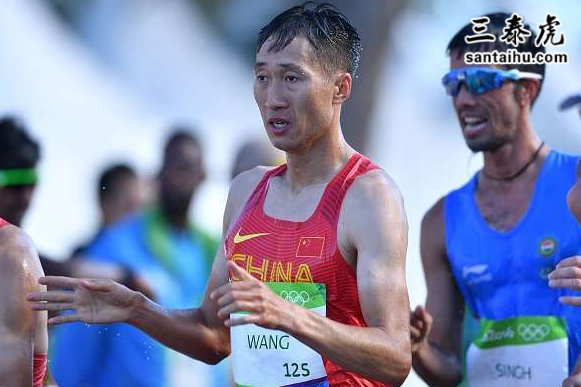 The question was about medals and I'm giving the name of a person who stood 13th! You may wonder why? Here's why.
This guy from Uttarakhand, works two part time jobs and when he started his career in this sport he used to get the pension money of his father, 1,500 INR (25$) to survive with his family. For every single athlete, countries like US, UK, and Japan spends thousands of dollars. But here in India, when a guy practices the event on his own, without much help from the go nment, he is laughed at. 20 km walk might be a funny sight for many because of the posture an athlete has to walk in. But they don't understand the posture is like that because the feet have to be planted on the ground. It is not a duck walk. When Manish practiced on the streets of India, he was laughed and mocked at. When athletes from most of the countries who have opened there medal account in Rio, were practicing on tracks with high end shoes, this guy from India started his practice on the streets and roads with normal running shoes.
No one (including me) had even heard his name until he achieved this feat. And even now, not many know his story because the main focus is how India hasn't won a single gold medal in 2016 Olympics.
译文来源:三泰虎 http://www.santaihu.com/47108.html 译者:Joyceliu
这个问题是关于奖牌的,而我说的是一个排名第13位的人的名字!你可能想知道为什么?下面就是原因。
这名来自北阿坎德邦的男子有两份兼职工作,当他开始把这项运动作为职业时,他只能用父亲的退休金1500卢比(25美元)跟家人一起生活。像美国、英国、和日本这样的国家,每一名运动员都要花费数千美元。但在印度,若一个人在没有政府帮助的情况下独自练时,他会被嘲笑的。对许多人来说,20公里的步行可能是搞笑的景象,因为运动员必须用这种姿势走路。但是他们不明白这种姿势是怎样的,因为双脚必须着地。这不是鸭子步。当曼尼什在印度街头练时,他被人嘲笑。当大多数在里约热内卢夺得奖牌的国家的运动员穿着高级运动鞋在跑道上训练时,这个印度人只能穿着普通跑鞋在大街上和马路上训练。
在他完成这一壮举之前,甚至没有人(包括我)听说过他的名字。即使是现在,也没有多少人知道他的故事,因为大家的主要焦点是印度在2016年奥运会上怎么会连一枚金牌都没拿到。
2.Every single Indian knows her today. Yes, she is Dipa Karmakar
2. 今天每个印度人都认识她。没错,她就是迪帕·卡玛卡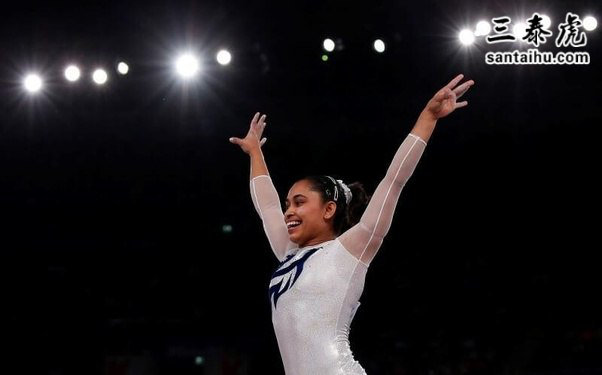 She won the same 1.25 billion hearts on the eve on our Independence day when she stood 4th in Vault gymnastics among the world's best gymnasts. She performed the most dangerous 'death' vault, Produnova vault to achieve this glory. But has anyone given a thought, as to why she chose this vault (7.0 difficulty) and not any other vault which is not high risk but with a decent enough difficulty of 6.3 or 6.4? Because that's how desperate she was to go to Olympics and represent India. Her coach and she knew with the amount of facilities and support provided by our Indian go nment for gymnasts, they couldn't qualify at the biggest stage for gymnastics. They had to take this risk. Even though death is possibility, gymnasts try this vault as it guarantees them seven points because of the difficulty level and even a little faulty execution gives them a chance at medal. Dipa did not come 4th because of the high class coaching, facilities, equipment, physios provided to her in India. She did this because she put her life at risk to achieve success and glory.
When you see Indian media showing her videos of training, it is just sad to see the state of the equipment and facilities there. Think for yourself, would Dipa take up this risky vault if she was given the state of art facilities and equipment Simon Biles or Wang Yan received?
在独立日前夕,她赢得了12.5亿印度人的心,当时她在跳马体操比赛中名列世界第四,是全世界最好的体操运动员之一。她表演了最危险的"死亡"跳马,普娃跳马赢得了这个殊荣,但是有没有人想过,为什么她要选择了这个动作(难度系数7.0),而不是其他非高风险但难度足够高的6.3或6.4难度系数的动作?因为她是多么渴望参加奥运会,代表印度参赛。她的教练和她知道,印度政府为体操运动员提供了大量的设施和支持,他们在最大的体操舞台上水平不佳。他们必须冒这个险。尽管死亡是可能发生的,体操运动员尝试这个跳马动作,因为难度高,能保证他们拿7分,就算出现小失误也能让他们有机会夺得奖牌。迪帕获得第四名,并不是因为印度为她提供了一流的教练、设施、设备和理疗师。她得奖是因为她冒着生命危险争取成功和荣耀。
当你看到印度媒体播放她的训练视频时,看看设备和设施的状况,你会觉得心酸的。你自己想想,如果迪帕拥有西蒙拜尔斯或王燕所拥有的最先进的设施和设备,她会选择这个高风险的动作吗?
3.Lalita Babar, who was the third Indian women athlete to enter a track events finals, stood 10th in her 3000 m steeplechase.
3.Lalita Babar是第三位进入田径项目决赛的印度女运动员,她在3000米障碍赛跑中名列第十。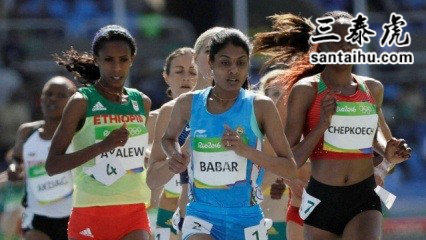 She used to run half marathons earlier to earn the prize money offered by these marathons. Yes, she had a Russian coach for a brief period of time. But did we know her from before until she qualified for the finals? Did she get the training and facilities like her fellow runners from different parts of the world?
她以前经常跑半程马拉松来赚取这些马拉松比赛奖金。是的,她曾有过一段时间的俄罗斯教练。但是在她进入决赛之前我们认识她吗?她是否像来自世界各地的跑步者一样得到了足够的训练和设施?
4.Dutee Chand, who qualified for women's 100m in Rio this year, stood 50th.
4. 今年里约热内卢女子100米决赛的Dutee Chand排名第50。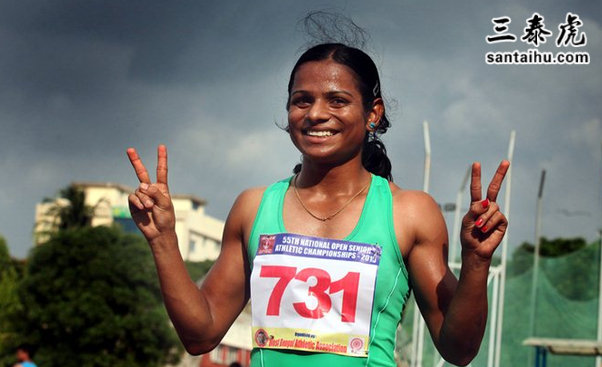 This picture is of our 100m sprinter Dutee Chand, who was the first Indian woman to qualify for Olympics in this event. Yes, the same Dutee Chand, who our Sports Minister Vijay Goel, mistook as Srabani Nanda. How does our own Sports minister doesn't know who is taking part in Olympics this year? Her story is commendable though. In 2014, she was stuck with hyperandrogenism case. In short, the athletics world failed to recognise Chand as a female. Her family income was a mere 3,000 INR (50$) and it was very tough for her to fight her own case. She was embarrassed and scared to go out of her house. It was a lonely fight for her. But one day, in a landmark CAS judgement, her ability to compete as a female athlete was restored. She worked hard. Broke her own national record. In a similar case, South Africa's Caster Semenya failed her gender test. But her country fought for her unlike India, whereas Dutee fought for her own dignity and dream all by herself! She may not be the best when compared to other female 100m sprinters, not even close to be in top ten. But what she has achieved today, is something to be proud of.
5.There are many such inspiring stories in the 100 plus Indian contingent which went to Rio this year. The highest till date. We Indians are so proud of them. But instead of receiving the love, they get this.
I don't want to say anything more about why this hateful tweet was written, who wre it, when was it written etc. All I want to ask is, do they deserve all the hatred without even getting the minimum support and facilities?
这张照片是我们的100米短跑运动员杜缇昌德,她是第一位获得奥运会该项目参赛资格的印度女性。是的,就是那个杜缇昌德,我们的体育部长维贾伊·戈埃尔把她错认为萨拉巴尼·南达。我们的体育部长怎么会不知道今年派谁出征奥运会了呢?不过,她的故事值得称赞。2014年,她陷入了高雄激素症的困境。简而言之,体育界不能将昌德视为女性。她的家庭收入只有3000印尼盾(合50美元),她很难为自己的案子辩护。她很尴尬,不敢出门。对她来说,这是一场孤独的战斗。但有一天,国际体育仲裁法庭做出了具有里程碑意义的判决,恢复了她作为一名女运动员的参赛资格。她努力训练。打破了她自己创下的全国记录。相似的案例中,南非的卡斯特塞门娅没有通过性别测试。但是她的国家为她而力争到底,不像印度,让杜缇为她自己的尊严和梦想而战!与其他女子100米短跑运动员相比,她可能不是最优秀的,离前十还差得挺远。但她今天取得的成就是值得骄傲的。
5. 在今年参加里约热内卢的100多名印度选手中,有许多这样鼓舞人心的故事。我们印度人为他们感到骄傲。但是他们得到的不是爱,而是这个。
我不想再多说为什么有人要写这条可恶的推文,谁写了这个推文,什么时候写的等等。我想问的是,他们在没能获得最低水平的支持和设施的情况下,应该背负所有的怨恨吗?
Rahul Raj, Proud Indian, IIT KGPian
There are simple and well known reasons for the debacle of India in the Olympics. Well, you know that Indian society is obsessed with turning their children into doctors and engineers. Every year, around 2.5 million young children go for preparation of medical and engineering exams. And this perpetual cycle continues…
Here, it is cool to prepare for engineering & medical exams and fail. Whereas it is uncool to excel in sports and dreaming to have a career in sports. Why? Because most people want only three things: money, money and money.
The day 'being a sportsperson' will become as equally acceptable as 'being a doctor or engineer' for Indian society, India will win podium finishes in Olympics. And I bet if that day comes, we will be in the top five in the medal tally.
Read further:
Let me give you an example.
Had Michael Phelps been an Indian, this is the conversation that is most likely to happen between a 16 year old Phelps and a typical Indian uncle-
Sharma uncle: Phelps! What do you do?
Phelps: Uncle, I am a professional swimmer.
Uncle: Well, that's a good hobby. But what do you do?
Phelps: I am a competitive swimmer.
Uncle: Yes, I know. Swimming is good for health also. But what do you do? Like medical or engineering?
Phelps: (less)
印度在奥运会上惨败的原因很简单,而且众所星期知。你知道的,印度社会醉心于把孩子培养成医生和工程师。每年大约有250万个孩子参加医学和工程学考试的准备。这个永恒的循环还在一直继续……
在印度,为工程学和医学考试做准备而失败没什么。但在运动方面出色,梦想着走职业体育道路,是被人所不齿的。为什么?因为大多数人想要的只有三样东西:钱、钱、钱。
当有朝一日,"成为一名运动员"和"成为一名医生或工程师"一样为印度社会所接受时,印度才能在奥运会登上领奖台。我打赌若那一天真的到来,我们将进入奖牌榜的前五名。
多说几句:
我举个例子。
如果迈克尔·菲尔普斯是印度人,这是16岁的菲尔普斯和一个典型的印度大叔之间最有可能发生的对话
沙玛大叔:菲尔普斯!你是做什么的?
菲尔普斯:叔叔,我是职业游泳运动员。
大叔:嗯,那是个不错的爱好。但是你的职业是什么?
菲尔普斯:我是一个很有实力的游泳运动员。
大叔:是的,我知道。游泳对健康也有好处。但我问的是,你的职业是什么?医学还是工程学?
菲尔普斯:(无语)
Graeme Shimmin, Commercially published novelist.
All India needs to do to increase the number of Olympic medals it wins is start investing twenty billion rupees a year in supporting its elite athletes.
For comparison and to show the effect of investment, it's useful to look at the rise of the British Olympic team:
印度要增加奥运奖牌数量,需要做的就是开始每年投资200亿卢比来支持印度的精英运动员。
为了便于比较和展示投资所能带来的效果,我们可以看看英国奥运代表队的崛起之路: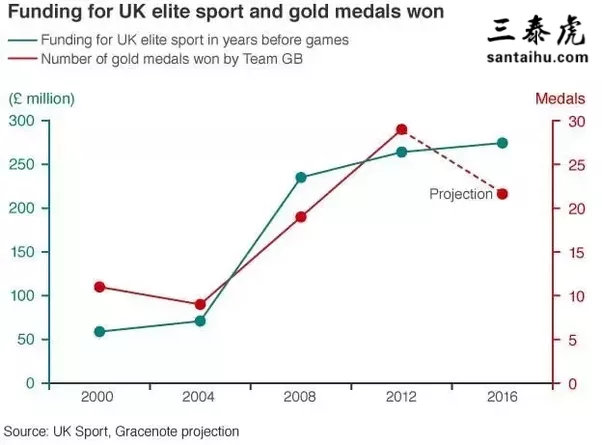 In the Atlanta Olympics of 1996, Britain was 36th in the medal table, wng only a single gold medal. After that relative failure, funding sky-rocketed, increasing to over a quarter of a billion pounds (over twenty billion rupees) a year .
As well as sheer amount of investment, there has been a fairly brutal focussing, targeting investment only on sports with medal pential. Some sports where there is little chance of Britain wng a medal have had funding cut completely - volleyball for example.
All that means that elite British athletes with medal pential have now got a huge amount of financial support and access to the best coaching and training facilities.
And so they win: in 2012 Britain was third in the medal table, wng twenty-nine gold medals. It's on target to do similarly in Rio, having won sixteen gold medals already.
On average, each medal costs Britain £4.5 million (~400 million rupees)
Where did the money come from? A National Lottery - twenty percent of the proceeds from the British National Lottery are allocated to sport.
India has a huge population, and human genetic pential is spread evenly across the world, so there are plenty of people in India with the pential to win Olympic medals, but they never get a chance.
So, the question is simply this: does India want to win medals at the Olympics? If so then it simply has to start investing in its athletes.
在1996年亚特兰大奥运会上,英国在奖牌榜上排名第36位,只获得一枚金牌。在那次惨败之后,投资资金扶摇直上,一年内就增加到2.5亿英镑(超过200亿卢比)。
除了数额巨大的投资,还狠心集中资源,把投资目标紧紧对准有夺金潜力的体育项目。一些英国几乎不可能获得奖牌的运动项目被削减了经费——比如排球。
所有这一切都意味着,有潜力获得奖牌的英国精英运动员获得了巨额资金支持,并可以获得最好的教练和训练设施。
所以他们赢了:2012年,英国在奖牌榜上排名第三,赢得了29枚金牌。它的目标是在里约热内卢上也能取得同样的成绩,现在它已经赢得16枚金牌了。
平均而言,英国为每一枚奖牌投入的成本是£450万(~ 4亿卢比)
这些钱是从哪里来的?国家彩票——英国国家彩票收入的20%用于体育。
印度人口众多,人类的基因潜力在世界各地分布均匀,所以印度有很多人有潜力赢得奥运会奖牌,但他们从来没有机会。
所以问题很简单,就是印度想在奥运会上赢得奖牌吗?如果想,那印度就必须开始为本国运动员下血本投资。
Saurabh Tripathi, a good gully cricketer
There are many reasons for the poor performance of Indian players in Olympics. I will state a few
Infrastructure:
In my school I had a boy who was interested in hockey. Ours was a central school but still our school had no hockey kit, not to forget hockey used to be our national game once. That boy was forced to play cricket as our coach argued that cricket has more scope. Maybe if he was coached well in hockey he may bring a medal to the country.
Common belief
Cricket is the only game one can pursue career in. Parents don't want their child to play any other game other than cricket, because cricketers are millionaires.
Lack of support from own media
These things demotivated our players that too when they are in Olympic village.
Support from people
Most of us never watch any other game other than cricket, hockey. We should support them because this motivates them to perform better.
These are some of the reasons for poor performance of our players at Olympics.
印度运动员在奥运会上表现不佳有很多原因。我会列举一些原因:
1. 基础设施:
在我的学校,有一个对曲棍球感兴趣的同学。我们的学校是一所不错的学校,但也没有曲棍球装备,不要忘记曲棍球曾经是我们的国球。那个男孩被迫打板球,因为我们的教练认为板球有更大的发展空间。也许如果他在曲棍球方面训练有素,他会给这个国家带来一枚奖牌。
2. 共同的信念
板球是一个人唯一可以当做职业的运动项目。父母不希望他们的孩子玩板球以外的体育项目,因为板球运动员都是百万富翁。
3.缺乏来自印度媒体的支持
当我们的运动员在奥运村比赛的时候,没有媒体支持也让他们失去动力。
4. 国民支持
除了板球和曲棍球,我们大多数人都不会观看其他比赛。我们应该支持他们,因为这会激励他们表现得更好。
这些就是我们的运动员在奥运会上表现不佳的一些原因。
Esha Changotra, studied at The NorthCap University
When Usain Bolt was asked in Rio why his tiny Jica is such an athletics powerhouse, his answer was simple: the island's unique sporting culture. The key, the grestest sprinter in history was said, was Jica's annual sports competition, 'Champs', which puts kids into hardcore competitive limelight early on, palying to packed stadiums and on TV. "It is just that we have a good sy em", argued Bolt.
In reality, there are four main reasons why India suck at the Olympics,
1.We just don't care much about Olympic sports (except when the Olympics is on and that is the cool thing to do).
2.We don't value excellence in society as much. Jugaad and mediocrity often work just fine, though they can't get us medals.
3.We don't spend enough or in the direction to win Olympic medals. Olympic medals are a consequence not of population but access to facilities.
4.We don't have good genes (bizzare, as Indians are a very large and diverse gene pool) parents don't encourage kids to play sports as they think it has no future.
We don't have a decent sporting culture or a grassroots pipeline to catch young talent in Olympic sports. Our medal tally has regressed and so has our sy em, but look deeper and you will find that our sportspersons have made significant strides in Rio despite the structural bottlenecks. And for a country with less individual medals in a century than Michael Phelps alone, for 118 atheletes to qualify for Rio is so many new disciples and to make inroads despite a terrible sy em is evidence that siomething new is happening in Indian sport. So no rona about Rio, India's done better than you think
当英国广播公司里约热内卢节目采访尤塞恩•博尔特时,有人问他,为什么他小小的牙买加祖国能成为田径运动的动力室时,他的回答很简单:这个岛国具有独特的体育文化。这位牙买加史上最伟大的短跑运动员称,关键就是牙买加一年一度的体育比赛"冠军计划",它让孩子们早早地进入了专业竞赛的聚光灯下,在挤满观众的体育场和电视上比赛。"就是因为我们有一个很好的系统,"博尔特说。
事实上,印度在奥运会上表现不佳有四个主要原因,
1.我们并不太关心奥运会(除了奥运会开幕那会儿,那是挺酷的)。
2.我们对社会人才不那么看重。平庸的人就干得不错了,尽管他们不能为我们赢得奖牌。
3.我们没有投入足够资金,也没有走在朝着赢得奥运奖牌的正确的方向上。奥运奖牌不是由人口决定的,而是由设施决定的。
4.我们没有良好的基因(印度人是一个非常庞大、多样的基因库)父母不鼓励孩子进行体育运动,因为他们认为体育不会给孩子带来未来。
我们没有一个像样的体育文化,也没有草根渠道来获得年轻的奥运体育人才。我们的奖牌总数已经退步了,我们的体也在倒退,但是再往深处看,你会发现我们的运动员尽管存在结构性瓶颈,但在里约热内卢上已经取得了巨大的进步。对于一个在整整一个世纪内个人奖牌数比菲尔普斯一人夺得的奖牌数还少的国家来说,118名运动员获得里约热内卢参赛资格已经非常多了,尽管体不给力,但依然取得了进展,这证明印度体育界正在发生一些新的变化。所以不要再说里约热内卢多糟糕了,印度比你想的要好。
Vichitra Zawar, Keen follower of sports!
The possible reasons can be,
Games in which we excel are not in Olympics :
Kabaddi : A sure Gold.
Snooker : A sure Gold. (Pankaj Advani)
Chess : A probable Gold. (Viswanathan Anand)
Cricket : A probable Gold.
and many more..
Poor infrastructure : Countries like USA, spend millions of Dollars for a single medal whereas our athletes Manish Singh does 2 part time jobs. There are many more examples like Manish Singh.
Nobody backs them up : Our sport Minister does not knows the exact name of the ones who make us proud.
The ones who don't know about sports are commenting :
Lack of physical fitness : Even a middle class family has a servant to fetch children with a glass of water.
No country can be good at everything : We produce finest Engineers, managers , Entrepreneurs. Maybe athletics is not yet too mainstream.
Our society never takes athletics seriously : Sharma Uncle will always consider swimming and Cycling as a hobby and will not accept it as a profession.
Jai Hind!
可能的原因是,
卡巴迪摔跤:绝对拿金牌。
斯诺克:绝对拿金牌。(潘卡阿德瓦尼)
国际象棋:可能拿金牌。(维斯瓦纳坦·阿南德)
板球:可能拿金牌。
还有更多…
基础设施差:美国、这样的国家为一枚奖牌投入数百万美元,而我们的运动员曼尼什·辛格则要打两份零工。这样的例子还有很多,比如曼尼什·辛格。
没有人支持他们:我们的体育部长还搞不清那些让我们骄傲的人的准确姓名。
对体育不了解的人在夸夸其谈:
体力不足:即使是中产阶级家庭也有佣人帮孩子们端茶送水。
没有哪个国家在所有领域都很擅长:我们培养了最好的工程师、经理和企业家。也许体育运动还不太主流。
我们的社会从来没有认真对待过体育运动:沙玛大叔总是把游泳和骑自行车视为一种爱好,但无法接受把运动作为一种职业。
Jai Hind!
印度必胜!
Divyam Shukla, True Nationalist Beware of pseudo ones.
The simple reason is we don't give any importance to sports. Most of The Indians can remember their school life and also the students who are studying currently do not have the liberty to choose sports. They have to study only study.
We are still fighting for Toilets and respect for girls in our country. The giving a thought to sports is nowhere.
If we leave the metro cities like Delhi & Mumbai. The infrastructure is none for sports. Even the schools do not have their own playgrounds. And If they want to prome sports they can not simply due to high student to teacher ratio.
原因很简单,我们不重视体育。大多数印度人都记得他们的学校生活,而且现在还在上学的学生没有选择体育运动的自由。他们得学,只有学。
我们还在为厕所和尊重女孩而奋斗。没精力考虑体育。
如果我们离开德里和孟买等大城市。根本没有体育运动的基础设施。甚至连学校都没有自己的操场。如果他们想促进体育运动的发展,不能光靠提高师生比例。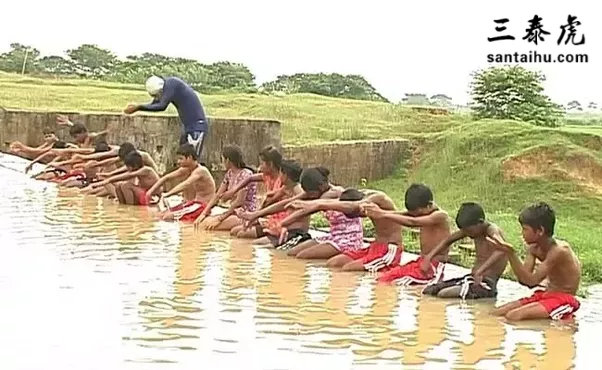 Thats Why sports is for them who have money. Here you can see the Infrastructure.
The situation at Go nment Schools except KV & JNV's is too grim. Here Gt schools do not have any sports teacher. Oh sorry, our gt. schools do not have the subject teachers. The thought of having a sports teacher is still very far.
这就是为什么体育运动是为有钱人而准备的。大家可以看看基础设施是什么样的。
政府学校的情况非常严峻。这里的公立学校没有体育老师。哦,对不起,我们的公立学校根本没有学科教师。想要配备体育老师,是一个还太过缥缈的想法。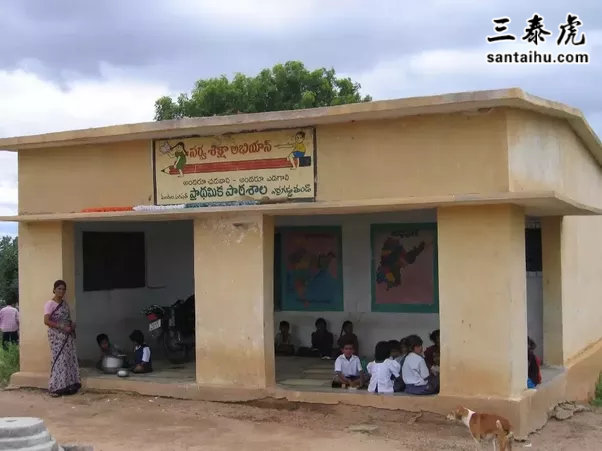 This is the prototype primary go nment school of our country. Don't need any explanation you can self evaluate the situation.
Now come to college level, here co ption is at peak. Students who are dedicated for sports are in very hopeless position. The deserving one will not be sed by their coaches. And the one who will pour money for certificates they will get the entry.
Now , if you see the preparation of athletes who usually participate in track and field events. They need a bnced diet & prein. Which costs them upto 15- 20 thousand INR per month. So these situation makes them difficult to keep playing.
And our thinking towards sports other than cricket is everybody knows. These are the few reasons why we cant win more medal.
Logic is simple, If 70 percent of the population of our country is in the villages and in the reme places then we need to invest there. Not merely by having investment in New Delhi or in Mumbai will not enhance the situation.
But Against all these odds, We have superstars. And In this Olympics our players have played well. I think the Luck was harsh on Indians. Otherwise many of our sports persons played well, they have given nail biting competition to their opponents.
这是我们国家小学的模样。无需任何解释,你自己可以判断一下。
现在说说大学的情况,猖獗。那些为体育运动奉献心血的学生处于非常绝望的境地。才华出众的人不会被他们的教练选中。舍得为证书下大血本的人就可以拿到入场券。
现在,如果你去看看经常参加田径赛事的运动员的准备工作就知道了。他们需要均衡的饮食和蛋白质。每月花费高达15000-20000卢比。所以这些情况让他们很难继续参赛。
我们对板球以外的运动的看法是众所星期知的。这些就是为什么我们没能赢得更多奖牌的若干原因。
逻辑很简单,如果我国70%的人口处在农村和偏远地区,那么我们就得在那里投资。不能只在新德里或孟买投资,这对改善困局并无帮助。
但尽管如此,我们还是有超级明星。在这次奥运会上,我们的运动员表现得很好。我觉得印度人运气不好。其实,我们的许多运动员都表现得很好,他们跟对手之间进行了激烈的竞争。
1.Abhinav Bindra
1.阿比纳夫宾德拉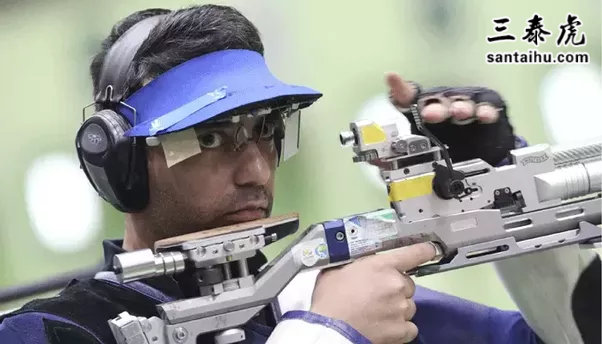 Abhinav Bindra came fourth missed by a margin but nobody cares although it was a very good performence.
阿比纳夫·宾德拉以微弱优势屈居第四,但没人在意,尽管这已经是一个非常好的成绩了。
2.Dipa Karmakar-
2. 迪帕卡尔玛卡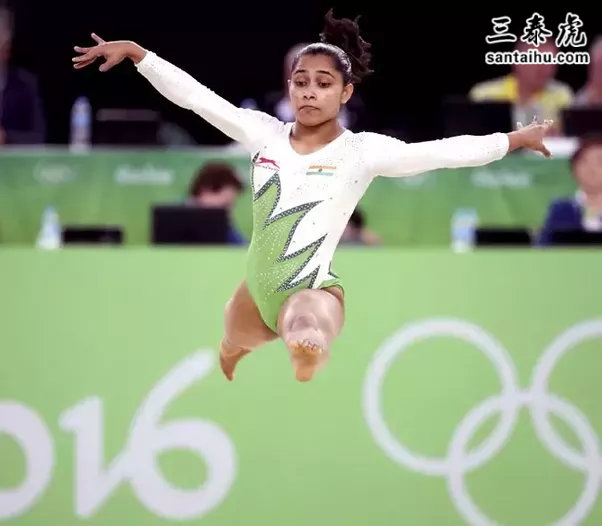 This Tripura Girl came fourth instead of she missed bronze by a whisker.
这位特里普拉邦的姑娘排在第四位,只差一点点就能赢得铜牌
3.Atanu Das-
3. 阿塔努达斯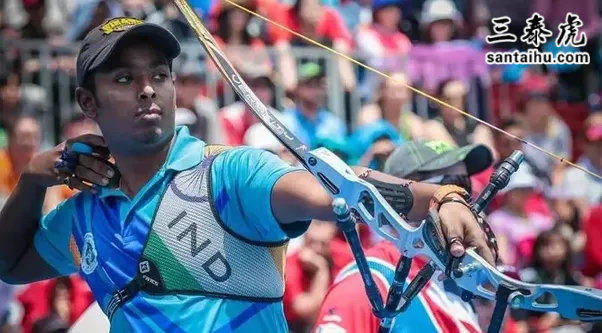 Have you seen his match the round of 16 or quarterfinal match. His counterpart of South Korea and Atanu were playing a match of another level. Which lasted till 5th set. And in the end Atanu was defeated. So India needed some luck also.
there were many such performances which can not be converted into medals instead of good show.
你看过他在16强或四分之一决赛中的比赛吗?他的对手韩国队和阿塔努进行了高水平竞赛。比赛一直持续到第五局结束,阿塔努被击败。所以印度也需要一些运气。
这样的比赛场面有很多,没能拿到奖牌,但运动员的表现一样可圈可点。
Vibhu Paruchuri, Indian sports fan
Before, I proceed with my answer I'd like to say I'm a big fan of P.V Sindhu.
The main reason for not wng a lot in Olympics , is lack of expenditure on sports(excluding cricket) and hence lack of training facilities.
We splurge a lot after wng a medal, but we don't spend to get those medals.
Let's take an example:
P.V Sindhu won a silver medal in Women's singles-Badminton in Rio Olympics.
在我开始回答之前,我想说我是P.V.辛徒的忠实粉丝。
我们在奥运会上奖牌不多的主要原因是缺乏体育支出(板球以外),因此缺乏训练设施。赢得奖牌后我们大肆摆阔,但不会为了奖牌投入资金。让我们举个例子:P.V.辛徒在里约奥运会女子单打羽球赛中获得了银牌。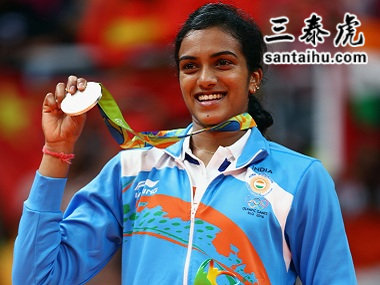 While, it is definitely a great achievement, look at the way our country has splurged:
1.Rs. 5 cr and 1000 square feet land in Hyderabad by Gt. of Telangana.
2.Rs. 3 cr and 1000 square feet land in Amravati Region by Gt. of Andhra Pradesh.
3.Rs. 2 cr from Gt. of Delhi.
4.Rs. 75 lakh from Bharat Petroleum.
5.Rs. 50 lakh from Gt. of Madhya Pradesh.
6.Rs. 50 lakh from Gt. of Harayana.
7.Rs. 50 lakh from Ministry of Youth affairs and and sports.
8.Rs. 50 lakh from Badminton Association of India.
9.Rs. 50 lakh NRI Businessman Mukattu Sebastian.
10.Rs. 30 lakh from IOA.
11.Rs. 25 lakh from Vijayawada MP Kesineni Srinivas.
12.Rs. 25 lakh from BCCI VP Gokaraju Gangaraju.
13.Rs 1.01 lakh from Salman Khan.
14.BMW car from Presi nt of Hyderabad District Badminton Association.
虽然这绝对是一个伟大的成就,但看看我们国家是如何摆阔的:
1.5千万卢比及海得拉巴1000平方英尺的土地,来自泰兰加纳政府。
2.3千万卢比及阿姆拉瓦提地区1000平方英尺土地,来自安得拉邦政府。
3.2千万卢比,来自德里政府。
4.750万卢比,来自巴拉特石油公司。
5.500万卢比,来自中央邦政府。
6.500万卢比,来自哈里亚纳邦政府。
7.500万卢比,来自青年事务和体育部。
8.500万卢比,来自印度羽球协会。
9.500万卢比,印度侨商Mukattu Sebastian。
10.300万卢比,来自印度奥委会。
11.250万卢比,维杰亚瓦达议员Kesinei Srinivas 。
12.250万卢比,来自BCCI副总裁Gokaraju Gangaraju。
13.10.1万卢比,萨尔曼可汗。
14.海得拉巴区羽球协会主席的宝马汽车。
All this comes to a total - upwards of Rs 16 cr.
While she deserves cash prizes,but this seems to be a bit too extravagant. Even if half of this was announced for develo Badminton Facilities, especially facilities like Pullela Gopichand Academy, the sport would go a long way, and there would be many more champions wng laurels for our country.
Coming to Pullela Gopichand Academy, it has produced many star players like:
所有这些总共达到1.6亿卢比以上。
虽然她理应获得这些现金奖励,但这似乎也有点太奢侈了。就算把其中一半拿来改善开发羽球设施,特别是像普拉拉·戈皮坎德学院这样的设施,也会对这项运动大有助益,会有更多的冠军为我们的国家赢得桂冠。
普拉拉戈皮坎德学院,已经培养出了许多明星球员,如:
Saina Nehwal
塞纳·纽瓦尔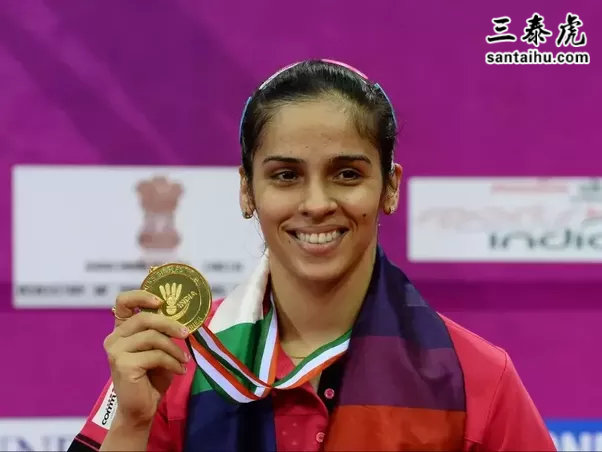 Srikanth Kidambi
斯里坎特·基达比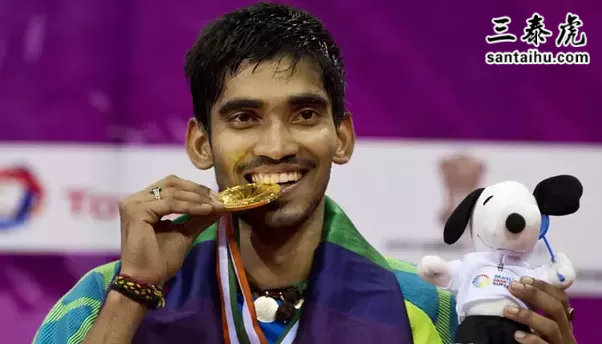 and of course P.V Sindhu and many more.
If so many world-class players could come from a single Badminton Academy, imagine how many more could come from a country of a billion people, if money is invested in proper training facilities and trainers/coaches.
In fact, Great Britin spent an average of 5.5 million pounds per medal.
Obviously, we should not expect such an investment into sports because we still are a a develo country, and we have lot more problems to worry about, but it still needs to increase.
I seriously hope, we spend on sports in the near future but the problem is with the people of our country, interest peaks only when the Olympics or the Asian Games are going on and then the interest slowly fades to being virtually non-estent, and suddenly sees an upward trend, when the next olympics come.
Preparing for Olympics cannot be done in a year or two, it needs decades.
Here's ho for a better sporting future in India.
当然还有P.V.辛徒等等。
如果一个羽球学院就培养除了那么多世界级的球员,那么想象一下,如果我们为训练设施和教练投入资金,这个拥有十亿人口的国家不知能多培养出多少个高手。
事实上,英国人为每块奖牌平均花费了550万英镑。
显然,我们不敢指望我们也能有这么巨额的体育投资,因为我们还只是一个发展家,我们还有很多问题要解决,但体育投资还是必须增加的。
我真心希望,在不久的将来我们能为体育投资,但问题还在于我国国民,只有在奥运会或亚运会期间,大家的兴趣才会达到顶峰,然后有慢慢地消失,基本难觅踪影,等下次奥运会到来时,又突然上升。
筹办奥运会不可能在一两年内完成,需要花费几十年的时间。
希望印度的体育能拥有更光明的未来。