1 in works, railways to study 10 more bullet train corridors
一条在建,印度铁路部门将研究新建10条高铁
NEW DELHI: The railways has lined up a mega expansion plan, including more than doubling the freight capacity and adding new high-speed trains for which 10 corridors with a cumulative length of about 6,000 km have been identified.
新德里: 印度铁道部已制定了一项大规模扩建计划,包括将货运能力提高一倍以上,并确定新建10条累计里程约6000公里的高铁。
The transporter has already moved a proposal to seek Cabinet approval, which includes permission to carry out a feasibility study and a detailed project report for the 10 possible bullet train corridors. Segments on the radar include Delhi-Mumbai, Delhi-Kolkata, Delhi-Amritsar, Patna-Kolkata and Chennai-Bengaluru. Sources said these will require investment of about Rs 10 lakh crore over 10 years. "This plan is very preliminary," a source told TOI.
运输部已经提出了一项提案待内阁批准,其中包括对10条高铁进行可行性研究的许可,以及一份详细的项目报告。覆盖区域包括德里-孟买、德里-加尔各答、德里-阿姆利则、巴特那-加尔各答和钦奈-班加罗尔。消息人士称,这些项目将耗时10年,需投资约10万亿卢比。一位消息人士告诉《印度时报》:"这个计划还处在初步阶段。"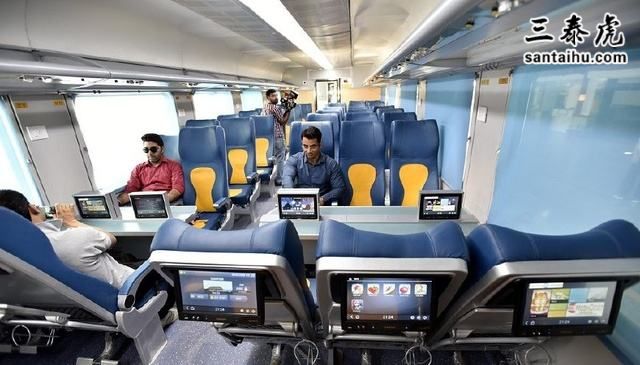 Currently, there is one high-speed train corridor — Ahmedabad-Mumbai — under implementation.
目前,印度有一条高铁——艾哈迈达巴德-孟买——正在施工中。

The immediate focus is on adding 17,000km to the esting 1.2 lakh km rail network, which will entail an investment of over Rs 5 lakh crore and will be funded through extra-budgetary borrowings, sources familiar with the plan told TOI. The plan involves trebling the rail tracks along the Golden Quadrilateral and other lines with the objective being to win back traffic from roads.
知情人士告诉《印度时报》,目前的重点是在现有的12万公里铁路网基础上再增加1.7万公里,这将需要5万多亿卢比的投资,资金将通过贷款获得。
Separately, three new freight corridors have been discussed on the lines of the Delhi-Mumbai and Amritsar-Kolkata DFCs.
另外,在德里-孟买和阿姆利则-加尔各答的货运中心的线路上讨论了三条新的货运线路。
It has been proposed that a large chunk of funding for these projects could come from multilateral funding agencies such as the World Bank, JICA and the Asian Development Bank.
这些项目的大部分资金来自世界银行、日本国际协力机构和亚洲开发银行等多边筹资机构。
After eliminating all unmanned crossings, the next big step would be eliminating the 7,000 manned crossings with rail overbridges and rail underbridges.
在清除所有无人值守平交道口后,下一步的重大举措将是取消7000个有铁路立交桥的有人值守平交道口。
All these works would require about Rs 5.7 lakh crore and the go nment estimates these works will generate 9.6 lakh jobs and will also push the demand for cement and steel to the tune of 21 lakh tonnes in each case.
所有这些工程将耗资约5.7万亿卢比,印度政府估计这些工程将创造96万个就业岗位,并将推动水泥和钢铁的需求达到210万吨。
印度经济时报读者评论:
译文来源:三泰虎 http://www.santaihu.com/47111.html 译者:Jessica.Wu
外文:https://economictimes.indiatimes.com
Atilla Hun
Spectacular Presentations is the USP of Modi Govt
夸夸其谈是莫迪政府的特色
Kumar
Hope it is the final jumla of Feku. India has wasted 5 years of development. We need a new PM to undo the wrongdoings of the Feku re gie.
希望这是莫迪的最后一次空谈。印度浪费了5年的发展时间。我们需要一位新总理来纠正莫迪政府的错误做法。
Kanakasabhai Natarajan
All plans and even more plans.
都是计划,还有更多计划在后头。
Dhirendra Kumar Mishra
good transport infra is always a prerequisite for development. excellent step and foresight by this go nment. a good bullet train network will give huge boost to development.
发达的交通基础设施始终是发展的先决条件。本届印度政府具有远见卓识。印度高铁将大力发展。
Iyer
IN FIVE DECADES THE ONLY METRO STRETCH NEVER IMPROVED OR CHANGED FOR BETTER IS..MUMBAI TO CHENNAI..WHY NO MP FROM THESE CORRIDOR NEVER EVEN ASKED FOR IT. THINK OF COTIZENS TRAVELLING MUMVAI TO CHENNAI OR VCE VERSA..
在过去50年里,唯一没有升级的是孟买到钦奈铁路。为什么议员从来没有提到过。为那些在孟买和钦奈来回跑的居民想想吧
Subbu India
Don''t plan anything now. Election is knocking at the door.
选举即将来临,现在不要在提什么计划了。
Prakash Deshpande
INDIA NEEDS GOODS TRAINS NOT BULLET TRAINS. Bullet train will do no good, other than satisfying the personal ego of some elite BJP po iticians.
印度需要的是货运铁路,而不是高铁。高铁除了满足一些印度人民党精英政客的虚荣外,没有任何好处。
Rituraj Srivastava
For you information, India is already working on 2 Dedicated Freight Corridors and another 2 corridors are under pre development phase. We obviously need high speed train, India cannot afford to have a 50 year old technology in the 21st century. Because of this mindset, Railways is in its current situation.
印度已经在建两条专用货运铁路,另外两条也处于前期开发阶段。我们显然需要高铁,21世纪了,我们还修不起高铁。
Kumaresan
Only announcements. It will take many more years to take off, even if this go nment continues
只是宣布计划而已。即使本届印度政府继续执政,这也需要很多年才能实现
Clarke
20 hours ago
Govt of Gujarat is ruling India.
古吉拉特邦政府正在统治印度。
DAYA
21 hours ago
The Railway must first of all maintain punctuality of the trains.
首先必须保证列车准点。
21 hours ago
Is there something a miss? Why not from Kanyakumari to Jammu and then from every state capital to Delhi, which means 29 connections.
是不是遗漏了什么?为什么不新建坎亚库马瑞到查谟的铁路,然后是每个邦的首府到德里的铁路,也就是说要新建29条铁路
Aditya Loha
21 hours ago
great job by the nationalist BJP go nment
印度人民党,干得好
Abhilash Singh
22 hours ago
It''s important for the development of our economy. It should be completed in a time bound manner.
这对我们经济的发展很重要,应该按期完工。
Anirban Saha
Another jhimla by beloved Feku...public ko bewakuf samjha hai
莫迪又在说大话。
niti
WHY CANT THIS GOVERNMENT THIK OF COMMON MAN AND HIS NEEDS INSTEAD RUNNING AFTER BULLET TRAINS.
为什么印度政府不能考虑普通老百姓的需要,非要去修什么高铁呢?
Subbu India
Wait for the ion be over and then talk about your wishes.
等到选举结束,再说吧。
Ramendra Nath Ray
First You Run Your Esting Sy em Efficiently Then Think For New One.
首先,要提高现有铁路的运行效率,然后再考虑引进高铁。
Venkat
19 hours ago
Very good and informative counter to all short sighted and shallow suggestions and oions.
非常好,信息量大,和一切目光短浅的建议和意见形成鲜明对比。
Ramendra Nath Ray
22 hours ago
No.1 Not Yet Successful , How Thinking For More Bullet Train?
第一条还没建好呢,还想新建那么多条?
Harishwr
23 hours ago
bullet trains are waste of money. India needs semi hi speed trains. not bullet trians. economical and desi
修高铁就是浪费钱。印度需要的是半高速列车,不是高铁。
Rohit Joshi
1 days ago
The Bullet Trains are prohibitally expensive to make & unless heavily subsidised,the tickets too will be very expensive
高铁的造价太高,除非有大量补贴,否则票价将贵到天上去。