Why is India's Olympic medal tally lower than that of many countries with a similar or poorer economy?
为什么印度的奥运奖牌榜低于很多经济水平相当或更差的国家?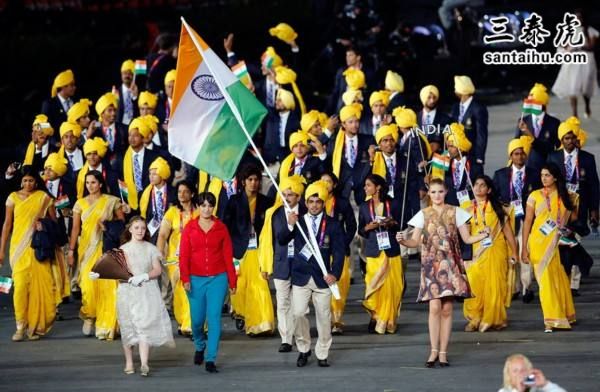 Quora评论翻译:
Praveen Venkiteswara Annu, former volleyball and basketball player
Al, let us draw a graph, shall we?
好吧,我们先画幅图: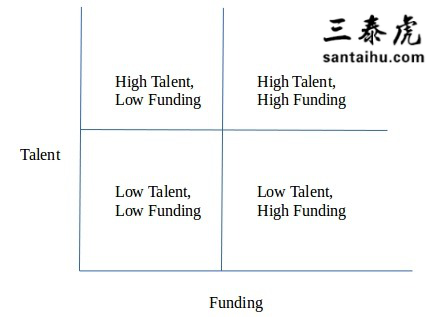 Now, there are four possible scenarios here:
1.Low on talent, low on funding
2.Low on talent, high on funding
3.High on talent, low on funding
4.High on talent, high on funding
1.人才少,资金少
2.人才少,资金多
3.人才多,资金少
4.人才多,资金多
Let us look at each of these scenarios.
我们挨个分析下:
Low on talent, low on funding
This is the worst possible scenario and definitely not the case with India. Even in such a scenario, if the competition also falls in the same category, the best of the lot wins.
The SAF Games is an example. Look at India's performance. Ne the absence of developed nations and Asian giants.
1.人才少,资金少
这可能是最糟糕的情况,但印度的情况绝对不是这样的。即使在这种情况下,如果是同级竞争,最优秀的国家也会胜出。
南亚运动会就是一个例子,看看印度的表现。注意,这是在发达国家和亚洲大国缺席的情况下。
资料来源:2016年南亚运动会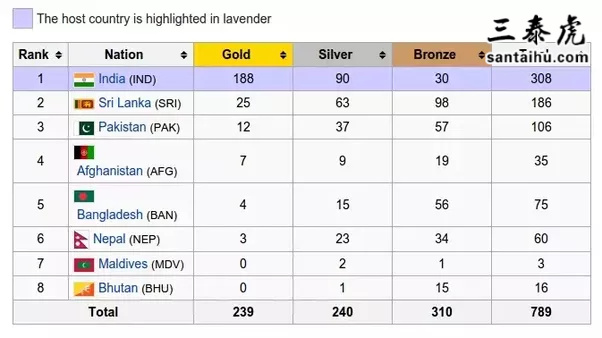 Source: 2016 South Asian Games
Low on talent, high on funding
This is probably the exact opposite scenario that India is facing. And there is a case where a lot of funding can sometimes outperform talent and a case where talent sometimes misses out due to lack of funding.
The Commonwealth Games is an example. India it the best performing develo nation. Some developed nations manage to outperform India purely on the basis of better funding and training available to them. Ne the absence of USA, Asian giants (, Japan, South Korea) and most European nations.
Look at how much the UK spent for each Olympic medal - How many millions eachOlympic medal has really cost Britain. That kind of funding can turn above average talent to podium contenders.
Source: 2014 Commonwealth Games
译文来源:三泰虎 http://www.santaihu.com/46470.html 译者:Jessica.Wu
人才少,资金多
这可能和印度的情况完全相反。
英联邦运动会就是一个例子,印度是表现最好的发展家。一些发达国家之所以能够超越印度,完全是因为资金充足,能得到更好的培训。注意,这是在美国、亚洲巨人(、日本、韩国)和大多数欧洲国家缺席的情况下。
看看英国在每枚奥运奖牌上花了多少钱——每枚奥运奖牌的真正成本是多少。这些资金可以让那些在领奖台上的天才们超越平均水平。
资料来源:2014年英联邦运动会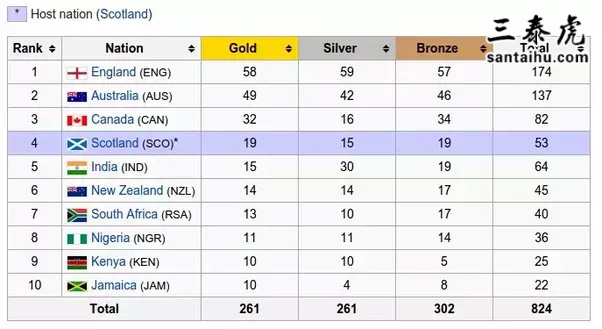 High on talent, low on funding
This is probably the best fit for the state of sports in India now. India has talent, but not enough funding to take it to a level where athletes can compete on a global stage.
The Asian Games can be looked at as an example. In terms of total medals won, Indiais joint fifth on the table behind the big three (, Japan and South Korea) and Kazakhstan who also have the funding to go with the talent. However, the ratio of Gold to Silver to Bronze shows that India lacks that killer edge that is required to go from bronze to gold. That is partly due to the lack of funding and training facilities. Again, ne that USA and Europe are not part of the games.
Source: 2014 Asian Games
3.人才多,资金少
这可能最符合目前印度体育的现状。印度有体育人才,但没有足够的资金使其达到可以在全球舞台上竞争的水平。
亚运会是个例子,就奖牌总数而言,印度在奖牌总数上并列第五位,落后于、日本和韩国这三巨头以及哈萨克斯坦。然而,金牌、银牌、铜牌的比例表明,印度铜牌多,金牌太少,缺乏优势。部分原因是缺乏资金和培训设施。注意,美国和欧洲国家未参加亚运会。
资料来源:2014年亚运会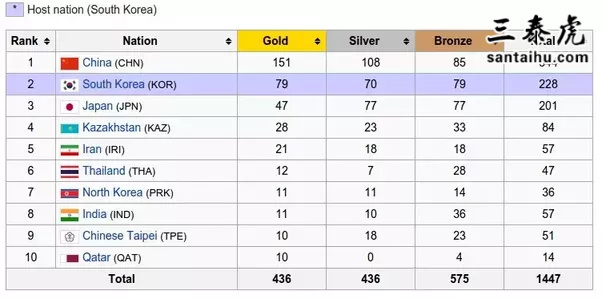 High on talent, high on funding
This is the ideal scenario, or the Magic Quadrant, for success. India will hopefully get there in another 20 years, if not earlier. Only when this scenario is met can Indian athletes compete and win on a global stage like the Olympics.
Source: 2016 Summer Olympics
4.人才多,资金多
这是获胜的理想配置。印度有望在未来20年内达到这一目标,如果不能更早的话。只有在这种情况下,印度运动员才能在奥运会这样的国际舞台上竞争并获胜。
资料来源:2016年夏季奥运会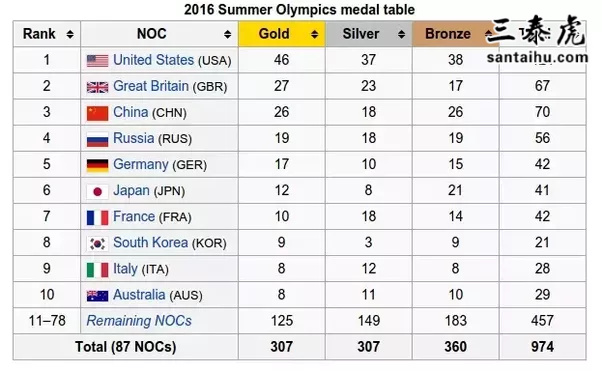 Look at how the developed world dominates the Olympics medals tally. Also ne how the Soviet Union that dominated the medals table till the 90's has lost its grip since the break of the union and presumably lower funding.
看看发达国家是如何在奥运会奖牌榜上占据主导地位的。另外要注意的是,在上世纪90年代之前一直称霸奖牌榜的苏联,自以来已经失去了主导地位,他们的经费可能也减少了。
has a dedicated program that has enabled it to get into that table. Look at theOlympics medals table before Barcelona 1992 and you won't see in the top 10 of the medals tally. India needs a similar transformation minus the alleged atrocities that the Olympic program has dealt out to young children, if at all the reports are true.
有一个专门的计划,力争在奖牌榜上获得一席之地。看看1992年巴塞罗那奥运会前的奖牌榜,都没能进入奖牌榜前10名。印度也需要一个类似的转变。
What can India do?
印度能做什么呢?
An aspect that needs to be understood is that an athlete is in his or her prime between 20 and 30 years of age. This means that they have to attain peak performance somewhere close to 22, which requires talent to be identified and nurtured from a very young age, mostly around 12 years of age.
需要了解的一个方面是,运动员的最佳年龄在20到30岁之间。这就要求在很小的时候(主要是12岁左右)就开始发掘和培养人才。
There is also a need for a support sy em that will enable even district level sportspersons to find a job and sustain their career without worrying about their finances. The problem now is that a lot of talent is lost to lack of a reliable future in sports.
此外,还需要一个支持系统,使地区一级的运动员也能在不担心生计的情况下找到工作并维持职业生涯。现在的问题是,由于缺乏可靠的体育前景,导致许多人才流失。
Instead of rewarding players post facto (i.e. after they win medals), there should be a support program that provides funding of at least INR 10 lakhs/athlete/year for the top 100 athletes in the country which should allow them to use better equipment, afford better coaches and get overseas training, if required.
除了在获得奖牌后给运动员提供奖励,应该有一个支持项目,为前100名运动员提供每人至少10万卢比的资助,让他们能够使用更好的设施,请得起更好的教练,并在需要时获得海外培训。
India also needs to learn to embrace all sports, rather than a handful. The more talent we prome, the better are our chances to win medals. That said, we should focus our energy and resources more on some of the core sports that India has been traditionally good at – hockey, archery, sh ting, wrestling, bong and weightlifting while also develo talent in areas that have more medals on offer – swimming, gymnastics and athletics.
印度还需要学会接受其他各项体育运动,而不是少数。我们培养的人才越多,赢得奖牌的机会就越大。我们应该把精力和资源更多地集中在传统上擅长的一些核心项目上,比如曲棍球、射箭、射击、摔跤、拳击和举重,同时在游泳、体操和田径等奖牌较多的领域培养人才。
Aum Thakkar, Ho to raise the tricolour some day....
India is one of the most populated countries of the world. So it would be question in everyone of our minds that it should perform great at major international events like Olympics and bag not like the US and but at least a dozen of medals.
印度是世界上人口最多的国家之一,理应在奥运会等重大国际赛事上表现出色,虽比不上美国和,但至少应该获得一打奖牌。
It would sound astonishing that India has much sports talent which is hidden in many parts of the country, which when groomed properly can surely help raising the tricolour.
印度不乏未挖掘出来的体育天才,如果训练得当,肯定有助于提高印度三色旗在奖牌榜上的位置。
The only thing which is missing here is the national hunt for this so called unfound talent. In a country where even the go nment is struggling to supply basic facilities to it's citizens, it is nearly impossible to achieve this mammoth task of hunting for this talent.
印度唯一缺乏的是发掘"埋没的人才"。在一个连政府都还在努力为本国公民提供基本设施的国家,要想完成这项发掘人才的艰巨任务几乎是不可能的。
Hunting talent is one thing but the sportspersons who are sed for the national team also find it difficult to get proper facilities. Its main reason is that being a develo country it is very tough to spend money on sports though it is one of the most important visions of development. The sportspersons being trained for Olympics hardly get peanuts as compared to those developed nations.
挖掘人才是一方面,但入选国家队的运动员发现缺乏训练设施。主要原因是,作为一个发展家,印度能花在体育上的经费有限,尽管这是最重要的发展愿景之一。与那些发达国家相比,为奥运会备战的印度运动员得到的报酬几乎是微不足道的。
Other reason for this is discouragement of the child by parents for opting sports as a career. It's a typical mindset of the Indian parents is that there's no future in sports so in order to meet the requirements, children are forced by their parents in opting for any academic field like medical and engineering. In countries like and the US, majority of people take sports as career and each and every citizen gets a professional type training from their childhood.
另一个原因是父母不鼓励孩子选择体育运动作为职业。这是印度父母的一种典型心态,他们认为体育没有前途,所以为了满足父母的要求,孩子们被迫选择学术领域,比如医学和工程学。在和美国这样的国家,运动员以体育为职业,从童年就开始得到专业训练。
Money spent per athlete in these countries is also way higher than that in India. Mainly, the athletes belong to reme areas and poor households but representing their country at international level doesn't improve their condition.
而且这些国家的人均体育支出也远高于印度。印度运动员主要来自偏远地区和贫困家庭,在国际赛场上代表国家出战也不能改善他们的状况。
So if there's more money spent on talent hunt and each sportsperson, it can surely lead to playing of our national anthem at the Olympics many a times. This will also help encourage newer generations learn different types of sports and also improve the net quality of health and lifestyle of the citizens of India.
JAI HIND!!!
所以如果能大力挖掘体育人才,肯定会让我们的国歌在奥运会上多次播放。这也将有助于鼓励新一代人从事不同类型的体育运动,并提高印度公民的身体素质和生活质量。
印度必胜!