Teenager Esow wins maiden world track cycling medal for India, CFI lauds historic moment
少年Esow为印度赢得首枚世界场地自行车奖牌,CFI赞扬了这一历史性时刻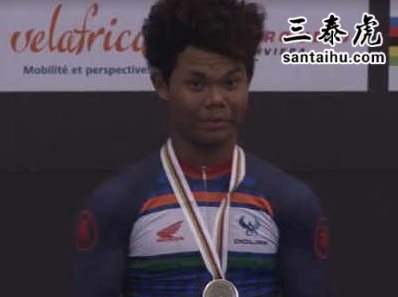 NEW DELHI: After sprinter Hima Das's historic gold at the IAAF World Under-20 Athletics Championships in July, teenager Esow Alben has made the world take notice of Indian cycling this time. On Thursday, the 17-year-old won the country's maiden medal in track cycling at the world level by cming silver in the Men's Keirin event of the UCI Junior Track Cycling World Championships in Aigle, Switzerland.
继7月份,印度短跑选手Hima Das在国际田联U20田径世锦赛上获得历史性金牌后,少年埃索·阿尔本(Esow Alben)让全世界都注意到了印度的自行车运动。周四,这位17岁的选手在瑞士埃格勒举行的UCI青年田径自行车世锦赛男子凯林赛项目中获得银牌,这是印度在世界级场地自行车比赛上的首枚奖牌。
Esow was only 0.017 seconds adrift of Czech Republic's Jakub Stastny, who secured gold in the pulsating final few seconds of the race.
埃索仅以0.017秒的差距落后于捷克选手雅各布·斯塔斯特尼,后者在比赛的最后几秒中获得金牌。
"It's a big medal for me and for India too," Esow said after the race. The bronze medal went to Kazakhstan's Andrey Chugay.
在赛后,埃索表示:"这对我和印度来说都是一枚重大的奖牌"。哈萨克斯坦选手安德烈获得铜牌。
"My heartiest gratitude to our coaching department under Mr. RK Sharma and the relentless cyclists who are putting their heart out to achieve what at one time seemed impossible," the Cycling Federation of India's (CFI) secretary general, Onkar Singh, told Timesofindia.com from Jakarta, where he is accompanying the Indian contingent for the Asian Games.
印度自行车联合会秘书长Onkar Singh对印度时报表示:"衷心感谢RK Sharma先生领导的教练组以及我们的自行车手,他们以坚定的决心完成了一度看来不可能完成的事。"Singh目前在雅加达陪同印度代表团参加亚运会。
Although, it's a maiden Worlds medal for India in track cycling, Esow's credentials and talent were never in doubt. He became the world No. 1 junior sprint cyclist after a stupendous show at the Asian Track Championships, the 2018 Cottbuser Sprint Cup 2 and GP Brno Track Cycling competitions.
尽管这是印度在自行车项目上获得的首枚世界奖牌,但Esow的资历和天赋从未受到质疑。在亚洲田径锦标赛、2018年斯普林特杯和GP布尔诺大奖赛的精彩表现之后,他成为了世界第一少年短道自行车手。
Heading into the finals at Aigle, Esow finished on top in heats during the first round, clocking 10.851 seconds in 200m.
在埃格勒进入决赛时,埃索在第一轮的预赛中以200米10.851秒的成绩拔得头筹。
"I could have won (gold) but I am still happy with a silver. I'm happy that I could win a medal in World Championships," the teen from Andn and Nicobar said.
"我本可以赢得金牌,但获得银牌也很开心。我很高兴能在世界锦标赛中获得一枚奖牌。"这位来自安达曼和尼科巴群岛的少年说到。
The CFI secretary general also thanked the authorities for putting their trust in the sport and the federation.
印度自行车联合会秘书长Singh还对当局对这项运动和联合会的信任表示感谢。
"Thanks to all the CFI members and to the Sports Authority of India for their continued fa th and support. With God's grace, this journey, which we started four years ago, is slowly but surely taking us to our ultimate goal of excellence. And it continues with bigger hopes and greater expectations. Thanks to everyone who supported us in our mission of excellence," Singh said.
"感谢所有自行车联合会成员以及印度体育局的持续信任和支持。在神的恩典下,四年前开始的这一旅程最终获得了卓越的成绩,未来还需再接再厉。感谢所有支持我们卓越使命的人。"Singh说到。
The team events didn't bring any medal for India, though. The trio of Esow, Mayur Pawar and James Keithellakpam Singh timed 15.957s in 200m and 26.914s in 400m to bow out of the race to reach the finals.
不过,团体项目没有为印度带来任何奖牌。Esow、Mayur Pawar和James Keithellakpam Singh三人在200米和400米的两项团体赛中分别以15.957秒和26.914秒的成绩晋级决赛。
印度时报读者评论:
来源:三泰虎 译者:Jessica.Wu
外文:https://timesofindia.indiatimes.com/sports/more-sports/cycling/teenager-esow-wins-maiden-world-cycling-medal-for-india-cfi-lauds-historic-moment/articleshow/65439759.cms
V
Is it only me or is it evident that since Col Rathore (Retd) took over the reins of sports ministry, we are getting medals in events that were untouchable for Indian atheletes. This is the beauty of good governance, India always had talent but earlier it was bureaucrats and po iticians used to travel the globe on Indian atheletes cost. No more. Brave Esow, You have made us proud, wish you all the best for Olympics. Atheletes like you are our pride, Godspeed!
自从拉索上校(Retd)接管体育部以来,我们印度运动员获得了无法企及的奖牌,这就是善政之美。印度一直都人才济济,但早年和政客们挥霍了印度的体育经费用来周游世界。勇敢的埃索,你让我们骄傲,愿你在奥运会上一切顺利。像你这样的运动员是我们的骄傲,祝你好运!
dhanjay
congrats. you have made 1.3 billion people proud today
祝贺你,你让13亿人感到骄傲。
Dev Verma
Congrats boy.. You surely have made our nation proud.
祝贺你,男孩。你让我们整个国家感到骄傲。
Hridoy
Esco you have brought Andn & Nicobar Island in the world map of sports and made Indians proud. Like Haryana and NE talents Nicobaris have immese natural talents in sports. Govt. should tap these talents.
Esow,你把安达曼和尼科巴岛带入了世界体育版图,让印度人感到骄傲。像哈里亚纳邦和东北邦也都有大量的体育天才,政府应该发掘这些人才。
Jignesh
oh.. man.. awesome... somebody from Andn and Nicobar making history for his country that to at 17 years of age is like a dream... super man .. seriously can't express my sentiments but will watch your performance if find somewhere on the net... kudos man..
Jay Hind...
太棒了,一个来自安达曼和尼科巴的人为国家创造了历史,17岁就像梦一样的年纪。超级男孩,都不知道要怎么表达我的心情了。如果能在网上找到比赛视频的话,我会好好看看你的精彩表现。印度必胜!
truth is god god is truth
Another thum victory of good Indian over others in international competition making India proud. Thanks for Modi as well for nurturing talent of Indians in every sphere to take on international level to make India the greatest power ever witnessed by the world.
又一场重大胜利,印度人在国际比赛中又一次战胜了其他国家,这让印度感到自豪。感谢莫迪,感谢他在各个领域培养印度人才,让印度人在国际舞台上崭露头角,使印度成为世界上最伟大的国家。
RCH
Suddenly, Bhaarath has started to BELIEVE IN ITSELF... Thanks Modi for providing wonderful NON CoRRUPT Govt.
感谢莫迪为我们带来了一个廉洁的政府
Cgovindrao Rao
Hats off T Esow; you have brought immense hapess and India proud. In the next event you are sure win Gold!
God bless you.
向Esow致敬,你给印度带来了无比的幸福和骄傲。下次你一定能赢得金牌!
神会保佑你的。
PRAMOD KUMAR
Heartly Congratulations...ESOW. ... Thanks for making us proud.
衷心地祝贺ESOW,谢谢你让我们感到骄傲。
Gerrycan
Wow! What an awesome achievement! Well Done Esow. Be well and make India proud.
哇!多么了不起的成就!干得好,Esow,你让印度骄傲。
GoGo Thinker
We can hate BJP and Modi as much as possible but whenever this has come in power, India has moved forward. Let''s see if we brings back this govt with full majority next year as well.
你们可以讨厌印度人民党和莫迪,但自从这个政党上台后,印度一直在向前发展。看看明年我们是否能以绝对多数的选票让这个政府再度执政。
Prateek
kudos..the guy in 1st position was in advantage still u gave him a hard time..!! Esow u gem...good job rathore Saab...!! you also doing good..
排名第一的那个家伙处于有利地位,但Esow也对他造成威胁!!Esow,做得好! !你的表现也很不错 .
Ramesh B
Hearty Congratulations to the teenager on his achievement and bringing India on the world cycling competition map.. determination, will, support is needed to all sports aspirants in the country so to make the latter proud..
衷心祝贺这位少年取得的成就,并让印度在世界自行车比赛展露头角。国家应为所有体育人才提供全力支持,他们会让国家感到骄傲的。
Bob
This is wonderful! This guy is a hero!
这太棒了!这家伙是个英雄!
Arne
masterstroke by Modiji
莫迪的壮举
Akela
Salute to Esow ... god bless you
向Esow致敬,愿神保佑你
Intrudersanjay
Congratulations...... God bless you....
U made all INDIANS proud my friend.....
Keep wng and wng......
恭喜你,愿神保佑你....
你让所有印度人都感到骄傲,我的朋友……
希望你能继续保持,赢得一次又一次的比赛。