Railways may ride Train 18 to $200bn market
Train 18或能让印度铁路公司进入2000亿美元市场
NEW DELHI: The railways is planning an entry into the $200 billion global market for coaches and wagons (rolling stock) after producing Train 18 even as the go nment is yet to give a go ahead for its debut commercial operation between Delhi and Varanasi. One of the projects they are eyeing is the Singapore-Kuala Lumpur High Speed Rail (HSR) project which is currently stalled.
新德里:尽管政府尚未批准Train 18在德里和瓦拉纳西之间的首次商业运营,印度铁路公司计划在生产Train 18后,进军价值2000亿美元的全球列车(含货车车厢)市场。他们的目标项目之一是新加坡-吉隆坡高铁(HSR)项目,该项目目前处于停滞状态。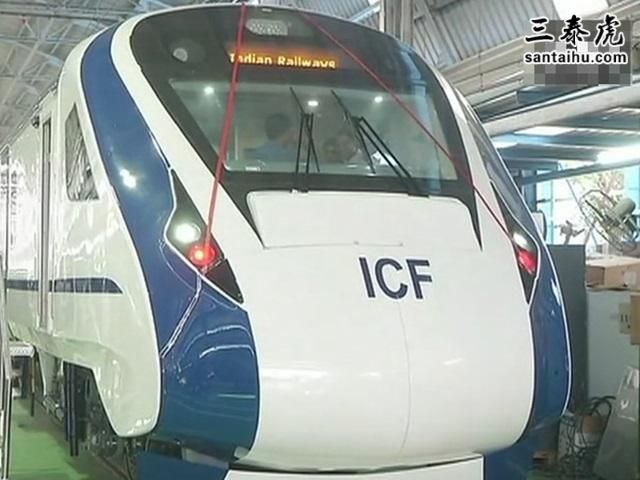 Rajesh Agrawal, member rolling stock of the railway board said countries from the middle-east, North and South America, south-east Asia and even east Europe have shown interest in Train 18. Sources said PM Narendra Modi has also asked the railways to make a presentation on the indigenously built train when heads of all Indian missions meet here so that they become a part of the exercise to popularise the train in countries where they are posted as a part of an economic diplomacy push.
印度铁路局成员拉杰什•阿格拉瓦尔表示,中东、北美和南美、东南亚甚至东欧的国家都对Train 18号表现出了兴趣。消息称莫迪还要求印度铁路部门在所有印度代表团团长会面时介绍这款印度自主制造的火车,这样他们便能参与到在这些国家推广火车的活动中来,这也是经济外交的一部分。
"We believe there is great potential in the semi-high speed category, that is between 150-250 kmph. We are ready to offer this to markets where HSR may be too expensive but this would be a viable alternative. The cost of these trains would be at least 25% less than what other countries spend for manufacturing on their land. We want to enter the global rolling stock market," Agrawal told TOI.
阿格拉瓦尔告诉《印度时报》:"我们相信Train 18在半高铁领域有巨大潜力,即150-250公里/小时。我们已经准备好向高铁可能过于昂贵的市场提供Train 18,这将是一个可行的替代方案。这些火车的成本至少比其他国家在本国制造的成本低25%。我们希望进入全球铁路车辆市场"
The go nment also has ambitious plans for the train. The Singapore-KL project was first scrapped by Malaysian PM Mahathir Mohammed in 2018. Later it was deferred to a 2031 roll out, with a commitment to lowering the price of the project. Companies from China, Japan, South Korea and Europe are believed to have expressed interest in the project. India wants to add its name to this list - railway authorities believe that the project would be financially viable with a semi-high speed train.
政府对这款火车也有雄心勃勃的计划。2018年,马来西亚总理马哈蒂尔•穆罕默德取消了新加坡-KL项目,后推迟到2031年,并承诺降低项目价格。据说,来自中国、日本、韩国和欧洲的公司都对该项目表示了兴趣。印度也想进入侯选名单——铁路当局相信,半高速铁路在经济上是可行的。
Train 18 can run at a speed of 180 kmph.
Train 18时速可达180公里。
印度时报读者评论:
译文来源:三泰虎 http://www.santaihu.com/46901.html 译者:Jessica.Wu
Anil - 7 hours ago -Follow
Honestly I have so much respect for our prime minister Modi, he has done so much in the last 5 years... Thank u Mr. Modi, you are a great and honest leader
老实说,我非常尊敬莫迪总理,他在过去5年里做了很多事情……感谢莫迪先生,你是一位伟大而诚实的领导人。
Ram Sridhar - 8 hours ago -Follow
Let us look forward for the inauguration in few months. The trial run has been successful.
train 18试运行很成功,期盼几个月后的通车仪式。
ekdesi - USA - 8 hours ago -Follow
India, with the largest railway network in Asia, should be manufacturing and exporting coaches and wagons to the world. Till now we were importing from small EU nations. When we are on top of space technology, this should not be difficult.
印度拥有亚洲最大的铁路网,应该制造客车和货车车厢并出口到世界各地。到现在,我们还从欧盟小国进口。我们熟练掌握了太空技术,火车技术应该不难。
Mukesh - 7 hours ago -Follow
We will supply trains to the world. This is possible only with PM Modi''s vision. Never happened before in the history of India. We must be really good dealing with the trains. PM Modi had already opened a metro coach factory as CM of Gujarat. I feel so proud of Shri Modi. You are really a Man of Action!
我们将向世界出口火车。这只有在莫迪总理的愿景下才有可能实现。这在印度历史上从未发生过。莫迪总理已经在古吉拉特邦开了一家车厢厂。我为莫迪感到骄傲。你真是个实干家!
Sunil K Mehrotra - LUCKNOW - 7 hours ago -Follow
Why Rahul ji has never said that this potential of Railwas are being explored by Modi ji for his personal or party''s benefits. Congress has never made an attempt to explore all this.
为什么拉胡尔从来没提及印度铁路的潜力。国大党从未尝试探索这一切。
Spaceman - Earth - 8 hours ago -Follow
Good to hear that
很高兴听到这个消息。
Sanjoy Pandey - 7 hours ago -Follow
Well, this may be a big Make in India project with huge export potential.
这也许是一个"印度制造"项目,具有巨大的出口潜力。
Pramod - Sambalpur - 7 hours ago -Follow
we are entering the International arena for high speed trains . congratulations. pkpatra
我们正进入国际高铁市场,祝贺
Pradeep - 4 hours ago -Follow
What a proud occasion for all us Indians. Fruits of Make In India project.
这是我们印度人的骄傲时刻。这是"印度制造"项目的成果。
Matt Hartwell - 7 hours ago -Follow
It seems likely that a European train is preferred right now, probably German but if this option looks very interesting from India.
现在,欧洲火车似乎更受欢迎,比如德国火车。
srinivas - 2 hours ago -Follow
Primary enemies Indians are the internal enemies like congress, mamta, etc and lack of unity. Rise up guys, you Indians not inferior to any civilisation in the world. You all united can make India the strongest and the best country in the world,under the able and capable administration of the greatest and one and only, self less ruler Modiji, who loves India and Indians selflessly. Good luck guys. Mera Bharat mahaan.!!!
印度人的主要敌人是国内敌人,缺乏团结,如国大党、玛玛塔等的阻挠。印度人不比任何人差,在莫迪干练有力的管理之下,大家团结起来可以把印度建设成世界最强大的国家。! ! !
Manas Sarkar - 4 hours ago -Follow
Great Modi ji, India is lucky to get such a dynamic PM...
伟大的莫迪,印度有幸遇到这样一位活力四射的总理……
Smart Boy - 3 hours ago -Follow
Modi is the best of best.. thats the reason he has lot of enemies ans less of frnds .. this man works for country and country and country only .
莫迪是最棒的,他只为国家工作,所以他的敌人多,朋友少。
Smart Boy - 3 hours ago -Follow
Thats our modi .. be is the best!!
这就是我们的莫迪,他是最棒的!!
Saroj - 6 hours ago -Follow
leaving aside politics, it will be a good move if Indian Rlys can enter export market in selling rolling stock manufactured in India. But past performance of IR does not indicate that they will be cost competitive. They had taken up contracts to lay Rly lines in African countries, but couldn't compete with Chinese
抛开政治不谈,如果印度铁路公司能够进入国际市场,出口印度列车,那很不错。但从印度铁路公司过去的表现来看,并不具备成本竞争力。印度与非洲国家签订了铺设铁路的合同,但无法与中国竞争
Raghava - Udupi - 5 hours ago -Follow
excellent... quality should be maintained at international level....
好极了……质量应该保持国际水准。
Dean - traveller - 6 hours ago -Follow
NaMo who else yo be credited for this achievement? under congress rule we have been importing technology. under BJP we will export technologies. .
除了莫迪,你还能把这项成就归功于谁?在国大党执政期间,我们一直在进口技术。在印度人民党领导下,我们将出口技术。
Sandeep - 4 hours ago -Follow
now we are talking thanks to the great leader
我们要感谢伟大的领袖
ONE LINER Challenge - 4 hours ago -Follow
MODI IS FAST BECOMMING THE ENVY OF THE DEVELOPED WORLD-HE WILL BECOME A CONNOISSEUR SOON.
MODI IS RIDING HIGH AND SO IS INDIA RIDING HIGH
莫迪很快就成为了发达国家的羡慕对象,莫迪意气风发,印度也扬眉吐气。
Thirupathi - 3 hours ago -Follow
Its because of Modi
这都多亏了莫迪
Pakisarehomosandsuck - Kalooooo Gandu Pakistan - 3 hours ago -Follow
Speed it up India. Pedal to the Metal. Old days are gone...new bright days are here......
印度加油,昨日已去,美好的日子就在眼前。
Sachin Agarwal - 2 hours ago -Follow
Kudos to the Indian railways... train 18 should be started as soon as possible. Many more such trains should also be planned.
向印度铁路公司致敬……应该尽快开始运行Train 18
Ravi - Pune - 3 hours ago -Follow
If this plan is successful then India can earn $ 200 billion per year, this will be the same money India is spending on buying crude oil.. Train 18 is not just increased the Indian GDP from 3.28 to 3.6 trillion USD but also strengthened the INR valuation against USD
如果这个计划成功,那么印度每年可以赚2000亿美元外汇,这和印度购买原油的花费是一样的。Train 18不仅能使印度GDP从3.28万亿美元增加到3.6万亿美元,而且还提升了印度卢比对美元的估值。
jkmanchanda2004 - 3 hours ago -Follow
If it materializes it will be a great thing
如果这个计划实现了,那太好了
Desh Bhakt - 3 hours ago -Follow
This is real exciting news. Imagine what it would have been if India was ruled by BJP for last 60 years
这真是令人兴奋的消息。想象一下,如果印度过去60年一直由印度人民党领导会是什么样子。
Bharat Tonse - 5 hours ago -Follow
great work.
this plus indias ability to launch satelites of western countries, plus the bromhos misile etc is indicative of the shape of things to come for indias push into super power status
干得好
此外,印度有能力发射西方国家的卫星,还会造布拉莫斯导弹,这些都预示着印度将成为超级大国
Vedhanta - oman - 1 hour ago -Follow
Great news. congrats to PM and to our developers. This is where the thousand miles journey begins with a single step to counter china and export more and more.
好消息。向我们的总理和研发人员表示祝贺。这是对抗中国的一小步,以后的出口将越来越多。