Noida: Twin towers built as per law, says Supertech chairman; to file review petition ag inst SC order
Supertech董事长表示,双子塔是依法建造的,将对最高法院的命令提出复核申请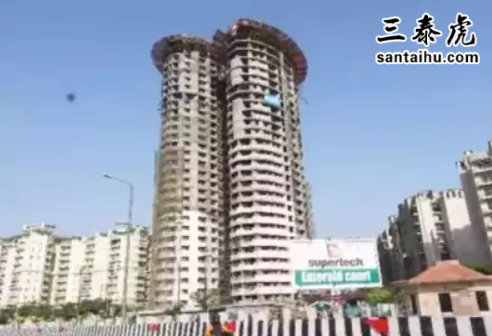 NOIDA: Realty firm Supertech Ltd on Saturday said that their twin towers in Noida were constructed as per the laws and with approval of the authorities and that they will file a review petition ag inst the Supreme Court order to demolish the company's 40-storey towers.
诺伊达:周六,房地产公司Supertech Ltd表示,他们在诺伊达的双子塔是按照法律建造的,并得到了当局的批准,他们将对最高法院下令拆除该公司40层大楼的命令提出复核申请。
"While we respect the hon'ble Supreme Court order, we have decided to re-present the matter before the Hon'ble Supreme Court in a review application as the towers were constructed as per the approval of the competent authority conforming to the Building bye-laws," Supertech chairman RK Arora said.
Supertech董事长RK Arora表示:"虽然我们尊重最高法院的命令,但我们决定在最高法院的审查申请中就此事进行陈述,因为双子塔是根据主管当局的批准建造的,符合建筑细则。"
He said in a statement that the Apex and Ceyane towers are not linked to or part of any ongoing project of the company.
他在一份声明中表示,Apex和Ceyane双子塔与该公司正在进行的任何项目无关,也不属于该项目的一部分。
Supertech group is develo 10 crore sq ft across its projects, while Apex and Ceyane towers only constitute a mere 6 lakh sq.ft which is 0.6 per cent of the total portfolio, he added.
Supertech集团正在开发1亿平方英尺的项目,而Apex和Ceyane双塔仅占60万平方英尺,占0.6%。
Last week, the apex court had ordered to demolish the twin 40-storey towers, which are part of the Supertech's Emerald Court project in Noida, Uttar Pradesh.
上周,最高法院下令拆除这两座40层楼高的大楼,这是Supertech在北方邦诺伊达Emerald Court 项目的一部分。
以下是印度时报读者的评论:译者:Jessica.Wu
Ish Bansal
I lived close by to this contentious project and saw these towers coming up. It was such a blatant act of collusion between builder and authorities.
我住在这个有争议的项目附近,看到了大楼的建造。建筑商和当局明目张胆的勾结。
Anthony
What is the voilation after the approval of this building by govt aithorities ???
If the plan is a voilation then this govt authority should be behind bars before the building demolishan .
政府批准建造这座建筑后,违反了什么规定?
如果违反规定,那么在拆除建筑之前先把那些印度官员关进。
Ish Bansal
Further Supreme court took 7 years to ratify the judgement (delivered in 2014) of Alahabad high court. The issue and collusion is so blatant that it does not require any legal arguments or fights, to come to conclusion.
印度最高法院花了7年时间才批准阿拉哈巴德高等法院的判决(2014年提交)。这个问题如此明显,不需要进行任何法律辩论就能得出结论
Guest Login
The court should first investigate and establish the collusion between Supertech and the building authority who allegedly approved plans. Why the courts always find fault with the builders and not the building authority who approved plans and allowed the construction.
法院应该首先调查和确定Supertech和批准项目的主管部门之间的勾结。为什么法院总是挑建筑商的错,而不挑主管建筑部门的错。
Amrit Bindra
Supertech respects the SC order but calls it illegal !
Supertech尊重最高法院的命令,但却说这不合法!
Meerut Kaushals
Waste of resources. This way we should go and demolish half of Delhi!!
浪费资源。这样的话,半个德里都要炸掉!!
Satya Prakash Gupta
The offi als who allowed should be brought to the court and their assets should also be confiscated. If any po itical leader is behind this then he should also be b to book.
那些批准建设的印度官员应该被带上法庭,他们的财产也应该被没收。如果有印度领导人是幕后黑手,也应该逮捕。
Pawan Khatri
Only law abiding middle class of this country is scared of police/courts/govt.
在印度这个国家,只有遵纪守法的中产阶级才害怕警察、法院和政府。
Agnelo Dsa
approval granted after money was paid.
钱到位了就批准
Vivek !!
Date after date .. the case going since 2009 .. builder , po iticians, authority, lawyers all together making a mockery of honest tax paying citizens..
此案从2009年开始审,一年拖一年。建筑商、政客、有关部门、律师一起玩弄诚实纳税的公民。
Musaffi
SC must charge huge service amount on all review petition and on PIL. Not it has turn as new business- not Charity. No free lunch to any one.
最高法院复审肯定要收很多钱,这不是做慈善,天下没有免费的午餐
Anil kumar Kulshrestha
not only in noida homebuyers are crying in gurugram as well because of ur faulty practices
不仅在诺伊达,在古尔冈,购房者也因为你们的错误而哭泣
Shrinivasa Kth
The court should have named all the persons involved in the project approval and construction and penalize all of them and not just the builder. Why are the authorities spared?
法院不应该只对建筑商进行处罚,所有参与批准施工的人都应该点名处罚。为什么有关部门能幸免?
mseham
nonsense . your organization had breached laws and colluded with corrupt babus. hope your review petition , if filed , too will be rejected . please conduct business by obeying laws .
荒谬。你们公司也违反了法律,与腐败的印度官员勾结。希望你的审查申请也会被拒绝。做生意的时候要遵守法律。
Rakesh Gautam
These towers should not be demolished even if these towers are illegal, instead of destroying the assets, some other way should be found out by imposing huge penalty. Though I don't in any way support the builder but the money and efforts already invested, shouldn't be dest yed and should be used for some purpose.
不应该拆除,即使是非法的,也不要拆除,应该罚巨额罚款。虽然我不支持建筑商,但已经投入的资金不应该浪费,应该改做其他用途。
Abhi
Thousands of buyers suffered because they misinformed and misrepresented the facts to buyers and trap them
成千上万的买家遭受损失,他们向买家提供错误信息,歪曲事实,并诱骗他们
chakradhar p
Hang the corrupt Babus or the Authorities responsible along with local po iticians who took bribes in public for looting hard earned common people money
把那些在收受、压榨老百姓血汗钱的腐败印度官员和当地政客一起绞死
VocalForLocal
Why demolish and destroy resources.... just confiscate and auction
为什么要拆除,可以没收,拿来拍卖
Soarhigh
May the co ption turn to dust !
愿腐败化为灰烬!
Joyraj Kakoti
Probably the Supreme court jokers have not received their cut.Thoda aur pocket dhila karo,they will permit give permit for another 40 storey.
也许印度最高法院法官们还没有得到他们应得的那份。钱到位了,他们将批准再建40层楼。