Lockdown goes from 21 to 40 days, curbs may be conditionally eased in some non-hotspot areas from April 20
印度封城期从21天延长至40天,4月20日起对非热点地区或有条件地放松限制措施
NEW DELHI: Sticking with his "saving lives comes first", Prime Minister Narendra Modi on Tuesday announced extension of the countrywide lockdown ag inst the coronavir s pandemic until May 3, saying that the "stay-at-home" re gien will be enforced even more stringently at least until April 20.
新德里:莫迪总理坚持"优先拯救生命"原则,星期二宣布将全国封城延长至5月3日,称至少在4月20日之前,将更加严格地执行"禁足"措施。
Emphasising the continuing spread of the disease and that adherence to social distancing and lockdown alone can be the bulwark, the PM said tougher enforcement of the twin prescriptions could be extended beyond April 20 if intensive mon oring stretching down to "each block and and police station" showed violations or growth of infections.
莫迪强调了新冠肺炎的持续传播,并表示保持社交疏离和封城是对抗疫情的堡垒,如果深入到每个街区的严密发现违规或感染病例的增长,那这两种措施或延长至4月20日以后。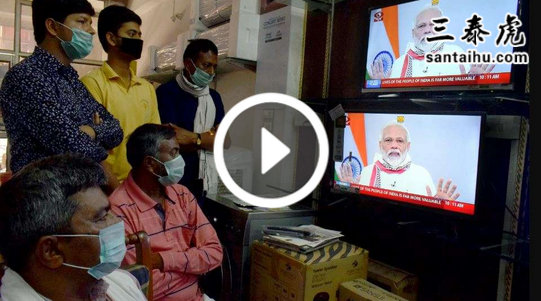 With Tuesday's decision, the period of the lockdown, which began on March 25, would extend to 40 days.
根据星期二的决定,从3月25日开始的封城期将延长至40天。
"We have to be very vigilant about hotspots and be alert about places which run the risk of becoming hotspots. The creation of new hotspots will nullify our hard work and discipline and create new challenges. Hence, we have to step up the alertness and strictness in the next week. Until April 20, every town, every police station, every district, every state will be evaluated on how much the lockdown is being followed. The extent to which a region has prected itself from the vir s will be evaluated. Those who clear this trial by fire and don't risk into becoming hotspots will be allowed to ensure certain necessary activities from April 20," he said in his address to the nation.
他在发表全国电视讲话时表示:"我们必须对热点地区保持高度警惕,并警惕那些有可能成为热点的地区。新热点的出现,将使我们的艰苦努力付之东流,带来新的挑战。因此,我们必须在下星期提高警惕,更加严格的执行措施。到4月20日,将对每个城镇、每个警局、每个区、每个邦的封锁执行情况进行评估,评估该地区不受感染的程度。从4月20日起,那些没有成为热点的地区将被允许开展某些必要的活动."。
However, the Prime Minister made it clear that the partial exemptions would be reversed "immediately" for non-compliance noticed by the authorities.
不过,总理明确表示,对于当局注意到的违规行为,部分豁免将"立即"取消。
Keep in mind, this permission will be conditional, and the rules for going out will be very strict. Permission will be withdrawn immediately if lockdown rules are breached and there is a risk of spread of coronavir s. Hence, we don't just have to behave ourselves but ensure that others also follow the rules," PM modi said.
莫迪表示:"请记住,这个许可是有条件的,外出的规定也很严格。如果发现有传播病毒的危险,并违反了封锁规定,将立即取消许可。因此,我们不仅要约束自己,还要确保别人也遵守规定。"
"If looked at purely from the prism of economy, this has indeed been expensive for us. It has cost us a lot, but that pales before the value of lives of Indians and cannot be a deterrent," he said.
"如果纯粹从经济角度来看,这对我们来说确实代价高昂。这让我们付出了很大的代价,但与印度人的生命价值相比,这简直微不足道。"莫迪说到。
"Drawing comparisons with others in such situations is not . Yet, facts cannot be denied and it is true that as compared to many resourceful countries, India has been able to manage the situation well...," the PM said.
莫迪说:"在这种情况下与他人比较是不妥的。然而,事实不容否认,与许多资源丰富的国家相比,印度确实能够很好地控制疫情。"
Modi praised people tor the fortitude with which they had endured inconvenience to "help India ward off, to a very substantial extent, the dge caused by coronavir s".
莫迪赞扬了人们忍受不便的坚韧精神,"在很大程度上,这帮助印度降低了疫情造成的损失"。
印度时报读者的评论:
译文来源:三泰虎 http://www.santaihu.com/49708.html 译者:Jessica.Wu
Rai Saheb
India has fallen into very difficult situation due to its extremely huge population. Many people are struggling for food and many do not have money to buy anything.
由于人口众多,印度现在陷入了困境。很多人在为能吃饱饭而挣扎,很多人没钱买东西。
Zoya Khan
Modi lack clarity in his communication
莫迪说话的条理不够清晰啊
The Horizon II
Don't expect more from a unpad zaheel fake degree jumlebaaz chaiw feku...
对一个拿假学位的人不要期望过高啊…
murthy krishna
Nothing to worry ...Whatever Modi does it is definitely good for the Nation and people of India .....He will never play po itics in the crisis ...He is God given gift to India .....
没什么好担心的……不管莫迪做什么,对印度这个国家和印度人民都有好处。他绝不会在危机中玩弄。他是上天赐予印度的礼物……
Ashish
Lockdown is good but for how long without basic facilities for humans? I can understand for middle class and Upper class there is no problem as they order food online.But what about people with no internet, phone, no sanitation facilities, no PPE, what are we going to do.
封城可以,但是要封多久呢?中产阶级和上层阶级可以在网上点餐。但是那些上不了网,没有电话可打,没有厕所可上,没有口罩的人要怎么办呢?
K Mohan Hyderabad city
PM Modi has to manage economy and save lives of the people and he has chosen lives first
莫迪总理既要应对经济问题,又要拯救众生,他选择了先拯救生命
K Mohan Hyderabad city
With 40 days stay at home order, India would surely achieve the flattening of curve pan India before May 3rd
禁足40天,到5月3日之前,印度肯定能控制住疫情。
Sam O Sa
All countries have given out bail out package in billions for their citizens to overcome the crises. Our Feku has instead given us his bank account number to donate. Useless jokers had dest yed the economy even before the pandemic and now trying to use the situation to hide their failure. First 5 years Feku kept blaming Nehru and now next 5 years he will blame Corona vir s.
各国为本国公民提供了数十亿美元的救助,帮助人们度过危机。而莫迪公布了他的银行账户,让我们捐款。在疫情爆发之前,他就已经破坏了印度经济,现在他们试图利用疫情来掩盖他们的失败。前5年,他把责任推给尼赫鲁,这5年他将把责任推给新冠肺炎。
Jagdip Vaishnav
We fully support Lockdown but central gt/state gt are requested ,please ensure smooth supply of essential items [2]Please either provide food and shelter yo migrant laborers or else allow them to go to their native place
我们完全支持封城,但要求印度中央政府和邦政府确保基本物资的顺畅供应,请给外来劳工提供食物和住所,或者允许他们返乡
K Mohan Hyderabad city
Stay at home is the only mantra to drive away the COVID19 from India
足不出户是唯一能将新冠病毒驱逐出印度的咒语
K Mohan Hyderabad city
Saving lives first at the cost of economy has to be appreciated and that is why death rate is low
以经济为代价来拯救生命,这是值得赞赏的,这就是印度死亡率很低的原因
Neu Trans
Be careful. Congress and opposition are trying to instigate a certain section of the society.
当心,国大党和反对派正试图煽动某些人作乱。
Krishan Kumar Totlani
Apart from spread of CoronaVir s, Clearly PM Modi thought of countrymen's life 1st, which is most important under present circumstances. & Yes the economy will rebound but loved dead won't. JAAN HAI TO JAHAN HAI
莫迪总理显然把国人的生命放在第一位,目前拯救生命是最重要的。经济迟早能反弹,但人死不能复生。
badax
Hard that in the name of lockdown, Indian police use to beat civilians if found on streets ? lol what a lawlessness and co ption. There are more death in US, there are lockdowns but no police won't touch civilian.
打着封城的幌子,印度警察殴打街上的平民,多么无法无天,多么啊。美国死的人更多,他们也实施封锁,但警察不碰平民一根手指头。
Parthasarathi DasGupta
When the lockdown was started the no of patient in India was 500. Now the no of patients are 11k. After 14 days of lockdown the no of patients should have been started to decrease as the incubation period is mamum 14 days.
That mean man to man transmission is happening during lockdown too.
开始封城时,印度的确诊人数是500例,目前患者人数为11000例。由于潜伏期最长为14天,在封城14天后,确诊人数本该开始减少了。这说明在封城期间也发生了人际传播。
Subhasis Mohapatra
Only naut ki. People should have given time, so that people would have been prepared. Only troubling public. No result.
劳师动众却没有成果。下令封城之前,应该给人们时间做好准备啊。
Laxmanan Swamidoss Mohandos
PM.'s is a great disappointment for poor and jobless people.
莫迪的演讲让失业的穷人大为失望。
HappyTimes User
We are with you..
我们支持你,莫迪…
sanjeeb kumar
If people followed the guidelines of go nment from begening, then lockdown was not needed in India
如果人们从一开始就遵循政府的指导方针,那印度就不需要封城了
AsaMatterOfFact
Congis & co oppose lockdown to let down governement which has done thus far excellent job.
国大党反对封城。迄今为止,人民党政府做得很好。
Ayub Khan
Without massive increase in covid19 testing lockdown extention will only buy time but will not fight and reduce covid19. Nearly 50% cases are asympttic and will continue to spread covid19.
如果没有大幅增加检测,延长封城只能争取时间,无法控制疫情。近50%的病例没有表现出任何症状,他们将继续传播病毒。
Jagdish Madan
The worst is still ahead of us and Modi is a worried PM doing his best to minimize the dge! Unless people cooperated and opposition behaved, India will soon be staring at a huge disaster!
最糟糕的事情还在后面,莫迪是一个深谋远虑的总理,他在尽最大努力减少损失!
除非大家配合,否则印度很快将面临大灾难!
Nroid Google
with limited resources we can't do better than this.
我们已经做得挺好的了,由于资源有限,我们没办法做到更好了。
Maya Mahant
Hopefully the situation will improve and we can get back to our routine life
希望情况会有所改善,希望我们的生活能恢复正常。
HappyTimes User
Guys this is for our safety our nation safety pls support modi ji
伙计们,这是为了我们的安全,为了我们国家的安全,请支持莫迪。
外文:https://timesofindia.indiatimes.com/india/lockdown-goes-from-21-to-40-days-curbs-may-be-conditionally-eased-in-some-non-hotspot-areas-from-april-20/articleshow/75149611.cms