83% of Covid-19 patients in India are aged below 60 yrs
印度83%的新冠肺炎患者在60岁以下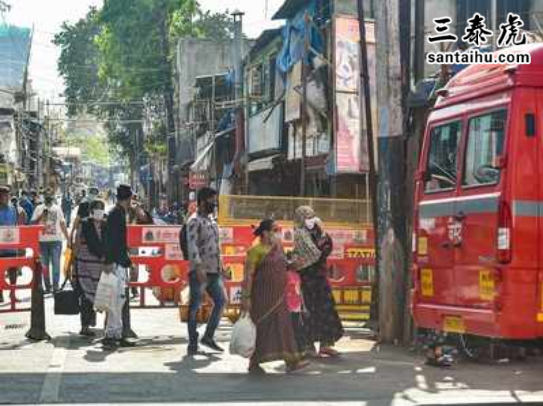 NEW DELHI: Over 83% of Covid-19 patients in India are below the age of 60 years. The majority of people (41%) infected by Covid-19 in the country are in the age group of 21-40 years, according to health ministry data.
新德里:在印度,83%以上的新冠肺炎患者的年龄在60岁以下。根据印度卫生部的数据,印度大多数患者(41%)的年龄在21-40岁之间。
While the elderly are said to be the most vulnerable to the disease, people above 60 years account for only 17% of total cases in the country till now. This implies others are also susceptible and the younger age group, particularly in the 21-40 bracket, may be more representative of foreign travellers seen to be the source of Covid-19 in India. They include professionals and students, who have returned to India, apart from other categories.
尽管老年人被认为是最易感染该病的人群,但到目前为止,印度60岁以上的老年患者仅占全国病例总数的17%。这意味着其他人群也容易受到感染,年轻群体,特别是介于21-40岁之间的,印度境外输入病例也大多处于该年龄段,还包括返回印度的专业人士和学生。
However, the mortality rate, warn experts, is higher among the elderly. Reports of deaths so far indicate that age with accompanying conditions (co-morbidities) like diabetes, cardiac diseases and hypertension increase mortality.
然而,专家警告称,老年人的死亡率更高。迄今为止的死亡报告表明,同时患糖尿病、心脏病和高血压等疾病的老年人的死亡率更高。
The health ministry did not provide data on age profiles of those who have succumbed to the disease.
卫生部没有提供死于该病的患者的年龄结构数据。
An age profile analysis of all the positive cases of Covid-19 cases in India so far shows 8.61% of positive cases are in between 0-20 years, 41.88% cases in the age group of 21-40, 32.82% in 41-60 and 16.69% in the people are above 60 years of age.
对印度目前所有确诊病例的年龄结构分析显示,8.61%的确诊病例年龄在0-20岁之间,41.88%在21-40岁之间,32.82%在41-60岁之间,16.69%在60岁以上。
Also, India reported 58 critical cases of Covid-19 and these were mainly found in Ker, Madhya Pradesh and Delhi. "It has been observed that most of the deaths are being reported from elderly people or people having co-morbidities such as diabetes, kidney and cardiac ailments . Hence, all people falling in the high risk category need to follow all precautions," health ministry joint secretary Lav Agarwal said.
此外,印度报告了58例重症病例,这些病例主要来自喀拉拉邦、中央邦和德里。卫生部联合秘书Lav Agarwal称:"据观察,大多数死亡病例是老年人,或者是同时患有糖尿病、肾病和心脏病等疾病的人。因此,高危人群都应采取一切必要的预防措施。"
He said, "We are dealing with a highly infectious and communicable disease. We are battling with this on a day-to-day basis. Still, the case-doubling rate in India is less than other countries."
他说:"我们正在应对一种传染性很强的疾病。我们每天都在与之斗争。目前,印度的病例增幅仍低于其他国家。"
India has so far reported 2,902 positive cases of Covid-19. Of this, 601 have been reported in the last 24 hours, according to the health ministry data. Besides, the total deaths stood at 68, including 12 deaths in last 24 hours.
印度迄今报告了2902例确诊病例。根据卫生部的数据,其中601例是在过去24小时内报告的。此外,总死亡人数为68人,其中过去24小时内死亡的有12例。
According to World Health Organisation, around 9,72000 cases have been reported globally so far with an average 75,800 cases in one day.
根据世界卫生组织(who)的数据,迄今为止,全球已报告约97.2万例确诊病例,平均每天新增7.58万例。
印度时报读者的评论:
译文来源:三泰虎 http://www.santaihu.com/49643.html 译者:Jessica.Wu
Hsf
The rate of increase has increased because of Tablighi Meccavir s. The Coronavir s was well under control before.
前些天举办的一场集会,导致病例大幅增加,在那之前疫情都控制住了的啊。
Joe Kool
The answer is simple.
Majority of the Tablighis that attended were in that age group.
答案很简单,大多数参加那次集会的人都属于这个年龄段(60岁以下)。
Shapoor Bomanjee
India is in a very dangerous situation, all because it did not handle the Tablighi Jat with an IRON hand. If this happened in US or any other country, by now all these anti-nationals would be in jail guarded con tration ca ps. Now, Indian citizens will pay the price for this soft handling of dirty rouges.
印度处于非常危险的境地,这都怪没有以铁腕手段处理那场集会。要是在美国等其他国家,这些反国家分子都被关进了。现在,印度公民将为这种不痛不痒的处理方式付出代价。
Altaf Hyder
The exodus of migrant workers from cities has caused this increase not tableeq congregation which is made scapegoat to hide gt failure in planning the lockdown.
印度农民工大规模返乡导致了病例激增,不要找替罪羊来掩盖政府在封城方面的失败。
Neo The One
Simple solution as a lot of people have said...anyone catching this vir s as a result of lockdown violation shall not be treated in hospital... once ppl come to know of this they shall run indoors and never come out
正如许多人所说的,解决方案很简单,任何因违反封城令而感染该病毒的人不得去医院就诊。只要这么做,他们就会乖乖待在家里,再不敢出门了。
Bijay Mishra
thanks to modi ji for precting our old generation.
感谢莫迪保护了老年人。
K Mohan
What is more concerned now that this vir s has now entered the biggest slum of Mumbai
更令人担忧的是,这种病毒现在已经蔓延到孟买最大的贫民窟了啊
K Mohan
For this vir s, there is no age or race it attacks anyone who are careless
在病毒面前,没有年龄或种族之分,任何粗心大意的人都可能被感染
K Bhagwan
This proves one thing, younger generation eating pizza & paovada is weaker section than 60 .
这证明爱吃披萨和油炸食品的年轻人比60岁的老年人更易受感染。
Aam Aadmi
It doesn't mean that person below the age of sixty is safe !
这说明60岁以下的人并不是安全的啊!
Virendra Saxena
All r at equal risks.
大家的感染风险都一样的
Raaz Raj
only 66000 testing in whole India for 3600 positive cases. That's 7% . In US 66000 testing in Boston city alone. Imagine when testing will be in millions.
印度检测了66000人,只有3600例呈阳性,确诊率为7%。在美国,仅波士顿就进行了66000次检测。想象一下,当检测数量达到数百万的时候,印度的确诊人数会有多少。
Harsh Kaul
Sanitise each City and village twice daily like Wuhan till the lockdown period and atleast provide standard masks and sanitizers to the front line warriors as quickly as possible.
在封城期间,城市和村庄每天要进行2次消毒,武汉就是这么做的。要尽快为前线抗疫人员提供符合标准的口罩和消毒剂。
Khanish Arora
The vir s didn't see the community, nation or re gion, so every indian should be take care and follow the instructions of go nment from time to time.
在病毒面前,没有社区、国家或之分,每个印度人都应该小心,时刻听从政府的指示。
Mohan Ir
The aged 20-40 generation cannot stay at home or in one place. Hence transmission to them or through them is vulnerable. Even during the lockdown period u can see them moving in company, in certain areas. They lack self-discipline and they are aware that the go nment cannot send police force every where to enforce lockdown. God alone save the country.
20-40岁的人不愿待在家里,因此更容易受感染。即使在封城期间,也可以看到他们在外面结伴而行。他们不自律啊,而且他们知道政府不可能派警察去强制执行封城措施的。看来只有神才能拯救这个国家啊。
Raja Ram
Nature eliminating the stupid genes who do not take precautions. Let all these self declared hero's perish.
大自然淘汰了那些不采取预防措施的傻子。让这些自称英雄的人都去死吧。
K Mohan
Even newborn babies are infected and therefore everyone must be careful
即使是新生儿也会被感染,每个人都务必小心
Klaranjan Nandi
Is this data indicates that present generation is having less immunity power than older how much bourn vita , complan they are taking. And mostly depends on first food prepared in stall while engaged on job outside , less green veg intake, experts may highlight please .
数据表明,印度这一代人的免疫力比上一代人更差。这代人上班的时候都在外面吃快餐,吃的绿色蔬菜少,请专家们关注下这个问题啊。
Jyotirmoy Mukhopadhyay
This proves that coronavir s can anyone irrespective of age , but the only difference is that the recovery of aged persons is not as per expectation as their resistance power is less.
这证明冠状病毒会感染任何年龄段的人,唯一的区别是老年人的康复情况并不如预期的那样,因为他们的抵抗力较弱啊。
Madan Mohan Siddhanthi
Fact is every one is susceptible to this vir s - those with more disciplined life and those whoo follow the laws or rules are less effected .Many senior citizens have not stpped out all these days so too children the end of bell curve
事实上,每个人都容易感染的——那些生活更有规律、遵守法律法规的人受感染的几率更小。老年人这些天都没有出门,结果受感染的大多数是年轻人。
Bhartiya Sach
Rest of the world fighting ag inst the Vir s ......
全世界都在与新冠病毒作斗争
Rani
It is quite obvious that a section of our population is carelessly endangering the whole 130 billion population.
很明显,一小撮人危及13亿人口啊。
Monika Kaundal
It means an it dangerous for all humans not only for aged person
这说明不仅是老年人有风险,所有人都有感染的风险啊。
Rajesh Sachdev
Senior citizens have become cautious and have put themselves in self quarantine. They are aware about the consequences and the available medical support. So little exposure to clustering that helps and expn the reason behind
老年人更谨慎,居家不出门,他们知道后果,所以不去人多的地方,这就是原因所在吧。
SVA M
India was containing the Corona vir s well. Tablighi Jt meet near Delhi created biggest problem.
在控制疫情方面,印度做得很好。德里的塔布里-扎马特集会惹了大麻烦啊。
MS
The younger ones not practising social diatancing. Whats so big about. If they pass to elderly india is a goner.
年轻人不保持社交距离。如果传染给老年人,印度就完了。
外文:https://timesofindia.indiatimes.com/india/83-of-covid-19-patients-in-india-are-aged-below-60-yrs/articleshow/74988310.cms