Lockdown extension likely as PM Modi talks of 'national emergency'
莫迪总理称"国家进入紧急状态",或延长封城时间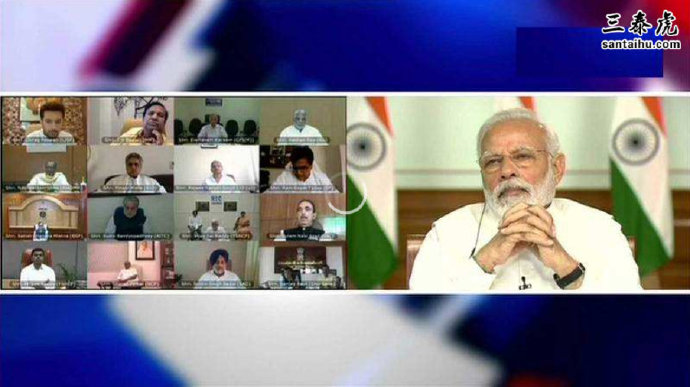 NEW DELHI: PM Narendra Modi on Wednesday made it virtually clear that the three-week countrywide lockdown will be extended beyond April 14, and said the outbreak of the pandemic had created a national emergency which may require more tough measures to enforce social distancing.
新德里:星期三,莫迪总理明确表示,全国范围内为期三星期的封城将延长至4月14日以后。他还表示,疫情爆发已经导致全国进入紧急状态,或采取更严厉的措施让公众保持社交距离。
"I have been talking to chief ministers and the feedback from them and the district magistrates who are being consulted is unanimous that lifting the lockdown all at once is not advisable. I will talk to CMs again. But the sense as of now is clear that lifting the lockdown is not going to be possible. We have to take tough measures to enforce social distancing," the PM was heard saying in a leaked audio clip of his comments at an interaction through video link with representatives of po itical parties. The PMO took strong exception to the leak, a first, of the clip but did not dispute the veracity of Modi's purported comments where he said the situation in the country was similar to "national emergency".
在一段泄露的音频中,总理与各政党代表在交流:"我已经和首席部长们谈过了,他们和地区的反馈是一致的,即立即解除封锁是不可取的。我会和首席部长们再次沟通。从目前来看,解封显然是不可能的。我们必须采取强硬措施让公众保持社交距离。"总理办公室首次对视频泄露表示强烈不满,但并未质疑莫迪言论的真实性,莫迪称印度目前的情形无异于进入了"国家紧急状态"。
PM Modi said, "We are passing through a situation which is like that of national emergency and whichhas forced us to take unprecedented measures from time to time. Your response to such measures has been positive in kee with requirements of national interest. We have to take more tough measures"
莫迪总理说:"我们正经历类似国家紧急状态的情况,这迫使我们采取前所未有的措施。你们对这些措施的反应是积极的,符合国家利益的要求。我们不得不采取更严厉的措施。"
Speaking ag inst the backdrop of a debate over the tradeoff between containing the disease and bearing the economic costs of a lockdown, the PM said saving lives was top priority.
在讨论如何在控制疫情和承受封城造成的经济损失之间做出权衡时,莫迪称首要任务是救命。
He also said international experts and global experience didn't favour lifting of the lockdown. Significantly, the PM ned that leaders of all po itical parties had also spoken ag inst removal of the curbs. "As you all have suggested, lifting of the lockdown is not advisable. The removal of restraints has to be sequenced and there cannot be one single et plan," he said.
他还说:"国外专家也不赞成解除封锁,从各国的经验来看目前也不能解除封锁。值得注意的是,总理指出,所有政党的领导人都反对解封。"正如你们大家所建议的,解除封锁是不可取的。解封必须有序进行,不可能统一解封。"
The opposition leaders left it to the go nment to decide on extending the lockdown even as they called for mitigating strategies to address hardships due to the measures.
反对派领导人让政府决定是否延长封城时间,尽管他们呼吁采取缓解策略,以解决这些措施造成的困难。
The PM's remarks came as some states strongly indicated that curbs will stay. Ker has announced a detailed plan that includes not restoring mass transport links with other parts of the country. Goa announced that the lockdown will continue but later stated that the decision will be taken in coordination with the Centre.
莫迪发表此番言论之际,一些邦强调,将继续执行封城措施。喀拉拉邦宣布了一项详细的计划,其中包括不恢复与其他地区的公共交通。果a宣布将继续封城,后来表示将与中央协调后作出决定。
印度时报读者的评论:
译文来源:三泰虎 http://www.santaihu.com/49669.html 译者:Jessica.Wu
chandan kumar
We have ed an honest Prime minister and we respect and honour your decision sir what ever it may be . Any decision will be taken after considering alll factor . We stand with you
我们选出了一位诚实正直的总理,无论你作出什么决定,我们都尊重。任何决定都应该经过深思熟虑,我们支持你!
Karthik Rajasekaran
Absolutely the thing to do. Modi's leadership during the pandemic will be in history books long after.
延长封城时间绝对没错。莫迪在新冠疫情期间表现出的领导风范将被载入史册。
Pravin Manikchand Mathuria
Economy Recovery is possible not life. Extension of lock down is quite Understanding on current scenario
经济还有可能复苏,但生命无法重来。在当前情况下,延长封城时间是可以理解的。
SUBRATA
In this emergency more tough measures are required--TRUE. We were in poor economic situation now COVID will enhance it.
在当前紧急情况下,我们确实需要采取更严厉的措施。印度经济原本不景气,新冠疫情更是让经济雪上加霜。
Mirza Baig
I fully support modi ji's plan though i dont support BJP but in this scenario we have to be united to fight ag inst an unseen enemy
我完全支持莫迪的计划,虽然我不支持人民党,但在这种情况下,我们必须团结一致对抗一个看不见的敌人
PARIKSHIT BHANDARI
No matter how much u lockdown the cases will go up because u r not testing everyone ..... Anyone could b asymptomatic ... who know who is carrying t vir s.
不对每个人都进行检测,不管封城时间延长多久,感染病例还是会增加的。
任何人都可能是无症状感染者,谁知道谁携带了病毒啊。
Zeeshan Khan
Hunger will kill the poor before coronavir s.
还没感染新冠肺炎,穷人可能先饿死了。
Abdullah Athari
Sir please lockdown for 8 months. We would love to experience the kashmir lockdown. aa. LOL
先生,封8个月吧。我们很想尝尝克什米尔人被封锁8个月的那种滋味,哈哈
Sharada y
PM will think in nation's best interest, international expert oions are considered,each and every state CM oion is taken into account ,opposition is also involved so all in all whatever decision will be taken will be good
总理会考虑国家利益,会考虑国外专家的意见,会考虑每一个首席部长的意见,也会考虑反对派的意见,所以无论他做出什么决定,对大家都是有好处的
Faisal MohdUmar Memon
Atleaat 2more weeks is needed.
至少要延长2星期以上啊
R Choudhary
Now he can't handle this problem, I guarantee.
Millions of India will die most likely either by corona vir s or by mass starvation and poverty.
Nothing can stop this . The entire sy em will get crumbled and 20 to 30 crore people will die .
我敢保证莫迪应对不来这场危机。
数百万印度人或死于冠状病毒,或饿死,或穷死。
没有什么能阻止这一切,整个国家将会,2-3亿人将会死去。
Bidhan
We are lucky to have the able leader as PM at this critical time. Just imagine if there were Rahul or any other in his place...
我们很幸运,在这个关键时刻有这么能干的人当总理。想象一下,如果是拉胡尔或其他什么人当总理,情况会怎样……
Shri
IT IS TIME TO GIVE 5000 RUPEES PER MONTH PLUS FOOD TO ALL BPL AND POOR FAMILIES IN ALL STATES ALL OVER INDIA. SELL 50% OF FOREIGN RESERVES AND INVEST OVER 15 LAKH CRORE FOR OURSELVES. GIVE FREE HEALTHCARE AND EDUCATION TOO. JAI HIND.
现在是时候给所有邦的穷人和贫困家庭每个月发5000卢比外加食物了。出售50%的外汇储备,拿出15万亿卢比,为民众提供免费医疗和教育。印度必胜
Mowgli
Modi ji wont travel to any foreign nation till the next ion. Thanks to Corona.
在下次之前,莫迪都没法出国了,感谢新冠病毒。
Quhesobi
Feku has wasted precious two months to contain the corona vir s. At this critical juncture, Feku should be hanged immediately, and then the interim PM should place this country on a war footing to fight this pandemic.
莫迪浪费了两个月控制疫情的宝贵时间。让临时总理来领导大家抗击疫情吧。
Deepak
If Khangress was in power, lakhs would have already died in India. Thanks to Modi. He is a wise man.
如果是国大党执政,印度早就死了几十万人了。多亏了莫迪,他是个智者。
Mirza Baig
It was idiot trump who brought coronavir s to india kemcho
是特朗普那个笨蛋把新冠病毒带到了印度
M Kumar
Modiji's leadership during pandemic will be in the history books.
莫迪领导大家抗击疫情的壮举将被载入史册。
Nikhil Mane
Hmm. As a failure.
是的,作为失败载入史册
Subba Iyer Mani
Who gave permission to go ahead with the tablighi event ?? Perhaps denying permission to hold this event would have resulted in less spread of the coronavir s.
是谁批准了"塔布里·扎马特"集会?如果当初禁止举办这次活动,就不会有那么多人感染了啊。
Daddanna Sagar
The decision by the PM to lockdown the country is an extremely good one to save the lives of many people. India is lucky to have a PM like Modi who has proven himself to be great leader. Also, try to avoid eating unhygienic meat which could help mutate the vir s. It is good that the a good percentage of people in India are vegetarians.
总理决定封城,此举救了许多人的生命。印度很幸运有莫迪这样的总理,他已经证明了自己是一位伟大的领袖。此外,大家应尽量避免食用不卫生的肉类,这可能会导致病毒发生变异。还好大部分印度人都是素食主义者。
K V V
continue for another one month
延长封城一个月吧
Mahesh Chawla
No Comment, I have fa th in PM
不想多说,我信得过莫迪总理
外文:https://timesofindia.indiatimes.com/india/lockdown-extension-likely-as-pm-talks-of-national-emergency/articleshow/75056045.cms