Covid-19: New cases in India top 750 in a day for 1st time, deaths up by 31
印度单日新增病例首次超过750例,死亡人数增加31人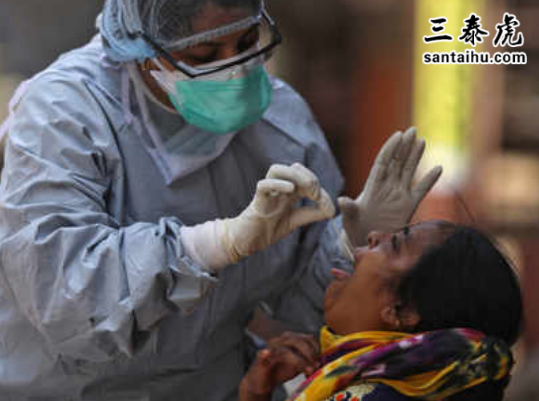 NEW DELHI: India's Covid-19 count rose sharply on Thursday with states confirming 781 new cases – by far the highest single-day tally so far and 30% more than the previous highest of 598 recorded on Wednesday, as per confirmed reports collated by TOI from states.
新德里:根据各邦的报告,周四印度确诊病例数量急剧上升,各邦确认了781例新增病例,这是迄今为止单日最高确诊病例数,比先前的最高纪录598例(周三)高出30%。
Maharashtra led the surge with 229 fresh cases —the first time any state has reported more than 150 new cases — followed by Tamil Nadu (96), Rajasthan (80), Gujarat (76) and Delhi (51).
马哈拉施特拉邦的新增病例数最多,为229例(首个新增超过150例的邦),随后是泰米尔纳德邦(新增96例)、拉贾斯坦邦(新增80例)、古吉拉特邦(新增76例)和德里(新增51例)。
Thursday's record high number of cases also broke the pattern of the last seven days, when daily cases had remained in the 500-600 zone.
周四创纪录的新增病例数也改变了过去7天的趋势,过去7天印度每天的确诊病例数徘徊在500-600例之间。
As many as 31 deaths from Covid-19 were reported from across the country, taking the pandemic's toll in India to 232. These include 15 from Maharashtra, taking the state's toll to 97, and three in Delhi – two at Ram Manohar Lohia and one at Apollo hospital.
据报道,印度各地死亡病例新增31例,印度的总死亡人数达到232人。其中马哈拉施特拉邦新增15例死亡,总死亡人数达到97人;德里新增3例死亡,其中2例在Ram Manohar Lohia医院, 1例在阿波罗医院。
The fresh cases in Delhi include three cancer patients who were admitted to Delhi State Cancer Institute (DSCI) in east Delhi and two healthcare workers from Sir Ganga Ram hospital.
德里的新病例包括三名住进德里国立癌症研究所(DSCI)的癌症患者和两名来自甘加拉姆爵士医院的医护人员。
At least 11 Covid-19 positive patients in Delhi are currently on ventilator support and 23 are on oxygen – which could signal impairment of lung function due to the infection.
目前,德里至少有11名患者需要呼吸机支持,23名患者需要吸氧,这可能是感染导致肺功能受损的信号。
The Covid-19 outbreak in Maharashtra continues to be worrisome. The state now accounts for 20% of all cases in India and, more worryingly, over 40% of all coronavir s deaths. The state's case fatality rate (CFR) rose from 6.2% on Wednesday to 7.1% on Thursday, more than double that of India's 2.9%.
马哈拉施特拉邦的疫情仍然令人担忧。目前该邦的病例数占印度总病例数的20%,更令人担忧的是,超过40%的死亡病例来自该邦。该邦的病死率(CFR)从周三的6.2%上升到周四的7.1%,是印度平均病死率2.9%的两倍多。
印度时报读者的评论:
译文来源:三泰虎 http://www.santaihu.com/49673.html 译者:Jessica.Wu
Sanatan Mahan
KEJRIWAL IS WORST POLITICAINS WHO HAS THROWN 4 LAKH OR MORE POOREST OUT OF DELHI. DELHI HAS BECOME EPICENTER FOR CORONA VIRUS. TABALIQI JAMAD STARTED CORON JIHAD IN DELHI.... KEJRIWAL DESERVE HELL....
凯杰里瓦尔是最坏的政客,他把40万穷人赶出了德里。德里现在成了疫情的中心,凯杰里瓦尔该下地狱。
Amit Trivedi
Tablighi Jt is solely responsible for the spread of Corona and the sudden increase in the number of victims across the country. These people along with Delhi put the entire nation in danger. Even the small district, where hardly any person has a history of traveling abroad, the corona epidemic has spread...
塔布里·扎马特要为病毒的扩散、全国范围内病例激增负责。即使在小地方,也没人出行。这些人和德里当局把整个国家置于危险之中。冠状肺炎开始大流行了……
Rv
this should be seen by stupids who are thinking about lifting lockdown..absolutely no need to lift lockdown now...it will take atleast 2-3 weeks before thinking about lifting lockdown.
那些想解封的人好好看看吧。现在绝对不能解除封锁…至少要再过2-3周才能考虑解封。
Zyndagi Gulzar
World military expenditure last year was $1822 billion US dollar. With that money spent, we can not shoot and kill a single Corona vir s. We all need to wakeup and change our priority.
去年世界各国的总军费开支为18220亿美元。用这笔钱,我们难道还会输给新冠病毒?
我们都应该清醒过来,分清轻重缓急。
Ashok Kth
If Military expenditure brought down, then expect ISIS, Taliban and Terror groups will challenge the de ratic countries.
如果削减军费开支,那ISIS、塔利班和组织将挑衅国家。
Ivo Sequeira
Country wide Absolute, complete and strictest lockdown until April 30th is mandatory.
印度全国范围内应继续强制封城,直至4月30日。
Kukkoo Bilal
The lockdown shall not be lifted before the end of the year ... there are meanwhile many millions of infected people in India who are still undetected!
到年底才能解除封锁。目前,印度仍有数百万感染者未确诊!
Election Beast
Modi sent all medicine to usa
莫迪把所有的药都送给了美国
Gobardhan IT Cell
Why are you surprised? Our PM was organizing roadshow and building walls for Donald Trump when world was preparing for corona vir s. Now both Fools will face the world backlash due to corona vir s.
有什么好大惊小怪的?
世界各国在准备应对冠状病毒时,我们的总理还在为唐纳德·特朗普的到来举行路演、筑墙。
Dr Uday Kumar Umesan
Why blame the PM? People like you venture out in spite of Go nment orders and make matters worse....don't blame the go nment for everything. If you are mature enough, you can overcome any odds.
为什么要责怪总理?人民不顾政府的封城令冒险出门,导致形势恶化。
不要把一切都归咎于政府。如果你足够成熟,你可以克服任何困难。
JD kya
First Modi did not take action on Airport, 1.5 Lakh entered in INDIA without screening.
莫迪没有封锁机场,15万人未经筛选就入境了印度。
Quhesobi
Unfortunately, Feku has wasted precious two months to prepare for the coronavir s. Even now, he is still busy doing nothing. The number of cases is rising exponentially. No one can save India and Indians once India becomes the new global epicentre of coronavir s. It is an open secret that India still lacks doctors, healthcare workers, ventilators, ICU beds, gowns, N95 masks, face shields and gloves.
不幸的是,莫迪已经浪费了两个月的宝贵时间,本来可以做好应对准备的。即使是现在,他仍然什么也不做。病例数呈指数增长。一旦印度成为新的疫情中心,那没人能拯救印度。众所周知,印度仍缺医生、医护人员、呼吸机、ICU病床、防护服、N95口罩、护面罩和手套。
satya murthy
While Tablic te rorts bent on spreading vir s ,Crazy KEJRI watching i
塔布里·扎马特成员在德里传播病毒时,凯杰里瓦尔却袖手旁观!
Mowgli
Is it ok to have sex with people recovered from coronavir s ?????
能和已经康复的人啪啪啪吗?
Jagdish Madan
It is obvious that the Covid 19 situation is worsening and worst is still ahead of us! Yet, it is not too late even at this stage, for people to start cooperating with the go nment and strictly observe the lock down norms! l as those attacking the doctors, nurses and other health workers must be enforced.
很明显,疫情正在恶化,更糟糕的还在后面!
不过,就算人们现在开始配合政府的工作,严格遵守封城规定,也为时不晚!
Nutz Nutz
as number of tests increase so will the cases. still the number of tests is very low in India and not widespread compared to some other countries where they have tested almost a hundred thousand people every day. hence the high number of infected and quarantined people in those countries.
随着检测数量增加,确诊病例也会增加。与每天检测近10万人的国家相比,印度的检测数量还是很低的,检测范围也不广泛。所以,在其他国家,感染人数和隔离人数都很多。
Sl
It's stupid to impose lockdown without adequate preparation. This lockdown has forced people to migrate in lacs n created a huge mixup of population which was totally avoidable.
在没有做好充分准备的情况下就强行封城,这样做是愚蠢的。封城迫使人们大规模迁移,造成了大混乱,本来这是完全可以避免的。
Trump
Stop whining and help govt, volunteer as a healthworker. Compning INDIOTS
不要抱怨了,帮帮政府吧,去当志愿护工吧
Marcalo De Unnero
I told India it was coming. They mocked the USA and now the horror show is about to kick into gear for India. Indias economy was already slowing and this will devastate it. More people will starve to death than die from the Vir s. Also is probably going to make more power plays ag inst india.
我提醒过,印度要爆发了。之前还嘲笑美国,现在轮到自己了。印度经济已经放缓,疫情将让经济雪上加霜。饿死的人将比染病而亡的人更多。
Alwin Roy
There is unnecessary panic & chaos situations in India, Most of the people who has died had been suffering with Pre - Esting Disease. Go nment should stop creating panic & scary situation for Corona vir se, which is now become psychological disease after listening about it every now & than.
印度太过恐慌了,大多数死亡病例本来就患有其他疾病。政府别再制造恐慌了,搞得大家都有心病了。
sri
Maharashtra is Epic Center and believe me it will blast .
Dharavi . You can't blame anybody. We have big problem .. POPULATION. We need one child policy.
马哈拉施特拉邦将成为疫情的中心,要爆发了。我们有大麻烦了,但不能责怪别人,都是因为人口太多了。我们应该实行一孩政策。
外文:https://timesofindia.indiatimes.com/india/3-die-in-delhi-new-india-cases-top-750-in-a-day-for-1st-time/articleshow/75074318.cms