Coronavir s in Nagpur: 5 Covid-19 suspects escape from Mayo, all traced
那格浦尔疫情:5名新冠肺炎疑似病例从梅奥医院逃走,均被追踪到
NAGPUR: Police said that 3 men and 2 women coronavir s suspects who allegedly fled from Indira Gandhi Go nment Medical College and Hospital (Mayo) on Friday night have been traced.
那格浦尔:警方称,星期五晚从英迪拉·甘地公立医学院附属医院(梅奥)逃走的3名男性和2名女性疑似病例已被追踪到。
Hospital sources said that all five were admitted to the isolation ward in the evening. They had come on their own after develo coronavir s-like symptoms.
来自医院的消息称,他们是在出现新冠肺炎感染症状后自行到医院就诊的,当晚5人都被收治进了隔离病房。
Their samples were taken for testing and one of the men had turned negative. The reports of the other four will be available on Saturday.
医院对他们采集了样本进行检测,其中一名男子的检测结果呈阴性。其他四人的报告将于星期六公布。
One of the women is employed as a help in the house of the first man who tested positive and is in Mayo itself. And one of the men is the cook.
其中一名女性在第一位检测结果为阳性的男性家里当佣人,该男子本人也在梅奥诊所。其中一名男性是厨师。
The two other men are colleagues of the first patient. The other woman had travelled to Italy. She was traced to a hel. The others were at their homes.
另外两名男性是第一个确诊病例的同事。还有一名女性去过意大利,该女子被追踪到去了一家旅馆
All told police that they were frustrated at the delay in knowing the status of their samples. All have been requested to return to hospital.
所有人都告诉警方,他们对迟迟不能知晓样本的检测结果感到沮丧。所有人都被要求返回医院。
Police said that the five left the ward one after the other cming that they wanted to use the washroom and have tea.
警方表示,这五人一个接一个地离开病房,理由都是说他们想去洗手间,想去喝茶。
The first patient's wife and colleague, who too tested positive, are in the isolation ward at the Go nment Medical College and Hospital. All three are recovering well.
第一个确诊病例的妻子和同事的检测结果也为阳性,目前在医院的隔离病房。三人都恢复得很好。
Zonal DCP Rahul Maknikar, who was on night rounds on Friday, said, "Police have been put on high alert."
星期五夜间巡逻的DCP拉胡尔·马克卡尔表示,"警方已经进入高度戒备状态。"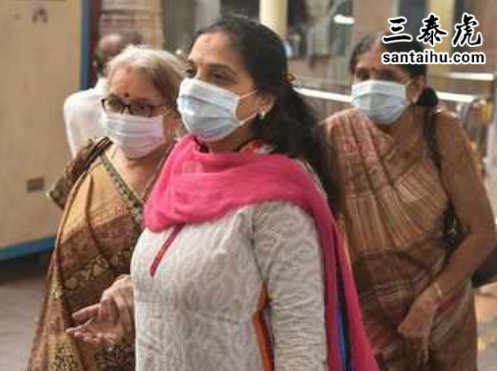 印度时报读者的评论:
译文来源:三泰虎 http://www.santaihu.com/49503.html 译者:Jessica.Wu
Top Comment
De acy is useless
也不顶用啊
Godfather Senior • Mumbai • 3 hours ago
It is very risky to leave such persons in the society, just catch them and put in isolated jail wards while treating them !
让他们待在外面是很危险的,抓住他们,把他们关在隔离病房里,对他们进行治疗
paarth • 3 hours ago
I worry for India. Indians have poor discipline. Even Indians who go abroad and see how disciplined it is there, come back do these stupid things. We won't change unless we have a sy em like Singapore with heavy fines for everything.
我对印度表示担忧。印度人缺乏纪律性,即使是在国外待的印度人,回来后也会做这些蠢事。我们不会改变的,除非我们能实行像新加坡那样的体,对任何违规违法行为都课以重罚。
Arya Sreejesh• 1 hour ago
modi is not dict-tor. he is the servant of India meant to serve us.. understood? we the public is owner..
莫迪是印度的仆人,是为我们服务的,明白了吗?人民才是主人。
Ruichum Luithui Shimray • 11 hours ago
Give their names and let public aware or handover to police less it wont work
公布他们的名字,让公众知道,或者把他们移交给警方
Sudarshan • Indore • 3 hours ago
Why are people fleeing and esca? It is beyond comprehension. This way their chances of survival are even reme and they're endangering the lives of others also. Such lunatics should be jailed.
为什么要逃走?真是难以理解。离开医院风险更大,他们也会危及他人的生命。这样的疯子应该关进。
Manav• 1 hour ago
Maybe they escaped to try for gaumuthra and the cow dung to cure themselves
也许他们逃走是为了找牛尿和牛粪来治好自己
Abhay Chitnis • 3 hours ago
Put them into jail. Such idiots cannot stay outside.
把他们关进。不能让这样的白痴在外面逛。
Maya • Pune • 4 hours ago
Fear and lack of knowledge of the consequences make people do weird things.
恐惧以及不知道后果的严重性会让人们做出荒诞之举
Gv • Pune • 5 hours ago
put them in jail
把他们关进
nami• 3 hours ago
they need to shot for the safety of humanity
为了人类的安全,把他们都毙了
GV • 3 hours ago
You can't put them in jail because that will infect everyone in jail. But you can fine them heavily that will be enough deterent.
不能把他们关进,那样会感染里的所有人,可以对他们处以重罚,这就足够了。
Krishna • 1 hour ago
what the hell is wrong with these people do they want to kill everybody..?? do they even understand the gravity of the situation ..???whu dont they understand they shoud get in order to live ...they r putting themselves and others lives in jeopardy..!!
这些人到底怎么了?他们想害死所有人吗?他们了解情况的严重性吗?
他们这样做,是把自己和他人的生命置于危险之中!!
Robie Shoby • 3 hours ago
The state of our go nment hospitals is just hopeless.That's the reason people are dodging the isolation/quarantine procedure.
印度公立医院的状况真是糟透了,这就是病人能逃避隔离检疫程序的原因。
Pradeep • Mumbai • 3 hours ago
Don't understand how such people ests in this world... What they think that they will do at their home from running away from hospital by endangering own life as well others....
不明白世界上怎么会有这种人……他们逃回家里能做什么,离开医院反而会危及自己和他人的生命……
Murugavel • 3 hours ago
No welfare schemes and services of the gt either central or state should be given to them henceforth. Stop basic amenities like water, ricity, housing, public transportation and employment to these ppl who are in a way te rorts.
从今往后,印度中央或邦政府都不要向这些人提供福利。在某种程度上这些人是分子,以后别为他们供水供电,不为他们提供住房,禁止他们搭乘公共交通,禁止他们就业。
Pvs M • 3 hours ago
It's funny they are kept in isolation ward and they will go out for tea.
有趣的是,他们被隔离在病房里,还能出去喝茶。
Nitin Narayan • 35 mins ago
Shoot em in the head if they try to escape
他们要是逃跑,就朝他们的脑袋开枪
Abhay Nair • 1 hour ago
What is wrong with these people? Why are they running away?
这些人怎么了?为什么要逃走?
Hsf • 1 hour ago
Cancel their passport and defranchise them. It is a question of life and death. These people are playing with the life of other citizens.
吊销他们的护照,剥夺他们的公民权。这是一个生死攸关的问题,这些人在拿其他公民的生命冒险。
Soumitra • 3 hours ago
Gt and police are taking all the neccessary measures to tackle the crisis. media is alert too. rest depends on the citizens and their sense of civic responsibilities.
印度政府和警方正在采取一切必要措施来应对危机。印度媒体也很警惕。剩下的就取决于公民的责任感了。
Victor C Paul • 30 mins ago
All tested positive as well as those suspected of a chance to be positive are under the strict control of the Health offi als/ Gt. Anybody esca from this is going to be a health threat to innocent citizens and to be viewed and treated severely. There should not be any lacuna in this for the safety of general public.
卫生应该严格控制所有检测呈阳性的人以及那些疑似人员。任何逃避检测的人都将对无辜公民的健康构成威胁,并将受到严肃处理。为了公众的安全,这方面不应该存在任何漏洞。
Booby • Right Here • 38 mins ago
Either they are complete idiots or te rorts...which basically is the same
他们要么是白痴,要么是分子……二者基本是一样的
Sameer • Pune • 52 mins ago
can we blame the congress?
这事儿能怪国大党吗?
Karthik • 54 mins ago
Why this dumb ppl keep running away? Run where no one is going to treat u.. u will die eventually.. stupids
为什么这些笨蛋要逃跑?
逃去没人会治的地方,终究会死的…愚蠢
Sameer • Pune • 57 mins ago
Funny why did they run away? what were they trying to do?
搞笑,他们为什么要逃走?他们想干嘛?
Desi Daroo • 1 hour ago
It's time to announce emergency else people will escape quarantine n infect the whole country.
是时候宣布紧急状况了,否则人们会逃过检测,继而感染整个国家。
外文:https://timesofindia.indiatimes.com/city/nagpur/coronavir s-in-nagpur-5-covid-19-suspects-escape-from-mayo-3-traced/articleshow/74620092.cms