Coronavirus in India: Delhi resident, Telangana man test positive for Covid-19
印度冠状病毒:一名德里居民和一名特兰甘纳男子的Covid19检测结果呈阳性
NEW DELHI: India on Monday reported two more positive cases and one suspected case of Covid-19, the novel coronavirus infection that has killed over 3,000 people globally till now. The positive cases include a Delhi resident who returned from Italy on February 25 and a 24-year-old man from Telangana who returned from Dubai recently.
新德里:周一,印度又报告了两例阳性病例和一例疑似Covid-19感染病例。Covid-19是一种新型冠状病毒,迄今已导致全球3000多人死亡。2例阳性病例包括2月25日从意大利返回的一名德里居民和最近从迪拜返回的一名来自泰伦加纳的24岁男子。
The suspected case is of an Italian tourist who is quarantined at Sawai Man Singh (SMS) Hospital in Jaipur.
疑似病例为一名意大利游客,已在斋浦尔的Sawai Man Singh (SMS)医院隔离。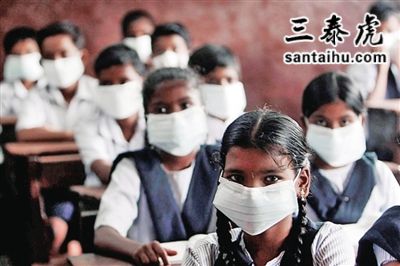 He tested positive for Covid-19 in the first test but health ministry officials are waiting for re-confirmation from the National Institute of Virology (NIV), Pune, to declare it as a positive case.
在第一次检测中,他的covid19检测呈阳性,但卫生部官正在等待普纳国家病毒学研究所(NIV)的再次确认,才能宣布该病例为阳性。

Earlier, three students from Kerala who had returned from China's Wuhan, the epicentre of Covid-19 outbreak, in February had tested positive for the virus.
早些时候,来自喀拉拉邦的3名学生在2月份从中国武汉返回时,检测结果呈阳性。
They were sent home once the symptoms cleared and tests confirmed they couldn't spread the disease further. Health minister Harsh Vardhan, however, said there wasn't any need for panic in India.
症状消失后,检测证实他们不会进一步传播疾病,就被送回家了。不过,印度卫生部长哈什·瓦丹称,印度人没有必要恐慌。
'Coronavirus-hit Delhi resident stable'
"受感染的德里居民病情稳定"
The PM is personally monitoring efforts to contain the spread of Covid-19 in India. An inter-ministerial committee has been formed and we are meeting regularly to chalk out plans to limit the risk of spread of the disease and also be ready to deal with any critical scenario," Harsh Vardhan said.
哈什·瓦丹称:"莫迪总理正在亲自监督防疫措施。已经成立了一个部际委员会,我们正在定期开会,制定计划,限制疾病传播的风险,并准备应对任何紧急情况。"
Sources said the Delhi resident, who has tested positive for Covid-19, returned from Italy on February 25. Because he didn't have any symptoms then and Italy wasn't among the countries affected majorly by Covid-19, he wasn't put under isolation. However, recently when he developed fever and breathing difficulty, the authorities concerned were informed and the man was quarantined. "His condition is stable and being closely monitored," said doctors of Ram Manohar Lohia Hospital, which is Delhi's nodal centre for coronavirus patients. All crew members of the flight he took have been asked to stay in isolation for 14 days at their respective homes and report to authorities in case of any symptoms of Covid-19, sources added.
消息称,这名新德里居民2月25日从意大利返回。因为他当时没有任何症状,意大利也不在受Covid-19影响的主要国家之列,所以他没有被隔离。然而,最近他出现发烧和呼吸困难,有关当局得到通知并对该男子进行了隔离。Ram Manohar Lohia医院的医生说"他的病情稳定,正在密切监测中。"这家医院是德里冠状病毒患者的定点医院。消息人士补充说,他乘坐航班上的所有机组人员都被要求在各自家中隔离14天,如果出现任何症状,都要向当局报告。
The Telangana patient, who works as a software engineer in Bangalore, had returned from Dubai on February 20. He had landed in Bangalore, worked for two days in his office and then come to his home in upscale Mahindra Hills in Hyderabad on February 22 by bus. Officials said all people he came in contact with before being put under quarantine have been advised to stay in isolation too and look out for symptoms, if any.
特伦甘纳患者是班加罗尔的软件工程师,于2月20日从迪拜返回。他在班加罗尔下飞机,在他的办公室工作了两天,然后在2月22日乘公共汽车回到他在海得拉巴的高档住所。有关官说,在他被隔离之前所有触过他的人都建议隔离,如果有任何症状,都要报告。
Dr Balram Bhargava, director general of Indian Council of Medical Research (ICMR), told TOI that mortality due to Covid-19 was in the range of 2% to 3%, which isn't very high.
印度医学研究委员会(ICMR)主任Balram Bhargava博士告诉印度时报,covid19的死亡率在2%到3%之间,不是很高。
"Common flu causes 1 to 2% mortality, SARS (another coronavirus that led to outbreaks in 2002-03) had a mortality rate of around 10%. The Middle East Respiratory Syndrome (MERS) had a mortality rate of 35%," he said.
他说:"普通流感的死亡率为1%到2%,而SARS(2002-2003年爆发的冠状病毒)的死亡率约为10%。中东呼吸综合征(MERS)的死亡率为35%,"
印度时报读者的评论:
译文来源:三泰虎 http://www.santaihu.com/49431.html 译者:Jessica.Wu
Hemant Tolwani • 11 hours ago
That's the start of CoronaVirus in India. Telegana techie has been roaming here and there for 2 days, travelling by bus there might be possibility that he has given virus to many on the way or at office within glimpse of time lakhs will be infected with Virus in India
新冠病毒可能在印度扩散了。那个特伦甘纳工程师在外面逛,还坐了公交车,可能传染了很多人
Rock • New Delhi • 11 hours ago
commendable work done by central govt to takle this virus.
kudos to them.
印度中央政府为应对新冠病毒所做的工作值得称道。
向他们致敬。
Ashok Amin • USA • 11 hours ago
such a vast country with thick population,cases are insignificant . commendable work of medical teams all over country.
印度是一个幅员辽阔,人口众多的国家,这几个病例是微不足道的。为全国医疗团队的努力点赞。
Robo • Location • 8 hours ago
Stop all international travel. It will be very very difficult to control the spread in India due to high population density and close contact between people.
禁止所有国际旅行。印度人口密度高,人与人之间的接触也很密切,所以很难控制病毒的传播。
Pijush • 11 hours ago
Covid-19 seems to be like a Pandemic. The results can be disastrous
新冠肺炎似乎是传染病,结果可能是灾难性的
Col Noam A IndoIsrael Studies
Where is this doctor getting the mortality rate from ??
这个医生从哪里得知的死亡率??

Om Namah Shivayah • Location • 5 hours ago
I just don't understand why international travels r not being banned for 3 months? Also it is not understandable why every de boarding international flights r not being tested for CV-19? This callous and lazy attitude of authorities may destroy many lives here.
我不明白为什么不禁止国际旅行3个月?
为什么每架抵达印度的国际航班都不进行检测?
印度当局这种冷漠态度可能会害死很多人。
Karan • Smoke Weed and Fly • 7 hours ago
Another good reason for staying at home and do nothing.
又有一个待在家里无所事事的理由了
Hi Sudip • 7 hours ago
Idiot has spoiled everything in bus & office. Entire office people should be quarantine & authority should not do foolish like this. Whoever is coming from whichever country, should be tested with priority basis.
那笨蛋把公交车和办公室里的人都害惨了,整个办公室的人都应该隔离。无论从哪个国家回来的,都应该接受检测。
R • Gurgaon • 8 hours ago
Delhi, Telengana, Kerala are non BJP states. Vote BJP to avoid Corona Virus.
德里、泰伦加纳、喀拉拉邦都不是人民党执政的邦。投票给人民党吧,以避免感染冠状病毒。
K Mohan • Hyderabad • 8 hours ago
Even the domestic flight passengers should be checked for any virus
即使是国内航班的乘客也应该接受检测
K Mohan • Hyderabad • 8 hours ago
India cannot afford even single case as it would spread fast
哪怕有一个病例印度也扛不住,会迅速蔓延的
Santosh • 8 hours ago
Stop commuters around the globe coming to India. otherwise, sleep and wait to see more people die due to corona virus.
阻止别国人进入印度。否则将有更多的人死于冠状病毒。
Juneid Siwan • 9 hours ago
In spite of turmoil, India has done well to keep Corona at bay, even US has 6 deaths and 100 cases
印度在控制新冠病毒方面做得很好,就连美国也有6人死亡,100例患者
Modi alive.
Paras Kapoor• 7 hours ago
Can you please tell what India has done well?
你能告诉我印度在哪些方面做得很好吗?
Saur • 4 hours ago
Flights from China, Iran, Italy, S Korea must be stopped
停飞来自中国、伊朗、意大利和韩国的航班
INDIAN• 4 hours ago
DRINK HOT WATER .PLENTY OF HOT WATER WILL KEEP BODY WARM.TAKE GINGER & PEPPER MORE.IN HEAT THE VIRUS DIES. SPREAD THE INFO TO ALL OUR FAMILY N FREINDS.
喝热水,多喝热水能保持身体暖和,多吃生姜和辣椒,能杀死病毒。把这个传达给所有的家人和朋友。
Tushar • Pune • 5 hours ago
Can't India just ban inbound & outbound flights to all the affected countries for sometime?
印度就不能停飞所有往返疫区国家的航班吗?
Ramesh T M • Bangalore • 8 hours ago
It's all to do with the immune system of the patient. With summer around the corner we can breathe a sigh of relief . Personal hygiene is a must.
这与病人的免疫力有关。夏天就要来了,我们可以松一口气了。就是要注意保持个人卫生。
Vrandavan Patel • 4 hours ago
Corona virus very dengours
冠状病毒很危险啊
Punit Issar • 5 hours ago
The PM is personally monitoring efforts to contain the spread of Covid-19 in India — why do you all fear .. relax!!!!
莫迪总理正在亲自监督预防措施的实施——你们为什么要害怕…放松点! ! ! !
Nindak 4 hours ago
To avoid an unnecessary chaos.
要避免不必要的混乱。
Mudi Ji• 3 hours ago
India is the ideal petri dish for the virus to spread.
印度是病毒传播的理想场所。
Anirban • 5 hours ago
India Govt has to be very strict on this Virus ..otherwise ..there will be a Corona virus riot in India ..
印度政府务必严格控制这种病毒的传播,否则病毒将在印度蔓延…
Vivek Dobhal• 6 hours ago
It will create havoc if it spreads in India, hygenic behaviour is absent from our society.
如果这种病毒在印度传播,将会造成一场浩劫,我们这的人都不讲卫生啊。
外文:https://timesofindia.indiatimes.com/india/coronavirus-in-india-delhi-resident-telangana-man-test-positive-for-covid-19/articleshow/74449076.cms