Vikram had hard landing, Nasa releases high-resolution images of Chandrayaan-2 landing site
"维克拉姆"号硬着陆,NASA发布"月船2号"着陆点的高分辨率图像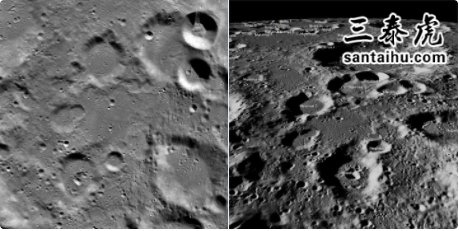 US space agency Nasa on September 26 released high-resolution images of Chandrayaan-2 lander Vikram's intended landing site but said it was unable to determine the exact location of Vikram.
NASA于9月26日公布了"维克拉姆"号着陆器原定着陆点的高分辨率图像,不过无法确定"维克拉姆"号的确切位置。
"Vikram had a hard landing and the precise location of the spacecraft in the lunar highlands is yet to be determined," a Nasa statement read.
NASA在一份声明中表示:""维克拉姆"号进行了硬着陆,其确切位置还有待确定。"
The pictures were taken by a Lunar Reconnaissance Orbiter Camera (LROC) Quickmap fly-around of the targeted landing site.
这些图像是月球勘测轨道飞行器相机(LROC)在飞越该目标着陆点附近时拍摄的。
印度时报读者的评论:
译文来源:三泰虎 http://www.santaihu.com/48499.html 译者:Jessica.Wu
外文:https://timesofindia.indiatimes.com
We•2 hours ago •Follow
who the hell nasa to explore about our project chandrayaan ...isro also did half work anyways isro should issue these images from their side before
谁让NASA去找我们的着陆器的… 这是Isro的任务
Fine Commentator•2 hours ago
hope ISRO succeed next time. all the best ISRO.
希望ISRO下次能成功。祝ISRO一切顺利
Ash D•2 hours ago
Eventually ISRO needed NASA''s help to figure out the answer behind the wastage of one thousand crore
ISRO最终还是要靠NASA的帮助来找出任务失败的原因,ISRO这次登月可是花费了近百亿卢比
Alpha Centauri•2 hours ago
Quite funny by NASA as if the world is unaware of the hard landing. Not only hard landing but the lander may have disintegrated into tiny pieces with the impact.
NASA真搞笑,好像全世界都不知道这次是硬着陆似的。不仅硬着陆了,着陆器也可能因撞击而摔成了碎片。
Sachin Fadnavis•Location•2 hours ago
Modi is a big MANHOOS for the whole country.
莫迪是印度的大英雄
Godfather Senior•Mumbai•2 hours ago
But Chandrayan-2 orbiter clearly pictured it !!
"月船2号"的轨道器早就拍到清晰照片了!!
Dr•2 hours ago
Mishape clearly shows that Isro doesn't properly practiced how to land a rover far from earth
ISRO明显没练过怎么在月球背面着陆
Sachin Fadnavis•Location•2 hours ago
Modi was looking forward to ch publicity by his presence at the event. His ill luck spoilt the hard work of scientists.
莫迪为了蹭热度去现场参观,他给科学家们带去了霉运。
Ritchie•NYC•2 hours ago
So finally NASA the daddy gave the images. Otherwise the joker media of India was fooling people with fake animations and ISRO! Lost all the respect for these jokers they said 95% and 98% ... just accept the failure and move on
还是靠NASA提供照片,否则印度媒体又要用假照片来忽悠读者了。接受失败,继续前进。
Sachin Fadnavis•Location•2 hours ago
Soft landing was the main purpose of the whole mission. But unfortunately ISRO failed in achieving it and wasted 1000 Crores of taxpayers money. We have to admit that this mission was a big failure.
软着陆是此次任务的主要目标。可惜ISRO未能实现这一目标,浪费了纳税人100亿卢比。我们应承认这次任务是彻底失败的。
Satya Sahu• Sachin Fadnavis•Unknown•2 hours ago
Pagle, you can not suceed without failing in the first attempt. Other option to succeed is to copy.,Its a definitely great attempt.
失败是成功之母。这次登月绝对是一个伟大的尝试。
Jai Sachidanandaguru•Unknown•2 hours ago
Chandrayaan 1 & 2 project were approved by PM Manmohan Singh during his tenure. Please start RTI and let the world know the facts.
"月船1号"和"月船2号"项目是辛格总理在位时批准的。
Bhaskar•3 hours ago
It is very unfortunate and disappointing on part of ISRO to see that a foreign space agency had o say that Vikram did a hard landing on moon. The question is why ISRO could not show the courage to make an honest confession about this hard landing. Although everyone in this planet knew that the lander Vikram had made a hard landing on the moon ISRO has never accepted it or declared it publicly, they had always said that things did not go as expected and they are trying to establish communication with the lander.
由一个外国太空机构说出"维克拉姆"在月球上是进行了硬着陆,ISRO太令人失望了。
为什么ISRO没有勇气承认"维克拉姆"号硬着陆了?虽然地球人都知道"维克拉姆"号在月球上是硬着陆了,但ISRO从未承认,也从未公开宣布,他们总是说事情没有按照预期的进行,正试图与着陆器建立通讯。
Apurba Putatunda•Unknown•3 hours ago
No failure, no success.
没有失败就没有成功
Hindustani•3 hours ago
it was a great effort from ISRO, they have 98% success in the first attempt, we are proud of them. next time we are sure they will have 100% success.
ISRO付出了巨大的努力,第一次尝试就成功98%,我们为他们感到骄傲。下次肯定会100%成功的。
Abhijit singh•3 hours ago
NASA couldn''t find vikram. Another fake mission by Feku.
NASA都没能找到"维克拉姆"号,看来这次登月又是假的。
Vijay Banga•new delhi•3 hours ago
India can send modules but cannot locate or even take pictures of crashed unit is pathetic.
印度能把着陆器送上去,现在定位不到它的位置了,甚至拍摄不到坠毁的着陆器,这太可悲了
Rajaali•3 hours ago
Shouldnt have named it vikram, who had repeated attempts to succeed. Anyhow we will succeed, for sure. Kudos Isro
不应该给着陆器取名"维克拉姆"号。"维克拉姆"个人曾多次尝试才获得成功。无论如何,我们一定会成功的。向ISRO致敬
Vishal•3 hours ago
Why ISRO looks for Nasa help when our orbiter has better quality high resolution camera than Nasa orbiter.
我们轨道飞行器的相机分辨率比Nasa轨道飞行器相机的更高,为什么ISRO还让NASA提供照片?