Indian migrant girl, 6, dies in Arizona desert as mother sought water
一名6岁印度移民女孩死于亚利桑那州沙漠,母亲当时去找水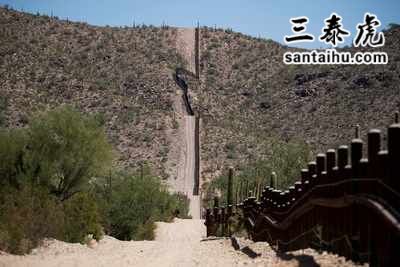 A six-year-old girl from India died of heat stroke in an Arizona desert after her mother left her with other migrants to go in search of water, a medical examiner and U.S. Border Patrol said on Friday.
星期五,法医和美国边境巡逻队表示,一名来自印度的6岁女孩因中暑死于亚利桑那州的沙漠中,其母亲去找水后,留下她和其他移民待在一起。
The girl, Gurupreet Kaur, soon to celebrate her seventh birthday, was found by US Border Patrol west of Luke lle, Arizona on Wednesday, when temperatures reached a high of 108 degrees Fahrenheit (42 Celsius), U.S. Border Patrol and the Pima County Office of the Medical Examiner (PCOME) said.
美国边境巡逻队和皮马县法医办公室表示,这名女孩名叫Gurupreet Kaur,即将庆祝其七岁生日。星期三气温达到108华氏度(42摄氏度),美国边境巡逻队发现了其遗体。
The girl's death, the second recorded fatality of a migrant child this year in Arizona's southern deserts, highlighted the danger of summer heat as a surge of migrant families, mainly from Central America, cross the US-Meco border to seek asylum.
这名女孩的死亡是今年亚利桑那州南部沙漠地区记录在案的第二起移民儿童死亡事件。随着大批移民家庭(主要来自中美洲)越过美墨边境寻求庇护,这突显出夏季炎热高温的危险。
An increasing number of Indian nationals are entering the United States from Meco, according to immigration offi als. They are among thousands of Africans and Asian migrants making the arduous journey, led by smuggling cartels.
移民称,越来越多的印度人从墨西哥进入美国。在走私集团的带领下,成千上万的非洲和亚洲移民踏上了这段艰难的旅程。
The girl and her mother were among a group of five Indian nationals dropped off by smugglers in a reme border area at 10 a.m. on Tuesday, 17 miles (27 km) west of Luke lle, a US border town 50 miles (80 km) southwest of Tucson.
星期二上午10点,走私者将这名女孩和她的母亲连同其他5名印度人一起送到了卢克维尔以西17英里(27公里)的偏远边境地区。卢克维尔是美国边境城镇,位于图森西南50英里(80公里)处。
After walking some way, the girl's mother and another woman went in search of water, leaving her daughter with another woman and her child.
走了一段路后,女孩的母亲和一名女子去找水,把女儿留给了另一个女人和她的孩子。
"Once they went to look for water they never saw them again," said US Border Patrol Agent Jesus Vasavilbaso.
美国边境巡逻人员Jesus Vasavilbaso称:"女子去找水后,她们就再没见到彼此了。"
The mother and the other woman wandered in the rugged Sonoran desert wilderness for 22 hours before being found by a US Border Patrol agent who tracked their footprints.
这名母亲和另一名女子在索诺兰沙漠崎岖的荒野中游荡了22个小时,之后被一名美国边境巡逻人员顺着她们的足迹找到了她们。
Four hours later, Border Patrol agents found the body of the deceased girl a mile (1.6 km) from the border.
四个小时后,边境巡逻人员在离边境1.6公里处发现了女孩的尸体。
The deceased girl died of hyperthermia and her death was ruled an accident, said Greg Hess, PCOME chief medical officer.
PCOME首席医疗官格雷格·赫斯表示,这名女孩死于中暑,其死亡被判定为意外事故。
印度时报读者的评论:
译文来源:三泰虎 http://www.santaihu.com/47841.html 译者:Jessica.Wu
外文:https://timesofindia.indiatimes.com
John Abraham • 2 hours ago
Very sad ... whats wrong with all punjabi...
太悲哀了,旁遮普人都怎么了
Aditya Sarangi• 1 hour ago
Heat stroke in cold country is very surprising
在寒冷国家中暑,这太奇怪了
Balidan• New Delhi • 2 hours ago
India is the best.... there are ample opportunities in India.
印度才是最好的,处处是机遇。
Vinod • Others • 2 hours ago
These Punjabis sell their fertile land and pay the agents huge sum to go foreign lands
为了去国外,这些旁遮普人卖掉自家肥沃的土地,付给中介大笔的偷渡费
Veejay vee • 1 hour ago
India is not all that bad for to live or get a job.. it is mere greediness that killed her daughter..
印度的生活和工作条件并没有那么差。是贪婪害死了她的女儿。
Ankit • 1 hour ago
i dont understand why punjabis cant stay in there homeland and wants to go outside only.. they are ok to be servant in US/canada but dont like to be middle class in india and live properly by not putting family in danger or isolated...
旁遮普人不呆在家乡,就想着去国外…他们宁愿在美国和加拿大做佣人,也不愿在印度当中产阶级,放着好好的日子不过,非要把家人置于危险或孤立的境地……
Abhishek Nirm Pandey • 2 hours ago
No jobs in india.
印度没有工作机会
senthil kumar S• 2 hours ago
Then how they have money to pay for flight and giving to migraton cartel
It is their foolish ness...about American Dream which itself a air bubble
她们哪来的钱买机票,哪里筹集来的偷渡费……太蠢了,美国梦就是一个泡沫,虚无缥缈的
Ash D• 1 hour ago
It''s by selling their assets or belongings
变卖家产换来的钱呗
abir• Mumbai • 1 hour ago
Rea carefully ..they entered illegally
她们是非法入境的
Gdp • 1 hour ago
She must have given handsome money for smuggling herself and child.
With same money she could have opened some small shop in india and could have lived modestly with daughter.
她肯定给了走私犯一大笔钱。
有这些钱,她本可以在印度开一家小店,过着不错的日子。
P Kumar • Location • 1 hour ago
Punjabis are so fascinated with Umrika that they will sacrifice their kids for the chance to clean toilets, do waitressing, mop floors for $5/hour. Why? The land of the 5 rivers and 10 Gurus does not offer them a decent living?
旁遮普人对美国如此着迷,他们不惜牺牲自己的孩子来换取洗厕所、做服务员、拖地板的机会,每小时就赚5美元,这是为什么?
在印度就不能体面的生活吗?
António • INDIA • 1 hour ago
Punjabi and Pakistani mentality is almost the same when it comes to illegal immigration.... they are ready to risk anything and everything... Europe and America is their ultimate destination.... they are ready to take the risk even if it brings them death....
说到非法移民,旁遮普人和巴基斯坦人的心态几乎是一样的。他们愿意冒任何风险……欧洲和美国是他们的最终目的地。他们愿意冒这个险,即使要赔上一条命。
Eagle Bird• 1 hour ago
And also if your resources are limited around you , contain the procreation .
如果你资源有限,就控制生育。
Rampal Singh • Rampal Singh • Ludhiana • 2 hours ago
Better stay in Punjab. Heaven.
还不如呆在旁遮普,这才是天堂。
Indian • 1 hour ago
Just can''t understand why these people are going to america to die. We have desert in Rajasthan too. Poor girl bore the brunt of her parents foolishness.
我就是不明白为什么这些人要去美国送死。我们的拉贾斯坦邦也有沙漠啊。可怜的女孩被愚蠢的父母害了。
Hrishikesh • PARPANANGADI • 1 hour ago
Reservation is driving out Indians.
预留制迫使印度人远走他乡
Kkr • 1 hour ago
Greed is the cause of the child's death will the mother be arrested for murder or illegally entering the country
贪婪是导致孩子死亡的原因,母亲会因非法入境而被捕
William India • MANGALORE • 1 hour ago
PEOPLE IN INDIA ARE STRUGGLING FOR LIFE AND EMPLOYMENT, SMALL BUSINESS MAN INCURE LOSSES, INDUSTRIALIST GAIN OUT OF THE TAXES OF COMMON PEOPLE. . ECONOMY IS GOING TO WORST AND WORST.. PRE 2014 : DURING 2011-12 INDIA WAS THIRD LARGEST ECONOMY IN THE WORLD (SEARCH GOOGLE), NOW THANKS TO MODIJI IT IS 7TH,..
印度人民正在为生活而挣扎,小商人遭受损失。2011年至2012年,印度是全球第三大经济体(去谷歌搜索下就知道),现在多亏莫迪,印度排在第七了。
mavani • William India • kamp • 1 hour ago
Idiot. Best way leave India, For you no place in the world.
白痴。你最好离开印度。你这种人在这个世界上没有立足之地。
Vincent Max • Mumbai • 1 hour ago
Stupid Indians!!
愚蠢的印度人! !
Rocker• India • 1 hour ago
Is it? Then, YOU are one of us!
是吗?你也是我们中的一员!
Roushan S • 2 hours ago
Why die out there in heat...in our own Rajasthan it is 50 degree...sorry...I did not mean a joke...I mean it is better to die in your own land...
为什么要去那送死,还中暑而亡……我们拉贾斯坦邦,气温也达到50度,也足以热死个人…要死也要死在自己国家啊…