Amid Russia arms row, India plans mega deal for US military drones
在俄罗斯武器争端背景下,印度计划与美国签署一项巨额军用无人机协议
NEW DELHI: India has finalised the plan to acquire 30 wonised Sea Guardian (or Predator-B) drones in yet another proposed mega defence deal with the US, even as New Delhi remains steadfast about going ahead with its deal inked for the Russian S-400 Triumf missile sy ems despite mounting pressure from the Trump administration.
新德里:印度已敲定购买30架"海上卫士"(Sea Guardian,又称"捕食者- B")武装无人机的计划,这是印度与美国又一项大型防务协议。尽管特朗普政府施加了越来越大的压力,但印度仍然继续履行与俄罗斯签署的S-400"凯旋"导弹系统的协议。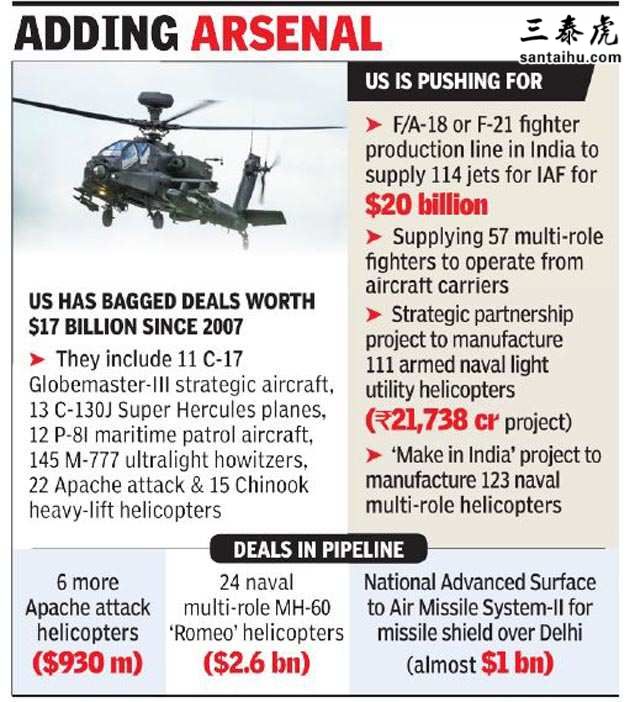 With the US having already bagged military contracts worth $17 billion from India just since 2007, while also remaining in contention for several other major projects, Delhi is upset with Washington's intransigence over the $5.43-billion deal inked for the S-400 sy ems with Russia in October 2018. India has made it clear that it has "no plans to scrap" the S-400 deal, as was reported by TOI last week.
自2007年以来,美国已经从印度获得了价值170亿美元的军事合同,同时仍在争夺其他几个重大项目。印度于2018年10月与俄罗斯签署的价值54.3亿美元的S-400系统合同,美国对此表现出的不妥协态度令印度感到不满。《印度时报》上星期报道称,印度已明确表示,"没有取消S-400合同的计划"。
印度时报读者的评论:
译文来源:三泰虎 http://www.santaihu.com/47847.html
外文:https://timesofindia.indiatimes.com
nitin sharma • Canada • 10 hours ago
Congress should never come back to power for another 50 years.It''s only BJP for the sake of the country.
未来50年都不能让国大党上台。只有人民党为国家利益着想。
Subbu India• Bengal • 6 hours ago
Do not understand why you people always bring the name of Congress. What is the necessity !
不明白为什么你们这些人总是扯上国大党。有必要嘛!
Rajkoti Reddy Gondi• 5 hours ago
Because of frustration, being in ruling for 60 plus years, what they delivered?
国大党太让人失望了,执政60年,没有带来一点变化。
Manoj Kumar Panda• 7 hours ago
First of all USA increased customs duty on Aluminium and steel products, then removed zero customs for some products and now selling defense after creating security issue. Are we moving in the direction ??
美国先是提高了铝和钢铁产品的关税,然后又取消了一些产品的零关税待遇
Rao Rao • 10 hours ago
Why on Earth all these Mega Deals to US,?? India ought to con trate on Make in India, Whys is it our Gt. doesn''t even talk about all this.Every second day US threatens us with Sanctions because of S 400, India is setting up a bad example, We all know that US is not reliable when it comes to their Defense Products
为什么要给美国那么多大订单?印度应该把精力推动"印度制造",为什么我们的政府对此连提都不提。因为购买俄罗斯的S400导弹系统,美国隔三差五就威胁要制裁印度。
rajendran nair• 9 hours ago
please try to understan why Hindustan is forced to import these critical equipment even after 70 years of independence. Then you will understand previous re gie due to vested interest not encouraged local production of
独立70年了,这么重要的装备,为什么印度还要进口,都怪之前的政府为了自身利益而不鼓励本地生产。
Hiten Indie• Delhi • 4 hours ago
Can''t continue blaming past for decades. And cannot blame BJP go nment either. This term should be dedicated to reduce cost of imports on defence and top gear efforts on indeginous programs.
不能再指责过去几十年的政府了,也不要怪人民党政府。加大国产武器的研发,少进口些武器
James • Tristan da Cunha • 9 hours ago
Problem with US drones is, you never know when US will remely take control of it. India must change the communication set up including hardware after they procure it.
美国无人机有个问题,你永远不知道美国什么时候会遥控它。买来之后,印度应改一改通信设置。
BitterTruth• 6 hours ago
If we knew how to do it, we would have built it ourselves.
如果知道怎么更换,我们就自己造了。
Sanjay Sehgal• Noida • 6 hours ago
Worse Usa will spoof all operation and data of drone through satelite.
更糟糕的是,美国将通过卫星干扰无人机的操作,并窃取数据。
Mitch Dave • 9 hours ago
This is what happens when people pay taxes and go nment is honest . You see development, transformation, and advancement.
人民诚实纳税,政府正直无私,我们看到了发展,看到了进步。
nanksn • Planet earth • 11 hours ago
Security comes first and this gt is doing to improve that.. Good work..
安全第一,政府正在努力做到这一点。做得好!
CityHawk Prime• 5 hours ago
Yes, toiletless hungry India is bending over and wh0ring for two customer at the same time!
连温饱问题和厕所问题都没解决的印度,在摧眉折腰,在同时讨好两个顾客!
I love my India• Hyderabad • 7 hours ago
India is not capable to produce any substantial mordern arm leavealone fighter planes it is importing even rifles from outside.
the credit goes to our QUOTA sy em of education which is preventing genuine telent to show their skills in R&D etc.
印度造不出现代化武器,更不用说造出从国外进口那样先进的战斗机了,甚至连步枪都要从国外进口。这都拜我们的预留制所赐,这种制阻碍了真正的人才施展研发等方面的技能。
Sanjay Sehgal• Noida • 6 hours ago
He should be spending that money to develop drones in India.
莫迪应该把这笔钱花在研发本土无人机上。
flemingo2008 David • 8 hours ago
We must express our GRATITUDE to this go nment for doing so much for the nation....only because of THE NON-CORRUPT APPROACH these things are possible.....
我们应对这届政府为国家所做的一切表示感谢。只有不,才可能达成这些协议…
Rajiv Kaushal• 7 hours ago
It was the Soniya factor. She was in power for ten years. Her kickbacks formed the major chunk of all deals. She put the country back by at least twenty years.
索尼娅执政十年,所有交易里面,回扣都占大头。她使这个国家倒退了至少二十年。
Stud Baker • 9 hours ago
Well it would be a mistake. US may agree now for Indian S400 deal with Russia but they can always backtrack after selling drones to India and not give any spareparts and maintenance at a later stage. They want to sell their arms and drones but at the same time putting pressure on India to not buy Russian S400. India should not dump Russian deal at any cost.
美国现在可能默许了印度与俄罗斯签署的S400协议,向印度出售无人机后,美国人可以随时反悔,在后期不给印度无人机提供备件和维护之类的。美国一方面想向印度出售武器,出售无人机,一方面向印度施压,要求印度不要购买俄罗斯的S400导弹。印度决不能放弃与俄罗斯的协议,无论付出什么代价,都不能放弃
Touch • 10 hours ago
Feku will make country bankrupt with his unprofessional and stupid foreign policy.
莫迪的外交政策既不专业,又显得愚蠢,会让国家破产的。
Sunil Dhuper• 9 hours ago
He is planning to make India a 5 trillion economy by 2024,these arms are necessary to guard the boarder from enemies.
莫迪计划到2024年让印度经济规模达到5万亿美元,这些武器是保卫印度边境不受敌人侵犯所必须的
Kameswaran • 9 hours ago
We won't be dictated by the USA what to buy and from whom ...
我们不会受美国指挥,买什么,从谁那里买,都由我们自己决定……
Rajesh Gope• 8 hours ago
Good move by Modi gt. it's a better way to bargain technology price , play monkey between two big cats.. zing tact. best move.
莫迪政府做得好,这样更好讨价还价,太机智了。
Thankappan • Hyderabad, Andhra Pradesh • 8 hours ago
These machines can hunt te rorts and kill them with precision.
这些机器可以精确地追杀分子
Suresh Iyengar• Brisbane, Australia • 9 hours ago
These ammunition will remain a show piece, because if there is a real war both sides have the same to use nuclear arsenals
这些装备是用来展示的,真爆发战争,双方都有权使用核武器。

Prithviraj Deb• 11 hours ago
India should go ahead with the purchase of S-400 regardless of what USA thinks !! Russia is a tested friend of India so definitely ties with Russia needs to be much stronger in defence !!
不管美国怎么想,印度应该继续购买S-400 !俄罗斯是印度久经考验的朋友,肯定要加强与俄罗斯的国防关系!
Somesh Sahu• Pune • 6 hours ago
US and Russia want countries to keep fighting or have conflict ag inst each other so that they can sell their wons
美国和俄罗斯希望国家之间继续发生冲突,这样武器才卖得出去
Swarup Paul• 6 hours ago
DONOT FALL IN TRAP OF USA. THEY ARE INDIA BIGGEST ENEMY UNDER TRUMPH ADMINISTRATION.
不要落入美国的陷阱。在特朗普执政期间,美国是印度最大的敌人。
Ashley King • 9 hours ago
Where is "MAKE IN INDIA" , just announcing program will not help us.
"印度制造"呢,光说是无济于事的。
James Glass• Tristan da Cunha • 6 hours ago
It's just a bribe to Trump to allow purchase of S400.
这只是特朗普,让他同意印度购买S400。
Pankaj • 6 hours ago
Being nuclear state is enough to scare enemies...dont waste money ..use it for welfare of people and farmers
拥有核武器就足以震慑敌人了……不要浪费钱了,不如用这些钱来造福人民,帮助农民