INS Imphal, the new guided-missile dest yer
新型导弹驱逐舰"英帕尔"号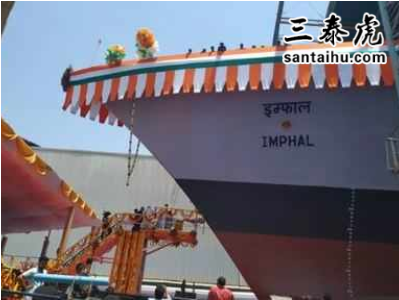 NEW DELHI: The first warship to be christened after a city in the north-east, the guided-missile dest yer Imphal, was "launched" into water at the Mazagon Docks in Mumbai on Saturday. Though the ship's launch weight was 3,037-tonne, it will go up to a massive 7,300-tonne once it is ready for commissioning with all its won sy ems, including BrahMos supersonic cruise missiles, as well as sensors in another three to four years.
新德里:周六,以印度东北部城市英帕尔命名的导弹驱逐舰在孟买马扎冈造船厂"下水"。目前排水量为3037吨,一旦其所有武器系统,包括布拉莫斯超音速巡航导弹以及传感器在未来三到四年里投入使用,其排水量将达到7300吨。
Once it is commissioned as INS Imphal, after its two earlier under-construction sister warships Visakhapatnam and Mormugao launched in 2015-2016, it will join the ranks of operational dest yers named INS Delhi, INS Mumbai, INS Mysore, INS Kolkata, INS Kochi and INS Chennai. "The ongoing tradition is to name indigenously-constructed dest yers, which are second only to aircraft carriers in size and combat power, after a state capital or big city," said an officer. Similarly, the slightly smaller frigates are named after mountain ranges, rivers or wons like INS Shivalik, INS Sahaydri and INS Trishul. The corvettes, in turn, are named after smaller personal wons like INS Kirpan and INS Khanjar.
两艘姊妹舰"维萨卡帕特南"号和"莫尔穆风"号于2015-2016年下水,"英帕尔"号一旦服役,它将加入"德里"号、"孟买"号、"迈索尔"号、"加尔各答"号、"科钦"号和"钦奈"号驱逐舰的行列。一位印度官员表示:"目前的传统是以邦府或大城市的名字命名国产驱逐舰。在规模和战斗力方面,国产驱逐舰仅次于航空母舰。"规格稍小一些的护卫舰以山脉、河流或武器命名,如"什瓦利克"号、"萨哈德里"号和"特里苏尔"号。
Imphal, which was launched by Navy chief Admiral Sunil Lanba's wife Reena in kee with maritime traditions, is third of the four Visakhapatnam-class missile dest yers being constructed under "Project-15B" at MDL for around Rs 30,000 crore. "Project-15B warships feature cutting-edge advanced technology, comparable to the best ships of similar class anywhere in the world. Designed indigenously by the Navy's Directorate of Naval Design, each ship spans 163-metre in length and 17.4-metre at beam, with a displacement of 7,300-tonne," said an officer.
为保持海事传统,"英帕尔"号由印度海军上将苏尼尔·兰巴的妻子里纳主持下水仪式。"英帕尔"号是"15B项目"下四艘"维萨卡帕特南"级导弹驱逐舰中的第三艘,耗资约3000亿卢比。一名官员表示:"15B项目战船具备尖端先进技术,可与世界上任何同类战舰相媲美。每艘军舰均由海军设计委员会自主设计,长163米,宽17.4米,排水量7300吨,"
The Navy, which currently has 140 warships and 220 aircraft, has 32 warships under construction in domestic shipyards at a total cost of Rs 1.26 lakh crore to replace its aging fleets and plug operational gaps.
印度海军目前拥有140艘军舰和220架飞机,目前正在国内造船厂建造32艘军舰,以替换老化的舰队,填补缺口。总造价为12600亿卢比。
以下是印度时报读者的评论:
译文来源:三泰虎 http://www.santaihu.com/47445.html
外文:https://timesofindia.indiatimes.com
India is doing well under leadership of Karmyogi and Yug Purush Modi Ji and BJP!! Modi Ji is inspiring all Indians to do their best without any discrimination. We are worried if Mus ms, and Congressi followers succeeded in bringing back Mus m Party Congress into power then that would be end of India. Same old things will return
在莫迪和印度人民党领导下,印度发展得很好!莫迪激励所有印度人做到最好,没有任何歧视。我们担心,如果国大党重新,那印度就完蛋了。又会回到老样子
Naveen Kumar • Rai Saheb • 6 hours ago
let's all support BJP and Modi ji wholeheartedly for next 10 years.
未来10年我们要全心全意支持人民党和莫迪。
Rai Saheb • Canada • 5 hours ago
Modijee will be back in 2019.I live abroad and for 1 percent if I assume what you said comes true then personally I will be leaving India forever and take citizenship of Canada.Its only because of Modijee and his good policies that I am delaying citizenship Canada as I have started feeling India is changing for the good and made me think many time if its worth giving Indian citizenship.
莫迪将于2019年连任。我住在加拿大,莫迪政策好啊,我推迟加入加拿大国籍,我开始感觉到印度正向好的方向转变,这让我一直在考虑是否要放弃印度国籍。
Kosmic Power • 6575 • Kosmic Power • 7 hours ago
Mus m Rahul, Congress, other parties with their brainwashed followers for 65 years after barbaric Mus ms invasion and British colonization. Who were into destroying India with freebies and begging for ves to stay in power to loot the country. Brainwashing Hindus, degrading their culture
在英国殖民统治后,国大党和其他政党对他们的追随者进行了65年的洗脑。他们发放免费赠品,拉选票以求再度,这样就能再次洗劫这个国家。他们给印度教徒洗脑,贬低他们的文化
Kosmic Power • 4 hours ago
Be truthful and not racist in your own country. Rahul has Kashmiri Pandit, Chr tian Italian and Parsi/ Mus m ( from Grandfather if any) genes. He has the links to most INDIAN ethnicities than many others. Even "hindu" Aryans came to India as conquerors from Central Asia. India is God''s gift to the world of assimilated wordly cultures.
不要有种族歧视。拉胡尔有克什米尔潘迪特、意大利和拜火教的血统。和其他许多人相比,他与大多数印度民族的联系更密切。就连雅利安人也以征服者的身份从中亚来到印度。印度是神赐给世界的礼物,世界文化已经同化了。
Kosmic Power • 6575 • Konfucius Ken • 1 hour ago
Mus m Rahul and Congress are Mus ms appeasers for voting and freebies. They dest yed India for 65 years. THERE IS NO SUCH THING AS HINDU ARYAN... PERIOD. Your ignorance and stupidity is ned. Guess you must be a Congress brainwashed follower, which expn the Hindu Aryan thing. You don''t even know Indian History...
拉胡尔和国大党想用免费赠品换选票。国大党蹂躏了印度65年。印度教雅利安人是不存在的……。你的无知和愚蠢是众所周知的。我猜你一定是被国大党洗脑的追随者,才以为有雅利安人。你连印度历史都不了解……
Kosmic Power • Hyderabad • 3 hours ago
None of these shipyards nor the ships were planned by the chuddy-w govt. what they can utter are lies and gaalies.
造船厂和军舰都不是莫迪政府规划的,他们只会说谎。
Pk Chaithanya • 6 hours ago
This kind of scale and speed never happened before. Thank you Modi ji for making India''s security more robust.
以前从未有过这种规模和速度。感谢莫迪总理加强印度的安全。
Thinker • India • 5 hours ago
Great job, Modi Sarkar! The North East had been neglected for decades under the Congress Party. You have taken big steps to bring it onto India''s map - where it truly deserves to be!!
干得好,莫迪!在国大党的领导下,东北地区几十年来一直被忽视。你们已经迈出了很大的步伐,提升了东北地区的地位!!
Sanjoy Pandey • Kolkata • 4 hours ago
All these are the reflection of the " Country first '' policy of the Modi go nment,in place of "Family first " policy of the dynasty Nehru Ghandhi Khan family.
这些都是莫迪政府"国家第一"政策的体现,取代了尼赫鲁·甘地王朝"家族第一"政策。
Rajendra Chouhan • us • 4 hours ago
Transformation of India started with Prime mimnister Modinand will continue in future
印度的转型始于总理莫迪,并将在未来继续下去。
nitin sharma • Canada • 4 hours ago
I think even god want Modijee to come back in 2019 as Modijee is standing for the poor such as farmers etc.Moreover,he wants to use Modijee to clear lots of garbage or trash by putting them behind bars.We will see lots of people being put behind bars during his second term so there is gonna be lot of turbulence in India and we have to be prepared for that.We Indians have to keep supporting him in everything that he will do to ensure that India becomes a better place.As long as god is with him and with the support of loyalists Indians ,he will finish garbage which congress has created in the last 70 years.I am glad he is going to come up with strict laws of hanging people who commit rape etc which is a very good sign as its high time these laws are needed and,implemented sooner.
我认为即使是神也希望莫迪能在2019年连任,莫迪代表的是穷人,比如农民等等。我们将看到很多人在他的第二个任期内被送进监狱,所以印度将会有动荡不安,我们必须为此做好准备。我们印度人务必支持莫迪所做的一切,建设更美好的印度。只要神与莫迪同在,在印度忠诚者的支持下,他就能解决国大党过去70年里遗留的问题。莫迪将出台严格的法律,比如绞死强奸犯等,这是一个很好的迹象,现在是时候尽快实施这些法律了。
Wake • usa • 6 hours ago
INDIA NEEDS 50 SUBMARINES MINIMUM..FIFTY TO 75.........SINCE NEIGHBOR ALREADY HAS 50 SUBMARINES...ATLEAST 10 TO 20 NEED TO BE AKULA CLASS NUCLEAR SUBS WITH NUKE SLBM. CAPACITY.....EACH NUKE SUB NEEDS TO HOLD 50 NUKE ICBMS...FOR DETERRENT OF MUTUAL ..PLEASE COPY USA AND RUSSIAN DOCTRINES TO THE TOOTH.......wake up navy chief...
印度至少需要再造50-75艘潜艇。邻国已经有50艘潜艇了…至少需要10-20艘阿库拉级核潜艇与核武器潜射弹道导弹。为了起到威慑作用,每艘核弹潜艇需要携带50枚核弹洲际弹道导弹…请把美国和俄罗斯的口号"武装到牙齿"抄下来。醒醒吧,海军司令!
Jagdish Chandra • Debai UP • 7 hours ago
World over, the Sovereign nation developed or invested its resources for the catering the demand of security forces for the sake nation security, so India is not exception of it, even more vulnerable for external security as shared borders with many nations. But for the sake of God, western border merely remain volatile, all others border remain calm and tranquil. But here is caveat too, 70 yrs on, India dependency at mercy of import of equipment and fighter-Jets have hugely bleeding to the national ...
在世界范围内,主权国家为了国家安全而投资研发武器装备以满足部队的需求,印度也不例外,印度与许多国家接壤,更容易受到外部的威胁。过去70年过去了,印度战斗机极度依赖进口,任人摆布给国家带来了巨大的损失。
Nanao Meitei • 2 hours ago
Wow! Atleast we got a Great PM who can take on Pakistan and who reckons the North East communities.
哇!至少我们有了一位伟大的总理,他可以对付觊觎东北地区的巴基斯坦。
Suresh • Faridabad • 3 hours ago
Construction time needs to be decreased if possible.
如果可能的话,需要缩短建造时间。
BHARTI • Hindustan • 2 hours ago
Under Pm Modi, India will soon achieve superpower status status! The country is in safe hands and Pm Modi should be given another two terms in office!
在莫迪总理的领导下,印度很快就会成为超级大国!这个国家是安全的,莫迪总理应该再连任两届!
bony mutum • 39 • Bony • 1 hour ago
great to heard our capital city's name came up for such a huge thing...
很高兴听到用我们的邦府命名这艘驱逐舰,这是盛事…
Santimay Basu • New Delhi • 2 hours ago
Indian naval power, which was completely ignored by corrupt Congress, is getting stronger day by day under Modi Go nment. Not only Navy, even our Air power and ground power are rapidly increasing. Even India has now become the fourth country in the world to have the capacity to destroy satellites. This is possible only when the country is run by a Nationalist led Go nment.
腐败的国大党完全忽视了印度海军的建设,在莫迪政府的领导下,印度海军实力正日益强大。不仅是海军,甚至我们的空军和陆军实力也在迅速加强。印度现在也成为世界上第四个有能力打卫星的国家。这只有人民党的领导下才有可能实现。
Anil Misquith • Mangalore • 2 hours ago
Well done my India ...
做得好,我的印度
Vikram • 54 mins ago
Congress would have named it INS Indira Gandhi or Rajiv Gandhi.
换做是国大党的话,这艘驱逐舰会被命名为"英迪拉·甘地"号或"拉吉夫·甘地"号。
Dawni • Dawni • Ku Lumpur • 1 hour ago
India, make more in numbers smaller missile boats that radar negative. Its faster to build smaller of missile boats than huge ships!
印度应该建造小型导弹艇,还能多造些。建造更小的导弹艇比建造大军舰更快
Nikos • Nikos • Mumbai • 1 hour ago
Well done India . Great work by NDA !
印度做得好。全国联盟,做得好!
chitnis7m64 • New Delhi • 2 hours ago
The ships are designed indigenously. Unfortunately the main engines i,e, the Gas Turbine propulsion sy ems are still imported!
这些军舰是自主设计的。可惜主发动机、燃气轮机推进系统仍然是进口的!
soraisam chandrni • 12 • Soraisam • Bengaluru • 2 hours ago
Imphal is the capital of Manipur. Why was it mentioned like a mere city in NE?
英帕尔是曼尼普尔的首府。为什么只提到它是东北的一座城市?
R J Khanna • 3 hours ago
y does it take so much time to construct and nearly 3yo 4 years to make it operational ?
during wwII ships were made from scratch and were commissioned in months with sea trials .
为什么要花这么长时间来建造,而且还要花3到4年的才能服役?
在第二次世界大战期间,从零开始建造,都能在几个月内试航、服役。
Rx J • 9 mins ago
Hahahah modiji build it alone and in just few days. Congrats
哈哈哈,莫迪一个人在几天内就造好了,恭喜。
Ganesh Sk • 88 • Ganesh Sk • 5 hours ago •Follow
There is no denying that Prime Minister Modi and his go nment are good at building things. Appreciate their efforts in the infrastructure field.
不可否认,莫迪总理和他的政府擅长搞建设。赞赏他们在基础设施领域所作的努力。