Land, air or space, we had courage to do surgical strikes: PM Modi
莫迪总理:无论是在陆地、空中还是太空,我们都有勇气进行外科手术式的打击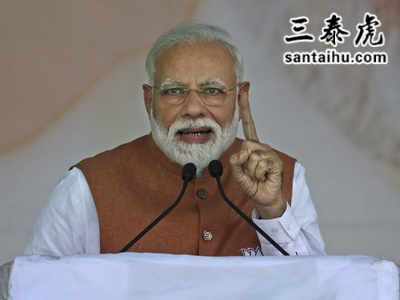 MEERUT/RUDRAPUR: In his first election address after the poll schedule was announced, Prime Minister Narendra Modi launched a scathing attack on the opposition by saying that 'if Congress is removed, poverty will disappear.' He also referred to the success of 'Mission Shakti', saying, "It is this chowkidar's government that had the courage to conduct surgical strikes on land, in air as well as in space."
密拉特/鲁德拉普尔:选举日程公布后,印度总理莫迪在首次竞选演讲中对反对派发起了严厉抨击。莫迪称,如果国大党解散,贫困也会随之消失。莫迪还提到了"沙克提任务"的成功,他说:"本届政府有勇气在陆地、空中和太空进行外科手术式的打击。"
"For four generations, the Congress family has harped on their slogans of 'garibi hatao'. The family continued to grow but the poor remained poor. For 72 years, Congress has backstabbed the poor of this country but now I assure you that your chowkidar, your Prime Minister will not rest till poverty is truly alleviated from the country," Modi said at a rally in Meerut.
莫迪在密鲁特的一次集会上表示:"四代人以来,国大党家族一直在反复强调他们的口号'消除贫困'。其家族资产在不断增长,但穷人仍然贫穷。72年来,国大党一直在背后中伤这个国家的穷人,但现在我向你们保证,你们的"守望者"总理是不会停歇的,直到这个国家的贫困真正得到缓解。"
The PM alleged that "mahamilawat (grand adulteration) leaders are competing with each other as to who will become a hero in Pakistan." "They are all over Pakistani media. People are clap for them. You tell me what does our nation want? A hero of India or of Pakistan?"
莫迪总理声称反对派"大联盟"的领导人正在争当巴基斯坦的英雄。巴基斯坦媒体上都是他们的报道,人们为他们鼓掌。你能告诉我,我们的国家想要什么吗?是印度的英雄,还是巴基斯坦的英雄?"
Referring to the opposition's demand for proof of the Balakot air strikes, the PM said, "Kya humein saboot chahiye ya sapoot chahiye? Mere desh ke sapoot hi mere desh ke sabse bada saboot hai. Jo saboot maangte hain woh sapoot ko lalkaarte hain" (Do we want evidence or do we want our soldiers who are the true children of our country and the biggest evidence? Those who are asking for evidence are challenging the true sons of the nation.")
在提到反对派要求提供巴拉科特空袭证据时,莫迪总理表示:"我们相信证据,还是相信我们的士兵,他们是我们国家真正的孩子,是最大的证据?那些要求证据的人是在质疑这个国家的孩子。"
Taking a jibe at the Congress's poll promise of transferring Rs 72,000 into the bank accounts of the poor every year, the PM said, "Those people who could not open bank accounts for the poor in the last 70 years are promising direct transfer of money into their accounts."
莫迪总理嘲讽国大党的一项竞选承诺,即每年向穷人的银行账户转入7.2万卢比。他说:"过去70年来,那些不为穷人开设银行账户的人正在承诺直接向穷人的账户汇款。"
In his next poll stop at Rudrapur in Udham Singh Nagar district of Uttarakhand, Modi resumed his tirade against Congress by alleging that the party was responsible for corruption, lack of development and migration from villages of Uttarakhand. The PM started his address by greeting the huge crowd that had gathered at the rally venue 'Modi Maidan' (named after the PM) in Kumaoni. Expressing his gratitude for the enormous gathering, he said that everyone who appeared in the rally was a 'Chowkidar'. He asked people to chant after him and complete the sentence, 'Main bhi........Chowkidar'.
莫迪的下一站是位于北阿坎德邦Udham Singh Nagar区的鲁德拉普尔,在那里,他再次发表了对国大党的激烈抨击,声称国大党要为腐败、发展不足以及来自北阿坎德邦村庄的移民负责。莫迪总理在库马奥尼向聚集在集会地点"莫迪广场"(以总理命名)的大量人群致意,开始了他的讲话。他表示参加集会的每个人都是"守望者"。他让人们跟着他一起诵读:"Main bhi……Chowkidar"。
印度时报读者评论:
译文来源:三泰虎 http://www.santaihu.com/47281.html 译者:Jessica.Wu
外文:https://timesofindia.indiatimes.com
Andy - 11 hours ago -Follow
It is out of my comprehension why someone in the right mind would ever like, let alone vote for Congress which has nothing but looted the country to a large part, propagated the culture of corruption; unless have financial or religious interest in having congress( for certain religions, opposing BJP is a decree from their top).
我无法理解,为什么一个头脑正常的人会喜欢国大党,更别提给他们投票了。国大党洗劫了这个国家,滋生了腐败。
Chowkidar Mukesh - 11 hours ago -Follow
Mahatma Gandhi
Sardar Patel
Narendra Modi
India is blessed to have Gujarat and its people!
圣雄甘地
萨达尔·帕特尔
莫迪
有古吉拉特这个邦,有古吉拉特邦的人民,印度真是太幸运了!
arif - 11 hours ago -Follow
Rahul Gandhi is hell bent of strip us middle class by distributing our hard earned money. The guy who has never earned a single paisa on his own comes with all pathetic schemes for votes. His schemes are as laughable as he himself. I wish congress has a sane leader or else he will run it to oblivion!!!
拉胡尔•甘地决心剥削印度中产阶级,把我们辛苦挣来的钱送出去。一个从来没有靠自己赢得过一派萨的家伙,却带着选票计划而来。他的计划和他自己一样可笑。我希望国大党选出一个理智的领导人
Sanjoy Pandey - 9 hours ago -Follow
Ir is surprising that after looting India for over 6 decades by 4 generations, Congress if shouting for another chance.
令人惊讶的是,在历经4代人掠夺印度60多年后,国大党还在喊"再给一次机会"。
Timur - 11 hours ago -Follow
The only strike u conducted is demonitization demonization.....on 130 crore Indians for paying back 200 people bad loan....
你实施的唯一"打击"就是"废钞令",13亿印度人偿还200人的不良贷款…
Shamik Roy - 9 hours ago -Follow
Congress made so many hatricks with "Garibi Hatao", and still able to do it and a significant stupid Indian voters still for Congress. Anyways Modi''s ASAT vs theater set jibe was the good one...LOL. Raga seriously must have confused between the two...
国大党靠"消除贫困"计划忽悠了这么多年,还有相当多愚蠢的印度选民仍然支持国大党。不管怎么说,莫迪的ASAT VS剧场布景的嘲讽很好……哈哈,拉胡尔一定把这两者搞混了……
only facts - 9 hours ago -Follow
After having worked 24/7 and delivered on Jobs/Farm income/toilets/Free houses and Smart cities.
The Ganga water made clean as the Thames in UK.
Modiji must shed hesitation and declare that it was he who created the ISRO/DRDO and IAF in the country.
That nothing exsisted before May 2014 and he it was who created the IAF Academy which gives the nation brave hearts like Abhi.
Modiji has no reason to hold back.
莫迪全天候24小时不间断地工作,为大家带来工作机会,为农民创造收入,为印度人修厕所,为印度人提供免费住房,建设智能城市,让恒河水变得像英国的泰晤士河一样清澈。
莫迪应毫不犹豫地宣布,是他创建了印度空间研究组织,创建了印度国防研究发展组织,建立了印度空军。
正是他创建了印度空军学院。
莫迪没有理由退缩。
Jagjit - 7 hours ago -Follow
shameless PM on the Earth..
地球上的无耻总理…
Ashley King - 9 hours ago -Follow
BJP is contesting elections with a vision of India first while opposition has vision family first. Now Choice is ours.
印度人民党竞选以印度优先为纲领,而反对党则以家庭优先的愿景来竞选。现在选择权在我们手中。
Duck - Canada - 7 hours ago -Follow
Modi's language is exactly like Chai Wala selling tea on railway platforms... shouting bad mouthing every body ..Modi married an under age girl when she was not even 15...
莫迪的口吻就像铁路站台上的卖茶人,只会骂脏话。莫迪娶了一个不到15岁的女孩……
Cool - Punyabhoomi - 7 hours ago -Follow
Chowkidaar allowed pulwama to happen. failure of duty.
莫迪让普尔瓦玛事件发生了,这是失职。
Duck - Canada - 8 hours ago -Follow
Modi is Wolf in sheep's clothing.... He will promise everything will do anything and everything for election win... FEKU election stunt on Pakistan failed and Imran Khan kicked Modi's rear end.......
莫迪是披着羊皮的狼……他将承诺为赢得选举不惜一切代价。莫迪关于巴基斯坦的噱头失败了,伊姆兰·汗踢了莫迪的屁股
Rohit Yadav - 6 hours ago -Follow
The biggest issue is that our country is going towards Civil war. BJP has created hindu vs muslim by creating a fear our mind and telling us that they are our enemy. The fact is our real enemy is poverty, unemployment, lack of development etc which BJP isnt talking about. India's biggest strenght was its UNITY, us being a secular nation which Modi Ji has destroyed it. Time will prevail the truth and it might be too late by then.
最大的问题是我们的国家正走向内战。我们真正的敌人是贫困、失业、发展不力等等,而印度人民党并没有提到这些。印度最大的优势是团结,是一个世俗国家,而莫迪毁了它。时间会证明真理,到那时可能已经太晚了。
Jai Hind - Thane - 6 hours ago -Follow
Yes your very recent surgical strike in Goa is a solid proof of your capabilities
你最近在果阿的外科手术式打击证明了你的能力
Sojo - 7 hours ago -Follow
What nonsense surgical strikes, surgical strikes....don't you have any other development related topics....??? Modi and company don't have anything to show case in 5 years...that's why you are hiding behind surgical strikes and distract the attention....shameless
外科手术式打击,没有任何意义。5年来,莫迪及其政府干没有任何可圈可点的成就…所以要用外科手术打击来转移人们的注意力…无耻
Sudhakar Rao Kantamneni - 8 hours ago -Follow
Modi should talk about promises he made and results he got in last 5 years. Nothing to showcase ?
莫迪应该谈谈过去5年所做的承诺和取得的成果,但是又没什么拿得出手的?
g - Mumbai, Maharashtra - 5 hours ago -Follow
We need jobs.. We need jobs.. We need jobs..
我们需要工作. .我们需要工作. .我们需要工作. .
Hopeless - 6 hours ago -Follow
We have suffered enough for 5yrs and now modi wants to hide the suffering by using the surgical strikes on some pak trees to fool us. Jhoot ki bhi limit hoti hai
我们已经遭受了5年的苦难,莫迪的外科式手术打击就是轰炸巴基斯坦的树木,想用这个来愚弄我们
Elias Ponodath - Pune, Maharashtra - 8 hours ago -Follow
What about the surgical strike on poverty ????
对贫困来一次外科手术式打击怎么样?