US nuclear submarine weak spot in bubble trail: Chinese scientists
中国科学家发现美国核潜艇的弱点
A study published in one of China's most respected peer-reviewed journals suggests that advanced submarines could be detected by exsting technology, a development that would threaten US dominance of the oceans.
The US is widely believed to operate some of the most difficult to detect submarines, with sophisticated acoustic and vibration reduction systems to blend them into the background noises of the ocean.
发表在中国期刊之一上的一项研究表明,现有技术已经可以探测到一流潜艇,或将威胁到美国的海洋霸主地位。
各国普遍认为,美国拥有一批装配了复杂的声学设备和减振系统的潜艇,可以融入海洋的背景噪声中,极难探测到其行踪。
Carl Schuster, a retired US Navy captain and former director of operations at the Pacific Command's Joint Intelligence Centre in Hawaii, told CNN in April that "submarines are one area where the United States retains unchallenged superiority over China".
But the study, by researchers from the Chinese Academy of Sciences' Fujian Institute of Research on the Structure of Matter, found an ultra-sensitive magnetic detector could pick up traces of the most advanced submarine from long distances away.
The team, led by Zou Shengnan, used computer modelling to determine whether it was possible to detect the almost imperceptible bubbles produced by a nuclear-powered submarine cruising at high speed.
美国退役海军上尉、夏威夷太平洋司令部联合情报中心前作战主任卡尔·舒斯特今年4月告诉CNN,"在潜艇领域中,美国对中国保持着无可撼动的优势"。
但中国科学院福建物质结构研究所的研究人员的这项研究发现,一种具有超高灵敏度的磁探测器可以从很远的地方之外探测到这种一流潜艇的痕迹。
由邹胜南(音)领导的研究小组利用计算机建模来确定是否有可能探测到核动力潜艇高速巡航时产生的几乎难以察觉的气泡。
The result "provides a new solution for the detection and tracking of submarines", according to the paper published on August 1 by the Chinese Journal of Ship Research.
The journal is run by the China Ship Scientific Research Centre, which has a long and respected history of cutting-edge developments in ship and ocean engineering.
The researchers calculated that the extremely low frequency (ELF) signal produced by a submarine's bubbles could be stronger than the sensitivities of advanced magnetic anomaly detectors by three to six orders of magnitude.
根据《中国船舶研究杂志》8月1日发表的论文,该结果"为探测和跟踪潜艇提供了一个新的解决方案"。
该杂志由中国船舶科学研究中心主办,该中心在船舶和海洋工程的尖端科技研发方面长期备受推崇。
研究人员计算出,潜艇气泡产生的极低频信号可能比最先进的磁异常探测器的灵敏度更强3到6个数量级。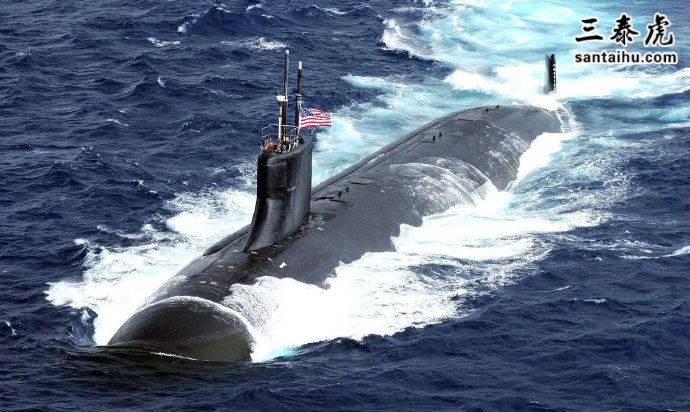 以下是南华早报读者的评论:
David C.
If China wants to keep U.S. ships out of the S. China Sea simply mine the whole area especially the Taiwan Straits.
如果中国想阻止美国船只进入南海地区,只需要在整个南海地区,尤其是台湾海峡布上水雷就行了。
Jeremy A.
At least they're looking out for the US and gave us a heads up that our steatlh subs are close to being detectable and trackable by them..."Well boys, they are onto us!!, back to the drawing board!! or wait I thought our technology for government agencies and military was 30 to 50 years ahead of present time tech???", so today civilians are using technology that was invented and already in use by the government back in the early seventies up till early nineties, if that '30 to '50 years ahead theory is to be believed! It's all smoke and mirrors on smoke and mirrors, layer after layer, pure obfuscation!!!!
至少他们开始提防美国了,我们的潜艇已经快被他们监测跟踪到了…"喂,他们盯上我们了!!等等,我还以为我们的政府机构和军队的技术水平比别人早了三五十年了呢??"如果所谓的三五十年的说法是真的,那么现在的民用技术就是政府在70年代早期至90年代早期就发明并运用的了!这只不过是一层又一层的烟雾弹,纯粹是糊弄人的!!!!
Todd N.
Cavitation noise has always been a problem for propeller driven ships and boats. High speed , and most low speed, propellers turning can be heard by the naked ear under water from miles away, much less by sophisticated sonar equipment. It is one of the main reasons our Ohio Class nuclear missile submarines, at over 160 meters long, spend most of their time underwater at 3- 4 knots. At 150-600 meters down, below the thermocline, they are almost impossible to detect. The Germans have developed propellers that give off far less cavitation than conventional propellers that makes them very difficult to find underwater using passive sonar ( not emitting sound pulses of those doing the hunting.
空化噪声一直是船舶螺旋桨运转时的一大难题。高速和大部分低速运转的螺旋桨声音都可以在几英里外被人耳直接听到,而用精密的声纳设备可以捕捉到更低速运转的螺旋桨声音。这是艇长超过160米的俄亥俄级核导弹潜艇绝大部分时间都藏身水下,以3- 4节的速度航行的主要原因之一。在150-600米的温跃层以下,它们几乎不可能被探测到。德国人已经开发出了比传统螺旋桨空化噪音小得多的新型螺旋桨,可以在水下躲避声纳的探测。
Raptor D.
The PLAN needs plenty of work to make their own subs be more silent. On 12 January 2018, a Type 093A submarine surfaced in the contiguous zone (within 24 nautical miles) off the disputed Senkaku/Diaoyu Islands.According to the Japanese Defense Ministry, a Maritime Self-Defense Force destroyer and P-3C maritime patrol aircraft had been tracking the Chinese submarine since mid-morning on January 10th.73 The best estimate of the submarine's speed was around 5-7 knots.
解放军得努力让自己的潜艇更安静了。2018年1月12日,一艘093A型潜艇在有争议的尖阁列岛/钓鱼岛附近的毗连区(24海里内)浮出水面。据日本防卫省称,自1月10日上午中旬以来,一艘海上自卫队驱逐舰和P-3C海上巡逻机一直在跟踪这艘中国潜艇,潜艇航速最多约5-7节。
KM T.
Theoretical physicists and world scientists are still trying to prove Albert Einstein Theory of Relativity. Chinese scientists are more concerned about catching up to the west.
理论物理学家和世界科学家仍在努力证明爱因斯坦的相对论。中国科学家更在意的是追赶西方的科技水平。
Simon H.
@Km T. Really ? Do you know any names of those people?
@Km T. 真的吗?都有哪些人,你知道吗?
KM T.
Quote - Frontier science, in contrast, refers to scientific ideas that are relatively new and have not yet been supported by years of scientific evidence. Frontier research takes place at the frontiers of knowledge in a particular field.
引用—相比之下,前沿科学指的是相对较新、尚未得到多年科研证据支持的科学观点。前沿研究发生在某一特定领域的知识前沿。
KM T.
It seem that Chinese scientists are more interested in inventions to counter the west. While scientists in the west go on to discover new things about the universe and the galaxy. One example the creation of the James West telescope and the future plan to create one even better.
中国科学家似乎更在意和西方的发明较劲。而西方的科学家则继续研究宇宙和星系的新事物。比如詹姆斯·韦斯特望远镜的发明以及继续打造先进望远镜的计划。
Simon H.
@Km T. How could you draw such conclusion? There are many Chinese science and technology developments not related to military, e.g. Chinese Moon and Mar space projects. Look at your home, how many items are manufactured in China? Stop the ideological nonsense.
@Km T你是如何得出这个结论的呢?中国也有很多科研成果和军事无关,例如中国的月球和火星太空项目。看看你自己的家,有多少商品是中国制造的?别再说这些意识形态的废话。
KM T.
@Simon H. And you have this thinking Chinese "scientists' are responsible for making goods cheaper for you and me. Going to the moon and exploring Mars is like reinventing the wheel or try to make it better. People has done that long before the Chinese think of it. New discoveries are what scientists should be doing. Not discover making your missles or your submarines better to counter your enemies.
@Simon H.你觉得中国"科学家"可以让你我用更低的价格购买商品嘛。登月和火星计划只是重复工作,锦上添花而已。早在中国人想到这一点之前,我们早就成功了。科学家们应该带给世界新发现,而不是让你们的导弹或潜艇能更好地对抗敌人。
Simon H.
@Km T. Is there any medicine for irrelevance?
@Km T 有没有治疗词不达意的药?
Michael Y.
new propeller designs has no cavitation
新的螺旋桨设计就不会有空穴了
Neil B.
Should the announcement be more in the vein of peaceful coexstence and say that the discovery was able to track nuclear submarines without naming a country, thereby hel to tone down the rhetoric between China and the US? In today's world, everyone needs to coexst and help each other as the world is under stress from the huge threat of climate change.
该声明是不是应该秉持和平共处的精神,在不指名道姓的前提下阐述这一发现能够追踪核潜艇,尽量缓和中美关系?当今世界,气候变化的威胁给世界带来了巨大压力,每个人都需要和平共处,相互帮助。
Simon H.
The average depth of Taiwan Strait is about 60+ metres. The USN nuclear powered submarines usually travel at the depth of 300 metres. Therefore, it is not comfortable for them to navigate in the Strait, and easily detected. Do you remember what happened to USS Connecticut in 2021? Those nuclear powered submarines are not good for coastal travel.
台湾海峡的平均水深约为60多米。美国海军的核动力潜艇通常在300米的深度巡航,所以在海峡中缩手缩脚,很容易被发现。你还记得2021年康涅狄格号发生了什么吗?核动力潜艇不适合近海航行。
Ken K.
If I were the Pentagon, I would give an award to the Chinese academy of sciences for increasing my bonus
如果我是五角大楼,我会给中国科学院颁奖,我的奖金又能涨涨了。
True Origins
@Ken K. No bonus. US government is bankrupt.
有个毛奖金。美国政府都破产了。
Dave M.
Does anyone here really believe that the SCMP publishes submarine 'secrets'?
真的有人相信《南华早报》公布的潜艇"秘密"吗?
C C.
@True origins What makes you think JDW is reliable?
是什么让你认为JDW可靠的?
True Origins
@C C. It may not be the most reliable publication in the world, but I would imagine it probably knows more about defense matter than a generic newspaper like SCMP or Times of India.
它也许不是世界上最可靠的出版物,但我觉得它可能比《南华早报》或《印度时报》等报纸更熟悉国防。
Skar**@******
@True origins Remember "intelligence assets" work at most major media
记住,大多数主流媒体都喜欢"情报"
W K.
Whilst the work done by Chinese scientists deserves applause, but is discretion not considered a better part of valour ? If an opponent knows your capabilities, then in all probability the battle is already lost !!
虽然中国科学家的工作确实值得喝彩,但谨慎不也应该是勇敢的一部分吗?如果对手对你的能力一清二楚,那么这场战斗可能就已经失败了!!
Skar**@******
@W K. Remember the USS Connecticut... a lot goes on we don't know
还记得康涅狄格号吗?很多事情我们都不知道呢。
Jeffrey T.
OMG!! China has created another nightmare for the pentagon officials. No wonder they don't like China so much. Cannot sleep peacefully at night.
天啊!中国又给五角大楼官员制造了一个噩梦。难怪他们这么不喜欢中国。晚上都不能睡个安稳觉了。
Ophelia J.
Well, I read the story and hardly understood a word of it.
好吧,我读完报道,但几乎一个字都看不懂。
C C.
@James L. Great analogy. Thanks.
你这个比较真不错。谢谢。
ROBERT P.
@James L. Do you drive a car? How useful is your car if you keep driving it at the seed of a person walking while avoiding acceleration?
你开车吗?如果你一直用步行速度行驶,一直不加速,你的车能有多大用处呢?
James L.
@C C. I have seen the waves created by an ultrasound device, they do appear as though cavities/depressions are formed, but are very small, they then progressively fan out. L
我看过超声波设备产生的水波,确实会形成空穴,但非常小,会呈扇形散开。
Zizi M.
I wonder why Americans wake up daily with China nightmare? Chinese never wake up with a thought of Americans let alone having nightmares of them...
我想知道为什么美国人每天醒来都会遇到中国噩梦?中国人从来不在意美国人,更不用说做噩梦了…
Dave M.
@Anonymous Totally! The days when this forum was a platform for interesting debates are long gone, leaving mainly Party-line stuff nailed to the boards.
简直了!这个论坛以前是一个有趣的讨论平台,这种日子已经一去不复返了,现在大家都只谈党派路线了。