How Good is China's New Type 093B Nuclear Attack Submarine?
中国新型093B型攻击核潜艇有多强
The Type 093B is the latest of the Shang class SSN family. They feature new technology for Chinese submarines, including a VLS vertical launch system and pump-jet propulsor.
093B型是商级攻击型核潜艇家族的最新型号。它们采用了中国潜艇的新技术,包括垂直垂直发射系统和泵喷推进器。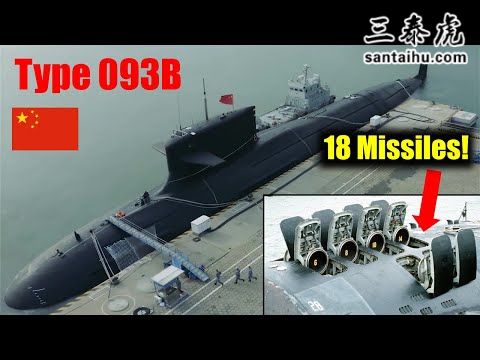 以下是各国网友的评论:
@shmeckle666
All the other flashy large surface combatants are cool and all and get the lime light. But I'm always more interested in China undersea service and it's developments. They certainly keep it all under wraps pretty good. I'm sure they realize just how lethal a potent submarine force is and how important they will play in any actions in the region—especially against the US.
大型水面战舰都很酷,得到了人们的关注。
不过,我对中国的潜艇及其发展更感兴趣,他们把一切都保密得很好。
我确信他们意识到一支强大的潜艇部队是多么致命,他们在该地区的任何行动中都将发挥多么重要的作用——尤其是针对美国的行动。
@ex0duzz
Yeah. With cbinas advancements in drones and remotely operated technology, or even autonomously operating drones(like all China's space missions including mars, far side of moon, automated docking at world record speeds), I too am left wondering just what underwater systems china already has or will come to have in the coming years..
While China might still be behind in big nuclear sub tech, is that what the future will be? Same as nuclear carrier operations. Is that what the future will be? Or will it be smaller, more decentralized and more expendable drones and ships and subs?
China is in a great position currently, since it has not put all its eggs into the nuclear carrier nuclear sub basket like USA has. Basically, USA needs to do that since they are fighting away games 24/7 vs regular and irregular forces, but China just needs to defend itself and it's few choke points vs one adversary. USA. And it's well known to China what USA's capabilities are and what their strategies are. China has been watching and learning and single mindedly focused on countering USA for the most part, as well as Taiwan and any first island chain/SCS scenario.
中国在无人机和远程操作技术上取得进步,甚至有自主操作的无人机(就像中国所有的太空任务,包括探索火星、月球背面),我也想知道中国已经拥有或将在未来几年拥有什么样的水下系统。
虽然中国在大型核潜艇技术方面可能仍然落后,但未来会是这样吗?核动力航母也一样,未来会是这样吗?还是未来会有更小、更分散的无人机、舰船和潜艇?
中国目前处于有利地位,因为它没有像美国那样把所有鸡蛋都放在核航母和核潜艇这个篮子里。美国也需要这样做,他们全球作战,而中国只需要保护自己,面对一个对手,瓶颈少很多。
中国很清楚美国的能力和他们的战略是什么。中国一直在观察和学习,一心一意地对抗美国,关注台湾地区、第一岛链和南海的情况。

@razrose2380
Much like during the Cold War, there is always a dichotomy for NATO. On the one hand, they have to talk up the threat from whichever enemy is currently around to ensure funding but on the other hand, they have to claim their technology is superior so as not to scare the populace. They also have to claim that China, with its one overseas base is more of a threat to global security than America with over 800 overseas bases.
就像冷战时期一样,北约也一直存在着两面性。一方面,他们不得不谈论来自当前敌人的威胁,但另一方面,他们必须声称自己的技术更优越,以免吓到民众。他们还不得不声称,只有一个海外基地的中国对全球安全的威胁,比拥有800多个海外基地的美国更大。
@nostradamus2642
Given the massive expansion of Huludao for some years now, it would make sense that the number of 039B about to be launched would be quite large according to a mass production schedule given the maturity and performance satisfaction of the PLAN and the urgent need to counter the enemies.
考虑到葫芦岛的大规模扩建已经有几年了,以及中国海军的成熟度和性能满意度以及对抗敌人的迫切需要,根据大规模生产计划,即将下水的039B数量将相当大。
@TP-ie3hj
Agreed , in an earlier video he detailed the capacity at the new site, he did not claim they were building it but that the capacity for as many as 20 submarines can be under construction at a time. I would expect another 8 before the 095? Just a wild guess on my part but either way we will see quite a few.
赞同,早些时候,他详细介绍了码头的容量,没有说正在建造,但一次可以容纳多达20艘潜艇。我预计在095之前还有8艘?这只是我的一个大胆猜测,但不管怎样,数量不少。
@douginorlando6260
Yes. Expanded enough to simultaneously build 10 nuke subs. And the rest of China building many times that in non nuke subs. And then there are the undersea drones. Satellite tracking plus long range anti-ship missiles make major surface combatants a thing of the past if push comes to shove.
是的,扩展到可以同时建造10艘核潜艇。中国其他地方建造的非核潜艇数量是美国的很多倍,然后是水下无人机。如果事态发展到紧要关头,卫星跟踪加上远程反舰导弹,能彻底淘汰大型水面战舰
@phils4634
Any thoughts on active (i.e. electronic) noise suppression? That would certainly be a major advantage for any submarine fleet, and the technology has been around for a while now.
主动(即电子)噪声抑制呢?对于任何潜艇舰队来说,这肯定是一个主要优势,而且这项技术已经存在一段时间了。
@madsam0320
Noise cancelling devices fore and aft of jet propulsor.
Vibration cancelling platform for nuclear generator.
All electric drives.
喷气推进器前后消声装置。
核动力发电机消振平台。
全电动驱动。
@AbHarians
At first it was planned to be called type 095 but later cancelled and was decided to be called 093B.
It was said 095 is still waiting the mini thorium reactor matured.
The advantage of mini thorium reactor compared to uranium water reactor is their weight and size. Thorium reactor has much smaller size and more simple maintenance but with the same power generation. It's also saves more spaces inside the hull and bring more empty spaces for armament addition.
起初计划命名为095型,但后来取消并决定命名为093B。
据说095还在等待小型钍反应堆的成熟。
与铀水反应堆相比,小型钍反应堆的优势在于重量和体积。钍反应堆体积更小,维护更简单,但发电量相同。它还节省了更多的船体内部空间,并可以搭载更多武器
@douginorlando6260
Considering how easy it is to track and sink surface ships with satellites and long range anti ship missiles, I won't be surprised if subs are developed to transport volumes of key military equipment to bases and nations under threat of embargo (and for supporting amphibious invasion operations)
考虑到用卫星和远程反舰导弹跟踪和击沉水面舰艇非常容易,如果研发潜艇用来运输大量关键军事装备到基地和受到禁运威胁的国家,我不会感到惊讶。
@melfilipe3934
We are waiting also for SSBN Type 94B with Pump Jet , the PLAN will release version B for SSN and SSBN before their SSN/SSBN Type 95 and Type 96,
我们也在等待94B型核潜艇,计划将在SSN/SSBN 95型和96型之前发布B型
@sydneystout4003
Using USN phraseology: w/o the auxliary diesel generators, the sub will have no back up in case of its NP propulsion plant casualty. IMO, it's doubtful they'll eliminate it from the design.
用美国海军的话说:如果没有辅助柴油发电机,潜艇将没有后备动力,以防其NP推进装置发生事故。在我看来,他们是否会把它从设计中去掉是值得怀疑的。
@gelinrefira
Every iteration that China built, they get closer to western subs standards. It means the west will have to put in more effort to get an edge over China's technological assets. As long as China is still making progress catching up, it will eventually catch up to western standards. But the west does not have China's industrial capacity, so in a near peer playing field, China will just out build the west.
The trend is clear, China has already caught up in many areas and surpassing the west and is catching up in other areas. But it does not mean the west can catch up to China for areas that they are losing ground. Hypersonics, AI are just a couple of areas we know that the west has already been left behind by China and they are not catching up, even the US. We are seeing that every time the US manages to catch up to one aspect of hypersonic weaponry, China is already introducing a new form of hypersonic weaponry like hypersonic drones for recon and attack.
Only those still living in the western media bubble cannot see this trend. Or else, they will all be shitting their pants.
中国潜艇的每一次迭代,都更接近西方的潜艇标准。这意味着西方将不得不付出更多努力,以获得对中国技术资产的优势。
只要中国仍在迎头赶上,最终会赶上西方的标准。
但西方没有中国的工业能力,所以在一个近乎对等的竞争环境中,中国只会超过西方。
趋势很明显,中国已经在许多领域赶上并超过了西方,在其他领域也在迎头赶上。但这并不意味着西方可以在自己正在失去优势的领域赶上中国。
高超音速、人工智能只是我们知道的西方已经被中国甩在后面的几个领域,他们没有赶上中国,即使是美国也没有赶上。
我们看到,每当美国设法赶上中国高超音速武器,中国就会推出一种新形式的高超音速武器,比如用于侦察和攻击的高超音速无人机。
只有那些仍然生活在西方媒体泡沫中的人,才看不到这种趋势。否则,他们会吓得尿裤子的。
@gyasiansa3358
When did China surpassed america in AI. U talk like u know everything in this world
中国什么时候在人工智能领域超过了美国?你说话的口气好像你什么都知道似的
@thetreekeeper143
You don't need the most advanced vehicles to win. Something that is too advanced will be very difficult to repair and cost too much to fix. Something that is cost effective to repair can be more useful.
你不需要最先进的车来赢得比赛。太先进的东西很难修理,而且修理成本太高。维修成本低的东西可能更有用。
kentriat2426
they forget that China will return over 2,000 deep ocean going trawlers into the South China SeaThere sonar equipment will be reading the ocean floor against known sea bed detail from previous scans making it impossible to get submarines into the ship lanes being used by the invasion force. This will cause big problems for the US navy.
他们忘了中国将把2000多艘深海拖网渔船送回南海,声纳设备将根据之前扫描的海底细节读取海底情况,使潜艇不可能进入入侵部队使用的航道。这将给美国海军带来大麻烦。
@chrome505
That's a nice bit of propaganda.
这是一个很好的宣传。
@yeokokkiong2919
Whether it is ' GOOD ' enough, it is not for them or us to say, it can only be seen when war break out.
它是否足够"好",这不是他们或我们说的,只有当战争爆发时才能见分晓。
@timothyseeger5296
China has come further in 20 years than the US has in 200
Bravo for this Achievement
中国在20年内取得的进步超过了美国在2000年取得的进步
为这一成就喝彩!
@alexho7640
093B has no VLS like US nuclear submarines.
093B没有像美国核潜艇那样的垂直起降系统。
@JD-dm1uj
I believe the Type 093B is still inferior to even an improved LA Class, let alone other more capable platforms the US has.
我认为093B型仍然不如改进的洛杉矶级,更不用说美国拥有的其他更强大的潜艇了。
@johnsmith1953x
Maybe, but PLAN is continually improving their design by the hour.
They are sooo fast.
也许吧,但是中国海军在不断改进他们的设计,他们太快了。
@taiwanstillisntacountry
Who kicked the UN-FORCES out of North-Korea with the poorest army at that moment in time?
是谁在那个时候靠小米加步枪,把"联合国军"赶出了朝鲜?
@xnyiquan666
stop NS, US can not even build a train faster than 3 cm per day, let alone good sub, 039b will be 100 year ahead any out dated US sub
别说了,美国连快一点的火车都造不出来,更别说好的潜艇了。093B将比过时的美国潜艇领先100年
@papatango2362
I think this submarine is a bit overhyped. I really doubt that it is as capable as Seawolf, Virginia (all blocks), or Sverodivinsk class. Maybe the best it can hope for is slightly better than Los Angeles Flight3 (688I). Keep in mind the first 688I was commissioned in 1988
我觉得这艘潜艇有点炒作了。我真的怀疑它的能力是否能与海狼、弗吉尼亚(全各版本)或Sverodivinsk级相比。也许它所能期待的最好结果是比洛杉矶级Flight III (688I)稍好一点。记住,第一艘688I是在1988年服役的
@whiteshark450
The US definitely has the edge in submarine tech but to be fair. Making good subs is extremely hard and only a handful of countries can make proper ones. That said, China is playing the catch up so it can use US designs and russian designs as groundwork to progress. So it won't be long before they catch the US and Russia in sub tech.
美国在潜艇技术上绝对有优势,但公平地说,制造好的潜艇是非常困难的,只有少数国家能制造出好的潜艇。也就是说,中国正在追赶,这样它就可以利用美国和俄罗斯的设计作为进步的基础。所以用不了多久,他们就会在潜艇技术上赶上美国和俄罗斯。
@raymondtay3532
093B China Sub Very, very good better than US Sub.
中国093B潜艇非常非常好,比美国潜艇好。
@gyasiansa3358
In your dreams
在你的梦里
@vhtriyok
The sub sounds like someone is beating on a DRUM loudly whenever it goes under water. I'm here!!
潜艇每次潜入水下时,听起来就像是有人在大声敲鼓,说我在这儿。
@fdjw88
Carriers are a waste of money, nuclear subs are the real deal.
航母是浪费钱,核潜艇才是货真价实的。