Why is Vietnam still poor?
为什么越南现在还很穷?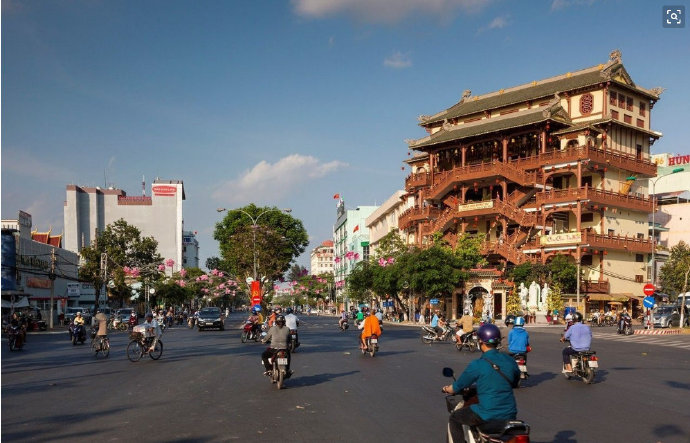 以下是Quora网友的评论:
Edward Kenway
I'm Chinese, I went to Vietnam for 2 times. I discover a very interesting thing
vietnam GDP per capita is about 3000USD now, in this level we got mongolia, India, Indonesia and Philippine
But if you have been to vietnam, you will realize that vietnam is the best among them
我是中国人,我去过越南两次。我发现了一件非常有趣的事。
越南的人均GDP现在大约是3000美元,和蒙古、印度、印度尼西亚和菲律宾差不多
但如果你去过越南,你会发现越南是这几个国家中最好的。
At least in vietnam, i've never seen any extreme poor people in vietnam who are totally homeless. Lots of extreme poor people you can find in India and Phlipine, but in vietnam most people just live in a way "not rich but still acceptable"
and also, the education and the medical level, vietnam always does the best among them
至少在越南,我从未见过穷人流落街头。在印度和菲律宾能看到很多非常贫困的人,但越南大多数民众的生活虽然"不大富裕,但也还过得去"。
此外,越南的教育和医疗水平一直都是这些国家中最好的。
The problem of vietnamese economy now is mainly about industrial system
vietnam was an agricultural country, and doesn't have a comlete industrial system. Japan built its industrial system before WW2, Korea because of US support, and China by USSR support. All of eastern asian countries got complete industrial system, which can help us develop our own technology and find our own way to walk as an independent industry nation
While Vietnam doesn't have this condition
现在越南经济的问题主要集中在工业体系。
越南是一个农业国家,没有完整的工业体系。日本在二战前就搭建了自己的工业体系,韩国有美国的支持,中国有苏联的支持下。东亚所有国家都拥有完整的工业体系,这可以帮助我们发展自己的技术,找到独立自主的工业国家发展之路。
可越南没有这个条件。
You can see after the political conflict between Japan and China in 2013, many japanese companies left china to build their factories in vietnam. Western countries and korea also invested a lot in vietnam, and vietnam has become one of the largest world factory because of low labour costs. You can find lots of goods in the market, once made in china or made in S korea, now made in vietnam.
And now 7 years passed, the earning per capita of vietnam is still low, only $3000
2013年中日政治冲突发生之后,许多日本企业撤离中国,到越南建厂。因为越南的劳动力成本低,西方国家和韩国也在越南投入了大量资金,越南因此成了最大的世界工厂之一。你在市场上会看到很多商品曾经是中国制造和韩国制造,现在都变成越南制造了。
现在7年过去了,越南的人均GDP仍然很低,只有3000美元。
Because all the profits were taken by foreign companies, cuz they own the core technology. Vietnam still hasn't learnt anything from them and start their own manufacturer.
By manufacturing Ford and Benz, now japan got honda and nissan. By working for simens and edison, korea got sumsang and L. by letting Apple set facotries in Canton, now china got Huawei, iaomi.
这是因为所有的利润都被外国企业拿走了,他们才真正拥有核心技术。越南没能从他们身上学到本领,创建自己的工厂。
日本正因为代工福特和奔驰骑车,才有了本田和日产。韩国通过为西门子和艾迪森代工,成立了三星和L。中国允许苹果在广州设厂,现在推出了华为和小米。
Vietnam does not have his own industrial system, that's why you could regard vietnam as the sacrifice of the globalization which is under western rule now
But I'm sure if Vietnam can establish their own complete industrial system and find his own role in world economy, Vietnam could become an economy far much bigger than Taiwan and South Korea, almost similar to japan.
越南没有自己的工业体系,因此你可以把越南看作是西方统治下的全球化的牺牲品。
但我相信,如果越南能够搭建起属于自己的完整工业体系,并在世界经济舞台中找到自己的角色,越南的经济规模将远远超过台湾和韩国,追上日本。
almost 100 million hardworking and clever people (4times more than Taiwan and 2 times more than South Korea), good international political environment (no hostile enemies as North Korea to South Korea, China is a threat but also a partner, good relations with western world), enough resources from South China Sea.
Vietnam is definelty the most potential country in this world
越南有近1亿勤劳聪明的人口(比中国台湾多4倍,比韩国多2倍),良好的国际政治环境(不像韩国有朝鲜这么一个敌对国,中国确实是个威胁,但同时也是个合作伙伴,与西方世界关系良好),在南海地区拥有充足的资源。
越南绝对是世界上最有潜力的国家
PS: some comments wrote that Vietnam got problem of heavy corruption. It's just common in almost all the develo countries. To 1980–1990 for South Korea and 10 years ago, human right and corruption were also a big problem. The political governance could get reform from economical development with the upgrade of production relations.
PS:有些评论说越南腐败问题十分严重。几乎所有的发展中国家都普遍存在这个问题。10年前的1980 ~ 1990年,韩国的人 权和腐败还是一个大问题呢。随着生产关系的升级,政治治理可以随着经济的发展完成变革。
Wares of the World
Why are Vietnamese working so hard, but Vietnam is still so poor? I believe this is a question of many people.
However, in terms of lifestyle, I think Vietnam is actually closer to Southeast Asian countries, such as Thailand. People like a slow pace of life and want to spend a lot of time with their families. I don't think Vietnamese are lazy, but most people "work for the sake of living". They usually do not "live for work". I saw on a self-media platform in China that a Chinese boss opened several factories in Vietnam and complained that Vietnamese workers do not work so hard and are difficult to control.
为什么越南人这么努力工作,越南还这么穷?我相信这是很多人的问题。
不过,就生活方式而言,我认为越南更接近泰国等东南亚国家。越南人喜欢慢节奏的生活,喜欢花时间陪伴家人。我不是说越南人懒,但大多数越南人是"为了生活而工作",通常不会"为了工作而生活"。我在中国自媒体平台上看到一个中国老板在越南开了几家工厂,他抱怨越南工人工作不努力,很难管理。
You know, Chinese workers are very disciplined and usually work long hours, even if this is really not something to brag about. When I work, my colleagues can stay at the company for four days without going home. They usually sleep for a while at the desk and continue to work when they are busy. It sounds really incredible.
你知道的,中国工人非常自律,工作时间很长,虽然这真的不是什么值得吹嘘的事情。我同事就可以在公司呆上四天不回家。他们累了就趴在办公桌上眯一会儿,忙的时候马上继续干活。听起来真的很不可思议。
In the 19th century, the feudal monarchy of Vietnam used modern China as an example to resist all contact and influence from the West. This stubborn and naive stance makes the country lag far behind the most advanced countries in terms of society, economy and technology. When the late modernists (Japan, Russia) adopted many Western approaches in order to maintain their independence, China and Vietnam could easily fall victim to the imperialist powers.
在19世纪,越南的封建君主制效仿现代中国,抵制西方国家的一切接触和影响。这种偏执和幼稚的立场使这个国家在社会、经济和技术方面远远落后。日本、俄罗斯为了保持独立向西方学习,中国和越南则很快沦为帝国主义列强的牺牲品。
Therefore, Vietnam was finally colonized by France. Colonists are generally bad, but they do it differently. For example, the British are not benevolent rulers, but through the development of public institutions and infrastructure, they have laid a good foundation for the future modernization of Malaysia and Singapore. The French colonial rule of Vietnam in 1870-1945 was almost entirely concentrated on the extraction of raw materials, and its contribution to the development of Vietnam was almost zero.
于是越南沦为法国的殖民地。殖民者通常都不是好人,但殖民者的行事方式也大不相同。例如,英国人不算仁慈,但他们推动公共机构和基础设施的发展,为马来西亚和新加坡未来的现代化奠定了良好的基础。可从1870年到1945年,法国对越南的殖民统治几乎完全集中在原材料的开采上,对越南发展的贡献几乎为零。
Thirty years of war (1945-75) resulted in the massive loss of opportunities for Vietnam to resume economic development in the early post-colonial era, not to mention the terrible material damage and loss of life in the country.
It was not until the 1990s that Vietnam began to open up. At that time, Vietnam's economy was already impoverished. At the same time, China has established some solid industrial infrastructure and joined the global manufacturing supply chain.
持续了三十年的战争(1945- 1975)不仅导致越南在后殖民时代初期丧失了恢复经济发展的大好机会,更给国家带来了可怕的物质损失和生命损失。
直到20世纪90年代,越南才开始对外开放。当时,越南的经济已经穷困潦倒。与此同时,中国已经建立了稳固的工业基础设施,并加入了全球制造业供应链。
After opening up, Vietnam has achieved some economic growth. However, macroeconomic policies have been poorly managed in several aspects, leading to periods of high inflation, high public debt, trade deficits, currency fluctuations and asset bubbles. Slow progress in improving state-owned enterprises has weakened Vietnamese efforts to increase productivity.
改革开放后,越南取得了一定的经济增长成就。但越南的宏观经济政策管理不善,导致了严重的通货膨胀、公共债务、贸易赤字、货币波动和资产泡沫等问题。越南在国有企业改制方面进展缓慢,削弱了越南提高生产率的努力。
Vietnam's approach to infrastructure development is chaotic and unsystematic. Vietnam's resources are not concentrated on a few large-scale projects that can bring "value for money", but are scattered on many small development projects, which do not bring great economic value (small airports far away from economic activity areas, Seaports, roads and oil refineries).
In addition to the above, there are various related problems such as the poor higher education system and the brain drain, which are the reasons why Vietnam still poor.
越南的基础设施发展也混乱无序。越南的资源并没有集中在少数高回报率的大型项目上,而是分散在众多小型开发项目上,这些项目无法带来很大的经济价值(远离经济活跃地区的小型机场、海港、道路和炼油厂)。
除此之外,其他若干相关问题,如高等教育体系不完善和人才流失等,也是越南依然贫困的原因。
Bao Nguyen
Vietnam was officially unified in 1975, after decades of war that destroyed the country. Industry and services were nonexstent, and agricultural output was poor. Everything had to be provided by the USSR and China.
Immediately after the fall of Saigon, the US imposed a trade embargo on Vietnam, further worsening the already destroyed economy. In 1978, Vietnam signed an alliance pact with the USSR, infuriating and alienating China. (At this time China and the USSR were bitter rivals instead of allies)
经过几十年的战争,越南于1975年正式统一。工业和服务业毫无基础,农业产出很低。一切都靠苏联和中国帮助。
西贡沦陷后,美国立即对越南实施贸易禁运,进一步恶化了已经遭到破坏的经济。1978年,越南与苏联签署了联盟条约,激怒并疏远了中国(当时中国和苏联已经反目成仇)。
In 1978, Vietnam invaded Cambodia, officially in retaliation of border attacks by Khmer Rouge forces. China and the US condemned Vietnam for its action. China then invaded Vietnam in 1979 to test the Vietnam-USSR alliance. When they withdrew, their forces destroyed all of the infrastructure and industry in the regions they occupied. For the next decade, China continuously made border attacks and artillery strikes, forcing Vietnam to allocate troops to defend the border. Coupled with having to support the occupation troops in Cambodia, Vietnam had no funds to invest in the economy.
1978年,越南入侵柬埔寨,报复红色高棉军队对边境的袭击。中国和美国谴责越南的行为。1979年,中国发动对越反击战,试探越苏联盟的稳固性。撤退时,中国的部队摧毁了占领区内的所有基础设施和工厂。在接下来的十年里,中国不断对越南进行边境攻击和炮击,迫使越南调拨军队保卫边境。再加上为占领柬埔寨的军队提供补给,越南无力发展经济。
In 1986, an economic reform was initiated, pushing towards a free market economy. Needless to say, the economy boomed as a result. The US embargo was lifted in 1994 by president Bill Clinton. In 1995, full diplomatic relations with the US was established, and Vietnam joined ASEAN. In 2007, Vietnam joined WTO.
1986年,越南开始经济改革,推动自由市场经济,经济因此繁荣起来。1994年,美国总统比尔·克林顿解除了对越南的禁运。1995年,越南与美国建立全面外交关系,并加入东盟。2007年,越南加入世界贸易组织。
The results of 30 years of development:
30年发展的成果:
In 1985, Vietnam's GDP was 14 billion $. In 2017, 223 billion (Worldbank), a staggering growth. And Vietnam is still develo at a breakneck rate. Our country started late, but we are trying our best to catch up. Yes we are still poor, but not so much. If you come here, you will find an exciting country bustling with the spirit of entrepreneurship. That vegetable seller on the street? Do not underestimate her, she might have more money in her bank account than you!
1985年,越南的GDP是140亿美元,而2017年就达到了2230亿美元(世界银行),成就惊人。越南仍在高速发展。我们起步较晚,但我们正在努力迎头赶上。没错,我们现在是很穷,但已经比之前好多了。如果你来越南,会发现这是一个充满创业精神的国家。看到街上那个卖蔬菜的人了吗?千万别小看她,她银行账户里的钱可能比你还多!
Let me tell you a true story:
When I was small, our neighbor was a scrap metal dealer. She went on her bicycle everyday to collect cans, old pots, and bits of metal to sell to the steel plant nearby.
Today, she owns 4 steel mills, producing a million tons of steel every year.
我跟你们说一个真实的故事吧:
我小时候,邻居住着一个金属回收贩。她每天踩着自行车四处回收罐头、旧罐子和金属碎片,卖给附近的钢铁厂。
如今,她名下已有4家钢铁厂,每年能生产100万吨钢铁。