Common cold vir s saved lives in India
普通感冒病毒拯救了印度人的生命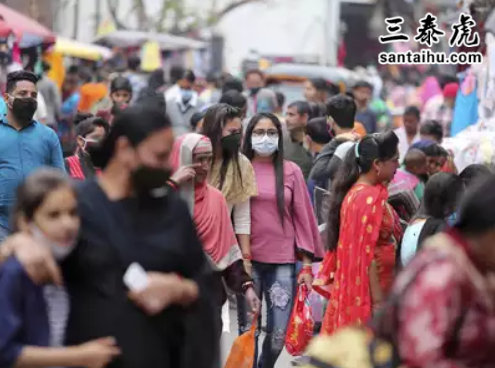 NEW DELHI: One of the biggest mysteries of the Covid-19 infection in India relative to other countries like the US and UK has been the lower mortality recorded in India.
新德里:与美国、英国等其他国家相比,印度新冠感染的最大谜团之一是印度的死亡率较低。
An explanation has been posited in a study carried out by scientists of National Institute of Immunology and AIIMS and published in Frontiers in Immunology, a top-rated medical journal.
一项由美国国家免疫学研究所和全印度医学研究所的科学家进行的研究中给出了一种解释,并发表在顶级医学杂志《免疫学前沿》上。
The researchers found that 66% of blood and plasma samples collected in pre-Covid times from the individuals with no history of exposure to the coronavir s had high frequency of CD4+T cells that responded robustly to the non-spike domain of SARS-CoV-2, the vir s that causes Covid-19.
研究人员发现,在新冠爆发前收集的、从无冠状病毒暴露史的个体中采集的血液和血浆样本中,66%的CD4+T细胞频率较高,这些细胞对导致新冠的SARS-CoV-2病毒的非spike结构域有强烈反应。
More importantly, there were at least 21% samples of unexposed healthy donors that responded to the SARS-CoV-2 spike prein.
更重要的是,至少有21%的未暴露的健康供体样本对SARS-CoV-2 spike蛋白有反应。
"The presence of T cells that are responsive to SARS-CoV-2 spike prein and non-spike prein in persons who have never been exposed to Covid could be because of exposure to other coronavir ses that cause the common cold," expned Dr Ashok Sharma, associate professor, department of biochemistry, AIIMS.
"从未接触过冠状病毒的人体内存在对SARS-CoV-2spike蛋白和非spike蛋白有反应的T细胞,这可能是因为接触了导致普通感冒的其他冠状病毒,"全科医学生物化学副教授Ashok Sharma博士解释道。
According to Dr Nimesh Gupta, lead author of the study and head of the vaccine immunology division at NII, the cross-reactive T cells from coronavir ses that cause common cold may not prect from Covid infection, but by responding to the SARS-CoV-2 prein, they may limit the severity of the disease.
Nimesh Gupta博士是这项研究的第一作者,也是NII疫苗免疫学部门的负责人。他说,引起普通感冒的冠状病毒的交叉反应T细胞可能无法抵御新冠感染,但通过对SARS-CoV-2蛋白做出反应,或能限制疾病的严重程度。
The authors concluded in the study that the cross-reactive CD4+ T cells might not be implicated in solely terminating the viral infection, but they might limit the vir s burden and reduce the course of symptomatic infection leading to lower in dence of severe disease.
作者在该研究中得出结论,交叉反应性CD4+ T细胞可能并不仅仅与终止病毒感染有关,但它们可能限制病毒活性,减少症状性感染的过程,从而降低重症的发生率。
Dr N K Mehra, emeritus scientist and former dean of AIIMS, said that the mortality rate of Covid in India is less than 1.5% when in countries such as the US, it is above 3%.
印度传染病研究所名誉科学家、前院长N K Mehra博士表示,印度的新冠肺炎死亡率低于1.5%,而美国等国家的死亡率高于3%。
"In Meco, the Covid mortality rate is above 10%," he added.
"在墨西哥,新冠死亡率超过10%,"他补充说。
Mehra said previous exposure to coronavir ses that cause the common cold was certainly one of the reasons behind the lower mortality rate in India.
Mehra说,之前接触过导致普通感冒的冠状病毒,这肯定是印度死亡率较低的原因之一。
印度时报读者的评论: 译者:Jessica.Wu
Mahuya Chatterjee
Looks like Maharashtrians and Punjabis don't suffer from the common cold which is why the mortality rate is highest in these two states.
看来马哈拉施特拉邦和旁遮普邦的人都没得过普通感冒,所以这两个邦的死亡率最高。
Rohit Panchal
another report to save the go nment from its real failures
又一篇掩盖印度政府抗疫失败的报道
Ramesh Sargam
Most of the Indians prefer home made foods than packed restaurant foods. Home made foods are prepared with care which improves immunity in one. Whereas the packed foods contains 'unwanted' stuff which create more problem to those eat it regularly and such foods have absolutely no immunity strength.
大多数印度人喜欢吃家里做的饭菜,而不是餐馆里打包的外卖。家里的饭菜精心制作,可提高免疫力。而包装食品中含有"有害的"东西,那些经常在外面吃的人更容易吃出问题,吃这样的食物绝对不能提高免疫力。
Vincent Rajkumar
We have been dealing with more vir ses than all formats put together is one of the reasons, be it vir ses in water, air, etc etc.
我们接触的病毒多,这是原因之一,不管是水里的病毒,还是空气里的病毒等等。
mseham
still there is no scope for any complacency . public must scrupulously follow medical norms .
然而,我们没有任何自满的余地。公众还是必须严格遵守防疫规范。
Hari Kiran
Another reason is under counting. Did the study consider it
另一个原因是印度少报数量。这项研究考虑过这一点吗?
avijit hi
Due to the timely alertness of Modiji's Gt.
多亏了莫迪政府及时提高警惕。
Baba Vickram
The Indian diet has a lot of tumeric and antiodants from spices. Compare this to a Western diet devoid of this on a regular basis. This also is a factor.
印度人的饮食中有很多来自香料的姜黄和抗氧化剂。相比之下,西方饮食缺乏这些。这也是一个原因。
Chalu Pande
it's art of hiding data.. when my father died there was another more than 10 people died in same hospital. but go nment was reporting only 5 death in entire city with population of 55 lakh. the real number was more than 100 death that day
主要是因为印度隐瞒真实数据。我父亲去世的时候,在同一家医院有10多个人死亡。而政府报告,整个城市550万人口中只有5人死亡。当天的实际死亡人数超过100人!
Syed Shimar
Mystery: reduced testing which expns the antibodies in many people , Nd reduced reporting Of the death eg: covid patient death reported as death due to cardiac arrest or respiratory failure( which was due to Covid)
谜底:减少了检测,很多人体内产生了抗体,更改死亡报告,例如:将新冠患者死亡原因改为心脏骤停或呼吸衰竭(实际上是新冠肺炎致死的)
Me Ghnad
Lo Mortality . . . Is it directly proportional to under reporting ?!
低死亡率,这和瞒报数量有关吧?
nav
Earlier they reported it was due to the way modi handled pandemic now they are saying it is due to T cells
早些时候,他们报道说这归功于莫迪控制疫情得力,现在他们说这是T细胞的功劳
Sujay Desai
Here is the mystery. COVID IS A HOAX.
谜底就是:新冠是一个骗局。
Mike Sheth
Mortality rate may be low but any family hit with covid19'in India faced financial ruin in form of hospital bills, fake treatments!
印度的死亡率可能很低,但受新冠打击的家庭都面临着医院账单造成的沉重负担,或导致破产!
Sujit Singh
Day to day eating habits which we inherited from our ancestor since ages is better than west.
我们世世代代从祖先那里继承下来的日常饮食惯比西方健康。
Anonymous Delhite
This is all because of Modi Ji's policies. Scientists will find a way to expn everything but it is clear that Indians are saved by Modi ji.
这归功于莫迪的政策。很明显,印度人是莫迪救的。
Rajesh Srivastava
Some morons have not seen the completely wiped off sections of western cities. Don't laugh India has been very fortunate. Either our DNA or something else has saved us from those scenes. Experts on CNN last July cmed as much as 40-50 million deaths in India.
一些白痴还没看到一些西方城市被毁了。印度是非常幸运的。要么是我们的DNA,要么是其他什么东西拯救了我们。去年7月,CNN的专家称印度死亡人数高达4000万至5000万。