HAL to provide IAF with 83 Tejas fighters in Rs 39k cr deal
印度斯坦航空公司将向印度空军造83架"光辉"战机,价值3900亿卢比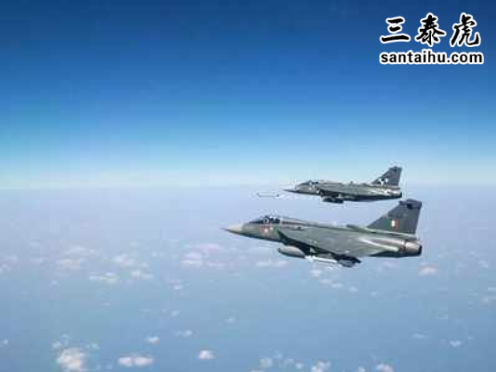 NEW DELHI: The biggest deal in the indigenous military aviation sector has been finalised, with the overall cost of IAF acquiring 83 single-engine Tejas fighters and their support package from defence PSU Hindustan Aeronautics Limited (HAL) being slashed from the earlier around Rs 56,500 crore to Rs 39,000 crore.
新德里:印度本土军事航空部门最大的一笔交易已经敲定,印度空军将从印度斯坦航空有限公司(HAL)购买83架单引擎"光辉"战机,总成本从早先的5650亿卢比削减至3900亿卢比。
The over Rs 17,000 crore reduction in overall cost has come after hard-nosed negotiations spread over a year. The defence ministry and IAF were initially shocked at the "exorbitant price" being demanded by HAL to produce the 83 Tejas Mark-1A jets along with the maintenance and infrastructure package.
经过一年多的谈判,总成本削减了1700亿卢比。最初印度国防部和印度空军对HAL生产83架"光辉" Mark-1A并提供维护和基础设施包的总价格感到震惊,认为要价过高。
"With the contract price now settled at Rs 39,000 crore, the procurement file is being sent to the Cabinet Committee on Security for final nod. It should be cleared before this fiscal ends on March 31. Once the contract is inked, HAL promises to begin deliveries of the Mark-1A jets in three years," said a source.
合同价格现在定在3900亿卢比,采购文件已发送至内阁安全委员会进行最后的审批。在本财年于3月31日结束之前,这一交易应该能确定。一旦签署合同,HAL承诺在三年内开始交付"光辉"Mark-1A。
It was in November 2016 that the Defence Acquisitions Council had first approved the procurement of 83 Tejas jets at a cost of Rs 49,797 crore. But HAL had responded with a quote of around Rs 56,500 crore, which led to protracted cost negotiations. "HAL, for instance, was even charging profit on imported components. Item by item, the cost was brought down. IAF also cut down some of its support requirements," said the source.
2016年11月,印度国防采购委员会首次批准采购83架光辉战机,成本为4979.7亿卢比。但HAL的要价是5650亿卢比,这导致了旷日持久的价格谈判。HAL甚至对进口部件收取利润。之后成本逐项降低,印度空军也减少了一些支持需求。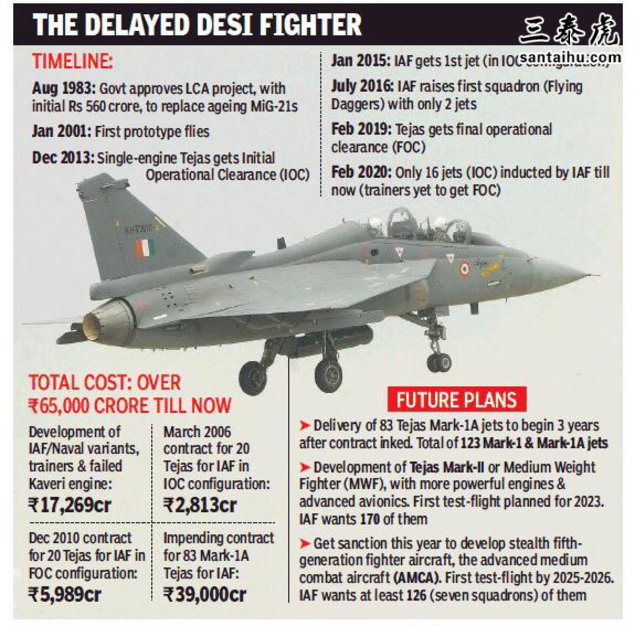 Down to just 30 fighter squadrons (each has 18 jets) when at least 42 are required for the requisite deterrence against Pakistan and , the IAF is banking upon the long-delayed light combat aircraft Tejas to make up the free fall in numbers.
印度空军至少需要42架战机才能震慑巴基斯坦和,但印度空军的战斗机中队已减少到30(每个中队有18架战机),印度空军寄望于拖延已久的"光辉"战机来弥补战机数量的大幅减少。
The first four Rafale fighters will touch down at Ambala airbase in May, with the remaining 32 following in batches by April 2022 under the Rs 59,000 crore deal inked with France in September 2016. But the slow production rate of the home-grown Tejas fighters by HAL, much like its protracted development saga, remains a major concern for IAF.
根据2016年9月与法国签署的5900亿卢比的协议,首批4架"阵风"战机将于5月在安巴拉空军基地着陆,其余32架将在2022年4月前分批抵达。但是HAL负责的国产"光辉"战机的生产速度缓慢,就像其漫长的研发历程一样,这仍然是印度空军的主要担忧。
印度时报读者的评论:
译文来源:三泰虎 http://www.santaihu.com/49339.html 译者:Jessica.Wu
Richard • 13 hours ago
Congress is past...I see the changes...thankyou modiji
国大党已经成为过去式了……我看到了变化……感谢莫迪
Vishal Vishwakarma • India • 13 hours ago
Good news indeed!
While replenishing the jets inventory , India should focus on innovation and produce the most advance fighter jets to give competiton to their biggest competitors.
确实是个好消息!
在补充战机库存的同时,印度应该注重创新,生产最先进的战机,与最强的竞争对手展开竞争。
Posttokrish • 10 hours ago
Congress and left parties now planning on how to damage this deal.
国大党和左翼党派正在计划搅黄这笔交易。
Anthony Dinozzo Jr • 10 hours ago
Our tax money put to great use. Not just highways or Train 18, even our indigenious defence planes are being developed. Pappu should be aware that we do not support scams and scamsters.
我们的税款用在了实处,不仅建了高速公路、火车,也研制出了国产战机。
Ramesh T M • Bangalore • 10 hours ago
IAF should be stern with HAL as many of the costs are due to lethargy & can be reduced.
印度空军应该对印度斯坦航空公司要求严格一点,许多费用是可以减少的,都是由于工作懒散造成的。
Harj Ghuman • 12 hours ago
Three years to produce the first aircraft? That is ridicules!
3年才开始交付?太荒谬了!
Ashish • 12 hours ago
why so slow production rate when user and suppliers are both government controlled. increase production will get more orders may be exported also.
供应商是国企,客户是军方,都受政府控制,为什么生产速度这么慢?增加产量将获得更多的订单,还有可能出口呢。
Shuddha Satwa Ghosh • 6 hours ago
Everyday some good news and news on counteys progress. Under Congress, every day was a new day on corruption. The head of Govt and the team makes all the difference.
每天都有一些关于进步的好消息。在国大党的领导下,印度每天都刷新腐败的记录。关键在于政府首脑及其团队。
Tim Mugaseth • 7 hours ago
India MUST privatise HAL .
必须对印度斯坦航空公司进行私有化改制。
Sanjoy Pandey • Kolkata • 9 hours ago
This is a very good move. We should gradually reduce our dependence on other countries for our defense requirements.
非常好,我们的国防需要逐步减少对别国的依赖。
NK • Mumbai • 5 hours ago
By the time it gets inducted, it will be outdated. Production rate of F-35 is 100 a year and expected go up to 160. Production rate of Tejas has been 8 per year. Doubling it to 16 is being advertised as a major achievement!
等到交付的时候,就过时了。F-35的年产量为100架,预计将达到160架。"光辉"的年产量为8架,翻倍到16架就宣传这是一个了不起的成就!
Sun Rise • 12 hours ago
Fighter jet in the age of advanced weapons technology is just a carrier of weapons. The Jet should be fitted with state of the art radar and missiles to be effective. With advanced weapons on board the carrier doesn't make much difference whether it is Tejas or Rafale.
战斗机只是武器的载体。喷气式战机应该配备最先进的雷达和导弹才有作用,如果都搭载了先进武器的战机,无论是"光辉"还是"阵风"都没有太大区别。
Shail Kulkarni • 6 hours ago
Will Tejas anytime able to enter enemy territory? First Indian army need to check it's capabilities. If it is so capable then why are we batting for Rafale?
"光辉"战机随时都能进入敌方领土吗?如果能,那我们为什么要买"阵风"呢?
Shekar • 4 hours ago
One can see the changes in HAL now. Quotation of 56,500 crore reduced to 39,000 crore indicates level of babugiri inside HAL. Had it been other govts, the 56,500 offer could have been passed with a good deal of amount getting pilfered somewhere
价格从5650亿卢比降低到3900亿卢比,可以看出印度斯坦航空公司的变化。如果是其他国家,5650亿可能都会通过政府的审批,但有一大部分被贪污
Gautam • 5 hours ago
Negotiating Price with HAL is me asking discount for myself and then telling that I got a big discount. This is a state owned co. where does the negotiation comes.
印度斯坦航空公司是一家国企,谈什么价格,就是自己给自己打折。
Db Huf • 8 hours ago
Hope HAL steps up and supplies quality fighters within time schedule. The country stands to gain a lot if our defence requirement is fulfilled internally.
希望印度斯坦航空公司在规定时间内交付战机。武器能在本土生产,那国家将会获益良多。
aaaa bbbb • 7 hours ago
For 100 million dollars you get a F-35! Why Modiji is always getting things at exorbitant prices!?
Look at any procurement since 2014! The prices paid are way too high !
花1亿美元就能买到一架F-35!为什么莫迪总是花高价买东西!?
看看2014年以来的所有采购,价格太高了!
sauvaneer flamme • 13 hours ago
is modi slee since 6 years why no more fighter jets
过去6年莫迪都在睡觉吗,为什么战机数量没增加?
Ananta Charan Rout • 4 hours ago
Now we have a BASIC FIGHTER JET. Let us work on it and develop it into a world class fighter.
现在我们有了一款基础战斗机了,努力研发,把它升级为世界级的战斗机吧。
Ramesh • Bangalore • 6 hours ago
I would have been more happy if HAL sold to other nations.
如果印度斯坦航空公司是把战机卖给其他国家,我会更高兴的。
Girish • 7 hours ago
Every year I read HAL will do this and that..and I hv been reading this since 2 decades... nothing they do nothing they supply.. always missing the deadline..
20多年来,每年我都会看到印度斯坦航空公司要做这个要做那个的消息…但他们什么都没交付,总是赶不上最后期限。
king • chennai • 7 hours ago
hmmmm...GE supplys the engines..i will only salute the HAL only after they start exporting their aircraft to other countries ...if it is not export worthy obviously it is not world class that other countries want it..so we have a long way to go so guys so dont get excited..
只有当印度斯坦航空公司开始向其他国家出口战机之后,我才会向他们致敬。如果不能出口,显然就不是其他国家想要的世界级产品。所以,我们还有很长的路要走,伙计们,不要激动。
Patriot • 10 hours ago
Much needed step towards indigenisation.
这是迈向本土化非常必要的一步。
Pankaj Patel • 4 hours ago
Modi walks the talk! Great. will make iNdia great again
莫迪说话算数!太好了,会让印度再次伟大
lonleytom • 5 hours ago
Each plane cost 470cr. Is this reasonable?
每架战机47亿卢比?这价格合理吗?
外文:https://timesofindia.indiatimes.com/india/hal-to-provide-iaf-with-83-tejas-fighters-in-rs-39k-cr-deal/articleshow/74166367.cms