IAF bids farewell to its iconic MiG-27
印度空军告别其标志性的"米格-27"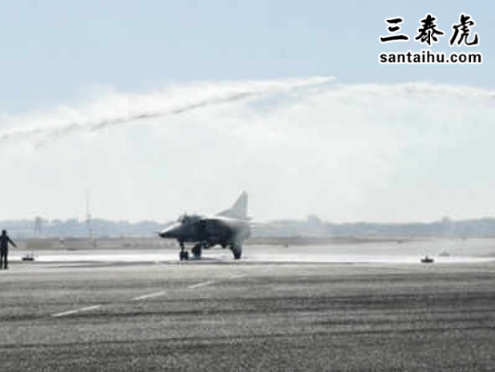 JODHPUR: The iconic MiG-27, which played a key role during the 1999 Kargil war, was given an emotional farewell by the Indian Air Force as the fighter jet roared across the skies for the last time on Friday after serving IAF for over three decades.
焦特布尔: 在1999年卡吉尔战争中发挥了关键作用的标志性"米格-27"战斗机服役了印度空军30多年,周五最后一次在天空中呼啸而过,印度空军深情为其送行。
The formidable flying machine, that guarded India's airline for four decades, was bid adieu with teary eyes at the Jodhpur Airforce Station after the last fleet of the mighty MiG-27s flew its last sortie.
这批令人生畏的战机在焦特布尔空军基地进行最后一次飞行,印度空军含泪告别。这款令人生畏的战机守护印度达40年之久。
These last seven aircraft, which had been operational at the Jodhpur base, were given a gala farewell. Air Officer Commanding-in-Chief (South Western Air Command), Air Marshal SK Ghotia, presided over the wind down ceremony.
在焦特布尔基地执行任务的最后七架飞机获得了隆重告别。空军总司令(西南空军司令部)、空军中将SK Ghotia主持了告别仪式。
Addressing the gathering, Ghotia said "it was not a happy moment that one of our potent aircraft MiG-27 was being phased out today" The last fleet of the MiG-27 was escortlanded by the Sukhoi Su-30, followed by the traditional water cannon salute, officials said.
在集会上发表讲话时,Ghotia称,"今天我们的"米格-27"被淘汰,这不是一个令人高兴的时刻。"官*员们表示,最后一批"米格-27"由苏霍伊苏-30护送着陆,随后是传统的水炮敬礼。
印度时报读者的评论:
译文来源:三泰虎 http://www.santaihu.com/49050.html 译者:Jessica.Wu
Naren • 1 hour ago
We can't make mobiles, laptops, home appliances, cars, defence equipment. The only business good in India is real estate, education, hospitals and astrology. Really, this will cost India terribly one day.
我们不会造手机、笔记本电脑、家用电器、汽车和国防装备。印度好做的生意是房地产、教育、医院和占星术。真的,总有一天印度会为此付出惨痛代价。
Nondynasticalliance • 3 hours ago
Transfer skills to tejas and beyond!
把技术用到"光辉"战机上
Jags • 1 hour ago
Please move on with newer technology
请使用最新的技术
Subramanian Ramalingam• 1 hour ago
Time to move on with the state of the art technology. Hope the iconic MiG-27 is replaced by superior ones. A big salute to MiG-27 for having served our Air Force and guarded our skies. Jai Hind
我们是时候引进最先进的战机了。希望标志性的"米格-27"被更先进的战机取代。向米格-27致敬,感谢它保卫我们的领空。印度必胜!
Dharminder • 5 hours ago
We have to move with time. We need 1000s of Rafael now.
我们必须与时俱进。我们现在需要1000架"阵风"战机
Krishan Kumar Totlani • Jaipur • 2 hours ago
come decision indeed as finally the MIG-21 which is called the Flying Coffins is dumped by IAF but not before making a record that It shot down F-16 a US fighter jet in Pakistan during surgical strike on Balakot.
米格21,也就是所谓的"飞行棺材",印度空军也该将其淘汰了。不过,上次对巴基斯坦巴拉科特进行外科手术式打击,印度米格21击落了巴基斯坦的一架F-16。
Sumit • 2 hours ago
we will miss MIG-27..
我们会想念米格-27的
Asok Datta • 2 hours ago
Nostalgic ! They were the main pillars of our aviation security for so long time and we are grateful for that. Salute to them
长期以来米格27一直是我们印度空军的主要支柱,我们对此表示感谢。向米格27致敬
Rajiv • 4 hours ago
WHY PHASE OUT MIG 27, STILL MANY COUNTRIES ARE USING IT. IT IS NOT THE PROBLEM OF THE PLANES, IT IS THE PROBLEM OF POOR QUALITY OF THE REPLACEMNT SPARES FROM GOVERNMENT PLANTS. THEY SHOULD HAVE GIVEN TO RIVATE PLAYERS TO MANUFACTURE THOSE SPARES WITH HIGH DEGREE OF QUALITY CONTROL. WE LAST ALL THE MIGS AND OTHER PLANES, BY REPLACING POOR QUALITY REPLACRMRNT OR OTHETWSE
为什么淘汰米格-27,仍有很多国家还在服役啊。飞机没问题啊,是替换零件质量太差。替换的零件质量差,我们才摔了那么多米格战机。
Arindam • 1 hour ago
Now the IAF doesn't have any ground attack aircraft.
Sometimes I feel, the biggest reason for delay in defense acquisitions in our country is the amount of public (and political) meddling and scrutiny defense acquisitions are subjected to. Also our armed forces need to be less nitpicky which making the acquisitions and cut the huge amount of bureaucracy that is involved.
现在印度空军没有现役的对地攻击机了。有时我觉得,在我们国家,武器采购被拖延的最大原因是公众(和政治)的干预和审查。此外,我们的军队采购武器时少吹毛求疵更好。
Ashokkumar • 2 hours ago
India must develop its own capability to develop various defence equipment. it will secure country on long term basis
印度必须具备自主研发武器的能力,才能保证国家的长久安全
Ramdas B • Bangalore • 3 hours ago
MIG21 still flies which is older to MIG27 and claiming pilots lives every year. Hope swan song for it comes early rather than to the pilots flying them. It's ironical that potent aircrafts like MIG27 are retiring without any replacements for it.
米格-21比米格-27更老,每年都出现导致飞行员丧生的事故。希望早点淘汰米格-21战机,否则还会有飞行员丧生。
具有讽刺意味的是,像米格-27这样强大的飞机在没有任何替代品的情况下就退役了。
shan Nat• 3 hours ago
It's not Modi Govt which has dragged procurement deal, sadly it's the oldest party of India and the Opposition party which is acting as a way to enhance religious divide by instigating the muslims which has been dragging the acquisition of any for past 3-4 decades...
并不是莫迪政府拖了采购的后腿,是印度最古老的政党在过去三、四十年来一直拖着不采购武器。
subhankar dey • 1 hour ago
Salute to the fighters.
向米格27战机致敬。
Jagdish Madan • Vancouver BC • 3 hours ago
Hope the replacements are already on the base. Farewell Mig 27s
希望替代品已经在基地了。告别米格-27的时代
Mrityunjay • 23 mins ago
Do we have replacements in place? The powers that be must address this quickly.
有替代品吗?
印度务必尽快找到替代品啊
Curry Chawal • 3 hours ago
Is this the same model that Abhinandan flew and got caught?
这和阿比南丹被俘前开的战机是同一款吗?
Jagdish Madan• 3 hours ago
No. That was a Mig 21
不是。他开的是米格21
Atul Rupani • Kolkata • 4 hours ago
We have had the MUH DIKHAI of Rafale but when is the GAUNA happening even Almighty is not aware
我们已经有"阵风"战机了啊
外文:https://timesofindia.indiatimes.com/india/iaf-bids-farewell-to-its-iconic-mig-27/articleshow/73002079.cms