IndiGo gives Rs 2.4 lakh crore order for 300 A320 Neo aircraft
IndiGo航空斥资24000亿卢比订购300架A320 Neo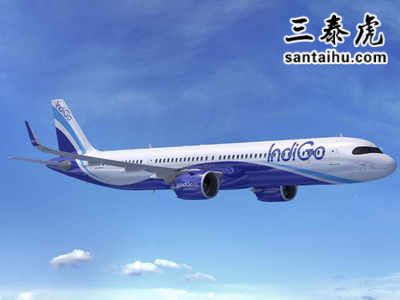 NEW DELHI: India's biggest airline IndiGo on Tuesday placed a firm order for 300 Airbus A320 Neo family aircraft worth about $33 billion (almost Rs 2.34 lakh crore) at list price - making it one of the European aerospace major's largest orders ever with a single operator. The latest order takes IndiGo's total number of A320 Neo family order to 730 planes and comprises a mix of A320 Neo, A321 Neo and A321XLR aircraft.
新德里:星期二,印度最大的航空公司IndiGo确认订购300架空客A320 Neo,订单价值330亿美元(约合23400亿卢比)的,该订单也是这家欧洲航空巨头接到的来自单家运营商的最大订单之一。这笔最新的订单使IndiGo的A320 Neo系列的订单总数达到730架,包括A320 Neo、A321 Neo和A321XLR。
印度时报读者的评论:
译文来源:三泰虎 http://www.santaihu.com/48695.html
外文:https://timesofindia.indiatimes.com
Jeet Singh • 13 hours ago
How much is the Loan?? And from which Bank?? Who is hel them in getting the Loans?? THESE ARE THE IMPORTANT QUESTIONS!!(not the no. of Planes) !!
贷了多少款?
从哪家银行贷的?
谁帮助他们获得贷款的?
这些才是关键的问题!!
B Rn• Bangalore • 7 hours ago
Add a question or two to that,
What is the unpaid bnce on previous loans ?
加一个问题
之前的贷款还有多少没还?
Vikram Vij• 13 hours ago
They will order planes and will further lease to earn money..
他们订购飞机拿去出租,靠这个来赚钱。
Anurag • 12 hours ago
Should have forced Airbus to open a production line in India along with Transfer of Technology, would have generated employment and crated manufacturing capacity. What a waste...
应该趁机要求空客在印度开一条生产线,同时进行技术转让,这样就能创造就业机会,提高印度制造业的水平。白白浪费了这个机会……
Vikram • 13 hours ago
This company shown strong bnce sheet without backing.. They are relying on equipment leasing and cargo..
Tomorrow, drtically partners of the company will again write letter to PM to do mediation..
这家航空公司的财务状况很好,依靠设备租赁和货物运输营利。

HARESH RAMCHANDANI • 15 hours ago
airlines placing such a big and our opposition sying economy is slow in slow economy who place such a big order request people dont believe in rumours our contry in very safe hands and moving forward jai hind
印度的航空公司下了这么大的订单,反对派还说印度经济发展缓慢。不要听他们造谣,印度发展好着呢。印度必胜!
Chalu • Earth • 13 hours ago
hope they have aggressive pricing to justify this huge order . . otherwise new jet Airways, kingfisher and Air India in creation..
这么大的订单,希望价格合理。否则,IndiGo将会步捷特航空、翠鸟航空或者印度航空的后尘…
Ashok • Bengaluru • 15 hours ago
just recheck the numbers , it seems too ooo po much
再核对下数据,好像太贵了
Nidhi Reddy • 12 hours ago
They are sucking our hardest earned money and take it abroad and playing with our safety...
i have abandoned this Airlines and don not fly with them at any cost...
Please use national Airlines Air India, Vistara, Go air etc...
他们赚走了我们血汗钱,然后把钱转到国外,拿我们的安全当儿戏……
我已经放弃了这家航空公司,无论如何也不会坐他们的航班……
请乘坐印度航空公司,Vistara, Go Air等航空公司的航班…
Andrew • Cambridge • 5 hours ago
Won't be surprised if this turns out to be another scam in the making.
如果这又是一场正在酝酿中的骗局,我也不会感到惊讶。
Ritchie • NYC • 5 hours ago
Before the order is complete the company will col pse and the owner will be in England
在订单完成之前,这家公司就会倒闭,老板将会逃到英国
Ritchie • Cambridge • 5 hours ago
well said
说得好
New • dd • 5 hours ago
for job creation offset clause need to be there .........gt need to strictly ensure this ........its very important...........
一定要在印度创造就业机会,印度政府应当确保这一点,这非常重要...........
New • dd • 5 hours ago
airbus need to manufacture the planes in india ......gt need to look into this issue seriously ........otherwise there is no value addition in indian economy
让空客在印度组装飞机,印度政府应当认真研究这个问题,否则不会给印度经济带来什么好处
Sankar K M • 6 hours ago
This is such a very large order which Airbus could be persuaded to manufacture the planes in India under the Make in India Program. Will the Civil Aviation Minister step in?
这是一笔巨额订单,应该说服空客在印度生产飞机。民航部长会介入吗?
Nischal• Navi Mumbai • 5 hours ago
po iticians will wet their pants if they fly in this after seeing made in India tags.afterall they are the most frequent fliers in this country. I bet they won't .. lol
如果政客们乘坐飞机看到"印度制造"的标签话,他们会吓尿的。毕竟他们是这个国家最常坐飞机的人。我打赌他们不会同意在印度生产的…哈哈
Ramdas B • Bangalore • 6 hours ago
Most probably loans from banks
最有可能是从中资银行贷的款
VSM RJT • 6 hours ago
From where did Indigo raise such a huge capital, is it even 70% of its networth.Indigo
从哪里筹到如此巨额的资金
A Singh • 6 hours ago
Hope new planes don't come with faulty P&W engines.
希望飞机别装普惠发动机,这款发动机有问题哦。
Kl Kishor • 8 hours ago
Something fishy. Probe them
有猫腻,去查查
Vivek K • Vivek K • US • 9 hours ago
To maintain favorable relations with the US this order should have gone to Boeing. We run to America for all problems and visas but give such business to Europe. Most of our top space scientists have trained in US, the IT industry has changed the Indian middle class status, most preferred work and immigration for educated Indians us America.
Such large orders have strategic leverage and should go to countries that we need help from .
为了保持与美国的良好关系,这个订单应该给波音啊。印度人都往美国跑,却把这笔生意给了欧洲。我们大多数顶尖的太空科学家在美国接受过培训,IT行业改变了印度中产阶级的地位,受过教育的印度人更喜欢移民美国,去美国工作。
这种巨额订单具有战略影响力,应该给能帮助我们的国家。
Aditya Barat • 11 hours ago
A plane a week? For next 12 years!! Do they even manufacture that fast ?
一星期交付一架飞机?要12年才能完成交付!!他们的生产速度有那么快吗?