UAE honours PM Modi with highest civilian award
阿联酋授予莫迪总理最高平民奖章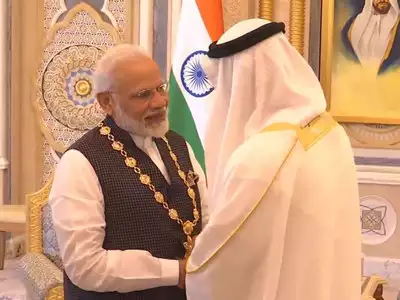 ABU DHABI: Prime Minister Narendra Modi was honoured with the 'Order of Zayed', the UAE's highest civilian award, on Saturday as a mark of appreciation for his efforts to boost bilateral ties between the two nations.
阿布扎比: 星期六,莫迪总理获授"扎耶德勋章",这是阿联酋最高的平民奖章,以感谢他为促进两国关系所做的努力。
"The award in the name of Sheikh Zayed bin Sultan Al Nahyan, the founding father of the UAE, acquires special significance as it was awarded to Prime Minister Modi in the year of the birth centenary of Sheikh Zayed," ministry of external affairs (MEA) said in a statement ahead of his visit.
外交部在莫迪出访前发表的一份声明中表示:"该奖章以阿联酋国父谢赫·扎耶德·本·苏丹·阿勒纳哈扬命名,在谢赫·扎耶德诞辰100星期年之际授予莫迪总理,具有特殊意义。"
India and the UAE enjoy warm, close and multi-faceted relations underned by cultural, re gious and economic linkages which, during the prime minister's previous visit to the UAE in August 2015, stood elevated to a comprehensive strategic partnership, it said.
声明称,印度和阿联酋有着友好、密切和多层面的关系,文化、和经济联系是两国关系的基础。在莫迪总理2015年8月访问阿联酋期间,两国关系提升为全面战略伙伴关系。
The UAE in April had announced to confer the country's highest award on Modi.
今年4月,阿联酋宣布将授予莫迪该国最高奖章。
In a tweet in April, the Crown Prince of Abu Dhabi, Mohamed bin Zayed Al Nahyan, said, "We have historical and comprehensive strategic ties with India, reinforced by the pivotal role of my dear friend, Prime Minister Narendra Modi, who gave these relations a big boost."
今年4月,阿布扎比王储穆罕默德·本·扎耶德·阿勒纳哈扬发推特称:"我们与印度历来保持全面的战略关系,我亲爱的朋友纳伦德拉·莫迪总理发挥了关键作用,加强了我们之间的关系,极大地推动了两国关系的发展。"
With an annual bilateral trade of about $60 billion, the UAE is India's third-largest trade partner. It is also the fourth-largest exporter of crude oil for India.
阿联酋是印度的第三大贸易伙伴,年双边贸易额约为600亿美元。它也是印度的第四大原油供应国。
"A 3.3 million-strong vibrant Indian community in the UAE nourishes the vibrant people-to-people contacts between our two friendly countries," the MEA said, adding that Modi's visit would further strengthen the friendly bilateral ties.
印度外交部表示:"在阿联酋,有330万人组成的充满活力的印度社区,促进了两个友好国家之间充满活力的人文交流。"莫迪的出访将进一步加强两国友好的双边关系。
印度时报读者的评论:
译文来源:三泰虎 http://www.santaihu.com/48311.html 译者:Jessica.Wu
外文:https://timesofindia.indiatimes.com
Suman Sur•1 day ago
FekuLiccckiiing fake statistician Daniel. Who told u that a billion people ved for Feku ? According to ECI, there are 90 million registered vers in the country, out of which 67% ved ie., around 60 million. Out of this 60 million 37% ved Feku. So an overwhelming majority either didn''t ve or ved for other opposition parities. A proportional representation would have shown them their ful place in parliament.
谁告诉你们有十亿人投票给了莫迪?据ECI统计,印度有9000万登记选民,其中67%投了票,大约是6000万。在这6000万选民中,有37%投票给莫迪。所以,绝大多数人不是没投票,就是把票投给了其他反对党。
Ahmed Ali•Lethbridge, Alberta•1 day ago
Mahatma Gandhi and Modi are antonyms! Award for Modi on Gandhi's 150th birth anniversary is injustice to what the Mahatma stood and sacrificed his life for.
莫迪和圣雄甘地是对立的!
在甘地诞辰150星期年之际授予莫迪奖章,这对圣雄甘地所坚持并为之牺牲的精神是不公平的。
Joshy•1 day ago
Can anyone tell me, what is his contribution?
谁能告诉我,莫迪做了什么贡献?
Dinesh Sharma•1 day ago
Good
好事
Harry Potter•1 day ago
We need arun jaitely type leader civilize ,highly educated ,gentelman,soft spoken,all friend not modi ,shah type uneducated ,uneducated leader fa ist,bad mouth leader.Modi,shah duo un educated,badmouth,uncivilized ,uncultured leaders.
我们需要像阿伦·贾利式那样文质彬彬,受过高等教育,温文尔雅,说话温和的领导人,而不是莫迪这种没文化,不文明、说话刻薄的主义领导人。
Kiwi•Auckland•1 day ago
I hope he checks on the well being of the Dubai princess India kidnapped and sent back if he is being rewarded for this. Women should not be treated as a commodity and should be respected.
希望莫迪调查一下被印度绑架的迪拜公主的情况,都给他颁奖了,就把公主送回去吧。妇女不应被视为商品,而应受到尊重。
Miyaan Bhai•1 day ago
Is this awards mus m Or hindi,Instead of taking award he should have demanded ban on cow slaughter in Dubai,Any ways the current arabs are no more than mustress of America without any self respect.,He ran away from his wife and wife of Dubai sheikh ran away from him
与其领奖,莫迪本该要求迪拜禁止宰牛。如今的阿拉伯人不过是美国人的情妇,没一点自尊。
Spider•New Delhi•1 day ago
Burnol for Congress leaders!!!
国大党领导人要难受了
Anthony•1 day ago
Indian economy award.
印度经济奖。
Desh Premi•1 day ago
Being an Indian. I am proud of our PM Modi ji.
作为印度人。我为我们的莫迪总理感到骄傲。
Kapil•1 day ago
what a useless award , had anyone heard getting it
没一点意义的奖章,听说过谁拿过这个奖吗
Aakash• Kapil Misra•1 day ago
Imporve ur knowledge thru google and see who else has got this award...
去谷歌搜一下,长长见识,看看还有谁获得了这个奖章…
subhankar dey•Unknown•1 day ago
Good going PM sir, Congrats..
做得好,总理先生,祝贺你…
Kiwi•Auckland•1 day ago
I read some where that India kidnapped and sent the Dubai princess back from International waters as requested and she is now suffering in ele. I guess that came under beti bacho legislation.
我读过一些报道,印度绑架了迪拜公主,并按照要求将她从国际水域送回,她现在正遭受流亡的痛苦。
Roshan Mohiadeen•1 day ago
AT LAST - - - -
终于拿到这个奖了
Abhay•1 day ago
This award will not improve our country's economy, it will not stop the floods that the country is facing and it will also not give jobs to unemployed people. Think in these directions these are the real issues of the country. Your po itics have diverted the whole country from the real issues.
这个奖不能改善我们国家的经济,不能堵住这个国家遭遇的洪水,也不能给失业的人带来工作。这些才是这个国家面临的真正问题。莫迪把整个国家的注意力从真正的问题上转移开了。
Melania Morph•1 day ago
Modi loves peace !!! BJP , Shivasena, VHP, RSS and Mukti Bahini are peace lovers !!! Those who tried to to defame must take cup of water and must jump and die in it...
莫迪热爱和平!
人民党、民族志工组织都是和平爱好者!

Gladys Saldhana•1 day ago
Congratulations. Mabrooq wasir ye azaam Narendra Modi.,Rgds & Allah khe''ra,gulnaaz Noorani
恭喜莫迪
Ridhima Patwal•1 day ago
Uae honor
阿联酋荣誉奖