India's wealthy get demonetised again
印度富人将再次经历财富缩水
NEW DELHI: In the last few years, there's been a buzz about the possible imposition of an inheritance tax. But instead of going down that road, finance minister Nirm Sitharn decided to increase the levy on rich taxpayers, leaving the liability of others unchanged.
新德里:过去几年印度一直流传着关于可能征收遗产税的传言,但印度财政部长尼尔马拉•西塔拉曼没有这样做,反而决定对富人加税,其他纳税人的纳税义务则保持不变。
Under the new tax re gie, those with income between Rs 2 crore and Rs 5 crore will pay tax at the rate of 39%, and those earning more than Rs 5 crore will have to pay tax at a whop 42.74%. This is more than the US, where the mamum rate is 37%, which triggers over an income of $600,000 (Rs 4 crore approx). Though the tax slabs haven't changed offi ally, rates have — because a tax surcharge of 25% has been imposed when income is between Rs 2 crore and Rs 5 crore. If income exceeds Rs 5 crore, the surcharge on tax is 37%. Besides this, there is a health and education cess of 4%, which will continue to be levied on income tax, including surcharge.
根据新税收制度,收入在2000万至5000万卢比之间的人将按39%的税率缴税,而那些收入在5000万卢比以上的人将按高达42.74%的税率缴税。这比美国税率高,美国的最高税率为37%,针对收入超过60万美元(约4000万卢比)者。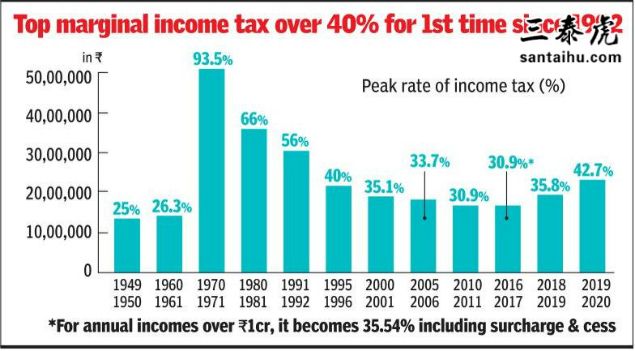 印度时报读者的评论:译者:Jessica.Wu
Vande Matram Earth • 10 hours ago
Tax the successful people, and give away stuff to freeloading losers.
向成功人士征税,给吃白食的失败者发放赠品。
Divakar Canchi• 2 hours ago
Sorry to say, looks like you are living on alms of others.
看来你是靠别人的施舍过日子。
Shekar• India • 22 mins ago
Tax payment is honest duty of civilised society. It is just a way that a person who earns, honestly shares with with others and thereby becomes a pillar for the development of society as a whole. Are you thinking that infrastructure, education and other social benefits come out of free for go nment???
纳税是文明社会人们的义务,是社会发展的一个支柱。你以为基础设施、教育和其他社会福利是政府免费提供的吗?
Ne lle Jerome• 4 hours ago
The best way to increase tax revenue is to reduce evasion among small retail traders and farmers. But rather than doing that, she has targeted the middle class.
增加税收的最佳途径是遏制小商贩和农民的逃税行为。但她没有这么做,反而把目标对准了印度中产阶级。
Madan Mohan Siddhanthi • Mumbai • 9 hours ago
Kick the working and feed the lazy NEW ROBIN HOOD of India
拿上班族开刀,喂饱那些懒汉
Ne lle Jerome• 5 hours ago
At least she didn''t imposed estate tax and inheritance tax. It would have been catastrophic.
至少她没有征收房产税和遗产税,否则会是灾难性的。
S Loganathan• 2 hours ago
That is kept for next year.
这个留到明年征
hepaticencep• Location • 5 hours ago
Which sried middle class earns more than 2 cr?
哪个工薪阶层的收入超过了2000万卢比?
Sitakanta Mahapatro
Since last 6 years this gov is squeezed as much as they can from Middle class
过去6年,印度政府极力压榨中产阶级
manjeetnandal• Haryana
Are you kidding me? Earning between 2 to 5 crore and being middle class...Dont be too Greedy
你在开玩笑吧?
收入介于2000万到5000万卢比,就属于中产阶级?
mrinesh lal
Any irresponsible decision always strikes back at someone else. You would think tax collected will increase with this. I think people will hide more tax from authorities, and more black money and offshore investment will increase. People will have low threshold for migration to other countries. We lose in the end.
任何不负责任的决定总是会适得其反。你以为税收会因此增加,我反倒认为人们更会逃税,黑钱和海外投资会增加。移民到其他国家就更容易了,最后输的还是我们自己。
Jaswinder Singh
Why not Parliamentarians have 40% taxes.
为什么不按40%的税率对国会议员征税?
BOOTOUT SARKAARICLASS• ChowkidarJail • 4 hours ago
They will show zero income.
他们的收入都显示为0。
jha• 249 • 7 hours ago
Make the honest hardworking successful people work harder to pay for the lazy unambitious lot.
让诚实、勤奋的成功人士更加努力工作,为懒惰、没上进心的人买单。
pritam b• 6 hours ago
I feel this lady is not suitable for FM post wrong sion. Economy has allready hit with Demo/GST.
我觉得这位女士不适合担任印度财政部长,印度经济已经受到废钞令和消费税的冲击了
Arati Govindu• Location • 6 hours ago
If economy was hit, how come BJP got a full majority?
如果经济受到冲击,为何人民党获得了大多数选票?
Shaikh Suhail• 1 hour ago
By fraudulent ways. They are cheaters.
通过作假呗,他们都是骗子
Rajesh • 9 hours ago
No relief to sried persons or middle class on income tax . The inflation and high rates of GST. has depleted their wealth resulting in reduced purchasing power little or no savings. Worst conditions to survive in India.
工薪阶层和中产阶级的所得税没有减免。通货膨胀和高消费税,耗尽了他们的财富,导致购买力下降,几乎没有存款。印度人的生活条件是最糟糕的。
Ramesh • Bangalore • 5 hours ago
"The more you legally earn, the more I tax. The more you illegally earn, say by doing scam, taking bribes, involving in corrupt activities, etc. no tax at all."!
"你的合法收入越多,交的税就越多。非法所得越多,比如诈骗、受贿、参与腐败活动等,交的税就越少。"
Okay • 4 hours ago
42% is almost half the income. How do you expect people to be honest if the govt policy is like this?
42%几乎占收入的一半。如果政府真这样收税,怎么能指望人们诚实纳税呢?
Dreet • 4 hours ago
Time to emigrate to Canada.Hahaha
是时候移民加拿大了
Tiger • New Delhi • 6 hours ago
Crime to be rich in this country!!!
在这个国家,有钱是罪!!
Ashok Kth • Udupi • 6 hours ago
Tang rich to almost half of their earnings is something unwarranted..
对富人征收几乎相当于一半收入的税是毫无道理的。
Pramodh Adhikary • 7 hours ago
Is India going socialist ...... ?
印度正在走向吗?
外文:https://timesofindia.indiatimes.com/business/india-business/indias-wealthy-get-demonetised-again/articleshow/70099217.cms