Minimum pay guarantee plan to be main poll plank of Rahul Gandhi
最低收入保障计划将成为拉胡尔•甘地的主要竞选纲领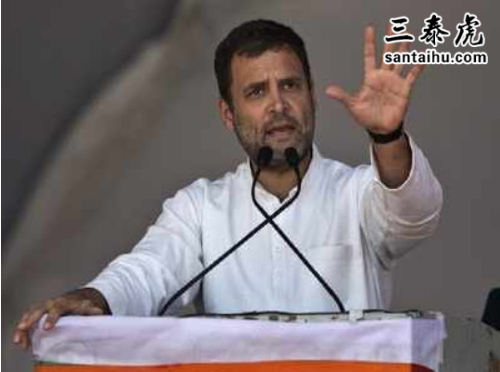 NEW DELHI: Congress president Rahul Gandhi may make a special announcement on the election promise of "minimum income guarantee" for the poor as the party mulls ways of making its flagship welfare plank the focus of the last leg of 2019 election campaign.
新德里:印度国大党主席拉胡尔•甘地或就针对穷人的"最低收入保障"竞选承诺发表特别声明。该党正在考虑如何让其旗舰福利计划成为2019年大选最后一程的重点。
The promise, which created an early buzz in the Lok Sabha campaign, would figure prominently in the Congress manifesto, most likely with details on its target audience and source of its funding.
这一承诺曾在下议院竞选活动中引发了热议,它将在国大党的宣言中占据重要位置,很可能包括其目标受众和资金来源的细节。
But besides the manifesto, there is a strong likelihood that the Congress president could make the 'minimum income guarantee' the subject of a special public statement. It would be aimed at reiterating its salience from other populist commitments to the electorate
不过,除了这份宣言之外,国大党主席很有可能会将"最低收入保障"作为特别公开声明的主题。其目的是重申其对选民的突出作用,尤其是与其他竞选承诺相比。
Sources said the party has planned to release the manifesto soon after Holi. If Rahul chooses to make a separate announcement on the income plank, it could even come ahead of the unveiling of manifesto.
消息称,该党计划在胡里节之后不久发布宣言。如果拉胡尔选择单独就收入保障发表声明,甚至可能赶在宣言公布之前。
After weeks of wavering Congress focus in the post-Pulwama phase, the party reverted to the populist idea in the CWC meeting held in Gujarat on March 12. Interestingly, newly-inducted AICC general secretary Priyanka Gandhi Vadra coined the acronym "NYAY" for "minimum income guarantee" in Hindi during the discussions of the apex body.
在普尔瓦马事件后的几周内,国大党的重心一直摇摆不定,但在3月12日古吉拉特邦举行的《禁止化学武器公约》会议上,该党又回到了民粹主义理念。有趣的是,新上任的国大党全印委员会秘书长普里扬卡·甘地·瓦德拉创造了印度语"NYAY"的首字母缩写,意为"最低收入保障"。
Importantly, contrary to earlier impression, sources said, Congress has worked out the basic details relating to the scheme — amount of income, target audience and source of funding.
重要的是,消息人士称,国大党已经制定了与该计划有关的基本细节——收入数额、目标受众和资金来源。
Rahul's first mention of "minimum income" at a Chhattisgarh rally on January 28 triggered a public debate on the issue, with many expressing skepticism if the government would have adequate budget to fund it.
1月28日拉胡尔在恰蒂斯加尔邦的一次集会上首次提到"最低收入",引发了公众对这一问题的辩论,许多人怀疑政府是否有足够的预算来为此提供资金。
印度时报读者评论:
译文来源:三泰虎 http://www.santaihu.com/47229.html
外文:https://timesofindia.indiatimes.com
Suresh Iyengar - 7 hours ago -Follow
Who cares for this silly man? All lies,partied when mumbai was hit, shame on you. Dont you feel ashamed to even think of being a leader? India again the hands of the dynasty of looters? Get lost, never, ever
谁在乎这个傻瓜?全部都是谎言,孟买遭袭时还在开派对,真不要脸。还想当领袖,你不觉得羞耻吗?又想让印度重新回到掠夺者王朝的统治之下?滚开。
TNN - 7 hours ago -Follow
What is the source of funds for this "minimum pay" Mr. RG.
It is taken from our pockets and putting into other pockets, with most of that part going into pockets of xyz.
拉胡尔,这个"最低收入"的资金来源是什么?羊毛出在羊身上,最终这些钱会进到谁的口袋里?
Subhasish Chatterjee - 7 hours ago -Follow
All fake promise. Who will provide the money. Means more taxes from Middle class.
虚假承诺。谁来提供资金。这意味着中产阶级要交更多的税。
paarth d - 6 hours ago -Follow
Rahuls budget
10% for reservations
25% for minimum pay for lazy unemployed UPA supporters
20% for Kalmadi
20% for European middleman
25% for loan waivers
0% for middle class
0% for infrastructure
0% for productivity
0% for defense equipment
0% for education
5 year predicted results
GDP growth 5-8%
India GDP growth 0-2%
拉胡尔的预算分配:
预留制10%
为那些懒散的、失业的国大党支持者提供最低工资25%
Kalmadi20%
给欧洲中间商20%
用于贷款减免25%
中产阶级0%
基础设施建设0%
生产力0%
国防装备0%
教育0%
五年预测结果:
GDP增长5-8%
印度GDP增长0-2%
Gopal Hingorani - Adelaide - 7 hours ago -Follow
NYAY from Prank (Priyanka) and minimum wage / income from Rahu a)re other tricks of the trade o hoodwink poor public ONLY for getting VOTES. Congress has already destroyed India and are only interested in dynastic rule. Now Rahu & Prank who have control over the minds of imbecile Congress, wants to be-fool the Indian Public by empty slogans and hollow promises
竞选噱头,只是为了获得选票而欺骗贫穷的公众。国大党已经摧毁了印度,他们只对王朝统治感兴趣。现在,拉胡尔想用空洞的口号和虚假的承诺来愚弄印度公众。
Balaji - 7 hours ago -Follow
Take from pocket of hard workers and put in pockets of lazy out-of-job pappus
从努力工作的人的口袋里掏钱,放进失业的懒人的口袋里
Iluvindia - 5 hours ago -Follow
this guy has no vision.
这家伙没有远见。
Ms - 5 hours ago -Follow
The bare minimum guarantee is that the Congress party will never be free of the dynasty......
最基本的保证就是国大党永远不会放弃王朝统治
Mahesh Vyas - 6 hours ago -Follow
People who are earning be aware. More taxes to feed lazy guys. And of course VIKAS can take rest.
上班赚钱的人要注意了,以后要多交税了,养活那些懒人。
Anil - 5 hours ago -Follow
Rahul Gandhi has no policy other than freebies... Can you run a country on free schemes? This is why India is still poor... Bcoz of these shameless corrupt congress leaders
除了发放免费赠品,拉胡尔·甘地没有其他政策…管理一个国家,就是靠免费发放赠品那么简单吗?这就是印度仍然贫穷的原因所在……都怪这些无耻腐败的国大党领导人。
Rag Ani - 5 hours ago -Follow
No Plan.. No capability.. No Integrity.. Even His opposition to Modi is based on lies..
拉胡尔没有计划,没有能力,甚至他反对莫迪的言论也是谎言。
Vivek Tripathi - Mumbai, Maharashtra, Ind - 4 hours ago -Follow
Give everything free to everyone and especially who have more than 5 kids because they are your main vote bank.
给每个人发免费物品,尤其是那些有5个以上孩子的人,他们是你的主要选票仓。
Prakash Singh - 4 hours ago -Follow
He is just try to make more scheme of corruption whenver he will come in goverment. Like manrega. This pappu just know give freebies to indian n get vote or waivers of farmers loan thats it.
不管什么时候执政,他只是想搞更多的腐败阴谋。拉胡尔只知道给印度人发免费赠品,以获得选票,或者免除农民贷款。
Patriot - Upland - 4 hours ago -Follow
Is he paying from is swiss bank account or from taxpayers money
他是用自己的瑞士银行账户来支付还是用纳税人的钱支付?
Somnath - 7 hours ago -Follow
Big talk, from where will the money come? From our pockets only, while you politicians (including Feku) enjoy.
说大话,钱从哪里来?还不是出在我们身上,而你们这些政客(包括莫迪)却乐在其中。
Devanshu Shakya - 3 hours ago -Follow
On one side there is modi who is encouraging people to be independent, to create start-ups, small business and miscellaneous jobs. On tge otger side there is this prince who is promising minimum pay guarantee to come to power again. Many will stop looking for jobs and vote for this guy. He also promises nationwide farm loan waiver and this has already lead to failure of farmers to pay installments. They did not have any money to buy Rafale in 2013 as said by their defence minister and after 5 years when modi govt refilled the treasury, they are planning to empty it again to rise back to power.
一方面,莫迪鼓励人们创业、小企业和各种各样的工作机会。而这位王子为了掌权承诺最低工资保障。很多人会不再找工作,把票投给这个家伙。正如他们的国防部长所说,2013年他们没有钱购买阵风战机。5年后,莫迪政府重新填充了国库,而他们却计划再次清空国库,以重新掌权。
Sushil Kumar - Bng - 5 hours ago
Who gave u guys authority to spend my taxes the way u want . If you want to pay to no income guy . Why don't u liquidate u and ur family assets and pay.
是谁给了你们权力,让你们随心所欲地花我们的税款。。
如果你想给没有收入的人发放最低收入。为什么不用你们家的钱呢?
RAJIBREL1 - 3 hours ago -Follow
Cannot believe Rahul.
不能相信拉胡尔
Ado - Chennai - 4 hours ago -Follow
Will you give your mother's money?
是用你妈妈的钱吗?
Shyamsunder - Bangalore - 2 hours ago -Follow
This fake Gandhi knows very well that he and his party will not cone to power, so, he thinks what is harm in promising the voters a moon ?This totally waste human specie is a curse to this nation.Very soon he goes to jail for his corrupt deeds.
这个伪甘地非常清楚,他和他的政党不会掌权,所以,向选民许诺一个月亮也没什么坏处?这种人是国家的祸根,很快他就会因腐败而入狱。
Amit - Bangalore - 3 hours ago -Follow
Very bad plan by Congress..who will pay for that?? Country needs progressive politics not free distribution of public money paid in taxes...
国大党的计划很糟糕,谁来买单?国家需要进步,而不是随意分配纳税人的钱…
Krishan Kumar Totlani - Jaipur - 4 hours ago -Follow
Who will believe this Pappu as His party has ruled India for 58 years out of 70 & has done nothing of that sort, so their promises look hollow. @RahulGandhi you have already lost the plot of 2019 elections , try for 2024.
谁会相信这个拉胡尔,其政党在70年里统治了58年,都没有做过这样的事,这个承诺看起来很空洞。拉胡尔,你已经输了2019年选举,2024年再来试试吧。
Shrish - 4 hours ago -Follow
Nothing comes free.
天下没有免费的午餐。
Kapoor A - Delhi - 4 hours ago -Follow
Who will fund it... the congress party or the swiss banks
谁来提供资金……国大党还是瑞士银行?
Hemang - Mumbai - 4 hours ago -Follow
This guy is an idiot! This plan did not even work for developed western countries with minimum population. How this work in country like India? He wants Indians to be lazy and live in minimum means! Height of stupidity!
这家伙是个白痴! 人口少的西方发达国家都不适合这样搞。在印度这样的国家如何运作?他想让印度人变得懒惰,靠最低收入过活!愚蠢至极!