Why this Polish girl has written to PM Modi
这个波兰女孩为何给莫迪总理写信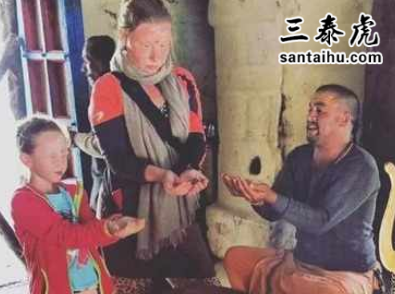 PANAJI: An 11-year-old Polish girl, who was brought up in India and was studying in Goa until a few weeks ago, has requested the prime minister and the external affairs minister to allow her and her mother to return to India, a place that they "call home".
帕纳吉:一名在印度长大的11岁波兰女孩,几星期前还在果a上学,她请求总理和外交部长允许她和母亲回到印度,一个她们称之为"家"的地方。
In April, her mother Martushka Kotlarska had petitioned former external affairs minister Sushma Swaraj to reunite her with her daughter. She was denied entry at the Kempegowda international airport after being allegedly blacklisted for having overstayed her visa term. Martushka was permitted re-entry on humanitarian basis for a few days only, when she picked up her daughter.
今年4月,她的母亲马尔图什卡·科特拉斯卡请求前外交部长苏希玛·斯瓦拉吉让她和女儿团聚。她在肯佩格达国际机场被拒绝入境,原因是她的签证过期,被列入了黑名单。出于人道主义,外交部允许马尔图什卡再次入境接女儿,但只允许逗留几天。
Eleven-year-old Alicja Wanatko, in a hand-written letter to Prime Minister Narendra Modi, has urged him to remove her and her mother's name from the blacklist and allow her to her to return to her life in Goa. She stated that her friends, animals, school and hapess lie in the country.
在给莫迪总理的一封亲笔信中,11岁的阿莉恰·瓦纳特科敦促莫迪将她和她母亲的名字从黑名单上删除,允许她回到果a生活。她说,她的朋友、她牵挂的动物还有她的学校都在印度,她的幸福也在印度。
"I love my school in Goa, the beautiful nature, and I am missing my volunteering in the animal rescue centre there where I was hel take care of cows. My mum could not re-enter India on March 24 after a short trip out, and we were told we were blacklisted due to our overstay. It just felt so unfair because it was not due to our fault," she stated in her letter to the PM.
在给莫迪总理的信中,她写道:"我喜欢我在果阿的学校,我喜欢那里美丽的大自然,我怀念我在动物救援中心做志愿服务的日子,我在那里帮助照顾奶牛。3月24日,我的母亲因短暂出境后无法再次进入印度,我们被告知由于逗留时间过长而被列入了黑名单。我觉得这太不公平了,因为这不是我们的错。"
The mother and daughter are now in Cambodia.
这对母女目前在柬埔寨。
印度时报读者的评论:
译文来源:三泰虎 http://www.santaihu.com/47767.html 译者:Jessica.Wu
外文:https://timesofindia.indiatimes.com/india/why-this-polish-girl-has-written-to-pm-modi/articleshow/69626009.cms
Aneesh Asokan• 1924 • Nriguy • 4 hours ago
Since there''s cow involved, there''s no benefit of doubt who will be the winner!
既然是要去照顾奶牛,毫无疑问女孩的请求会被批准的。
Nriguy • 7 hours ago
King of Jamnagar had given shelter to 1000 Polish children during WW II. They remain grateful to this day.
第二次世界大战期间,贾姆讷格尔王收留了1000名波兰儿童。他们仍然心存感激。
bji mahesh Krishnan • India • 7 hours ago
Seriously would Poland have reciprocated with an Indian family in this manner. I am all being kind to the world, but it has to be fair. If Indians overstay in other countries we are the first to mock them. In India itself we can''t have double standards. Treat them as their country would have treated us.
波兰也会以这种方式对待印度人吗? 我们对这个世界很友善,但这个世界也必须是公平的啊。印度人在其他国家逗留太久,会被嘲笑的。在印度,我们不能树立双重标准。他们国家怎么对待印度人,我们就怎样对待他们。
Mayank Mehta • 7 hours ago
The appeal is heartwarming and MEA should work on background check and allow Mother-daughter back to Goa if there is no suspicious found
这一诉求令人感动,外交部应进行背景调查,如果没有发现可疑情况,应允许这对母女返回果a。
Jitesh• 1802Mayank Mehta • Dubai • 2 hours ago
Not at all, there are enough good people around the so should we allow all of them if they want to come and settle in India?
绝对不行,如果其他国家的人都想来印度定居,我们都要同意吗?
A • India • 7 hours ago
Give them visa. Polish people are friends of India.
给他们发签证。波兰人民是印度的朋友。
Deshi• 930 • A • 6 hours ago
Idiot. My relative worked in USA. His boss was POLISH. HE WAS HIGHLY RACIST. He was abusive in behavior.
白痴。我亲戚在美国工作,他的老板是个波兰人,是一个主义者,行为粗野。
Jade • 7 hours ago
We have been giving loads of aadhar card to illegal Bangladeshis. Nothing harm in permitting polish people to stay in India.
我们给大量非法滞留的孟加拉国人发放了Aadhar卡。允许波兰人留在印度没什么坏处。
Mohammed • Noida • 7 hours ago
All children are lovely and capture the affection of elders. There are millions of such children and mothers. Law has to take its own course and a prime minister cannot work under emotions.
孩子都很可爱,颇受长辈的喜爱。这个世界有无数这样的孩子和母亲。但法律就是法律,印度总理也不能感情用事。
Dreet • 7 hours ago
Poland is a very beautiful place and Safe for women too. Majority of women in UP Bengal and Bihar would love to go to Poland Portugal and Spain
波兰是一个非常美的地方,也是女性很有安全感的国家。孟加拉邦和比哈尔邦的大多数女性都想去波兰,去葡萄牙和西班牙
Konfucius Ken • 9 hours ago
Wonder what Poland has to say about this. Overstaying a visa is an offence and sob stories are excuses. Yes people have personal likes but the world is not open and immigration is a chronic mdy everywhere. Sob stories open up the flood gates of opportunistic immigration.
不知道波兰对此有何看法。签证过期是不能滞留的,而哭诉只是借口。是的,每个人都有自己的喜好,但这个世界并不开放,不是想移民就能移民的。煽情的故事打开了机会主义移民的大门。
Mudi • Gujriot • 7 hours ago
Why does she want live in India when Poland is a much more developed country? She's not an Indian citizen, so she can't live here. Rules are rules, if people start getting citizenship based on sad letters then this country is done for.
波兰是一个更发达的国家,为什么她想生活在印度?她不是印度公民,所以不能住在这里。规定就是规定,如果人们能通过煽情来获得公民身份,那这个国家就完蛋了。
Vasudevan Rao • 7 hours ago
We all must support this Polish girl. In West Bengal and Assam many Bangladeshis and some Pakistanis also live in India even after the expiry of visas and most of them came to India illegally. Considering this Peace loving (friend of India) Polish people and this Polish girl request be considered.
我们支持这个波兰女孩。在西孟加拉邦和阿萨姆邦,许多孟加拉人和一些巴基斯坦人甚至在签证到期后还滞留印度,其中大多数人是非法来到印度的。考虑到她们是爱好和平的波兰人民,是印度的朋友,应该考虑这个波兰女孩的请求。
Barney • 8 hours ago
Come O)n People show some heart. Unless there is a cr9iminal recordf, we should allow these two to return to India. while Indians are rushing to go to the developed world, can we not have room for a mother and chilod to live in India?
除非有犯罪记录,否则我们应该允许这对母女回到印度。印度人都在奔向发达国家,难道我们印度就没有这对母女的立足之地吗?
Siv Sarkar • 7 hours ago
They should be allowed in the country on humanitarian ground.
从人道主义的角度,应该允许这对母女进入印度。
Victor • New Delhi • 9 hours ago
I think india should do a proper background check on this family
remember, would polish people helped any Indian in similar circumstances? I doubt it, still I would say do a background check and if possible, only then help them. If she is blacklisted, it's for a reason. we are a country where many te rorts can find any loose end.
我认为印度应该对这个家庭进行适当的背景调查
反过来,波兰人会允许印度人进入波兰吗?我对此表示怀疑。如果被列入黑名单,那肯定是有原因的。做一下背景调查,如果没问题的话就让她们入境
Kaloogandupakistanissuck • KalooGanduPakistan • 8 hours ago
Indians think Europe Americetc is beautiful and lime it too...but when visa expires they have to leave too. What makes you an exception?
印度人也认为欧洲、美国等国家很美。签证到期后,他们也必须离开所在国。为什么印度要破例?
DSR • 3 hours ago
We should welcome others to stay in India as long as the security is not compromised.
我们应该欢迎其他人留在印度,只要不危及安全。
Konfucius Ken • 6 hours ago
She should apply for immigration or VISA extention under extant rules and procedures. We cannot open up flood gates of uncontrolled and unregulated immigration
她应根据现行的规则和程序申请移民或签证延期。我们不能打开不受控制的移民闸门。
Neerav • 7 hours ago
She has written that she took care of cows... This is enough for the BJP gt. to grant her permanent citizenship of India.
她在信中说她照顾过奶牛,这足以让人民党政府授予她印度永久公民身份。
Ramesh Pai • 3 hours ago
Allow only after thorough security checks.
只有通过彻底的背景调查后才能允许她们入境。
Prakasha Rao • 3 hours ago
India can allow anyone except Bangladeshis.
印度允许任何人入境,就是不能让孟加拉国人入境
HSF • Australia • 4 hours ago
If, there are millions of illegal Bangladeshis, Pakistanis and Rohingyas in India, why not allow mother and daughter to live in India ? At least they won''t indulge in te rorm and street goondaism.
印度有数百万非法滞留的孟加拉人、巴基斯坦人和罗兴亚人,为什么不允许这对母女在印度生活?至少她们不会不会上街闹事。
Santosh • 2 hours ago
our country should have to allow them. they love India
应该批准她们入境,她们喜欢印度啊
Vivek Saxena • New Delhi • 3 hours ago
She has written Cow, she will surely get it.
她提到奶牛,一定会如愿以偿的。
Abhee N • 6 hours ago
Why do u want to leave beautiful Poland and live in india?
她为什么要离开美丽的波兰到印度生活?
Ratish Sharma • 5 hours ago
Give them long term Visa as special case. Ten years.
给她们破个例,签发十年长期签证作。
Ilias • USA • 6 hours ago
This is new. Usually Indians are knocking at the doors of developed countries.
新鲜,往往都是印度人在敲发达国家的大门。
Sanjoy Pandey • Kolkata • 7 hours ago
Let the Prime Minister and External affairs Minister decide on the issue.
让莫迪和外交部长来决定吧
Monica • New Delhi • 5 hours ago
What was PM MOdi''s response?
莫迪是怎么回复的?