Drunk man accused of ra 11-year-old lynched in Jndhar
贾朗达尔市一醉酒男子被控强奸11岁女童,被私刑处死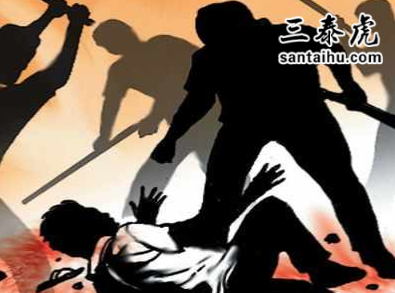 JALANDHAR: A mob lynched a 39-year-old man after he allegedly raped an 11-year-old girl in R Mandi area of Jndhar on Sunday afternoon. The man was alive when the police rescued him from the mob but he succumbed to injuries on the way to the civil hospital.
贾朗达尔市:周日下午,一名39岁男子在贾朗达尔市拉马曼迪地区强奸了一名11岁的女孩,该男子当场被暴民私刑处死。当警察把这名男子从暴民手中救出来时,他还活着,但在送往医院的路上因伤势过重而亡。
According to police, the man, in an inebriated condition, barged into his neighbour's one-room house when the girl was alone and committed the crime. The girl's parents, who are from Nepal, were at work at the time of the crime.
根据警方的说法,这名男子在醉酒的情况下,闯入了邻居家中实施了犯罪,当时只有女孩一人在家中。女孩的父母来自尼泊尔,案发时正在上班。
People in the neighbourhood were alerted by the girl's cries. When they entered the house, the girl was bleeding profusely and the accused was still inside the house. Neighbours caught him and beat him black and blue, police said.
女孩的哭声引起了邻居的注意,邻居进入房间时,女孩正在流血,被告还在房间内。警察称,邻居们抓住了男子,把他打得青一块紫一块的。
"The girl was in a bad shape when people caught and thrashed the accused. He was drunk when he raped the girl. When police reached there, the man was in a bad state. Cops rushed the girl and the accused to the civil hospital but he died on the way," said ACP (central) Harsimrat Singh.
警司Harsimrat Singh称:"邻居们殴打被告时,女孩的身体状况很糟。男子强奸女孩时喝醉了。当警方到达那里时,男子伤势很重。警方迅速将女孩和被告送往医院,但男子在途中死亡。"
A video of the crime scene after the arrival of police showed some cops giving the accused water to drink. It also showed him walking to the police vehicle with the support of two police personnel. However, he died in a few minutes on the way to hospital, police said, adding that a case under IPC Section 376 (rape) and under the Prection of Children from Sexual Offences (Pocso) Act has been filed ag inst the deceased. However, police have not filed charges ag inst the mob yet.
警方到达案发现场后拍摄的一段视频显示,警察给男子喂了水。视频还显示,男子在两名警察的搀扶下走向警车。然而,警方表示,几分钟后他就在去医院的路上去世了。警方补充说,根据IPC第376条(强奸)和《保护儿童免受性侵犯法》(Pocso),已对死者提起诉讼。然而,警方尚未对暴民提出指控。
The deceased was identified by his Aadhaar card and the police are trying to contact his family as he was living alone in Jndhar.
死者的身份是通过他的Aadhaar卡确认的,警方正试图联系其家人,死者独自一人住在贾贾朗达尔。
印度时报读者的评论:
译文来源:三泰虎 http://www.santaihu.com/47766.html 译者:Jessica.Wu
外文:https://timesofindia.indiatimes.com
Mohammed Siddique • 9 hours ago
THIS IS A FAST TRACK COURT , WELL DONE
做得好,这效率不输快速审案的法庭
que • India • 3 hours ago
Excellent
太棒了
Jeevan Karkera • 10 hours ago
Thats how second person will have fear in mind before committing crime.
只有这样,以后想作案的人才会怕。
Lan Josh• 1467 • Jeevan Karkera • 5 hours ago
Well then people can Lynch anyone on rumor
要这样的话,那人们就可以根据谣言私刑处死任何人
ONE LINER Challenge • 10 hours ago
JUSTICE DELIVERED ON THE SPOT- PEOPLE POWER
当场伸张正义——人民的力量
Peter • Mumbai • 9 hours ago
That's what India need, "Instant Justice" to deter others. Look at our judiciary, even today, Nirbhaya's rappists are alive after so many years.
这正是印度需要的,"即时伸张正义",这样才能震慑其他人。看看我们的司法系统,即使在今天,还有很多强奸犯逍遥法外。
Anantha Prasanna • 8 hours ago
Good judgement and great justice to the girl. What law could not decide were decided by the mob. Let these type of instant judgement prevail in the country. We do not want the rapists to survive.
做得好,为女孩伸张了正义。司法部不能做到,就由民众来。大家都这么做吧,我们不想让强奸犯逍遥法外。
Natarajan D • 9 hours ago
Good , instant punishment. If the rape goes to court, it will take years to decide , the rapist will be out on bail and roam freely. Police should not register any case
很好,即时惩罚。如果强奸案上了法庭,案子将需要数年的时间才能做出判决,而强奸犯将获得保释,可以自由活动。
Cybe Tron • 8 hours ago
He was caught red handed and punished even if this much much evidence was produced in court the would not have got death punishment but would live on taxpayers money.
他这是被当场抓住并受到惩罚,即使向法庭出示了证据,他也不会被判处死刑,而是靠纳税人的钱养在监狱里。
David Noon• 2001 • David Noon • 9 hours ago
THIS IS WHAT IS CALLED JUSTICE .....
这就是所谓的正义……
Anuj Lal • 9 hours ago
Our legal sy em needs to learn from this for quick disposal of cases.
我们的司法体系要从中学学,迅速审理案件。
Girija Sntaray• 1547 • Girija Sntaray • 7 hours ago
Many intellectuals will criticise it but I think it is better than seeking justice in our present legal sy em. I want to ask one question to answer honestly. Can a poor person seek justice in our judicial sy em. It is so lengthy and expensive. Think about gramy sabha the ancient way anyone can seek justice there. Please think about it otherwise people will compel to take such drastic steps.
许多知识分子会对此予以批评,但我认为这比在法庭上寻求正义要好。穷人能在我们的司法体系中得到声张正义吗?等候时间漫长,诉讼费用昂贵。人们被迫采取如此极端的做法。
Dreet • 7 hours ago
Excellent. Rapists are no different than Te rorts
太好了。强奸犯和分子没什么区别
Kapalee Chinta• 1789 • Kapalee • 7 hours ago
Courts and Justice sy em has to be blamed. Don't the Judges have any shame in dragging all such cases without giving a judgement.
都是印度法院和司法系统效率太低所逼的。法官们拖延案件,迟迟不予判决,难道不觉得羞耻吗?
Sumit Punhani• 760 • Sumit Punhani • 7 hours ago
The law of the country lost credibility long time ago
这个国家的法律早就失去了信誉
Nitin Bist• 55 • Nitin Bist • Sangareddi • 7 hours ago
Good work done by Mob .. Instead of relying on judicial sy em with so many loop holes , the mob did justice .. This should be done for all rapists
干得好。没有依靠漏洞百出的司法系统,而是直接伸张了正义。对付强奸犯,就该如此
Pappu • 6 hours ago
Well done. In such cases, spot justice is required.
做得好。这种情况下,就该当场。
Umesh Kumar Dash • Lonav • 6 hours ago
This man is a monster, de doesn''t deserve to be alive after committing heinous crime. Mob could have castrated him also.
这个人是个畜生,犯下滔天罪行,他不配活着,民众也可以阉了他。
Dean • traveller • 6 hours ago
well done crowd!! keep it up. I don't trust judiciary. I have fa th upon crowd justice!!
做得好! !再接再厉。我不信任司法,我相信群众的正义!!
Rajesh K Kaundal • Pathankot • 7 hours ago
Good that public resorted to quick disposal of case but remedy lies in legalising prostitution.
民众当场伸张正义是好事,不过要杜绝强奸这一现象,一劳永逸的办法是让卖淫合法化。
Girish • 5 hours ago
Justice delivered! He doesn''t deserve to live on the Earth
正义得到了伸张!这种人不配活着
Shantanu Ghosh • 5 hours ago
Good ! Justice done ! Instead of it running for 12 to 15 years in court !
很好!伸张了正义!
要是上法庭,要拖12-15年!
Bhushan • 4 hours ago
Well done. One pest free India at least.
做得很好。印度少了一只害群之马。
James • Tristan da Cunha • 6 hours ago
This is the only thing which will reduce crime ag inst women.
这是减少针对对妇女犯罪的唯一办法。
Olahuuber • Pune, Maharashtra • 6 hours ago
Instant justice, that's what these monsters deserve.
这畜生活该
inod Surendran • USA • 10 hours ago
It is heinous crime but mob justice is dangerous. If the true culprit was killed, I would not mind but this as a precedent is not good as innocents have been killed in the past.
令人发指的罪行,但暴民伸张正义是危险的。如果真正的罪犯被杀,我不会介意,但这并不可取,因为在过去也有无辜的人被杀。
Kuldeep Singh • 4 hours ago
Mob killed rapist, great, kill all the rapist in the same fashion.
民众杀了强奸犯,太棒了,用同样的方式处死其他强奸犯吧。
Anushka • Surat • 4 hours ago
This is the only method for culprits. No way the rapist should be leave live.
这是惩罚罪犯的唯一方法。不能让强奸犯逍遥法外。
Remo Remo • 5 hours ago
Instant justice like this is the way to go in our country where such a case will be stretched for even 100 years in court.
就该这么办,否则这种案子在法庭上要拖100年
VK• 1044 • Vk • New Delhi • 4 hours ago
Rapists and Te rorts deserve lynching!
强奸犯和分子就该被私刑处死!
Vladimir • NYC • 7 hours ago
Rapes and lynchings are now part of Indian culture
强奸和私刑现在成了印度文化的一部分
Mudi • Gujriot • 6 hours ago
No wonder India is ranked the 4th most unsafe country for women.
哪个国家的女性最没安全感,印度排名第四。