PM Modi pays tribute to jawans at National War Memorial
莫迪总理在国家战争纪念碑前向印度士兵致敬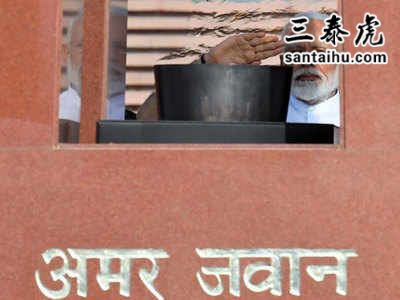 NEW DELHI: Prime Minister Narendra Modi on Thursday visited the National War Memorial here and paid tribute to the jawans who laid down their lives for the country post-independence.
Outgoing defence minister and BJP leader Nirmala Sitharaman also accompanied Modi along with Army Chief Gen. Bipin Rawat, Navy Chief Admiral Sunil Lanba and Vice Chief of Air Force Air Marshal RKS Bhadauria.
新德里: 周四,莫迪总理参观国家战争纪念碑,并缅怀那些独立后为国家牺牲的士兵。即将离任的国防部长、人民党领袖西塔拉曼以及陆军参谋长拉瓦特、海军上将兰巴和空军副参谋长空军中将RKS Bhadauria陪同。
Earlier in the day, Modi paid tribute to Mahatma Gandhi and former Prime Minister Atal Bihari Vajpayee here ahead of his swearing-in ceremony today evening.
当天早些时候,莫迪在这里向圣雄甘地和前总理瓦杰帕伊致敬。今晚,莫迪将宣誓就职。
The 68-year-old stalwart leader is set to take oath as the Prime Minister of India for the second consecutive term today. President Ram Nath Kovind will administer the oath of office and secrecy at a function being organised in Rashtrapati Bhawan.
这位68岁的强硬领袖今天将宣誓就任印度总理,这是他的第二个任期。总统拉姆·纳特·科温德将在总统府主持宣誓仪式。
Modi on February 24 inaugurated the memorial located next to India Gate in the heart of the national capital.
该纪念碑位于印度首都中心印度门旁,莫迪于2月24日为该纪念碑揭幕。
The state-of-art monument spread over an area of approxmately 40 acres dedicated to soldiers who laid down their lives defending the nation during -India war in 1962, Indo-Pak wars in 1947, 1965 and 1971, Indian Peace Kee Force Operations in Sri Lanka and in the Kargil Conflict in 1999.
这座纪念碑占地约40英亩,是为了纪念1962年中印战争、1947年、1965年和1971年印巴战争、印度维和部队在斯里兰卡的行动以及1999年卡吉尔冲突中为保卫国家而牺牲的士兵。
印度时报读者的评论:
译文来源:三泰虎 http://www.santaihu.com/47738.html 译者:Jessica.Wu
外文:https://timesofindia.indiatimes.com
Dr Vidyadhar Yellutla • Bangalore • 4 hours ago
The difference between NDA lead by Modi and UPA lead by Sonia is Modi gives importance to the martyrs of nation and Sonia mafia gives importance to the family loyalists, and feels army is expendable.
莫迪领导的全国民*联盟和索尼娅领导的团结进步联盟的不同之处在于莫迪尊重民族烈士,索尼娅黑手党只重视忠于其家族的人并认为军队是可以拿来牺牲的。
Sayan Banerjee • 4 hours ago
Modiji is very true in his patriotic nature. He always supports our armed forces. He always respect our National war heroes.
莫迪非常爱国,他一直支持我们的军队,缅怀牺牲的军人。
Rahul Pal • 3 hours ago
This is very good move and it is highly appreciated that he is doing all these things and he thinks about the people who are martyred
做得好,莫迪所做的一切都是值得赞赏的,他缅怀那些为国家做出牺牲的人。
Melodic Nostalgic • 2 hours ago
Mahabarta was a myth and Modi kanjr is a coward who swallowed down shooting down of two IAF jets by a small country Pakistan, capture of a Hindu pilot.
莫迪是一个懦夫,不承认巴基斯坦击落了两架印度空军战机,不承认巴基斯坦俘虏了一名印度飞行员。
Dhaval Mehta • 4 hours ago
Modi will do great.
But his team needs to support him.
More over he needs to support Jawans
莫迪会做得很好。
他的团队应当鼎力支持
莫迪也应支持士兵
Pronay Sarkar • 3 hours ago
This is very good stapes by Shree Narendra Modi ji.
We got a super as our PM.
莫迪做得好!我们选了一位超级棒的人当总理。
Naresh Kumar • 3 hours ago
if not soldiers and misusing Army for attacks and creating war hysteria.. Modi would have not won this elections..
如果没有发动突袭,煽动战争歇斯底里,莫迪就无法赢得这次选举…
major sbm • Hindustan • 2 hours ago
Kudos & Salutations to PM Modi Ji. Such gestures contribute to enhancing the morale of the armed forces in a big way. Undeniably, the contribution and sacrifices of our armed forces is immeasurable and for the PM to acknowledge this and pay homage to the martyrs of Hindustan is highly appreciable.
向莫迪总理致敬,这将大大提高军队的士气。不可否认,印度军队做出了不可磨灭的贡献,牺牲是不可估量的,总理承认这一点并缅怀印度烈士,这是非常值得赞赏的。
omkargiri • 2 hours ago
PM Modi are great .
莫迪总理太伟大了。
Rajdeep • Sangrur
Modi ji is our Supreme Leader.
莫迪是我们的最高领袖。
Mumtaz Hussain• 7065 • Rajan Sahani • Dubai, UAE • 54 mins ago
Do you think during the last 70 years, Modi was ruling on India. ?
你以为在过去70年里,统治印度的一直是莫迪吗?
Pronay Sarkar
We live peacefully only cause of our soldiers, and they deswrve respect.
We should respect them and tribute them. Modi ji did this very great fully. I personally respect it.
正因为有印度士兵的牺牲,我们才能和平地生活,他们值得尊重。
我们应该尊重他们,向他们致敬。莫迪完全做到了这一点。
PR
This term was possible just because of the recent attacks. So he has to go and pay tribute to them. If no Balkot, no Modi.
莫迪能连任,多亏了最近发动的外科手术式打击,所以他应该去向牺牲的士兵献花圈
debasish bhaumik
Hope that the new government will also address the farmers'' distress who produce food for the survival of our nation.
希望新政府能帮助农民走出困境,正是农民辛苦耕种而养活了这个国家
sanjoy • 1 hour ago
Very humble gesture of our beloved PM.
我们敬爱的总理展现出非常谦卑的姿态,。
George Koshy • 2 hours ago
Why is it that a farmers memorial is not built in this nation , why is it that no PM has come forward to give respect and importance to the farmers of this nation who have toiled hard for the food security of our nation. and have had to lay down their lives in larger numbers than the security forces, due to the wrong policy discussions of the governments since independence
为什么印度没有建一座农民纪念碑,为什么没有一个总理尊重并重视这个国家的农民,他们为我们国家的粮食安全提供了保障。自从独立以来,由于政府的政策失误,劳作而死的农民比战场上牺牲的士兵还多。
niraj chavan • 2 hours ago
Is it a show off, isn''t it?
这是作秀吧?
Ravi Singh • 3 hours ago
He is the best prime minister, India could get.
莫迪是印度最出色的总理。
Jac Chira • 54 mins ago
Rightly Done Now.
Pay Special Tributes to 40 CRPF jawans who lost their Lives, which Led to Balkot Surgical strike claim and raising Patriotistic feeling in Public and there by achieving Election Victory.
特别向40名印度中央后备警察部队士兵表示敬意,他们的牺牲,引发了印度后来的外科手术式袭击,激起了印度人民的爱国主义情绪,帮助了莫迪赢得选举。
Vivek Bhardwaj • 1 hour ago
modi a powerful prime minister who give our army so much power.he doing surjical strike , Air strike ever when terrorists is doing wrong way
莫迪是一位强硬的总理,他赋予印度军队极大的权力。
Sharma Narendra • narendra • Bharat • 1 hour ago
He does what he says
莫迪言出必行
Roushan S • 2 hours ago
Every leader does this! Why people are so much in praise of this particular leader for doing this? It is not anything out of the way he did it!
每位领导人去纪念碑前缅怀烈士!
为什么人们对莫迪格外赞赏? 莫迪做的有什么特别之处吗!
Bhanwar Aalawat • JODHPUR • 2 hours ago
THERE IS NO COMPARISON BETWEEN NAMO AND SONIA/R.G OR ANY ONE IN CONGRESS,
索尼娅、拉胡尔,乃至国大党里面的任何一个人都不能和莫迪相提并论。
Amaan Ansari • Pune • 2 hours ago
Modi is very Patriotic in nature.
莫迪非常爱国,这是与生俱来的。
ps murthy • Ingeku • 2 hours ago
Modi will be PM of India for 15 years atleast.
莫迪至少还要再连任15年。
Mohit Jain • 2 hours ago
true patriotic leader
莫迪是真正的爱国领袖