Monkeys kill twice in a day in India: Woman, 60, and man, 20, die after being chased by angry primates in separate attacks in neighbouring villages
印度猴子一天之内杀死两人:一名60岁的妇女和一名20岁的男子在相隔不远的两个村子分别遭到猴子袭击而亡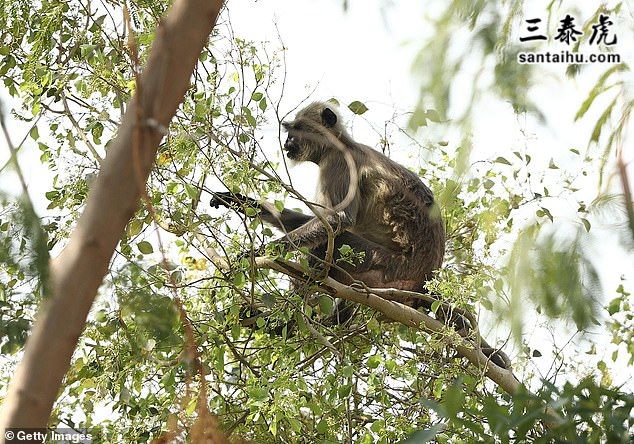 Packs of monkeys killled twice in 24 hours in India after a 60-year-old woman and 20-year-old man were chased by the furious primates in two nearby villages.
在印度相邻的两个村子里,一名60岁的妇女和一名20岁的男子在同一天分别遭到一群愤怒的猴子袭击而亡。
The mother-of-seven was standing on her open terrace and plunged to her death on Friday in the Kathail village in Chandausi in the densely populated north of India.
周五,在印度北部人口稠密的Chandausi的Kathail村,这位7个孩子的母亲站在露天阳台上遭猴子袭击坠楼身亡。
The woman named locally as Launshree was rushed to hospital but declared dead on arrival.
这位名叫Launshree的女子被紧急送往医院,然而送到医院时不治而亡。
Launshree had been cooking food on the veranda before the wild hoard set upon her and as she sought to bat them away stumbled off the edge.
当时Launshree正在阳台上做饭,一大群猴子扑向她,她正想把它们赶跑时,却被绊倒坠楼。
Her catastrophic injuries were such that she stood no chance of survival, the Times of India reported.
据《印度时报》报道,她严重受伤,没有活下来的希望。
Her husband Asharfilal said that blood was streaming from her body after the impact.
她的丈夫Asharfilal称,坠楼后,她的身体大出血。
Just a few miles away Rakesh, 20, died of his injuries after he too was set upon by a vicious posse of the monkeys in the Maulagarth village.
就在几英里之外的Maulagarth村,20岁的Rakesh遭到一群凶恶的猴子袭击后,受伤而亡。
Rakesh was also perilously close to the edge of his roof when a troop of the deadly primates went after him.
当这群致命的猴子追赶他时,Rakesh也正站在靠近屋顶边缘的危险之地。
Locals said the phenomenon was a new one but that in recent years the numbers of monkeys has soared.
当地人称这是一种新现象,但是近年来猴子的数量激增。
They have complained to the administration of the province, who told the Times: 'We will soon write to the forest department asking them to make arrangements for capturing monkeys.'
他们已向邦政府投诉,政府向《泰晤士报》表示:"我们很快会致函林业部门,要求他们安排抓捕猴子。"
英国每日邮报读者评论:
译文来源:三泰虎 http://www.santaihu.com/47171.html
外文:https://www.dailymail.co.uk
ciarri18, Paris, France, 5 days ago
The problem is that their natural habitat is disappearing. They are forced to live in urban areas leading to problems
问题在于猴子的自然栖息地正在消失,它们被迫生活在市区,才导致了这类问题。
Mikeisright, Belfast, United Kingdom, 5 days ago
And we are comfortable country not troubled by strong and brazen wild animals just view monkeys as cute creatures that have more right to exst than the humans they terrorise
我们国家宜居,不受野生动物的困扰。在我们这,只把猴子视为可爱的动物,认为它们比人类更有生存的权利
null, 5 days ago
It's not a primate problem. It's a problem of humans overpopulating the earth and taking territory that has belonged to wildlife since the dawn of time.
问题不在于猴子,而在于人类在地球上过度繁衍,占据从远古时期就属于野生动物的领土。
Teresa, BRIDGEND, 5 days ago
And how many monkeys are killed by humans??
人类杀死了多少猴子??
Dornröschen, Bluetown, Greenland, 5 days ago
I bet the monkeys complained of a soaring humans problem.
我敢打赌猴子们对人类的抱怨还更多。
johndrake, dublin, Ireland, 5 days ago
and the awful torture these creatures endure in labs
这些猴子在实验室里忍受着可怕的折磨
myrtle_cottage, Edinburgh, United Kingdom, 5 days ago
The monkeys were after the food and the poor woman's living conditions contributed to the fall.
猴子们当时在寻找食物
mattyglasgow, glasgow, 5 days ago
Nothing a good gun won't sort out the next time they come calling.
下次猴子再来,只要一把枪就能解决问题。
salfordred, Manchester, United Kingdom, 5 days ago
So they both fell to their deaths.
都是摔死的。
Miranda, Scotland, United Kingdom, 5 days ago
They are either copying humans or wildlife is getting its own back after thousands of years of abuse.
猴子是在效仿人类,在经历了数千年的虐待后,发起报复。
Peloquinn, Truro, United Kingdom, 5 days ago
The monkeys didn't kill them. They both fell from rooftops after being scared by the monkeys.
他们不是猴子杀死的。而是在被猴子吓到后,从屋顶上掉下去摔死的。
Thelma50, Dundee, 5 days ago
They were being attacked!
他们被袭击了!
OMGwerhgsgts, Somewhere, United Kingdom, 5 days ago
So these people had unsafe terraces without railings, and fell off. Hardly the monkeys fault, more a Health & Safety issue.
这两人都是在没有栏杆的阳台上掉下去的。几乎不是猴子的错,更多的是存在安全隐患。
Max_, Any City, United States, 5 days ago
Being attacked had nothing to do with it... they would have fell anyway... is that what you are saying?
你认为遭到猴子攻击与此无关…反正他们迟早都会掉下去的,你是这个意思吗?
Unimum, Derbyshire, United Kingdom, 5 days ago
Soaring human problem more like!
更像是由于人口激增导致的!
MackemNotGeordie, Sunderland, United Kingdom, 5 days ago
So not actually killed by the monkees then ? Just accidents.
所以不是被猴子杀死的?只是意外事故。