$490 billion in black money stashed abroad by Indians: Report
报告:印度人在海外存了4900亿美元黑钱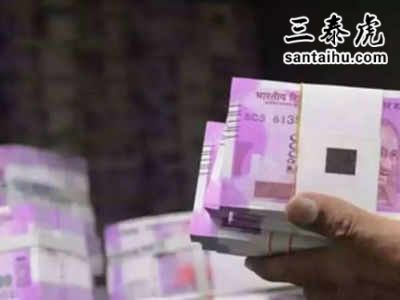 NEW DELHI: Studies conducted by three premier institutes — NIPFP, NCAER and NIFM — have concluded that unaccounted wealth held by Indians outside the country till 2010 could be as high as $490 billion, besides black money parked within the country as 'investments' in sectors like real estate, mining, tobacco/gutka, bullion, films and education.
新德里:由三大机构——NIPFP、NCAER和NIFM进行的研究得出的结论显示,截至2010年,除了印度国内以"投资"的形式存在于房地产、矿业、烟草、黄金、电影和教育等领域的黑钱外,印度人在国外持有的来源不明的财富或高达4900亿美元。
This was part of a report of the standing committee on finance tabled in Lok Sabha on Monday. This is the first official acknowledgement of the three government-sponsored studies initiated in 2011 to estimate black money held by Indians in the country and abroad. On a reference from the then UPA government, the three think tanks came out with their own estimates of black money.
周一财政常务委员会在人民院提交的的报告指出了这一结论。这是官方首次承认2011年发起的三项由政府资助的研究,这些研究旨在评估印度人和海外印度人持有的黑钱。根据当时国大党政府的说法,这三家智库对黑钱做出了各自的估算。
The reports have not been made public yet, though they were submitted to the government during the UPA regime. The National Institute of Public Policy and Finance (NIPFP) has estimated illicit financial flow out of the country during 1997-2009 in the range of 0.2% to 7.4% of GDP. The National Council of Applied Economic Research (NCAER), however, estimated unaccounted wealth accumulated outside the country by Indians between $384 billion and $490 billion during 1980-2010. The National Institute of Financial Management (NIFM) found the total illicit outflow from India (1990-2008) at Rs 9,41,837 crore ($216.48 billion).
虽然这些报告是在国大党政权期间提交给政府的,但尚未公开。国家公共政策和金融研究所(NIPFP)估计,1997年至2009年期间,流出国外的非法资金规模占印度GDP的0.2%至7.4%。然而,国家应用经济研究委员会(NCAER)估计,1980年至2010年间,印度人在国外积累的来源不明的财富在3840亿美元至4900亿美元之间。国家金融管理研究所(NIFM)发现,1990年至2008年,从印度流出的非法资金总额为94183.7亿卢比(合2164.8亿美元)。
印度时报读者的评论:
译文来源:三泰虎 http://www.santaihu.com/47899.html
Adi Roi
most of it belongs to sonia, chidambran, etc scamgress looters... bring it back.
大部分黑钱是索尼娅等国大党强盗名下的……追回来吧。
Indian Lover• 2 hours ago
No worries, Modi is back, he will get back all black money in abroad within 20-30 years. Modi hain tho mumkin hain but few generations kaa time lagegaa
不用担心,莫迪连任了,他会在20-30年内把国外的黑钱都追回来的
Natarajan D• 7 hours ago
So can we expect this money back to India. Nothing could happen in five years. So the same will continue for the next five years
我们能指望追回这些黑钱吗?五年内就别指望了,再过多少个5年都追不回来
Rocker• India • 6 hours ago
It's the same, if Kongress or other party is in power and will also get accumulated/stashed even more...
如果国大党上台,黑钱会越来越多
gopal • bengaluru • 5 hours ago
lol - all demonetization is pointless
"废钞令"没一点意义
Quabie• Delhi • 2 hours ago
It says black money stashed till 2010... demo happened in Nov 2016.
文章说的黑钱是截止2010年,"废钞令"是2016年11月开始实施的。
flemingo2008 David• 6 hours ago
As & when the names of the black money stashers abroad is found out declare the names.recover all black money & include to the ex-chequor for the nations to grow.declare these CORRUPT LOOTERS as anti-nationals & confiscate all wealth
查到海外藏匿的黑钱,就公布账户持有人的名字,追回所有黑钱,全部充公,纳入国库。
Spaceman • Earth • 6 hours ago
As long as politicians are not accountable and remain corrupt black money generation will continue since in such a system no citizen wants to pay tax after tax.
只要政客们不负责任,继续腐败,黑钱就会源源不断地产生,没有公民愿意再交税。
FairHuman• 3 hours ago
How did Sonia Gandhi became the 2nd richest woman politician in the world ?
索尼娅·甘地是如何成为全球第二富有的女政治家的?
Dreet • 6 hours ago
So where is the Rs 15 lakh?
说好给每人发150万卢比的,钱呢?
FairHuman• 3 hours ago
Keep dreaming
继续做梦吧
Hindustan • Hindustan Hindu Rashtra • 6 hours ago
All Scams happened through Banks & Politicans, without going through them black money could not be transferred to outside the country.
Still they cant track or have any record of black money how much, these numbers are just assumptions.
诈骗都是政客和银行干的,没有他们,黑钱就无法转移到国外。

Hindus are chors • Hindustan Hindu Rashtra youtub • Delhi • 4 hours ago
All scamsters were hindus..!!!
所有的骗子都是印度教徒
Deepak • Karnataka
Only that much!?. BJP and Modiji were saying before 2014 that trillions of dollars in black money is stashed abroad and they will give 15 lakhs per person!. It looks most belongs to BJP as they have used their government to make it white and bring back to India!!!!.
只有这么点! ?
印度人民党和莫迪在2014年之前就说过,有数万亿美元的黑钱藏在国外,追回来后他们会给每人发150万卢比!
看起来大部分都归人民党了,他们利用政府把黑钱洗白了,然后带回印度!
Spidey • Deepak
Because there was huge chest thum during 2014 that Modi will bring back black money within 100 days of coming to power . Nothing happened .
2014年,莫迪上台后说要在100天内就会把黑钱追回来。结果呢?
Dreet • 6 hours ago
Such news coming after and not before the polls.
这种消息只会在大选之后传出来
Adna jee• 5 hours ago
It''s 5 years plus. The Modi government must act now. People are losing patience.
五年多过去了,莫迪政府赶紧采取行动吧。人们正在失去耐心。
Hindustan • Hindustan Hindu Rashtra • 6 hours ago
These are just assumptions. Nothing based on facts.
They know all the track of public money but not the money looted through banks and Politicans.
这些只是假设,没有任何事实根据。
他们能查到所有公款的去向,却不知道银行和政客转走了多少黑钱。
rajnish tiwari• Location • 2 hours ago
Bjp also turned out to be corrupt. I thought it was a good party.
事实证明,人民党也是腐败的。我原以为人民党是一个不错的政党。
free birdi • Gondwanaland • 2 hours ago
what about profits from rafaele deal??
阵风战机的交易有多少油水?
Jyothi • 3 hours ago
So Mr.PM...janta is still waiting for the 15 lakhs promised 5 yrs ago...Oh the tall tall promises...Sigh!
总理先生,大家都在等着5年前承诺要给大家发的150万卢比呢,哎!
Vivek Tripathi • Mumbai, Maharashtra, Ind • 3 hours ago
Most of indians who can do fraud are doing it. From police to ministers everyone is corrupt here. We will never be properous country like USA or Japan because of our corrupt mindset.
大多数能贪的印度人都在贪,从警察到部长,人人腐败。我们永远不会成为美国或日本那样的富裕国家,我们的思想已经腐败。
flemingo2008 David • 6 hours ago
Black money stashed outside must be brought as soon as possible.be it politician or entreprenuers..it belongs to the nation.
匿藏在国外的黑钱必须尽快追回来,无论是政治家还是企业家名下的。这些钱是国家的。
kiran • Bangalore • 4 hours ago
What Modi is doing then? Y no action taken to get the black money back
莫迪在做什么?
都没采取行动追回黑钱。
Krishna• 4 hours ago
Time to cleanup this mess in next few years.
未来几年,该收拾这个烂摊子了。
Chirag Rajput• 3 hours ago
how?
怎么收拾?
Jagjit • 6 hours ago
ha ha .MOTI govt very confident, that there is no corruption now.
哈哈,印度政府很有信心,现在没有腐败了。
Ulhas Kulkarni• Navi Mumbai • 2 hours ago
No way any of this money is going to come back! EVER. But TALKING about it is an ELECTION issue. Selectively victimising opposition leaders over such issues also helps the govt in power.
这些钱不可能追回来了!永远都不可能。谈论黑钱只是为了选举。在这个问题上攻击反对派领导人对执政有利。
free birdi • Gondwanaland • 2 hours ago
now we know why modi ji travels abroad so much
现在我们知道为什么莫迪经常出国了
Preeth Indian • 3 hours ago
Bakwaas report. Didn''t modi bring back all the back money stashed abroad during his last tenure
莫迪在上个任期内没有把藏在国外的钱都追回来吗?
外文:https://timesofindia.indiatimes.com/business/india-business/490bn-in-black-money-stashed-abroad-by-indians-report/articleshow/69935182.cms