Women voters outnumber men in 13 states and union territories
在13个邦和联邦属地,印度女性选民的数量超过男性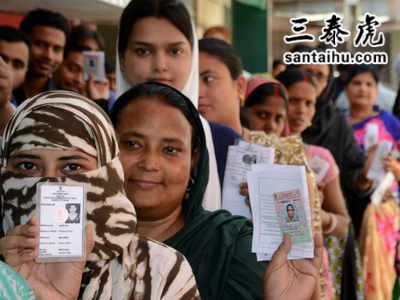 NEW DELHI: Women voters outstripped men in as many as 13 states and Union territories in the Lok Sabha polls which concluded on Sunday. The new entrants to this club are Bihar and Uttarakhand, the only states in the north to figure on this list.
新德里:在周日结束的人民院选举中,多达13个邦及联邦属地的女性选民超过了男性选民。新加入这个清单的是比哈尔邦和北阿坎德邦,这两个邦是北方唯一上榜的两个邦
In 2014, 10 states and UTs had seen more women than men voting, but within the then undivided state of Andhra Pradesh, the part that now remains Andhra had also recorded a larger number of female voters than male. Thus, effectively 11 of the current states and UTs had witnessed this trend five years ago.
2014年,10个邦和联邦属地的女性选民多于男性选民,当时尚未分裂的安得拉邦,女性选民也多于男性选民。实际上,当时有11个邦和联邦属地在5年前就是女性选民多于男性选民。
The current list is dominated by states and UTs in the south and northeast, the only exceptions being Goa and Daman & Diu in the west and the two northern states.
目前上榜主要是位于南部和东北部的邦以及联邦属地,西部上榜的有果阿和达曼&迪乌以及北部的两个邦。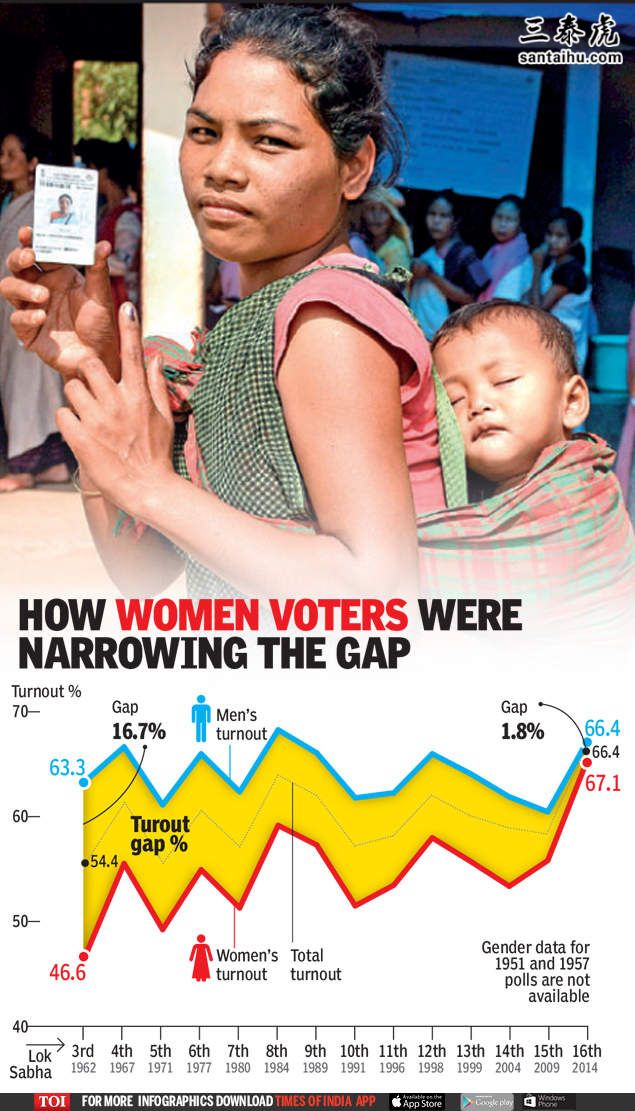 印度时报读者的评论:
译文来源:三泰虎 http://www.santaihu.com/47678.html 译者:Jessica.Wu
外文:https://timesofindia.indiatimes.com
ONE LINER Challenge • 10 hours ago
NEHRU EXPLOITED WOMEN
MODI JI EMPOWERED WOMEN-
THAT''S THE BIG DIFFERENCE
尼赫鲁削弱女性的权利
莫迪赋予女性权力
这就是最大的不同
ONE LINER Challenge • hyderabad • 7 hours ago
But note Hindi belt where modi is more popular
在印地语地区,莫迪更受欢迎。
ONE LINER Challenge • London • 8 hours ago
Would you care to explain that. Modi left her woman you fool!!!
你能解释一下吗?莫迪可是抛弃了他的女人
ZeeMadBroker • 4 hours ago
Doeszchild marriage count?
童婚能算数吗?
Chowkidar Mukesh • 9 hours ago
The kitchen gas, triple talaq bill, and toilets have translated into votes and surge in women voters across the country. Believe it or not. This is real empowerment of women. Rahul calls them ''ek mahila''!
通煤气、修建厕所,推动了全国范围内女性选民投票。信不信由你,这是真正赋予女性权力。
Chowkidar Mukesh • MANGALORE • 4 hours ago
EVM PLAY A SIGNIFICANT ROLE...
电子计票机发挥了关键作用…
Chowkidar Mukesh • 9 hours ago
Modi empowered women in 5 years, something that Congress could not do in 60 years. The numbers speak for itself.
在5年内,莫迪赋予了女性权力,这是国大党在60年里都无法做到的。数据说明了一切。
ONE LINER Challenge • 10 hours ago
WOMEN DEMONSTRATE MODI JI''s EMPOWERMENT
这表明莫迪赋予了女性权力
Indian • India • 10 hours ago
Great News! Women are aware of their rights and duties in the Indian de ocracy better than men.
好消息!在印度,女性比男性更清楚自己的权利和义务。
Amrit Bindra • Cleveland • 10 hours ago
NDA leading shows that women are smarter voters than men !
人民党的领先优势表明,女性选民比男性选民更明智!
K Mohan • Hyderabad • 7 hours ago
For the first time, we could see women turning out in large numbers at the polling station even kept pending their morning chores at the kitchen. Because they want decisive and powerful government.
第一次看到大批妇女在投票站投票,她们甚至放下了厨房里的家务,就为了想要一个果断而强大的政府。
K Mohan • Canada • 3 hours ago
They want better life
她们想要过上更美好的生活
Patriot • 10 hours ago
More women voters in these states is good sign for BJP.
这些邦有的女性选民更多,对人民党来说是个好兆头。
Mohan • 4 hours ago
Modi provided cooking gas and toilets. women are grateful.
莫迪让人们用上了燃气,为人们修了厕所。女性选民很是感激。
Murthy Krishna • 5 hours ago
Indian women knows they will be safe as long as Modi is there as PM.....
印度女性知道,只要莫迪担任总理,她们就会安全。
rajkripal40 • 10 hours ago
Yes, we are progressing !
我们正在进步!
AK • Bengaluru • 4 hours ago
It shows Women empowerment. Now they have to join politics proactively...More than 50% should be women in any assembly.
这显示了女性赋权,现在她们必须积极参与政治……每逢集会,女性都应占50%以上。
Raja Chauhan • 5 hours ago
This is the good news for all people of India because Women are not goes for Voting. In Modi Government They have seen many differences.
这对所有印度人来说都是好消息,过去女性不去投票。在莫迪政府治下,情况大不相同了。
Main • New Delhi • 3 hours ago
Women power at it's best.
Kudos to the ladies.
女性被赋予了最大的权利。
向女士们致敬!
Sehra Bindal • 5 hours ago
Its good to see women are taking keen interest in the progress of society and nation
很高兴看到女性对社会和国家的进步产生了浓厚的兴趣
Ashish Vishvakarma • 8 hours ago
Because this is the only right which we can use for our healthier future.
Vote is very important for every person.
投票对每个人来说都很重要。因为这是人们唯一可以给自己带来更加美好未来的机会
Anushka • Surat • 2 hours ago
These are all goes to NaMo
她们都是给莫迪投票的
Bella Donna • 3 hours ago
Women seem to adore Modi.
女性都很崇拜莫迪
Amaan Ansari • Pune • 5 hours ago
Modi empowered women''s in 5 year''s.
莫迪在5年内赋予了女性权力。
K Mohan • Hyderabad • 7 hours ago
And women felt more secure during Modi government and also knows, given the second chance Modi would churn out largess for them.
莫迪执政期间,女性感到更加安全。如果给莫迪第二次机会,他会为她们慷慨解囊。
Rohit • Gandhinagar • 10 hours ago
the age of women empowerment has arrived and is there to stay. we just need to ensure that we improve our law and order situation so that the womenfolk are safe when they venture out of their homes during nights.
女性赋权的时代已经到来并将继续下去。我们只需要确保完善法律和秩序,让女性在晚上外出能安安全全。
Saurabh • 2 hours ago
looks like India women power is going stonger day by day...
看起来印度女性的权力一天比一天大…
Nilesh Karkhanis • 3 hours ago
This is very good sign for Indian Democracy that women also taking part in good cause and excersing their right to vote.
这对印度民*来说是一个好迹象,女性也参与了进来,行使了她们的投票权。
Santimay Basu • New Delhi • 3 hours ago
Just before the Poll, PM Modi asked the party workers whether they can ensure more women voters to cast their votes and outnumber male voters at least by 5% percent. It seems that his appeal did not go unnoticed by the female voters.
就在投票开始前,莫迪总理问该党工作人员,他们是否能确保更多女性选民参与投票,并确保女性选民至少比男性选民多5%。看来,他的呼吁并没有被女性选民忽视。
Rhj3 • 3 hours ago
If women outnumber males than crime rates will automatically drops and country is expected to prosper under peaceful ambience
如果女性人数超过男性,犯罪率自然会下降,我们国家有望繁荣昌盛。
Dilip Kumar • 4 hours ago
Increase in women's voting reflects edge to Modi.... but why West Bengal is not in this list where Didi is in power but women voters are less.....
女性选民的增加反映了莫迪的优势。为什么玛玛塔执政的西孟加拉邦女性选民却更少?
Vivek • 5 hours ago
And these are the states where Modi lose
在这些邦,莫迪都输了。
Mahendra Vir Saxena • New Delhi • 16 mins ago
Women voters might have swing the elections in favour of Modi who is likely to get second term. Women were beneficiary of social scheme implemented by Modi.
女性选民可能会把票投给有可能连任的莫迪。女性是莫迪政策的受益者。
Suman Sharma • 1 hour ago
That''s why BJP is wng
这就是人民党获胜的原因