Indians in US scramble to get citizenship ahead of presi nt polls
在美印度人争相在美国大选前入籍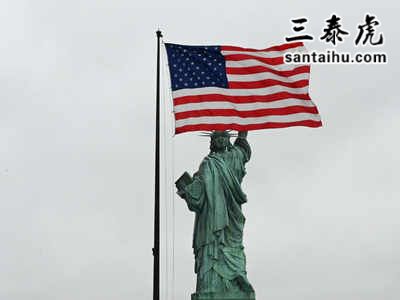 NEW DELHI: The run-up to the US presi ntial ions has seen growing interest among green card holders (technically termed as lawful permanent resi nts) to obtain citizenship.
新德里: 随着美国总统大选的临近,绿卡持有者(技术上称为合法永久居民)获得公民身份的兴趣日益浓厚。
A little over 5.44 lakh foreign nationals became US citizens during the first three quarters of fiscal year 2018 (which is the nine month period ended June last year). Interestingly, this is a rise of 15% over the same period last year. On the other hand, 7.07 lakh immigrants had become US citizens during the fiscal year ended September 30, 2017 - this was a 6% decline from the previous fiscal. Data in this regard was released recently by the US Citizenship and Immigration Services (USCIS), the immigration agency of the US go nment.
2018财年前三季度(截至去年6月的9个月期间),略高于54.4万的外国公民成为了美国公民。有趣的是,这比上一年度同期增长了15%。另一方面,在截至2017年9月30日的财政年度,有70.7万移民获得美国公民身份,比上一财年减少了6%。美国政府的移民机构——美国公民与移民服务局(USCIS)最近公布了这方面的数据。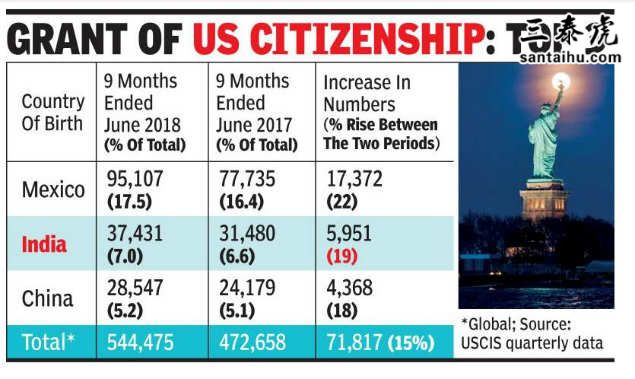 Advocacy groups, such as the National Partnership for New Americans (NPNA), through outreach programs and legal assistance, aim to mobilise one million 'e gible' foreign nationals in the US to apply in time, to enable them to participate in the de ratic process.
新美国人全国合作组织等倡导团体旨在动员100万"符合条件"的在美外国人及时申请公民身份,使他们能够参与进程。
During this nine month period ended June 30, 2018, as many as 37, 431 Indians became US citizens (nearly 7% of the total), making them the second-largest group following Meco. were the third-largest group, with 28,547 (5% of the total) obtaining US citizenship.
在截至2018年6月30日的9个月里,多达37431名印度人获得美国公民身份(占总数的近7%),成为仅次于墨西哥的第二大群体。是第三大群体,有28547人(占总数的5%)获得了美国国籍。
As compared to the previous corresponding period, 5,950 more Indians were conferred US citizenship during the first three quarters of fiscal 2018, which is an increase of 19%. Similarly, the increase for Mecans is 22% and for it is 18%.
与上一年度同期相比,2018财年前三季度新增5950名印度公民获得美国国籍,增幅19%。墨西哥和分别增长了22%和18%。
印度时报读者的评论:
译文来源:三泰虎 http://www.santaihu.com/47685.html
外文:https://timesofindia.indiatimes.com
KRISHNAKUMAR RAMAMURTHY • 10 hours ago
if you ar eindian citizen then you should respect and allegiance to india. if you are US citizen then your allegiance should be US.
如果你是印度公民,那你应该效忠印度。如果你成了美国公民,那你就得忠于美国了。
mahesh • Indian army great • hyd • 2 hours ago
Why Indians want to run abroad? I guess for foreign craze and dollars. Often they give reasons like quotas, ques etc. That's is just excuse.
为什么印度人想要出国?可能因为对国外的狂热,还有赚美元吧。他们经常说是因为印度的预留制,但那只是借口。
mahesh • India • 2 hours ago
Why blame others when In fo sys foundre son himself abandoned his company and wealth and go live in USA.
印孚瑟斯创始人之子都放弃了自己的公司和财富去美国生活了,其他人也想去,不是很正常吗,这不能怪他们吧?
Human • 9 hours ago
Last year remittance to India stood at $80 billions. Many Indian origin CEO''s choose India to outsource the jobs that foreigner''s are not interested in doing. Loving India by heart and hel India financially are equally Indians than those urban naxals who live in India but want to divide India into pieces for selfish benefits.
去年印度的海外汇款达到800亿美元。许多印度裔CEO选择将外国人不感兴趣的工作外包给印度,他们发自内心地爱印度,在经济上帮助印度,他们同样是印度人,比那些为了一己私利,想把印度成几个部分的人更对得起印度人这个称呼。
Whydoyoucare • 10 hours ago
All these "so called" NRIs are none but south indians. 80% indians in US are telugu or tamils. Why are they so crazy for countries abroad. Dont know why they want to go by hook or by crook to other countries. Any country you pick up, they will be seen. All this immigration restrictions in US are because of them. Now they are flying to Canada and will make another country garbage.
这些所谓的海外印度裔都是南印度人。美国80%的印度人是泰卢固人或泰米尔人。为什么他们对国外如此着迷。我不知道他们为什么要千方百计到其他国家去。随便挑哪个国家,都能看到这些人。美国制定的移民限制都是针对他们的。现在他们正往加拿大跑,又一个国家将沦为垃圾场。
lasomani • Delhi • 1 hour ago
South India should form its own new country
南印度应该建立自己的新国家
Kunnoth • Ang Mo Kio • 4 hours ago
Why do you want US Citizenship when Modiji is promising a b furure for Indian. If you take up US Citizenship, please keep both your feet in the US. Don't be half Indian and half American. Leave your Indian baggage behind and be a true American.
莫迪承诺给印度人一个光明的未来,你们为什么想要美国国籍?如果你们成为美国公民,就踏踏实实做个美国人,不要两边倒,不要一半是印度人,一半是美国人。放下你的印度包袱,做一个真正的美国人。
Kunnoth • Dubai • 2 hours ago
All Indians are not fools to believe Modi. Any thinking person can see that another 5 years of Modi can take us to pre-Independence levels of poverty.
并非所有印度人都会傻到相信莫迪。任何有头脑的人都知道,要是莫迪再执政5年,印度的贫困水平就会倒退到独立前的水平。
AC Mathew • 52 mins ago
Even after 70 years of independence, it is disgusting to ne that there were 18000 unrifief villages.
即使独立70年后,仍然有18000个没有通电的村庄,这让人无法接受。
Raj Polapragada • 3 hours ago
most of India foreign exchange come from middle east not America or Europe. Indian living in US settle there so they don't have to sent money and instead take their family there.
印度大部分海外汇款来自中东,不是来自美国或欧洲。住在美国的印度人在那里定居,不需要寄钱回来,他们会把家人带过去。
Kosopet • 10 hours ago
whoah they dread to come back to BJP country to sell porkoras .Hurry up guys those with GC s.
他们害怕回到人民党统治的印度,不想卖炸丸子,那些持绿卡的赶紧申请入籍吧。
kosopet • 9 hours ago
Most will not return because of RESERVATIONS everywhere....Modi or no Modi .
不管是不是莫迪执政,大多数海外印度人不会回来,国内到处实行预留制
kosopet • 10 hours ago
They went their when congress was ruling and making their life living hell.
他们是在国大党执政期间离开了,那时候他们就像生活在地狱一般。
Zsking • Parliament • 10 hours ago
Most of them are Modi's Blind bhakts...
他们大多数是莫迪的盲目追随者…
aaaa bbbb • 5 hours ago
Brothers please return back to India. Let''s develop this country from scratch and employ Americans
兄弟姐妹们,请回到印度。让我们从零开始发展这个国家,然后让美国人为我们打工
aaaa bbbb • US • 1 hour ago
First do something about the uncontrollable population growth. Until then, nothing can be dne.
先控制人口增长吧。在这之前,做什么都是徒劳。
Guru • 4 hours ago
In tamilnadu where reservation goes as much as 78%ans where merit is not recognised students will go to other countries. Ban reservation and see India develops.
在泰米尔纳德邦,预留名额高达78%,而才能不被认可的学生被迫前往其他国家。废除预留制,印度必定大有前途
guru • 3 hours ago
It is the same 78% who benefit from the reservation. out of the remaining 22%, 20% are wealthy and don't need reservations. out of the remaining 2% how many are able to migrate?
那说明有78%的人从预留制中受益。剩下的22%中,20%是富人,不需要预留名额。剩下的2%中有多少人有能力移民?
William India • MANGALORE • 3 hours ago
MODI HAS DESTROYED THE NATION AND SHATTERED THE ECONOMY , BANKING SYSTEM UNEMPLOYMENT, DESPERATE UNEMPLOYED ARE SEEKING JOBS IN GULF AND EUROPEANS NATIONS. IF THERE IS A GOOD JOB IN INDIA, IF THERE ARE OPPORTUNITIES IN INDIA THERE IS NO NEED TO GO TO OTHER COUNTRIES
莫迪毁了这个国家,破坏了经济、银行系统、造成大量失业,绝望的失业者正在海湾和欧洲国家寻找工作。如果在印度有一份好工作,就没必要去其他国家。
Teri gmd • 7 hours ago
Indians and specially many people from Hyderabad are the biggest fraudster in obtaining H1B visa. I take interviews of 5-15 years experienced... and every 1 out of 4 hyderabad origins try to cheat via proxy interview and other means.
印度人,尤其是很多海得拉巴人,靠作假获得H1B签证。我有5-15年的签证面试经验,四分之一的海得拉巴人作假。
Teri gmd • 6 hours ago
what about North inians..they can not speak one sentence in Hindi...no discipline...all the crimes are done by north indians .
那北印度人呢?他们不会说一句印地语,没有纪律性,所有的罪行都是北印度人干的。
Guru • 4 hours ago
Years of reservation and lack of high tech. Employment forced many to migrate to western countries
预留制、缺乏高技能就业岗位,迫使许多人移民到西方国家
guru • 3 hours ago
reservations is a mere excuse. they are scared of the co ption which took hold of the society, but they don't realize they are also part of it.
预留制只是个借口。
shurewest • 1 hour ago
Stop migration to foreign shores. Study here and opportunity there??? Selfish people.
别移民海外啦。在印度接受教育,再去其他国家做贡献??太自私了。
hdspooky • Ker • 2 hours ago
I do not know about other countries, there is no doubt the quality of life is better in the U.S.A.
其他国家我不清楚,但毫无疑问美国的生活质量更好
ggn ggn • 55 mins ago
Indians abroad are equally important for India''s prosperity. Hope they get they dream.
海外印度人对印度的繁荣和发展同样重要。希望他们能实现梦想。
Bablu Bachar • chandrapur • 2 hours ago
what is there in India, nothing. Only casteism, quota sy ems and all nonsense po itics. So all brilliant and scholars are want to stay outside India.
印度有什么?什么都没有。只有种姓制,配额制和荒谬的。优秀的学者都往国外跑。
Bruce Lee • Oman • 3 hours ago
In the coming next 10 years you will see reversal of this position. People will be starting to comeback to India. As India will be next land of opportunity.
未来10年,你将会看到这种情况的逆转。人们将开始重返印度。印度将是下一个充满机遇的国家。
Rm • 6 hours ago
all are indians.... first and then north India and South India... don't divide people on caste Creed sex and re gions...
都是印度人....不要分什么北印度人和南印度人,不要按照种姓、、性别和划分人民……
IIndian army great • Astana, Kazakhstan • 3 hours ago
Desperate to leave the country, desperate to get green card and saying India is the best. Hypocrisy at its best !
都渴望离开这个国家,渴望获得绿卡,却又说印度是最好的。虚伪到了极点!
Karuna Bhikru • 48 mins ago
In 1947 -- 1$ = 1 rupee & now 2019 -- 1$ = 69 rupees. this is all because of congress go nment. the value for Indian currency graph just low down. which made Indian people moved to USA n other European countries.
1947年,1美元= 1卢比,现在2019年1美元= 69卢比。这都怪国大党政府。印度货币在贬值,这使得印度人移居到美国和其他欧洲国家。
Papputheboss • 1 hour ago
Ppl are commenting like India has got no brains nw, all the brains have drained to US.. India''s talent pool is unlimited.. Let more people go, they r making Indian dominance in US and other countries. Indian are everywhere now.
有人评论说,印度现在没人才了,人才都流失到美国去了。印度的人才库是无限的,让他们到国外去吧,他们能让印度人在美国和其他国家占据主导地位。现在到处都是印度人。
Papputheboss • 1 hour ago
ly said
没错
Truth • 1 hour ago
India is producing far more talents than it needs...let few people move out of the country and in turn help India to grow!
印度培养的人才远远超过本身需求。让少数人离开这个国家,他们反过来能帮助印度发展!
Sat Goel • 5 hours ago
Indians should not beg for citizenship of the US. In a few years time, India is going to surpass the US in terms of total GDP in PPP terms. India will be still growing while the US may be in recession.
印度人不应该乞求成为美国公民。再过几年,按购买力平价计算,印度的GDP总量将超过美国GDP。印度将继续增长,而美国可能陷入衰退。