Under-construction Karnataka building crashes, 2 killed, 70 trapped
卡纳塔克邦一在建大楼倒塌,致2人死亡,70人被困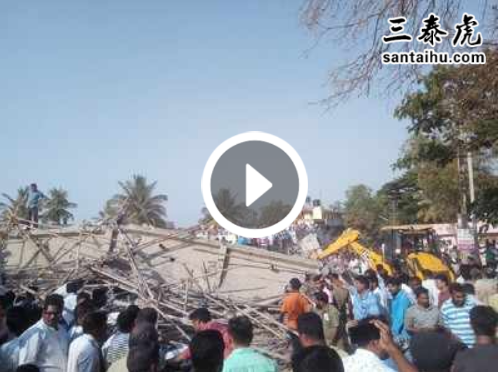 DHARWAD: Two people died and over 70 others were trapped under debris after a four-storey under-construction commercial complex building col psed in Dharwad, Karnataka, at around 3.50 pm on Tuesday.
达尔瓦德:周二下午3点50分左右,卡纳塔克邦达瓦德一座四层商业综合大楼倒塌,造成2人死亡,70多人被困废墟中。
Dharwad deputy commissioner Deepa, who is supervising rescue operations, said the identity of the deceased was yet to be ascertained.
负责监督救援行动的达瓦德副局长迪帕称,死者的身份尚未确定。
At least 30 persons, including a boy, were pulled out of the rubble; at least 100 police and fire brigade personnel were deployed in the rescue operation. The trapped persons included construction workers who were reportedly in the building on Belagavi Road in Kumareshwar Nagar, near the new central bus stand.
至少从废墟中救出30人,包括一名男孩。至少部署了100名警察和消防队人员参与营救行动。据报道,被困人员包括建筑工人,他们当时在那座大楼里施工,该大楼位于Kumareshwar Nagar贝拉加维路,靠近新中央巴士站。
Four shops on the ground floor were rented out even before the building was completed and several cars were parked near the building.
在大楼完工之前,一楼已有四家商铺租出去了,大楼附近停了几辆车。
The building belongs to Gangadhar Shintri, father-in-law of former Congress minister Vinay Kulkarni. "He has assured he'll pay the medical expenses of the injured,'' offi als said. Rescuers deployed heavy machinery to shift concrete slabs and used drills to reach people buried under the debris while sniffer dogs searched for signs of life. Offi als said rescuers were exercising caution while operating the machines so that those trapped were not harmed.
这座建筑属于印度国大党前部长库尔卡尼的岳父甘加达尔·辛特里。有关官员表示:"加达尔已保证将支付伤者的医疗费用。"救援人员部署了重型机械来移动混凝土板,并使用钻机来接近被埋在废墟下的人,而搜救犬则在寻找生命迹象。官员们表示,救援人员在操作机器时非常谨慎,以免被困人员受伤。
印度时报读者评论:
译文来源:三泰虎 http://www.santaihu.com/47228.html 译者:Jessica.Wu
外文:https://timesofindia.indiatimes.com
Guest - 8 hours ago -Follow
As I came to know on my mobile news that the building belonged to a po itical leaders I came to the conclusion why such a big tragedy was not covered.
当我从手机新闻上得知这栋建筑属于一位领导人时,我才明白为什么电视台没有报道如此惨痛的悲剧。
Chat Bat - 5 hours ago -Follow
Another congress scandal costing lives of citizens. Will Rahul nd Priyanka do something or turn blind eye to corrupt congressmen
又是一桩国大党丑闻,夺走了公民的生命。拉胡尔和普里扬卡会做些什么呢,还是对腐败的国大党议员睁一只眼闭一只眼
Umapathy - Hyderabad - 6 hours ago -Follow
He said he will pay the medical expenses... how generous. Shame on them. They should pay 50 lakhs each to the injured and one crore each to the deceased family. The municipality which has given approval and occupancy certificate should share 50% of it.
只支付医药费?真是大方啊。不要脸,他们应该给每位伤者50万卢比,给每位死者的家人支付1000万卢比。批准该项目的市政当局应支付其中的50%。
Hail - Bengaluru - 5 hours ago -Follow
Karnataka,is synonymous to co ption.
卡纳塔克邦是腐败的代名词。
Yes - 8 hours ago -Follow
This substandard building
这座建筑不符合标准
Anantha Prasanna - 6 hours ago -Follow
Another case of negligence construction
又是一起施工过失案件
Mr. - 5 hours ago -Follow
Why it is not headline for this paper?
为什么这新闻没上报纸头条?
Achou - Imphal - 2 hours ago -Follow
Congress rulled state where anarchy is everywhere , now also Congress is the virtual ruler , why is the RaGa and Surjew silent ?
国大党统治的邦都处于无政府状态,国大党是实际统治者。为什么拉胡尔和苏尔吉瓦拉对此保持沉默?
Prasanna - 3 hours ago -Follow
medical expense is not enough criminal case should be filed ag inst the builder
光付医疗费用是不够的,应对建造方提起刑事诉讼
Chat Bat - 5 hours ago -Follow
How many more people need to die under concrete. Will govt wake up
还需要有多少人死在混凝土下,政府才会意识到问题的严重性。
Venkatachm Rkrishnan - 2 hours ago -Follow
Medical expenses is not enough. This nan should be arrested and placed in jail for atleast 25 years.
光付医疗费用还不够,应该逮捕大楼所有者,并监禁至少25年。
MAHASHIVA RAMAN - 5 hours ago -Follow
all fraud contractors tasking money and no safety is involved and the go nment employees taking all the bribe the
所有的欺诈承包商光要钱,却不考虑安全。而政府员工收了
Gaana - 3 hours ago -Follow
What do you expect from a Congress leader? The fault is Karnataka people's. How they can such a corrupt leader? No local news channels are showing the news. F of .
对国大党领导人能有什么期望?这是卡纳塔克邦人民的错。他们怎么能选举出这样一个腐败的领导人?当地新闻频道都没有播这则新闻。这就是所谓的。
Guru Kirpa - Worldwide - 4 hours ago -Follow
Tell Modi this is made in India
告诉莫迪,这就是"印度制造"
RJ Khurana - 5 hours ago -Follow
The DM is on the spot. Why has she not ordered a magisterial inquiry?
副局长就在现场。她为什么不下令进行调查?
Sanjoy Pandey - 6 hours ago -Follow
More strong steps are to be taken ag inst the corrupt builders to stop such accidents.
为了防止此类事故的发生,政府应对腐败的建筑商采取更严厉的措施。
Tvkon - 19 mins ago -Follow
Big tragidy. Hope the news on causalities are not increasing
大悲剧。希望伤亡人数不会增加。
John Verghese - Mumbai - 1 hour ago -Follow
Paying money is not the solution. How come the Go nment offi als gave permission to such third class building to be erected just because the builder was the F in L of congress po iticians. He must be prosecuted in fast track and offi al related must be suspended or sacked
赔钱不是解决之道。为什么政府官员允许建造这样的豆腐渣建筑,仅仅因为建筑方是国大党政客的岳父吗?必须尽快起诉建造者,相关官员必须被停职或解雇。
Rajesh Singhal - 1 hour ago -Follow
See the historic buildings in India build by Moguls and the Britishers which are over 500 years old. And see the buildings which are being build nowadays. Compare the two. With the modern science in the present times, the construction should have been better today but the case is different. The quality of almost everything has been ruined.
看看那些由英国人建造的建筑吧,都超过500年了。再看看现在正在建造的建筑,拿二者比比。如今拥有现代科技,建筑质量本应该更好,但情况却相反,几乎所有东西的质量都被毁了。
indian - india - 2 hours ago
kongress leaders
国大党领导人
RJ Khurana - 5 hours ago -Follow
Such in dents are common as the norms are not adhered to.
这些事故很常见,没有遵守规范嘛。
RJ Khurana - 5 hours ago -Follow
True rescue work should take precedence but a simultaneous inquiry will bring out the truth of the matter.
优先进行救援工作,同时应查明事情的真相。
RJ Khurana - 5 hours ago -Follow
If all norms of construction are adhered to such tragedies will not take place.
如果遵守所有的建筑规范,这样的悲剧就不会发生。、
RJ Khurana - 5 hours ago -Follow
Why is it that all precautions are not taken while constructing buildings.
为什么施工时没有采取预防措施呢?
RJ Khurana - 5 hours ago -Follow
Another tragedy.
又一起悲剧。
Sreekar - 5 hours ago -Follow
shintri fellow.arrest him
逮捕加达尔·辛特里