Karnataka: Paralysed man sits next to wife's body for 7 days
卡纳塔克邦:瘫痪男子坐在妻子尸体旁边长达7天
KARWAR: A 60-year-old man sat next to his wife's body for at least a week in Karwar town's KHB Colony as he couldn't talk or move his limb because of a stroke he suffered years ago. The in dent came to light on Sunday when the woman's brother came home to check on the couple.
一名几年前中风而瘫痪的60岁男子不会说话,他坐在妻子的尸体旁至少有一星期之久。星期日,舅子过来看这对老夫妻,才发现这一真相。
According to police, Girija, 55, is suspected to have died a week ago. Her husband Anand Kolkar is in a critical condition in a Karwar hospital, rendered weak without food or water for days. The couple do not have children and led a reclusive life in their small house covered with asbestos sheets. She earned a living as domestic help in the neighbourhood.
警方称,55岁的妻子疑似一星期前就已经死亡。老夫妇并未育有子女,在小屋子里过着隐居生活。老太太在邻近地区当佣人谋生。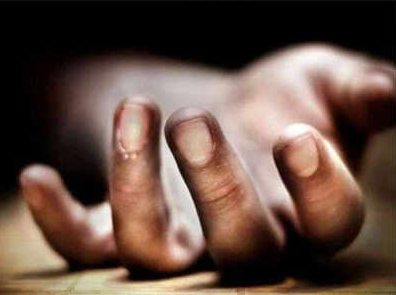 印度时报读者的评论:
原创翻译:三泰虎 http://www.santaihu.com/45578.html
外文:https://timesofindia.indiatimes.com/city/bengaluru/paralysed-man-sits-next-to-wifes-body-for-7-days/articleshow/65002628.cms
Vijay - India - 10 hours ago -Follow
May her SOUL RIP, i would say he should also die peacefully, given he has no one and dependent because of stroke and moreover he doest have enough money for others to take care of him!
Reply 5 0 Flag
其实他也应该安详去世的,他现在无依无靠了,也没有钱请人照看他!
Nagaraj Doddni - 10 hours ago -Follow
RIP
Reply 4 0 Flag
愿灵安息!
satheesh kumar - 7 hours ago -Follow
very painful :(
Reply 3 0 Flag
好痛苦
Tuhin Kumar - 8 hours ago -Follow
May her soul rest in peace. Who is taking care of him???
Reply 1 0 Flag
愿她的灵魂安息。现在谁来照看他啊?
Mokkapati Prabhakara Rao - India - 1 hour ago -Follow
United families , will help each other and can avoid these type of situations.Presently many couples are living alone, as their children are away in US or other places . Our Hindu values are decreasing day by day with Western culture .Even the last rites are done by others.
Reply 0 0 Flag
所有家庭团结起来,互相帮忙,就可以避免此类悲剧。
目前,很多夫妇自己住,孩子们在美国或其他国家。
在西方文化的影响下,我们印度教的价值观逐渐式微。
就连临终祈祷也是由其他人代劳的
TSR The Urbanist - Namma Bengaluru - 3 hours ago -Follow
Om Shanti Om to the departed soul and the surviving too for a painless end
Reply 0 0 Flag
愿逝去的人安息,愿生者毫无痛苦地度完余生。
Gopi Nath - 4 hours ago -Follow
This is really very SAD to hear... She was Domestic help & he is paralyzed .. No kids & atleast her brother came to check them... Society is becoming selfish..
Reply 0 0 Flag
听闻后很难过。妻子是佣人,而丈夫瘫痪了,没有孩子
至少女方的兄弟来看他们了。
这个社会正变得自私
Masood Ahmed - 5 hours ago -Follow
Sad
Reply 0 0 Flag
伤心
Skrishna - 5 hours ago -Follow
Very sad news!May they rest in peace for all times! There are quite a number of such old couples without anyone to take care of them in direst penury and ill health and poorest localities with no one to even take notice of them.Hope that the gram panchayats local authorities social service organisations and generous people deve a part of their resources to help such voiceless unfortunate victims of fate. If gt takes notice of such miserable couples it will be all the better.
Reply 0 0 Flag
好伤心啊!如今有很多老夫妇没有人照看,穷困潦倒,疾病缠身。
希望当地社会服务机构和有钱人能慷慨解囊,帮助这些不幸之人。
政府要是注意到了这对悲惨的夫妻,就不会出现这样的局面了
Ahmed Shaikh - 6 hours ago -Follow
RIP. Very Painful. relatives should regularly check their relatives those are old about their health and condition
Reply 0 0 Flag
非常痛心,亲戚应定期照看身体不好的老年人
Kla Kannan Muniraju - bangalore - 8 hours ago -Follow
One should live in peace and die in peace. No pain thats what we want.
Reply 0 0 Flag
做人应该好好地活,然后没有痛苦地死去。
Vk
Vk - Banaglore - 12 hours ago
This is called Indian marriage...
这就是所谓的印度婚姻