Did Brahmins come from outside of India
婆罗门来自印度境外吗?
Quora读者的评论:
Kiran KS, Love the nitty gritty details of India as a civilization.
Yes and No.
Brahmins are a small percentage of overall Indian population today. Maybe 5% or so as no one knows exact caste data, since no specific caste census was done across India in a long time.
But since you are specifically asking about Brahmins, there might be some caste angle to the question. Ignoring that, it would be prudent to use this opportunity to understand not just Brahmins, but how everyone else who is living in India today landed here.
是也不是。
婆罗门在印度总人口中只占很小的比例。也许只有5%左右,没有人知道准确的种姓数据,因为印度已经很久没有进行详细的种姓普查了。
但既然你专门问到婆罗门,那么这个问题可能就得从种姓的角度来解答。忽略这一点,我们应该利用这个机会,不仅了解婆罗门,同时也了解一下今天生活在印度的其他人是如何来到印度的。
No one can tell for sure when a group called "Brahmins" were recognized in India, but one can safely say that at least for 3000 years that name exists. Call it Varna (professional basis) or caste (birth basis), it has been around for 1000s of years. So are Kshatriya, Vaishya and Shudra varnas.
But we have to roll back time much longer than 3000 years to understand human migrations. The most popular theory is the Out of Africa theory. That gives us a picture as below, clearly showing that humans came to Indian subcontinent across the coasts from west to south to east, at least 90,000 years ago.
没有人能准确地说出印度什么时候形成了一个叫"婆罗门"的群体,但可以肯定地说,这个群体至少存在3000年了。我们可以称之为"职业基础"或"种姓基础",它已经存在了1000年。刹帝利,吠舍,首陀罗也一样。
但是我们必须把时间倒转回3000年前,看看人类是如何迁徙的。最流行的理论是"走出非洲"理论。下图清楚地展示了至少在9万年前,人类从西到南到东跨越海岸来到印度次大陆。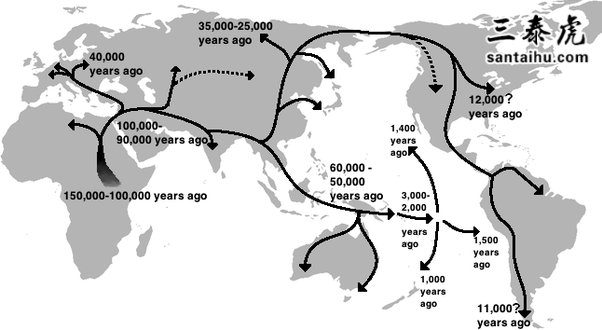 Source from Wiki.
Then if you look more deeper into the geno project, you will find more elaborate migration path from central part of Africa, into various parts of the world long long time ago. We are talking about 3600 to 4000 generations ago!! That's my grand father's grand father's grand father's … nearly 2000th grand father or grand mother who migrated out of Africa to Indian subcontinent!
维基资料。
如果你更深入地研究基因族群,你会发现从非洲中部到世界各个地区的更加复杂的移民路线。那是3600到4000代以前的事!!那是我祖父的祖父的祖父的祖父的祖父的祖父的祖父的祖父的祖父的祖父的祖父的……2000代前的曾祖父或曾祖母,走出非洲,来到了印度次大陆。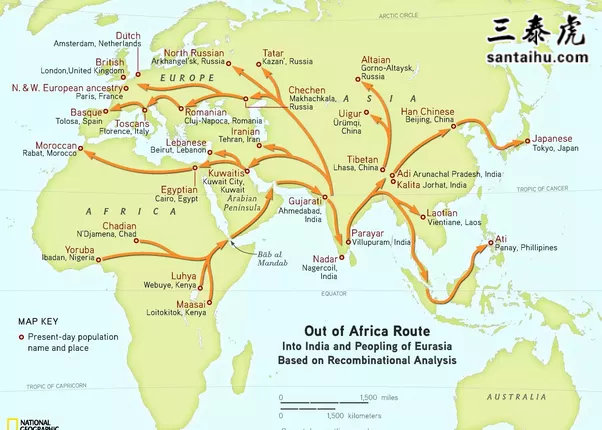 Then we have 1000s of years of inter mixing of genes across the giant Asian continent. People moved into India.. people moved out of India.. people came back to India… There are endless theories and researches going on. Add to it 100s of natural disasters where entire settlements got wiped out in environmental changes caused by river path change, ice ages, wars, diseases, volcano explosions, massive drought, tsunamis, heavy rains/flooding. The chances of survival for any gene group was minimal over the large time scale of 4000 generations we are talking about!
In fact, till about 1700 Common Era (CE), the human population growth was very low. People died in large numbers, much younger in their lives and that's why it took nearly 11,750 years out of the past 12,000 years (last major ice age) for human population to reach the magical 1,000,000,000 mark. And then, it took less than 270 years to add another 5,500,000,000 humans to the planet! Before 12,000 years, the population overall was so minuscule, that we will need extremely supreme computing and evidence collection skills to even contemplate what kind of gene pool existed in which part of the world.
然后我们经历了亚洲大陆1000年的基因融合。人类进入印度…人类离开印度…人类又回到印度,对此有无数的理论和研究仍在进行。再加上数以百千次的河流改道、冰河时代、战争、疾病、火山爆发、大规模干旱、海啸、暴雨/洪水等自然灾害造成的环境变化,使整个定居点被夷为平地。在4000代的漫长时间跨度里,任何基因组的生存机会都是极小的!
事实上,直到公元1700年左右,人口增长速度一直很慢。人类大量死亡,他们的寿命比现在短得多,这就是为什么在过去的12000年(最后一个主要冰河时期)中,人类花了近11750年才达到神奇的10亿人口数计。然后,用了不到270年的时间,地球又增加了55亿人口!在12000年前,人口总量是如此之小,以至于我们需要极其高超的计算和证据收集技能来思考世界上哪个地方存在着什么样的基因库。

The reason I am giving all the above info is just to show that migrations happened all the time, but the survival rate of any group, including Brahmins that you specifically asked for, was very low historically.
There are countless theories of how and where people migrated into Indian subcontinent. There are also theories like OIT - Out of India Theory which shows that most of today's Europe, West Asia, Central Asia and South Asia, speak the languages that originated in Indus Valley about 7000 years ago.
我列出以上这些信息的原因只是为了说明人类迁移从未中断,但是任何群体的存活率,包括你特别问到的婆罗门,在历史上都非常低。
关于人们如何以及从哪里迁移到印度次大陆,有无数的理论。也有走出印度这样的理论——来自印度的理论表明,今天的欧洲、西亚、中亚和南亚的大部分地区,说的都是大约7000年前起源于印度河流域的语言。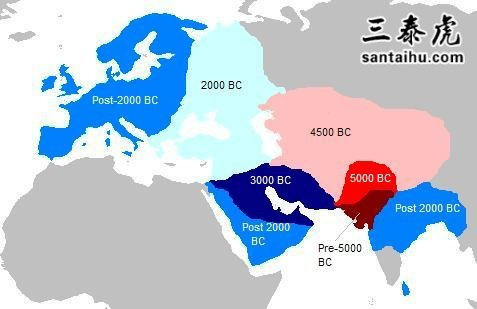 So you have Out of Africa, Aryan Invasion, Aryan Migration, Out of India and 100s of theories. What matter is.. where do you start your research? 100 years ago? 500 years ago? 1000 years ago? 2000 years ago? 3000 years ago? 5000 years ago? 10000 years ago? Much longer?
Based on that you will find "native" versus "outsider" theories building up. Mostly they are theoretical efforts.
走出非洲,雅利安人入侵,雅利安人移民,走出印度,理论有上百种。重要的是你的研究是从哪里开始的?100年前?500年前?1000年前?2000年前?3000年前?5000年前?10000年前?还是更久以前?
在此基础上,你会发现"本土派"和"外来派"的理论。它们大部分还是停留在理论上。
The choice is yours. But whatever you do, please do not incite hatred in today's India based on the migration theories, as no one can prove them convincingly considering the massive time scale we are talking about. The only thing you can prove categorically is the most recent migrations, at best going back 1500 to 2000 years. Anything longer needs immense research of all migrations in, within and out. Add to it mixing up of populations within the Indian subcontinent for 1000s of years, making it very difficult to come to any conclusion.
That's why I started my answer with "Yes and No". And the same thing would apply to EVERY major caste group in India!
选择权在你。但是无论你做什么,请不要在今天的印度煽动基于移民理论的仇恨,因为考虑到我们的讨论涉及漫长的历史,没有人能够令人信服地证明。唯一可以明确证明的是最近的迁徙,最早可以追溯到1500年到2000年前。再早之前的史实需要对所有迁移进行大量的研究。加上1000年来印度次大陆人口的融合,很难得出任何结论。
这就是为什么我的回答是以"是,也不是"开始的。这同样适用于印度的每个主要种姓群体!
Viswanathan Gopalan
The genetic study proves that the paternal DNA (father side) inherited itself from West Eurasian haplotypes or West European groups and exhibited strong characteristics pertaining to Europeans. This is the reason why "majority" of them have fair skinned complexion.
The frequency of these haplotypes is proportional to caste rank, the highest frequency of West Eurasian haplotypes being found in the upper castes in India.
遗传学研究证明,父系DNA遗传自西欧亚单倍体或西欧群体,表现出明显的欧洲特征。这就是为什么他们中"大多数"人皮肤白皙的原因。
这些单倍型的多少与种姓等级成正比,在印度的上层种姓中发现的西欧亚单倍型最多。
These european men are invaders who invaded countries thousands of years ago to infiltrate the indigeneous populations by reproducing with the native women who lived in this land which is why the genetic study proves that the maternally inherited mitochonodrial DNA in each caste is most similar to Asians.
They also established their "Self-Proclaimed" hindu 'brahminic' religion, caste system and higher ranks to exploit and oppress the native people and plunder their resources to gain power and authority. This could be the reason why there are no historical records for the existence of Brahminism before the Gupta empire since this empire might've nourished the Brahmins.
这些欧洲男人是数千年前入侵其他国家的入侵者,他们与生活在这片土地上的土著妇女进行繁殖,渗透到土著人口中。这就是为什么遗传学研究证明,所有种姓的母系遗传的线粒体DNA与亚洲人最为相似。
他们还建立了"自封的"印度教"婆罗门教"宗教、种姓制度和更高的等级,以剥削和压迫当地人民,掠夺他们的资源,获得权力和权威。这可能就是古普塔帝国之前并没有婆罗门教存在的历史记录的原因,因为可能就是这个帝国养育了婆罗门。
"Varnas" are a Vicious/Deceptive system of hierarchy orchestrated by Brahmins to racially discriminate the people into classes to maintain Power and authority to access/exploit resources from the native people many centuries ago when there was zero awareness. This contributed to the reason why the brahmins(fair skinned) considering themselves close to gods were sitting around in temples as priests maintaining wealth. And the Lower caste (dark skinned natives) were not allowed inside the temples as they feared loss of authority or power to them.
Brahmins predominantly occupying powerful positions (or white collar jobs) in Judiciary , Finance (banks) or Govt. offices in India could be due to the years of oppression this community was encouraging and also hunger for power (exhibited on their DNA). It is also evident from the research studies that they never wanted the indigeneous population to grow or develop.
"瓦尔纳"是婆罗门精心策划的一种邪恶/欺骗性的等级制度,它将人们按种族划分为不同的阶层,以维护权力和权威,获取/利用土著人民的资源。这也解释了为什么白皙皮肤的婆罗门认为自己接近神,坐在寺庙里当祭司来保守财富。低种姓(深色皮肤的当地人)不得进入寺庙,因为他们害怕会失去权威或权力。
婆罗门主要在司法、金融(银行)或政府部门担任有权势的职位(或白领工作)。在印度,这可能是由于这个社区多年来鼓励的压迫,以及对权力的渴望(体现在他们的DNA上)。研究中也可以明显看出,他们从来都不希望看到土著人口的增长或发展。
Ajay Kumar, Indian traveller
In ancient times, there were various category & type of priests, including black magicians.
The class of priest who mastered the 2nd part of Veda - Brahmana, which is the code of rituals & mantra for each deity, were known as Brahman Priests. Slowly the Brahman purohit (priest) got shortened to just Brahman.
There is hardly any mention of Brahman, as a caste, in pre-Gupta era.
The word Brahman, to indicate the caste of Ravana etc, is a later addition, in Gupta period.
So, Brahman means, an expert (pundit) in Brahmana rituals.
在古代,有各种种类的祭司,包括黑色魔法师。
掌握吠陀第二部分——梵书——的祭司阶层被称为婆罗门祭司,梵书记录的是每个神的仪式和咒语。慢慢地,婆罗门普罗希特(祭司)被简称为婆罗门。
在古普塔笈多王朝之前,几乎没有人提到婆罗门这个种姓。
婆罗门这个词,指的是拉瓦那等种姓,是后来笈多时期新增的。
所以,婆罗门的意思是,梵书仪式的专家。
Anonymous
Yes,
There DNA already shows the proof of them being the invaders.
American Scientist Proves Brahmins are Foreigners
There was no mention of Brahamans before the Gupta period simply indicates that they were not present before Gupta Era.
None of the Vedic texts indicates that Brahamans existed. They invaded the country after Vedas were written.
The mentioning of Brahamans can only be seen first in the Manusmriti (Manu-Human & Smriti-rules). Manusmriti simply means the rules for Humans. Manusmriti one of the 16 books written and is a pro Brahamanic textbook which mentions the Brahaman being superior to all the other humans. It mentions Brahamans take birth to teach and rule. The whole book is filled towards strengthening Brahamans and weakening the non-brahamans. The book first introduced caste based discrimination in the Indian Society. It made Vishnu to be the supreme deity which was never the truth. Rig Veda always considered Vishnu as a small deity. The book introduced untouchability and discrimination in the society. It also justified raping and killing of non-brahamans a valid thing which is so not acceptable.
在笈多王朝之前,没有人提到过婆罗门,这说明他们在笈多王朝之前并不存在。
吠陀文献中通篇没有提及婆罗门。他们是在《吠陀经》面世后入侵这个国家的。
最早提及婆罗门是《摩奴法典》(见《摩奴法典—人》和《传承—法规》)。《摩奴法典》的意思就是人类应遵守的法规。《摩奴法典》是支持婆罗门的16本书之一,书中认为婆罗门优于其他人。婆罗门生来就是为了教化和统治其他人的。整本书都是为了提高婆罗、削弱非婆罗门人的地位。这本书第一次提到印度社会中基于种姓的歧视。把毗湿奴推崇为至高无上的神,可这自古以来就不是真理。吠陀经一直认为毗瑟奴是一个小神。这本书还介绍了社会中的贱民现象和歧视现象。它还为强奸和杀害非婆罗门人的罪行辩护,这是完全无法接受的。
How could someone neglect the fact that every Human Being share a common origin. The book was nothing but a bunch of narrow thoughts introduced by the invaders (brahamans) to divide the society and rule.
Sanatan Dharma was a world religion which used to worship nature and considered fire, water, land to be the supreme gods.
Basicallly, Brahamans were the invaders like the mughals and the britishers. They don't share anything with the native Indians.
一个人怎么能忽略人类拥有共同起源的事实呢?这本书只不过是侵略者(婆罗门人)为了分裂社会和统治而引入的狭隘思想。
印度教教义是世界宗教,崇拜自然,认为火,水,土地是至高无上的神。
本质上婆罗门人就像莫卧儿王朝和英国人一样,是侵略者。他们不会与印度土著分享任何东西。
Sampath N
If they come from outside India, what is the logic for it? Where from they come?
If Sanskrit was their language, show me many river names, place names etc in Sanskrit from that origin
For example you can point many river name in Russia based on Sanskrit
So it tells that some brahmins would have lived long back
My understanding is that India was so big which includes present day Russia and much more and ruled by king Barath.
如果他们来自印度以外,这其中的逻辑是什么?他们从哪里来?
如果梵语是他们的语言,给我列举一些河流名、地名等的梵语起源
例如,你可以看到俄罗斯许多河流的名字源于梵文。
所以这说明了,很久以前有一些婆罗门生活在那里。
我的理解是,印度的版图在巴拉斯国王统治时期曾经非常大,包括了现在的俄罗斯和更多地区。
Ramaswamy Subramanian, studied at University of Delhi
Religions too have some say in this. Other than the religion, Hinduism, and other religions like Buddhism, Jainism etc. are of Indian Origin. The caste differences too, are of Hindu, and Indian origin. We have not heard of Brahmin origin in any other country. But geographical borders where changed from time to time. At this point of time I do not know, whether it is necessary to investigate, the origin of one caste or the other. Yesterday I saw a question on the origin of Cow. Among the four divisions of Hindu caste, the business community, and ruling community, do have chances of international relations. Other communities related to religious services and and engaged in manual labour appear to be of only of hindu, and Indian origin
宗教在这方面也有一些发言权。除宗教外,印度教和佛教、耆那教等其他宗教都起源于印度。种姓差异也来自印度教和印度血统。我们没有在其他国家听说过婆罗门的起源。但是地理边界也在不断变化。我不知道现在是否有必要调查一个种姓或另一个种姓的起源。昨天我看到有个问题是关于奶牛的起源。在印度教种姓的四个阶层中,商贸阶层和统治阶层确实有机会建立国际关系。其他与宗教服务和从事体力劳动有关的社区似乎只有印度教和印度血统。
Govind Sharma, Chief Executive- Corp. Accounts at RPG Enterprises (2000-present)
If you want to bring down a civilization then best way is to eliminate the Intelligentsia and guiding forces of the society. If you are unable to eliminate them create up rise against the guiding forces.
They declared Brahmins were the Aryans others were non aryans. Aryans came from Europe where as Others were pushed to south namely Dravidians.
Thus all these confusion were created by Britishers to divide and misguide the society.
如果你想打倒一个文明,那么最好的办法就是消灭知识分子和社会的指导性力量。如果你无法消灭它们,就建立反抗力量。
他们称婆罗门是雅利安人,其他人是非雅利安人。雅利安人来自欧洲,其他人被赶到南方,即德拉维人。
因此,所有这些混乱都是英国人造成的,目的就是分化和误导社会。
Falgun Pandya
Aryan race originated in India and most of Indian people in India are from Aryan race as written in Vedas
雅利安族起源于印度,正如《吠陀经》中记载的那样,印度的大部分印度人都来自雅利安族
Sandeep Bhalla (सन्दीप भल्ला), BA, LLB Attorneys, Law
There are no foreigners in India. Aryan invasion theory is long dead. Maxmueller who propounded also admitted it baseless before he died.
There are enough evidence to show it wrong.
1.Discovery of harrapan type civilisation in all over India pre dating IVC.
2.Genetic study has shown that irrespective of caste dna of all people is same
印度没有外国人。雅利安入侵理论早已消亡。提出这一观点的麦克斯米勒在死前也承认这是毫无根据的说法。
有足够的证据表明这是错误的。
1.早在印度河流域文明之前,印度各地就发现了哈来潘文明。
遗传学研究表明,所有人不分种姓,DNA都是一样的
Vikram Kulkarni, knows English
No . They belong to this land only.
不。他们只属于这片土地。
Ravikumar Kulkarni, Lecturer
They did not come from outside. But slowly they are going outside of India for sure
他们不是从印度境外来的。但慢慢地,他们肯定会离开印度。
Ashwani Kumar Sharma
First of all you do not know who are brahmins. you are differentiated between people just between countries in the world.
首先,你不知道谁是婆罗门。人类都只是按照国别来区分。
Raja Bhaiya
Yes, and it's proven by biological evidences like Michal bamshad report in 2001
是的,2001年米哈尔·班沙德报告里的生物学证据就证明了这一点。
Vijay Bhardwaj, studied at Savitribai Phule Pune University
This is a great bullshit spreaded by Britishers.
Brahmin is a varna, not any religion / continental identity.
这是英国人散布的弥天大谎。
婆罗门是瓦尔纳,而非任何宗教/欧洲身份。
Sunil Sharma, worked at PTT Exploration and Production Public Company Limited (2014-2017)
Not only Brahmins but even the humans were imported from Mars
不单婆罗门,所有人类都是从火星引进的。
Salam, former developer
Yes, only the south Indians are the true inhabitant of India
是的,只有南印度人才是印度真正的原住民
Divyanshu Pandey, Btech Civil Services Exam of India & Banking, Mechanical Engineering (2014)
Yes they came from Mars and jupiter.
This kinds of questions were implanted by britishers to divide the society. They ruled INDIA by making division among peoples.
One should not pay attention to this stupid questions.
是的,他们是从火星和木星来的。
这类问题被英国人灌输了分裂社会的思想。他们通过分裂人民来统治印度。
人们不应该关心这种愚蠢的问题。
Gilson Dcruz, MBA Finance & Economics, E Cell , St. Josephs College of Business Administration (1992)
Only Dravidians are the real Indians, rest of them are outsiders.
只有德拉维达人才是真正的印度人,其他人都是外来者。
Greeshma Parvathi, studied at St. Arnold's Central School, Mysore
As per my knowledge they came from Eurasia and made native Indians untouchable
据我所知,他们来自欧亚大陆,把印度人变成了贱民。
Chaitanya Kamat (चैतन्य कामत), loves science, history and religion
Did Brahmins come from Eurasia?
Of course. Brahmins are not real Indians. They came from Africa. Just like every-frickin-one else. Humans came out of Africa and made their way into Europe and Asia, including India lakhs of years ago.
That's not the answer you're looking for is it?
Here's the one you want to hear:
Brahmins came from Iran. Iran is in Europe so that makes brahmins European. That's why they are all so fair. They invaded a very technologically advanced Dalit civilisation of India. Then brahmins defeated them and made them untouchables. Brahmin leader Waman killed Dalit King Mahabali in 100 BC.
婆罗门来自欧亚大陆吗?
当然了。婆罗门不是真正的印度人。他们来自非洲。几十万年前,人类从非洲来到欧洲和亚洲,包括印度。
这不是你想要的答案,对吧?
下面是你想听的:
婆罗门来自伊朗。伊朗在欧洲,所以婆罗门是欧洲人。这就是为什么他们都这么白。他们入侵了技术非常先进的印度达利特文明。然后婆罗门打败了他们,使他们成为贱民。公元前100年,婆罗门领袖瓦曼杀死了达利特国王马哈巴里。
Happy?
Here's the truth about some brahmin history:
The Greeks (Macedonians) entered India in around 300 BC. At that time, they mention seeing brahmins in India.
The founder of Persia's ancient religion Zoraster could not convert anyone in his country so he went to the king of Afghanistan. This man had studied at the Nalanda University. His teachers were the "brahmins of India." Depending on when you think Zoroaster existed, this event can be traced back to up to 6000 BC. Sounds far fetched?
高兴了吗?
以下是一些关于婆罗门历史的真相:
希腊人(马其顿人)大约在公元前300年进入印度。当时,他们提到了,在印度见到婆罗门的事实。
波斯古代宗教的创始人琐罗亚斯德在他的国家没能改变别人的信仰,所以他去见阿富汗国王。这个人曾在那兰陀大学学习。他的老师是"印度婆罗门"。根据琐罗亚斯德存在的时间,这个事件可以追溯到公元前6000年。听起来是很久远以前的事了?
Ancient Iranians followed a religion called Zoroastrianism. They were defeated by Alexander the Great. When Alexander entered India, his army was scared of the Nanda Empire's army. The Nanda King was born to a woman who was belonged to a brahmin family and who worked as a hairdresser (shudra). This is why he was ridiculed by his subjects.
Chanakya, the teacher of Chandragupta Maurya was a brahmin. Chandragupta Maurya lived much before 100 BC.
So yes. Brahmins aren't "real" Indians. They came from Jerusalem. Let's pack them off to where they belong.
古代伊朗人信奉一种叫做琐罗亚斯德教的宗教。他们被亚历山大大帝打败了。当亚历山大进入印度时,他的军队害怕南达帝国的军队。南达王的母亲是婆罗门家庭的一名理发师。这就是他被臣民嘲笑的原因。
考底利耶, 钱德拉古普塔的老师,是一个婆罗门。钱德拉古普塔生活在公元前100年以前。
所以,是的。婆罗门不是真正的印度人。他们来自耶路撒冷。让我们把他们赶回他们所属的地方去吧。