Why is India the largest poverty country in world?
为什么印度是世界上最大的贫困国家?
QUORA网站读者评论:
Piyush Gupta, studied at Nagindas Khandw College of Commerce & Arts
Here are some of the reasons why I think India is poor
1. Poor Education Sy em
This is the biggest reason why India is poor. Some of you might argue that India has best Education Institutes like IIT and NIT, but lets face it, not everyone goes to IIT's or NIT's. Moreover, a lot of IIT's and NIT's wish to work abroad because they don't get the best opportunity here(well, this is a different problem altogether). But, we DO have a poor education sy em. Most of the Schools are opened not to provide better education, but they are setup to loot parents. Students are still beaten in schools. Local colleges are to their worst in studies. They don't have qualified teachers, they don't provide better Infrastructure. A lot of students end up in Call Centers(its a dream job for some of them), sales agencies, etc
以下是我认为印度贫穷的一些原因
1。教育体系薄弱
这是印度贫困的最大原因。有些人可能会说印度有最好的教育机构,比如印度理工学院和全印理工学院。但我们得承认,不是所有人都能入读这两所学校。此外,许多印度理工学院和全印理工学院的学生希望去国外工作,因为他们在印度得不到最好的机会(好吧,这完全是另一个问题)。我们的教育系统确实很差。大多数学校并不是为了提供更好的教育而开设,而是为了洗劫父母。学生们在学校里仍然会挨打。地方院校的学习成绩最差。他们没有合格的教师,未能提供更好的基础设施。很多学生最后都进了呼叫中心(对他们中的一些人来说,这已经是一份梦寐以求的工作)、销售机构等等
2. Almost everything in India is biased
Well, we have a special word for this term: 'Jugaad'
One of my friend applied for TC(Ticker Collector) job. As far as I remember, he was not that smart than other guys who appeared for the exams along with him.
But still, he managed to get the job because his uncle and his cousin brother were Ticket Collectors. He paid 1 lakh as bribe and got the job.
Fun-Fact: A lot of brokers are involved in the sion process. They usually ask for 6 lakhs - 8 lakhs as bribe.
2。印度几乎所有的事情都是不公平的
我们对此有个专门的术语:Jugaad
我的一个朋友申请了股票经纪人的工作。据我所知,他并不像其他和他一起参加考试的人那么聪明。
但尽管如此,他还是得到了这份工作,因为他的叔叔和表哥都是交易员。他行贿了10万卢比得到了那份工作。
有趣的事实:很多经纪人都参与了选人过程。他们通常要求60 - 80万卢比的。
3. Inequality
Lets face it, go nment just says that 'EVERYONE IS EQUAL'. They want us to believe that Everyone is equal despite of cast, creed, race, etc. But do they follow this?? They have special quotas for OBC, SC and ST student.
Obviously, go nment wants to support them, but I've seen a lot of (rich)people pay lakhs to rupees to get OBC certificate. They tend to use these go nment scheme to benefit themselves too.
3.不平等
让我们面对现实吧,政府只说'人人平等'。他们希望我们相信不管他们的种姓、信仰、人种等是什么,每个人都是平等的。他们对OBC, SC和ST学生提供了特殊的配额。
很明显,政府想要支持他们,但是我也看到过很多(富人)为了获得OBC证书而行贿。他们想用这些政府计划来造福自己。
4. Everyone is busy looting
I am from Mumbai, so we have Reliance Energy as the dominant Electricity Supplier, and this company is charging like HELL. My Neighbor received a Electricity bill of 4000 INR a month and everything he has at home is a TV, a Tube-light and a fan. I received a bill of 3000 INR (normally it used to be about 650 INR).
4。每个人都忙着抢劫
我来自孟买,所以我们的信实能源是主要的电力供应商,而这家公司的收费简直是添加。我的邻居每月收到4000卢比的电费,他家里只有一台电视,一个管灯和一台风扇。我收到了3000 INR的账单(以往正常只要650 卢比)。
译文来源:三泰虎 http://www.santaihu.com/46475.html 译者:Joyceliu
5. Go nment don't want our country to improve
Here are some of the roads in Mumbai. Mumbai is said to be the Economic Capital of India
5。政府不想让我们的国家进步
这是孟买的一些公路。孟买据称是印度的经济首都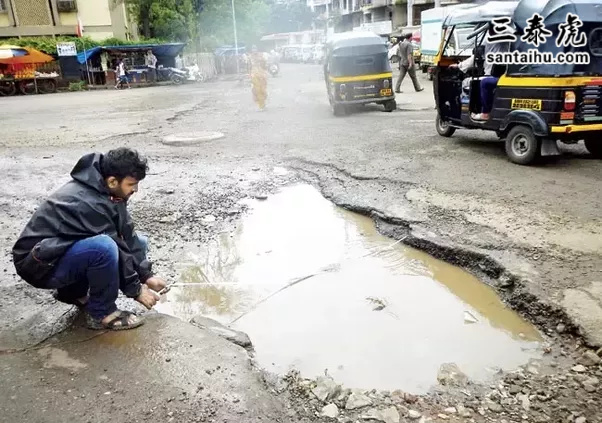 Bji Viswanathan, Indian by Birth. Indian by Thought.
Let us get the inequality out of the way, first. Here is the chart of "gini coefficient" that is the international standard for measuring inequality. Low scores mean low inequalities. Except for the Scandinavian countries & Japan, very few others fare better than India in this score. Also, any fast growing country cannot avoid some level of inequality. Growth will always be unequal. Even the Scandinavians were a lot unequal during their growing stages (couple of centuries ago).
In short, our problem is not one of things shared unequally, but one of not enough things to share. We started worrying about inequality too early.
Causes for our poor growth:
首先,让我们把不平等去掉。这是衡量不平等的国际标准"基尼系数"的图表。分数低意味着不平等程度低。除了北欧国家和日本,很少有其他国家的表现比印度好。此外,任何快速发展的国家都无法避免某种程度的不平等。增长总是不平等的。即使是斯堪的纳维亚人在他们的发展阶段(几个世纪前)也存在很多不平等。
简而言之,我们的问题不在于分配不平等,而是没有足够的东西去分享。我们很早就开始担心不平等。
经济增长缓慢的原因:
1.After the World War II in 1940s, when most Asian countries got freed, there were a group of countries that when on socialism and others leaned on a capitalistic path. The latter group (included S. Korea, Thailand, Japan, Singapore, Mysia, etc) was able to significantly outperform the former (, India and Vietnam). saw the folly of socialism by 1970s and significantly modernized started from 1970s. However, we were stuck to failed ideas of socialism way too long. See 's economic curve diverging from India's in late 1970s.
1。在20世纪40年代的第二次世界大战之后,当大多数亚洲国家获得自由时,有一群社会主义国家和其他国家都倾向于走zb道路。后者(包括韩国、泰国、日本、新加坡、马来西亚等)的表现明显优于前者(、印度和越南)。20世纪70年代,的开始进行现代化改革。但是,我们坚守失败的社会主义太久了。看看的经济曲线和印度在上世纪70年代末的差异吧。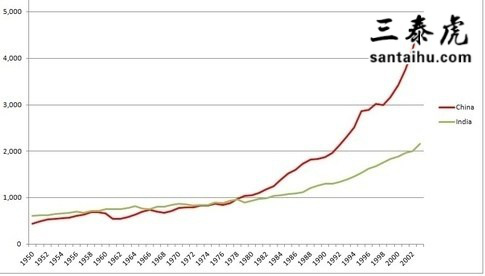 2.Poor leadership. In 1947, unfortunately, Nehru became a premier of India trouncing over more effective leaders such as Patel and Rajaji. Nehru had little clue of economics and little appreciation for entrepreneurship. He focused little on rural sector, agriculture or primary education. He was trying to build himself a stature in international po itics with the failed NAM initiative and really failed in the domestic arena.
2。领导不佳。很不幸,1947年,尼赫鲁成为印度总理,击败了帕特尔和拉贾吉等更有影响力的领导人。尼赫鲁对经济学几乎一无所知,对创业也不怎么鼓励。他很少关注农村部门、农业或初等教育。他试图通过失败的不结盟运动倡议在国际政治中建立自己的地位,在国内舞台彻底地失败了。
3.Poor direction on liberalization. Think about the top paying jobs in India. They would be in technology, outsourcing services, finance, advertising and other services where go nment has given freer room for entrepreneurs to operate. However, when it comes to mass employment generation sectors of agriculture or retail, we have kept our cards way too close and have not liberalized at all.
3。对自由主义的引导不足。想想印度的高薪工作。集中在技术、外包服务、金融、广告和其他服务领域,在这些领域,政府为企业家提供了更大的运营空间。然而,当涉及到农业或零售业等大量创造就业机会的行业时,我们不舍得投资。
4.India took on to de acy far too early. Most rich nations subverted de acy during their growth stages. Great Britain of Dickensian era, USA of gilded age, Japan during the imperial era, Thailand, S.Korea before 1979, Singapore during Lee Kwan Yew's era, all had aats or crony capi ism. We kind of put cart before the horse by our early adoption of de acy . We could still win, but we are into an uncharted territory. No other nation has built up their economy as fast in a perfect de acy . This point is controversial though.
4。印度接受的时间太早了。大多数富裕国家在其发展阶段进入。狄更斯时代的英国,镀金时代的美国,帝国时代的日本,泰国,美国。1979年前的韩国,李光耀时代的新加坡,都有者或权贵zb。我们那么早就采用制度有点本末倒置。我们仍然可以赢,但是我们进入了一个未知的领域。在一个完美的国家里,没有哪个国家的经济发展如此之快。这一点是有争议的。
5.Finally, there are many Indians. The India of the middle and upper class is a different one. And we have been in "poverty thought" way too long and it has not helped. When we were long in school, my friends used to talk about India as "It Never Develops in Anything" and that kind of attitude got us nowhere. It is good that we are coming out of that "poverty trap". You cannot win by just focusing on your negative attributes.
5。最后,印度人口众多。印度的中产阶级和上层阶级是不同的。我们局限于"贫困思想"之中太久了,但这并没有帮到什么忙。我的朋友们常说印度"在任何方面都不会发展",这种态度让我们一无所获。我们正走出"贫困陷阱",这是件好事。只关注自己的不足是无法取胜的。
Ashutosh Mehndiratta, Curious Indian
Wealth and Poverty are relative terms. When we say India is so poor, it is in reference to the countries that we consider wealthy. While it's important to study why India is poor (and the answers on this thread have pretty much covered it), it's equally important to study why some countries are wealthy.
富裕和贫穷是相对的。当我们说印度如此贫穷时,我们参考的是那些我们认为富裕的国家。尽管研究印度为什么贫困很重要(这篇文章的答案几乎涵盖了这一点),但研究一些国家为什么富裕同样重要。
How did wealthy nations become wealthy? Few common traits of wealthier nations are that they are industrialized, have high literacy levels, replacement population growth rate (~ 2.0 births per woman) or even lower, have robust institutions (po itical, financial, legal) regardless of their geography and arguably culture. As these countries developed, their work force shifted its focus from agriculture to manufacturing to services. Economists have called the onset of Industrial Revo tion in late 1700s to early 1800s as a key point of economic divergence between countries of the world. Despite having colonial empires, European countries were still not too far ahead of countries like India and in 1600s and 1700s. Things simply took off when machines could do tasks at a mind boggling speed compared to humans. Industrial Revo tion began in the UK and was picked up by Germany and France and subsequently the US and other Western nations. Later Japan followed by South Korea and recently followed suit and witnessed exponential economic growth. These countries then get in a positive loop.
富裕国家是如何变富裕的?富裕国家的一些共同特征是:工业化程度高、识字率高、人口更替率(每名妇女生育约2.0个孩子)甚至更低,无论其地理位置和文化如何,都有健全的制度(政治、金融、法律)。随着这些国家的发展,劳动力重心从农业转向制造业,转向服务业。经济学家将18世纪末至19世纪初的工业革命称为世界各国经济分化的一个关键点。尽管拥有殖民帝国,但在17世纪和18世纪,欧洲国家还未远远领先于印度和等国。与人类相比,机器可以以惊人的速度完成任务。工业革命始于英国,随后被德国、法国、美国和其他西方国家所接受。后来,日本紧随其后,然后是韩国,最近也加入队列,经济呈指数级增长。然后这些国家就进入了良性循环c
India's situation - India on the other hand is caught in a negative loop of 'Overpopulation-Illiteracy-Cor ion-Poverty'. With a denominator of 1.25 billion population, even if we apply it to GDP of the mighty US, on a per capita basis it drops to ~ $14,000 and that would drop US' rank to 50th in the world! So population matters. In 1947, India's population was around 300 million and we have quadrupled since then. It will peak around 1.7 billion in the next 25 years. Population growth is inversely proportional to Literacy. The poorest states in India have the lowest literacy levels and the highest fertility rates.
印度的情况——另一方面,印度陷入了"人口过剩-文盲-腐败-贫困"的恶性循环。在人口高达12.5亿的情况下,即使我们把这个人口数套用到美国强大的GDP中,人均GDP也会下降到1.4万美元,世界排名下降到第50位!所以人口是个大问题。1947年,印度人口大约为3亿,自那以后我们的人口翻了两番。在未来25年里,这个数字将达到17亿左右的峰值。人口增长与识字率成反比。印度最贫穷的州识字率最低,生育率最高。
Post-independence roadmap - Pandit Nehru was a brilliant man but not an economist. His economic vision turned out to be flawed and we ended up with useless Planning Commission and their 5-year plans as well as License Raj that choked India's pential. But to be fair to him, we have to realize that his tenure was only 17 years before he passed away in 1964. The initial years of his leadership post-Independence were spent battling post-partition issues and getting basics in place. His successors should carry a larger blame for the Hindu rate of growth from 1964 all the way till early 90s.
Today India is in a unique position where 60% of workforce is engaged in agriculture compared to less than 5% in developed countries and has sort of skipped a boom in Industry/Manufacturing and jumped to a booming Services sector. But services sector is not able to generate employment for the 12 million Indians that enter the work force each year. Therefore, manufacturing has to be the way to go. PM Narendra Modi has correctly identified 'Make in India' as a top priority and hope he is able to ex te this vision.
Where is India headed? Fortunately, situation has been improving rather drastically.
独立后的路线图——潘迪特·尼赫鲁是一个聪明的人,但不是一个经济学家。他的经济愿景被证明是有缺陷的,我们最终得到了无用的计划委员会和五年计划,以及扼杀了印度潜力的许可证制度。但公平地说,我们必须认识到,他的任期只有17年,1964年他就去世了。在他独立后的最初几年里,他一直在与分裂后的问题作斗争,并解决了基本问题。从1964年到90年代早期,他的继任者应该对印度的经济增长率负更大的责任。
如今的印度很特别,60%的劳动力从事农业,而在发达国家,这一比例还不到5%。但服务业无法为每年进入劳动力大军的1200万印度人创造就业机会。因此,必须走制造业这条路。印度总理纳伦德拉莫迪已经正确地将"印度制造"列为首要任务,希望他能够实现这一愿景。
印度将何去何从?幸运的是,情况已大大改善。